Fix an undercooked cheesecake by using one of these awesome baking hacks to keep your hard work from going to waste! If your cheesecake is runny, sinking, and can't hold its shape, I'm here to help! Here are 5 tips and tricks for how to fix your undercooked cheesecake!
How To Fix An Undercooked Cheesecake
Cheesecake is a dessert that is both rich and creamy. It is baked in the oven until firm, then chilled in the refrigerator before it is served and eaten.
Cheesecake is often topped with delicious sweet additions such as berries, caramel sauce, chocolate chips, or whipped cream! But even a mouthwatering topping can't cover up an undercooked cheesecake!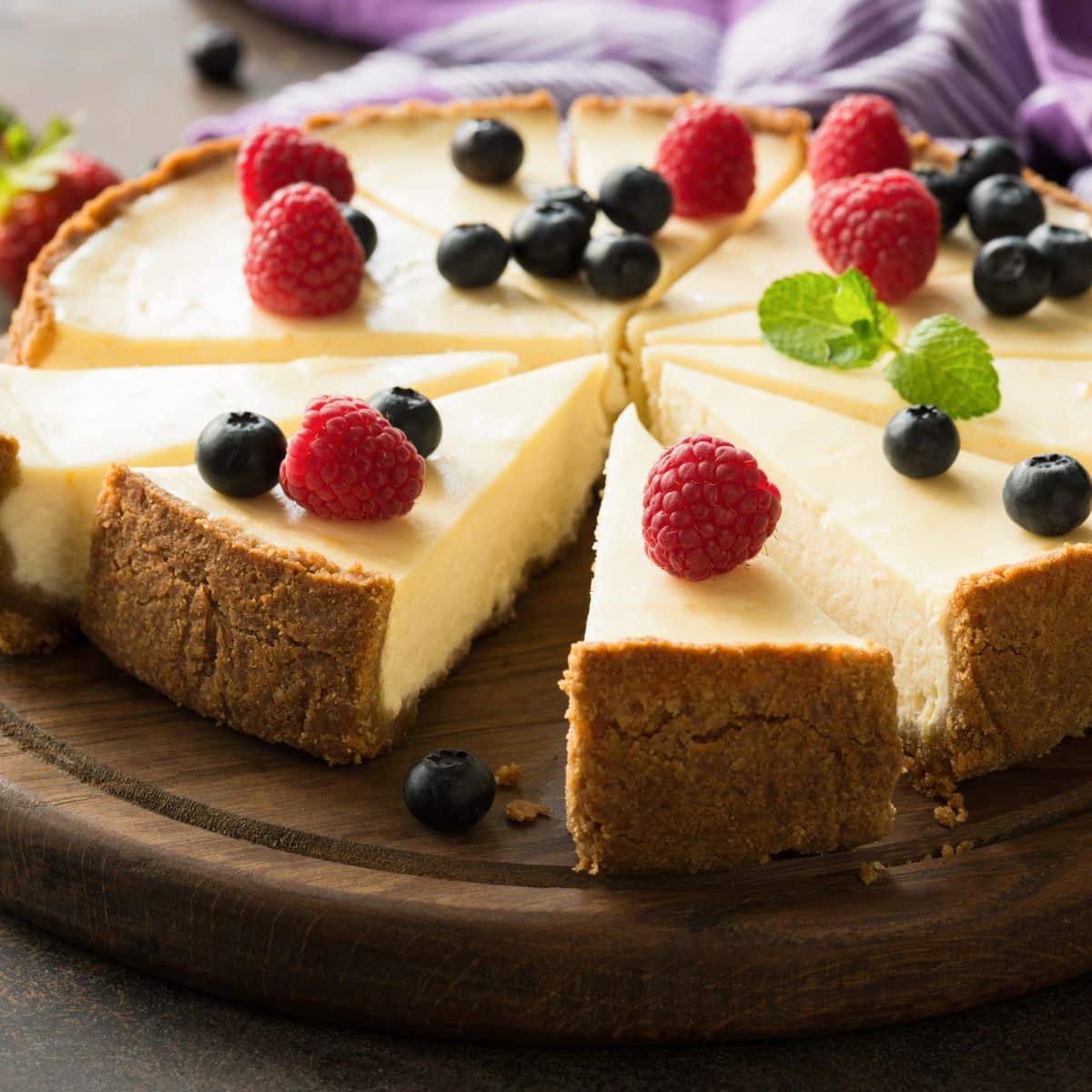 Jump to:
What should you do if your homemade cheesecake is undercooked? Well, the good thing is that there are a few tricks that can turn your runny cheesecake back into a solid masterpiece.
Is My Cheesecake Undercooked
First, you need to know what a finished cheesecake should look like once it has been cooked.
A fully cooked cheesecake is dense from the outside edges until the center. The edges will become a beautiful shade of golden brown, while the inside is light in color.
If your cheesecake has liquid in the center, it is undercooked. Too much jiggle in the center can also be a sign that your cheesecake is undercooked.
Check your cheesecake by examining the center, and giving it a little shimmy to see if it wobbles or spills.
Use a toothpick to test the center to see if it leaves any residue. Push the toothpick into the center and pull it out, if it is wet or gooey this can also be a sign of an undercooked cheesecake.
To help fix an undercooked cheesecake, continue allowing it to cook in five-minute increments. You don't want to overcook the cake because it will dry out or burn.
Tips For Fixing An Undercooked Cheesecake
If your cheesecake won't cook all the way through even after allowing it to bake longer, then you may need to incorporate a few extra steps to help it set up.
1. Allow It To Sit
Making cheesecake is a process, it's no wonder why most people would rather go to The Cheesecake Factory to buy a hearty slice of cheesecake than to make their own!
One step in the cooking process is allowing the cheesecake to sit and cool. This part of making cheesecake allows the center to become firm and easier to cut into slices.
Allow your jiggly undercooked cheesecake to set up in the refrigerator for at least 5 hours, but overnight is best!
2. Recook The Cheesecake
While this tip is controversial because it is not a guarantee, if done properly it could yield better results than eating a less-than-ready cheesecake.
If your cheesecake has already been cooked and cooled you can recook it on low heat in the oven. Low heat is best to ensure that you do not burn or scorch the edges of the cake.
To recook your cheesecake, either place it in a water bath or put it back in the oven directly on the rack. Keep the oven on low and allow it to cook in 5-minute increments.
If the center of your cheesecake becomes brown, remove the cake immediately. This is a sign that the cheesecake is now overcooked.
3. Turn It Into Pudding
Everyone loves pudding, right? Cheesecake pudding is rich and creamy and can be made with any flavor of undercooked cheesecake.
Instead of tossing out your undercooked cheesecake, simply place it into the blender with a few tablespoons of milk until it is creamy and smooth.
You can add your cheesecake pudding to a pre-made pie crust to make a delicious pudding pie! Top your pie with banana slices, chocolate fudge, or maraschino cherries!
4. Make A Cheesecake Milkshake
I love a thick milkshake that has a lot of flavors. Cheesecake has the perfect amount of sweetness and creaminess to create a delicious milkshake!
Add your cooled undercooked cheesecake to your blender with ice, and chilled milk and blend it until it is smooth. Top your cheesecake milkshake with a dash of crumbled graham cracker crumbs and a drizzle of strawberry syrup!
5. Freeze The Cheesecake
When all else fails, freeze the cheesecake and serve it as a frozen treat. You can cut the cheesecake into cubes, or slices, or even use a melon baller to create balls of delicious cheesecake.
Place the pieces of cut cheesecake into the freezer and allow them to harden before serving. Top the frozen cheesecake pieces with chocolate syrup, caramel sauce, or whipped cream.
Can I Eat Undercooked Cheesecake
You may be curious if you can eat your undercooked cheesecake as-is. The answer to this question will depend on why the cake is not forming properly.
Cheesecake has eggs which can make it dangerous to eat if it has not been fully cooked. If the internal temperature of the cake is less than 150 degrees when it is taken out of the oven then you do not want to eat it!
If your cheesecake is 'undercooked' or simply looks undercooked due to a missing ingredient or cooking blunder, then it is safe to eat as long as the internal temperature is above 150 degrees and the eggs are fully cooked.
Never eat raw cheesecake or cheesecake batter that hasn't been cooked.
If you are reading this, then the odds are that you have an undercooked cheesecake that just won't come together! I would love to know which cheesecake tip you love the most to bring your cake back to life! Let me know how you fix your undercooked cheesecake in the comments below!
📖 More Baking Guides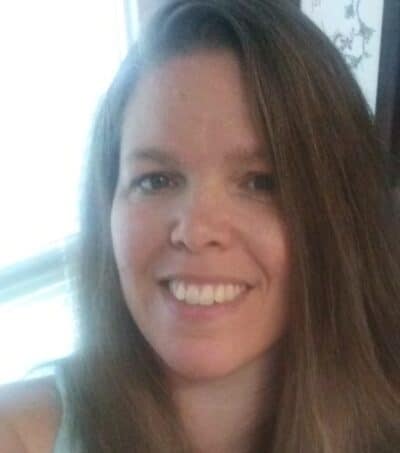 Angela is an at home chef that developed a passion for all things cooking and baking at a young age in her Grandma's kitchen. After many years in the food service industry, she now enjoys sharing all of her family favorite recipes and creating tasty dinner and amazing dessert recipes here at Bake It With Love!