Candied fruit can add sweetness, bright fruity flavor, and texture to a number of different sweets and treats! Just about any type of fruit can be candied and we have a variety to choose from. Step up your dessert game and give these sweet candied fruit recipes a try today!
Best Candied Fruit Recipes
Everyone loves fruit and everyone loves candy so why not put them together? There are so many fun and flavorful varieties of candied fruit to try!
Some of these recipes make great additions to other desserts, while some are perfect for snacking when your sweet tooth strikes. Try one or try them all!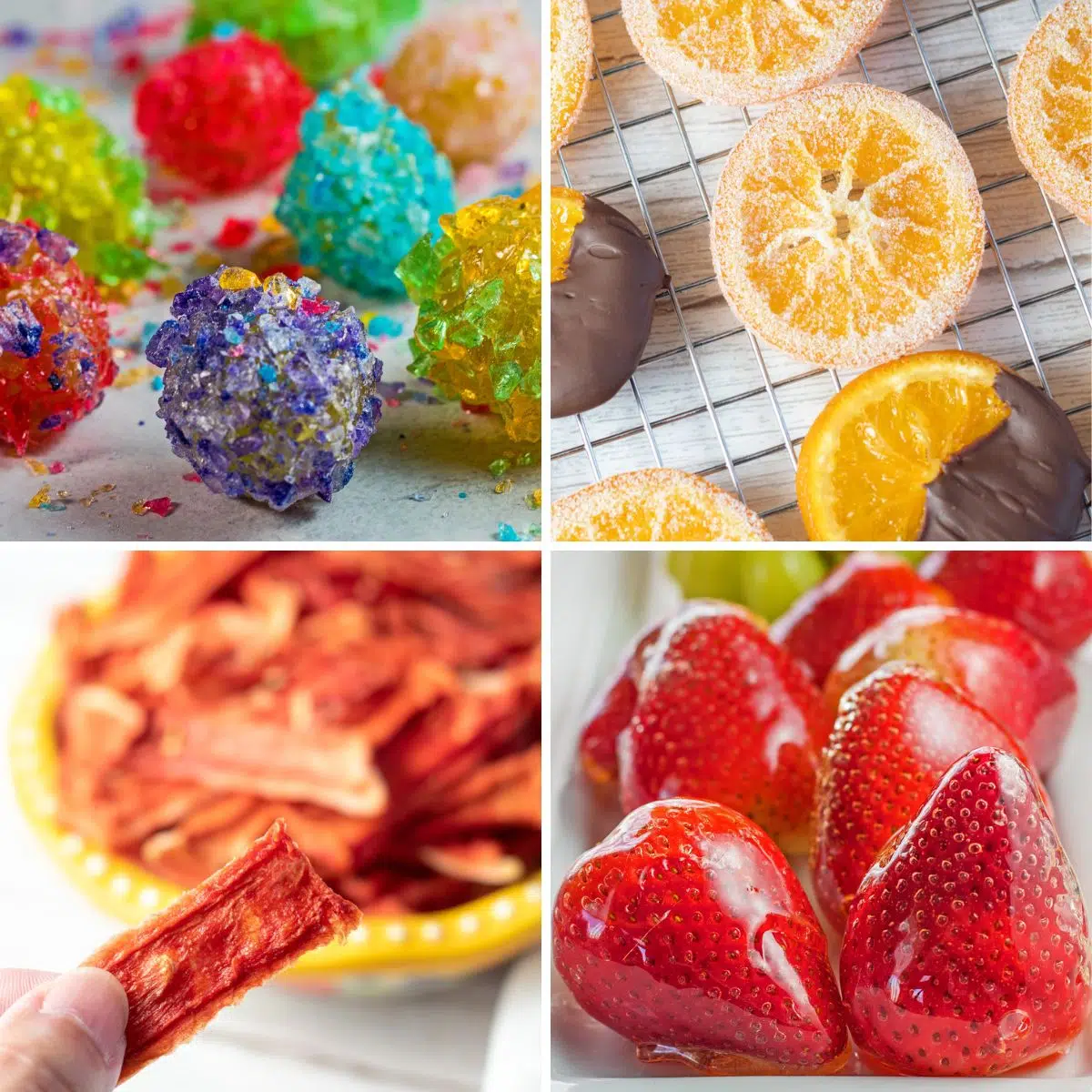 Jump to:
Candied Fruit Recipes For Holidays Or Any Dessert
If you love fruit, be prepared to have your mind blown! Candying fruit concentrates all the flavor and, of course, adds plenty of sweetness!
1. Candied Orange Slices
These sugary orange rounds are beautiful and tasty! They are easy to snack on, or you can use them to adorn the top of a cake.
2. Candied Orange Peel
The orange peel is slightly less sweet than the full slices. Though boiling the peel does get rid of much of its bitterness.
These chunks of peel can be mixed into cake batter or used as to add color and texture to other desserts.
3. Candied Lemon Slices
The sourness of the lemon is muted after they are boiled and coated in sugar. This leaves you with a slightly tart, but mostly sweet slice of candied fruit!
4. Kool-Aid Grapes
Kool-Aid grapes were all the rage on TikTok and it's easy to see why. They are incredibly easy to make and you won't be able to stop eating them!
5. Dehydrated Watermelon (Watermelon Jerky)
Dehydrating watermelon really concentrates the flavor. It's time-consuming but worth the end result when you have plenty of sweet and chewy watermelon jerky!
6. Crack Grapes
They are called crack grapes because they are downright addicting! They are coated in crunchy broken Jolly Ranchers for a fun textural element.
The bright colors are perfect for Easter or St. Patrick's day!
7. Tanghulu
These strawberries are coated in a crunchy candy shell! In fact, you can use this tanghulu recipe to candy an assortment of fruit!
8. Jello Grapes
Similar to Kool-Aid grapes, Jello grapes are coated in your favorite flavor of Jello! You can even use sugar-free Jello to make them healthier!
9. Crack Pineapple
Candy-coated pineapple is sweet and bursts with tropical flavor! The crunchy outer shell adds a nice contrast to the tender pineapple beneath.
You won't be able to stop eating these sweet, fruity treats!
10. Candied Strawberries
Candied strawberry slices are an irresistible treat! You only need 3 ingredients and you won't be able to stop snacking on them.
11. Cinnamon Apple Chips
Cinnamon apple chips are a healthy snack that is great for taking to work or school. You can even use your air fryer to get them extra crispy.
12. Pear Chips
Like apple chips, pear chips are much healthier than your usual potato chips. They are always a hit with kids- even babies love them!
13. Candied Plums
Candied plums, or sugar plums, are simply plums cooked in sugar! You can make them any time, though they are commonly associated with Christmas (Dance of the Sugar Plum Fairy anyone?).
14. Caramel Apple Grapes
Caramel apple grapes, or taffy grapes, got their name because they look like caramel apples (there is no apple in them). You simply skewer them, dip them in caramel, and roll them in crushed nuts!
15. Candied Apples
Candied apples are super popular around the fall, Halloween, and Thanksgiving in particular. The candy coating is easy to make and you can add different colors or flavors to customize it!
16. Candied Cherries
As if cherries couldn't get better, now you can candy them! All it takes is cherries and sugar.
Add them to fruitcakes, cookies, or any of your favorite desserts!
17. Sugared Berries
This blend of sugared berries practically sparkles. They are awfully sweet to snack on, but they are perfect for adding to cakes and other sweet treats!
18. Candied Lemon Peel
19. Mixed Peel
🍓 More Fruity Recipes
These candied fruit recipes are just as fun to make as they are to eat! Tell me how yours turned out in the comment section below!
📖 Recipe Card