Avocado calories and nutrition: A complete guide to avocados and all of their incredible nutritional benefits! You can cook them, you can bake them, or you can enjoy them fresh just as they are! Avocados are filled with healthy fats and make an excellent addition to any well-rounded diet!
Guide To Avocado Nutrition
Avocados have become one of the most popular foods in recent years. Beyond just being loved as the base for delicious guacamole, they are now known for their versatility in cooking and baking.
While it is commonly known that Avocados are high in healthy fats, it is not often talked about how much fat is each avocado. Moreover, how many calories does that equates to? To find out just how many calories are in avocados keep reading.
Jump to:
Want More Recipes? Enter your email below and we'll send them straight to your inbox!
How Many Calories In Avocados
While avocados may be initially seen as a vegetable, they are actually a fruit. Therefore, it may be surprising to hear that one avocado has around 300 calories.
This is the number of calories found in an average size avocado that is considered medium to large. As with many fruits, the size will vary. Therefore, the calories will vary as well.
While an avocado that is medium in size will have about 200 calories, an avocado that is a bit larger will have about 325 calories.
In comparison, a small avocado has around 250 calories.
How Many Calories In 1 Cup of Avocado
If you are unsure of the size of an avocado you can cut it up and measure it with measuring cups. A ¼ cup of chopped or sliced avocado averages about 60 calories.
Here is a chart you can quickly reference if measuring avocado in a cup:
¼ cup avocado = 60 calories
½ cup avocado = 120 calories
¾ cup avocado = 180 calories
1 cup avocado = 240 calories
If using measuring cups be mindful that this is for chopped avocado that is loosely placed into the measuring cups. Anytime you mash the avocado and measure it with cups the total number of calories will be much higher. For example, a cup of mashed avocado is about 368 calories.
How Much Fat In Avocados
As mentioned above, avocados are high in fat. Therefore, most of the calories come from fat. However, the fats found in avocados are monosaturated.
In contrast to saturated fat, which is considered unhealthy, monosaturated fats are considered healthy fat. These are fats that help the body function.
Therefore, even though the average-sized avocado has 29 grams of fat. This type of fat is there to help you lead a healthier life.
How Much Protein And Carbs In Avocados
Avocados are not only a unique fruit because they have fat, but also because of their protein content. Most fruits have zero fat and zero protein. However, avocados also have some protein.
An average avocado has around 4 grams of protein.
In addition to protein, avocados also have carbohydrates. This makes it one of the only fruits to have all three macronutrients.
Another quality is that while all fruits have carbohydrates and fiber, most fruits tend to have higher levels of carbohydrates. However, while an average avocado has 17 grams of carbohydrates it also has 14 grams of fiber.
This ratio of fiber and carbohydrates in avocados allows for avocados to be considered a low-carb food because when the fiber is subtracted, the body only consumes 3 grams of carbs. Therefore, while avocados have significantly higher calories than other fruits they have the added benefit of being low in carbs.
Vitamins And Minerals In Avocados
One similarity between avocados and other fruits is that they are an excellent source of vitamins and minerals. Like bananas, avocados are a good source of potassium.
In addition, they have Vitamin K, Vitamin E, and Vitamin C. This combination of vitamins and minerals is one of the reasons people see avocados as a superfood.
Using Avocados In Recipes
In addition to being nutritious, avocados are also incredibly versatile. They can be used in a wide variety of sweet and savory dishes.
One of the most popular savory dishes that use avocados is guacamole. This Mexican dish is a favorite as an appetizer or topping on a variety of foods.
Beyond being used as a dip, avocado is excellent eaten on its own. It can also add flavor and texture to salads and sandwiches, or be used as a spread on toast.
Using Avocado In Baking
One use of avocado that you may not be familiar with is baking. Avocado can be used as a replacement for butter oil in many baking recipes. This makes for a great substitute for those who are trying to reduce their saturated fat intake but still want a full-fat dessert.
Other fruits, such as apple sauce and mashed bananas can also be used to substitute butter and oil in baking. However, those low-fat options will change the texture of your desserts and baked goods. While they will be low-fat and low-calorie, they will also be much denser.
On the other hand, since avocado is high in fat it will provide a closer texture to your original recipe. Just minus the saturated fat. In addition, this is a great choice for vegans who want to bake without butter.
To explore using avocado as a substitute for butter, mash up an avocado and use it in a 1:1 replacement for butter the next time you make cookies.
Beyond baking, avocado is an excellent way to add healthy fats to smoothies. The use of avocado oil also adds a lovely and creamy texture. Like a substitute for butter, this can be a great dairy substitute for milk or yogurt if you are vegan.
Avocados Are High In Calories And Nutrition
Even though avocados are high in calories they are also high in nutrition. Moreover, they are delicious and versatile.
Therefore, consider adding avocados to your diet more frequently. Grab one to add to a salad, or smoothie, or bake up a new recipe. However, if you choose to use this magic food I know you will love it.
With all of these wonderful benefits, avocados are a great choice for enhancing some of your favorite meals! Let me know some of your favorite ways to prepare avocados in the comments below!
>>>>See all of my recipes HERE<<<<
🥑 Avocado Recipes To Try
📋 Recipe
Print Recipe
Leave A Comment
Love This Recipe?
Click On A Star To Rate It!
Avocado Calories and Nutrition: Guacamole (+More Delicious Recipes!)
Avocado calories and nutrition: A complete guide to avocados and all of their incredible nutritional benefits! You can cook them, you can bake them, or you can enjoy them fresh just as they are! Avocados are filled with healthy fats and make an excellent addition to any well-rounded diet!
Pin Recipe
Share on Facebook
Ingredients
3

large

avocados

(ripe avocados)

2

roma tomatoes

(diced)

¼

cup

red onion

(finely chopped)

2

cloves

garlic

(minced)

3

tablespoon

cilantro

(fresh, chopped)

1

jalapeno

(finely chopped)

1

lime

(juiced)

1 pinch

each, salt & pepper

(to taste)

1 pinch

smoked paprika

(optional)
Instructions
To help avoid browning, start with preparing all of the ingredients other than the avocados first! Dice your tomatoes, onions, jalapeno, mince the garlic and chop the cilantro. Set them aside.

Slice each of the avocados in half, remove the core and place the halved avocados in a medium-sized mixing bowl or large mortar and pestle. Add the salt to the avocado and mash using a fork, or the pestle.

Add the lime juice and chopped ingredients (tomato, onion, jalapeno, garlic, and cilantro). Mix until well combined. Add seasoning then stir. Taste and adjust salt and pepper as needed.
Nutrition
Calories:
173
kcal
(9%)
|
Carbohydrates:
12
g
(4%)
|
Protein:
2
g
(4%)
|
Fat:
15
g
(23%)
|
Saturated Fat:
2
g
(13%)
|
Sodium:
9
mg
|
Potassium:
572
mg
(16%)
|
Fiber:
8
g
(33%)
|
Sugar:
2
g
(2%)
|
Vitamin A:
445
IU
(9%)
|
Vitamin C:
20
mg
(24%)
|
Calcium:
22
mg
(2%)
|
Iron:
1
mg
(6%)
avocado calories and nutrition, guacamole, homemade guacamole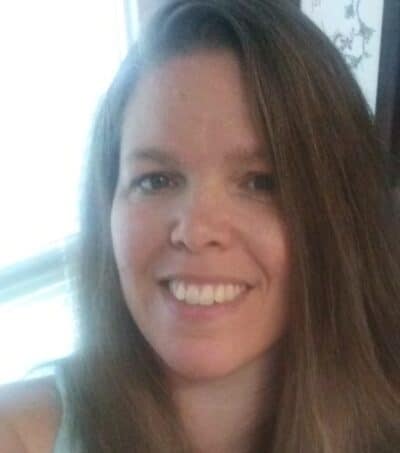 Angela is an at home chef that developed a passion for all things cooking and baking at a young age in her Grandma's kitchen. After many years in the food service industry, she now enjoys sharing all of her family favorite recipes and creating tasty dinner and amazing dessert recipes here at Bake It With Love!