Apple calories and nutrition: An in-depth guide to all of the different nutritional values found in an apple! From calories to carbs and everything in between, I'm going to break it all down for you! Here are all the nutritional benefits of enjoying some tasty apples!
Guide To Apple Nutrition
Fruit is a favorite food choice because they are often low in calories. Therefore, they provide a healthy snack or ingredient without too many added calories.
As one of the most common fruits available in the United States, apples are no exception. Apples continue to be a favorite for baking and snacking.
Jump to:
Even though you know apples are on the healthier spectrum of sweet treats, you may not know exactly how healthy they are. To help you out, I have broken down the calories in apples below. All you must do is continue reading.
Want More Recipes? Enter your email below and we'll send them straight to your inbox!
Make sure to take a look at all of my tasty apple recipes and apple desserts! You can also check out the best apples for baking and cooking as well as the best apples for an apple pie or an apple crisp!
How Many Calories In Apples
With their crunchy texture and sweet flavor it may seem like apples are high in calories. However, compared to a snack or dessert made with sugar, apples are low in calories.
When deciding how many calories are in the apple you are eating or using in a recipe it is important to determine what size of apple you are using. While this can be tricky sometimes, below is an overview of the standard measurements associated with varying apple sizes.
1 small apple = about 2¾" diameter
1 medium apple = about 3" diameter
1 large apple = about 3¼" diameter
1 extra-large apple = about 3½" diameter
In addition to measuring the diameter of an apple, another way to determine the size of an apple is to weigh it. Using a food scale will give you the most accurate measurement.
1 small apple = 165 grams
1 medium apple = 200 grams
1 large apple = 242 grams
1 extra-large apple = 295 grams
Whether you choose to approximate the size based on the diameter or use a scale, you can use the calories listed below to decide how many calories are in different apples.
1 small apple = 79-86 calories
1 medium apple = 93-104 calories
1 large apple = 119-126 calories
1 extra-large apple = 130-140 calories
In addition to measuring apples by the size of the whole apple, you can also measure when they are chopped up. Below are the calories for one cup of apples chopped.
1 cup chopped apple = 65 calories
Apples With Skin vs Without Skin
The calories in an apple that is peeled vs an apple with the skin on are not that different. While the skin will offer additional fiber it does not add a significant amount of calories. Therefore, you can count the same number of calories for an apple with or without skin.
Calories In Dried Apples
While the skin will not affect how many calories are in a serving of apples how the apples are prepared will change the calorie count. Especially when apples are dried.
When apples are dried or dehydrated they lose the water content that gives them volume. Therefore, when you measure a cup of dried apples compared to a cup of fresh apples the calories will be different.
1 cup of dried unsweetened apples = 209 calories
Notice that the calories listed above are for unsweetened dried apples. If sugar or another sweetener has been added to the apples then the calories will be higher. Therefore, make sure to check the labels of any pre-packaged dried apples.
Additional Calories In Apples
In addition to dried apples, additional calories may be added when apples are used for baking. For example, apples used in apple pie are typically mixed with sugar.
In this case, to get an accurate calorie measurement for your recipe you need to add the calories from the sugar to the regular calories in the apples.
Other places you may notice additional calories are if you buy canned apples. Canned apples (or apple pie filling) are made with sugar and other preservatives. Therefore, they will be much higher in calories than fresh apples.
Calories In Apple Sauce
One other measurement you may need is for applesauce. Because applesauce is made from pureed apples, the calories in a cup of applesauce are higher than a cup of chopped apples.
1 cup of unsweetened applesauce = 200 calories
However, a cup of applesauce is quite a lot. Therefore, most people only eat ½ cup as a serving. At 100 calories for a ½ cup, it is still a low-calorie snack.
Keep in mind that this is for unsweetened applesauce. Many store-bought applesauce brands have added sugar. Therefore, make sure to read the labels to see how many additional calories are in the rand you are purchasing.
Carbs In Apples
Beyond calories, many people want to know how many carbs are in apples. Apples are primarily made up of carbohydrates. However, since they are 86% water they are lower in carbohydrates than some other fruits (like bananas).
In addition, even though apples have a significant number of carbohydrates, they rank lower on the glycemic index. The glycemic index shows how your body responds to sugar (even naturally occurring sugars like those found in apples).
Since apples have a high fiber content the natural sugars are not absorbed as quickly into the body. Therefore, it does not spike blood sugar like other foods with similar sugar content. This is one of the benefits of choosing apples as a naturally sweet treat.
In a medium apple, there are 27.6 grams of carbohydrates. Even though there are different sizes of apples, the most common apples to find are medium-sized. Alongside the carbohydrates is 4.8 grams of fiber.
Fat And Protein In Apples
In addition to carbohydrates, protein and fat are the other two macronutrients that help determine the nutritional value of a food. Since apples are predominantly made up of carbs there is not a significant amount of protein or fat found in this fruit.
In a medium apple, there are only .6 grams of protein and .4 grams of fat. Therefore, apples are not recognized as a source of fat or protein.
Vitamins And Minerals In Apples
While many fruits are recognized for their vitamins and minerals, apples do not have the same high levels that other fruits do.
The highest levels of vitamins and minerals in apples are Vitamin C and Potassium. Although the levels of Vitamin C and Potassium are not as significant as other fruits, they are still beneficial.
Baking With Apples
As a low-calorie food, apples are a great choice for baking. While many recipes call for added sugar, you can often use less or leave it out. Due to their natural sweetness apples can often provide enough sweetness if you want to keep calories low.
In addition to recipes that call for apples, you can also use mashed apples or applesauce to replace butter and oil in baking. This substitute for butter provides you with a low-calorie and low-fat baking ingredient.
Whether you choose to use apples naturally, as a substitute for butter, or with added sugar, they are a great food for several recipes. Enjoy exploring all the benefits of baking with apples.
Now you know all the important components of an apple's nutritional breakdown. Leave a comment down below and let me know your favorite way to enjoy apples!
>>>>See all of my recipes HERE<<<<
🍎 Tasty Recipes Using Apples
📋 Recipe
Print Recipe
Leave A Comment
Love This Recipe?
Click On A Star To Rate It!
Apple Calories And Nutrition: Crock Pot Applesauce (+More Apple Recipes!)
Apple calories and nutrition: An in-depth guide to all of the different nutritional values found in an apple! From calories to carbs and everything in between, I'm going to break it all down for you! Here are all the nutritional benefits of enjoying some tasty apples!
Total Time
4
hours
10
minutes
Pin Recipe
Share on Facebook
Ingredients
6

lbs

apples

(roughly 12 apples cored - peeling optional - sliced or chunked)

⅔

cup

brown sugar

2

cinnamon sticks

1

cup

water

2

tablespoon

lemon juice

(or zest and juice of 1 lemon)
Instructions
Wash, peel, and core your apples. Slice or chunk the apples up, either way will work as long as the pieces are relatively uniform in size. *Peeling is optional!

Add the apples, brown sugar, cinnamon sticks, water, and lemon juice plus the optional lemon zest to your crock pot.

Place the lid on your crock pot and cook on high for 3-4 hours.

When the time is up use a wire whisk and stir to desired consistency. (Or for ultra smooth applesauce use an immersion blender.)

Serve warm if desired or allow to cool and refrigerate for up to 10 days. Or freeze for later!
Nutrition
Calories:
166
kcal
(8%)
|
Carbohydrates:
44
g
(15%)
|
Protein:
1
g
(2%)
|
Fat:
1
g
(2%)
|
Saturated Fat:
1
g
(6%)
|
Sodium:
7
mg
|
Potassium:
264
mg
(8%)
|
Fiber:
6
g
(25%)
|
Sugar:
35
g
(39%)
|
Vitamin A:
124
IU
(2%)
|
Vitamin C:
11
mg
(13%)
|
Calcium:
30
mg
(3%)
|
Iron:
1
mg
(6%)
apple calories and nutrition, apple nutrition, calories in an apple, Crockpot Applesauce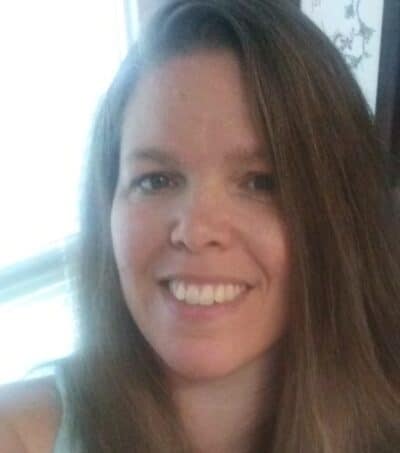 Angela is an at home chef that developed a passion for all things cooking and baking at a young age in her Grandma's kitchen. After many years in the food service industry, she now enjoys sharing all of her family favorite recipes and creating tasty dinner and amazing dessert recipes here at Bake It With Love!