What to serve with chicken Parmesan: a list of easy, tasty side dishes that are perfectly suited for serving with this hearty breaded chicken recipe! Whether you like to pair chicken Parmesan with pasta, vegetables, salad, or bread, there's something for everyone in this collection! From cream cheese pasta to oven garlic bread, you can't go wrong here!
Best Side Dishes For Chicken Parm
Chicken Parmesan is one of the most popular and frequently ordered chicken dinners across the world! It's a delectable and hearty main course that pairs well with a lot more than just pasta side dishes.
If you were curious to know what the best side dishes to serve with your chicken Parmesan are, then you've come to the right place! From creamy pasta, salad, and mashed potatoes to a delicious roasted vegetable medley, this collection of sides covers it all!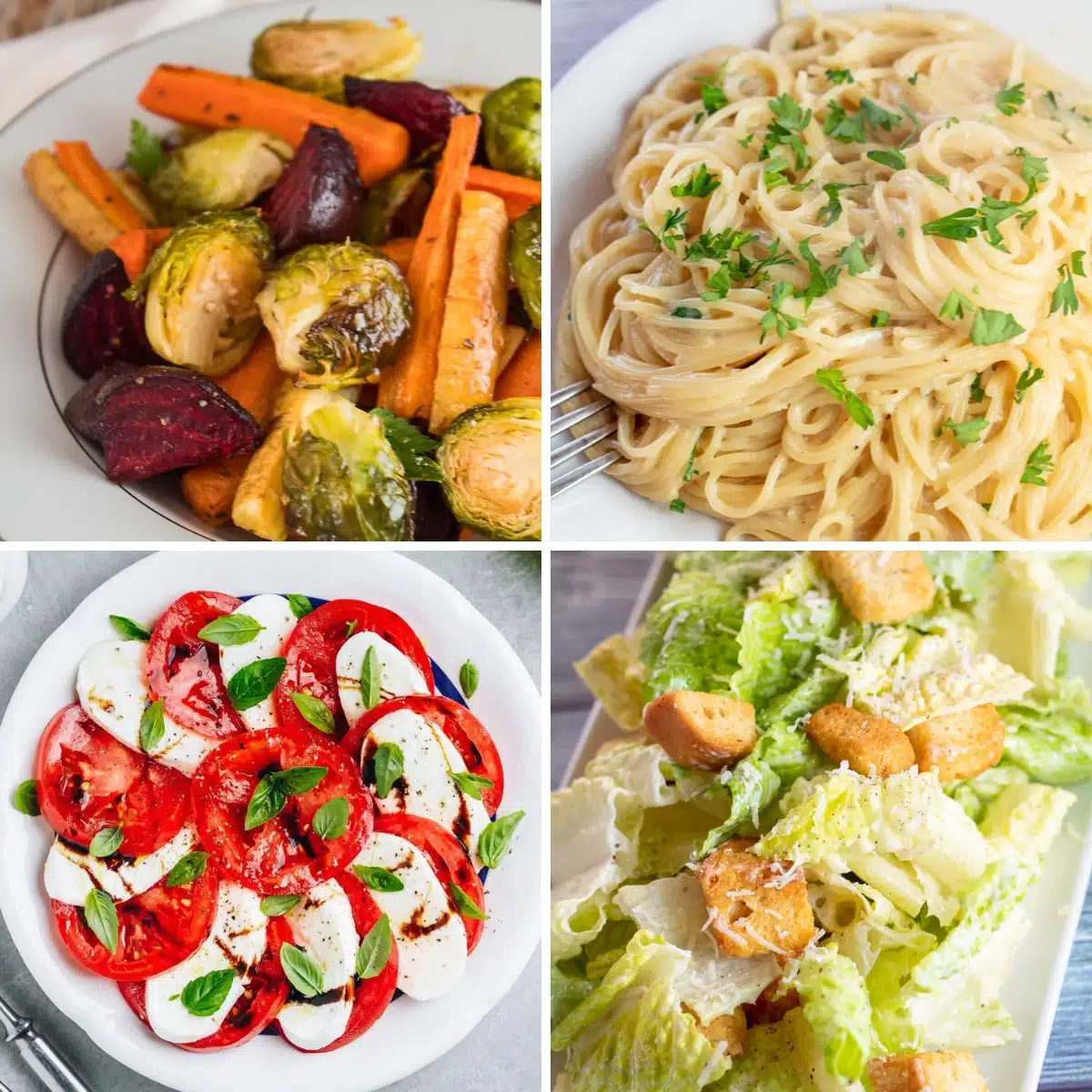 Make a hearty dinner of this classic Italian chicken dish by choosing some perfect side dishes shared below!
Garlic Parmesan Angel Hair Pasta
Oven Garlic Bread
Caesar Salad
Roasted Brussel Sprouts
Buttered Noodles
Roasted Vegetable Medley
Roasted Garlic Mashed Potatoes
Cucumber Vinegar Salad
Rustic Bread
Cream Cheese Pasta
Caprese Salad
Keep reading on for more tasty side ideas that go well with a chicken Parmesan dinner!
Jump to:
Want More Recipes? Enter your email below and we'll send them straight to your inbox!
If chicken Parmesan is one of your favorite meals, check out my incredibly easy chicken Parmesan, chicken Parmesan pizza, and chicken Parmesan sandwich recipes! Enjoy!
1. Garlic Parmesan Angel Hair Pasta
Garlic Parmesan angel hair pasta is a wonderful base to pile your breaded chicken Parmesan on! These noodles are rich, buttery, and made with a handful of common ingredients.
I love to cook angel hair pasta in chicken broth and milk so that it has an enriched taste and creamy texture!
2. Oven Garlic Bread
There's not an Italian dish out there that wouldn't be complete without some delicious oven-toasted garlic bread! All you need is some French bread, butter, and garlic powder to make an out-of-this-world garlic bread to soak up the marinara sauce from your chicken Parmesan!
Plus, I give you two methods to choose from whether you like soft or crispy garlic bread!
3. Caesar Salad
Caesar salad is a classic side dish that you can either enjoy before your main course or with it! This recipe includes a homemade Caesar dressing that is made without anchovies.
It's super quick to make and you might even have most of the ingredients in your kitchen already!
4. Roasted Brussel Sprouts
These roasted brussel sprouts caramelize perfectly in the oven to let the natural nutty flavor of the vegetable shine! This method is hands-off and gives the brussel sprouts a delightfully crispy exterior while maintaining a tender interior!
Of course, these pan-seared brussel sprouts, air fryer brussel sprouts, and smoked brussel sprouts would be just as delicious with your chicken Parmesan too!
5. Buttered Noodles
Buttered noodles are an easy-to-make, versatile side dish that is ready to serve in just 15 minutes! All you have to do is cook the egg noodles and coat them with butter, salt, pepper, and fresh parsley!
These noodles are the perfect way to satisfy your pasta cravings and will complement the amazing flavors of chicken Parmesan wonderfully!
6. Roasted Vegetable Medley
This roasted vegetable medley recipe features a tasty blend of brussel sprouts, carrots, parsnips, and beets! You can either cook them until they are soft and tender, or crispy and caramelized!
Not only is this vegetable side dish fun and colorful, but your kids will also want to eat it over and over again!
7. Roasted Garlic Mashed Potatoes
There's something that is extra comforting about pairing some delicious and creamy mashed potatoes with breaded protein! The roasted garlic in this mashed potatoes recipe adds a level of deliciousness that any garlic lover will appreciate!
You could also try my Instant Pot mashed potatoes, Parmesan roasted mashed potatoes, and garlic red skin mashed potatoes too!
8. Cucumber Vinegar Salad
This refreshing cucumber vinegar salad makes the perfect light appetizer or side to enjoy with chicken Parmesan! With a crispy texture and an amazing combination of sweet and tangy flavors, this recipe will quickly become your new go-to easy salad to make with any main course!
9. Rustic Bread
If making homemade bread intimidates you, this no-knead soft and chewy bread recipe is sure to change your mind! All you have to do is combine the ingredients, mix them by hand, and let the dough rise before baking!
10. Cream Cheese Pasta
This simple pasta side dish is made with spaghetti noodles and a creamy garlic cheese sauce! It's incredibly easy to prepare in 3 simple steps and will be ready to serve alongside your chicken Parmesan dinner in only 20 minutes!
11. Caprese Salad
Caprese salad is a classic Italian salad that consists of sliced tomatoes, large rounds of mozzarella, fresh basil, balsamic vinegar, and olive oil! With this recipe, you'll get a restaurant-quality side dish that goes with anything!
For the best flavor results, make sure to use fresh ingredients (especially tomatoes).
12. Sauteed Zucchini And Yellow Squash
Sauteed zucchini and yellow squash are a tasty and nutritious vegetable side dish that will pair wonderfully with your favorite hearty entrees! They are absolutely delicious when pan-seared with minced garlic and topped with grated Parmesan cheese.
If you are a fan of this summer squash duo, then you must try my zucchini and yellow squash casserole!
13. Sauteed Green Beans
Sauteeing green beans in a skillet is a straightforward way to get perfectly crisp and tender green beans every time! My recipe highlights garlic and onion flavors to make them extra flavorful!
If green beans are a common vegetable on your shopping list, you could also try my green beans almondine, garlic green beans, or roasted green beans!
14. Roasted Broccoli With Garlic And Parmesan
Oven-roasted broccoli with a garlic and Parmesan cheese topping is a flavorful vegetable that pairs wonderfully with any protein! When you're looking for a hands-off side dish, this tasty broccoli recipe only requires 5 minutes of prep time before the oven takes over!
15. Microwave Cauliflower
Steaming cauliflower in the microwave is incredibly quick and the most convenient way to prepare a healthy vegetable side dish in minutes! All you need is a large head of fresh cauliflower and a microwavable bowl filled with water!
Toss the cauliflower in some butter, salt, and pepper for added flavor. You could also use olive oil and garlic salt if you'd like!
Now that you have some easy sides to complement your chicken Parmesan, which ones are you excited to try first? Do you have a favorite side that you normally serve it with? Leave a comment down below to let me know!
>>>>See all of my recipes HERE<<<<
😋 More Tasty Italian Recipes
📋 Recipe