What is calamari, how do I cook it, what does it taste like, where can I find it, and why does everyone love it? This article will go over everything you need to know about this tasty food! Keep on reading to find out all the details on calamari, as well as some delicious recipes for it!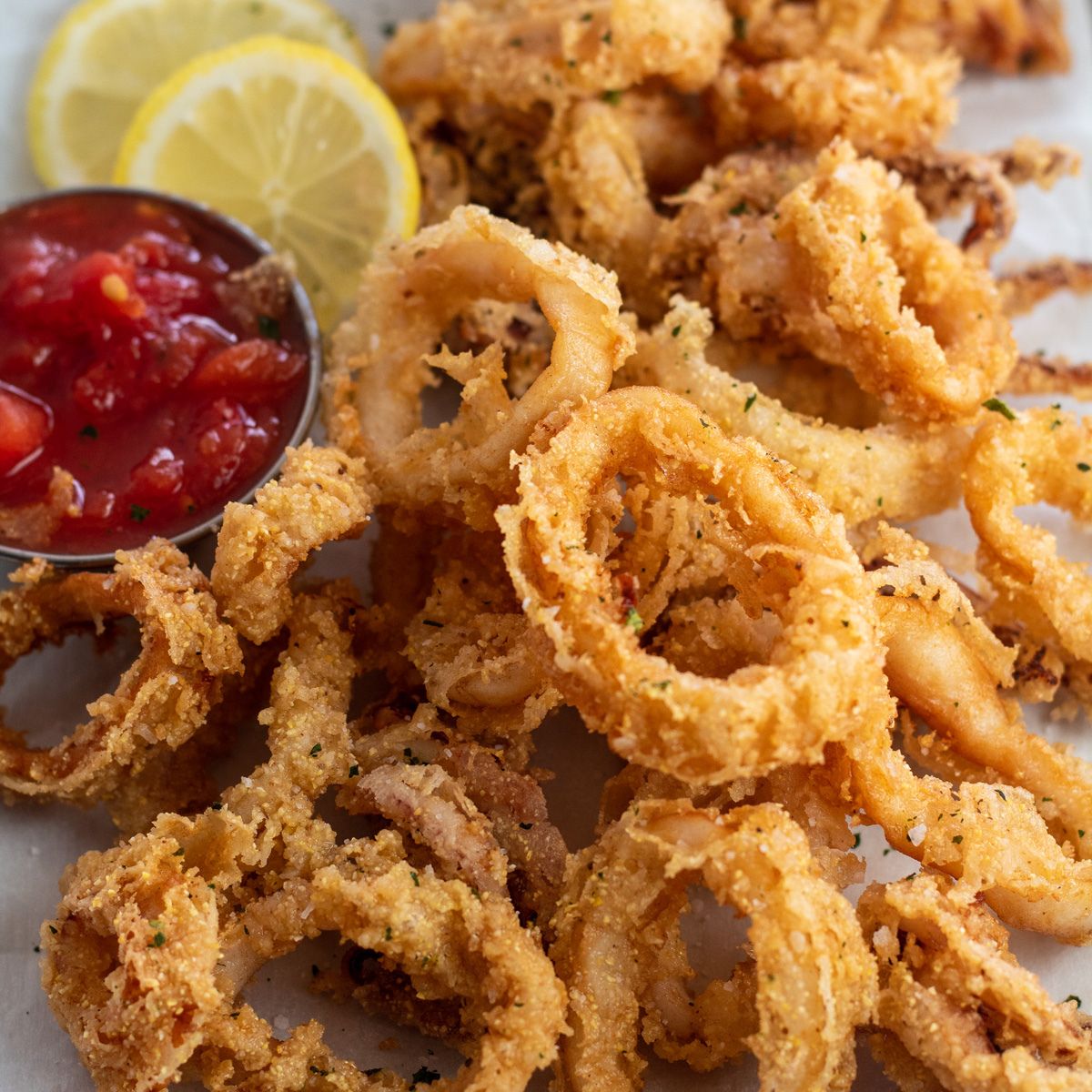 What Is Calamari
Calamari is the Italian name for squid. Squid are sea mollusks that have eight arms and two elongated tentacles. They are similar to an octopus but are more elongated and are often able to change colors.
Many restaurants refer to fried or baked squid as calamari to give it more appeal, but the names can be used interchangeably. Most people prefer the rings, which are the body of the squid, but you can eat the tentacles as well.
Jump to:
🍲 How To Cook Calamari
Calamari can be difficult to cook if you aren't used to preparing seafood. You must properly cook it before you add any seasoning or add it to a marinade for tenderizing.
It can be fried, baked, boiled, or grilled. Deep-fried, breaded squid is the most common and is often served across the United States as an appetizer in many bars and restaurants.
For the juiciest and most tender squid, you want to soak it in a cream and citrus or buttermilk bath for at least 30 minutes before seasoning. This step allows the meat to become super moist and helps enhance the overall flavor.
Calamari doesn't take very long to cook once it is prepped. Whether you are frying it on the stove or searing it on the grill, a few minutes on high heat is all that is necessary for this delicious seafood! Each recipe will have specific heat and time instructions that you should follow. Overcooking it can make the texture too rubbery to enjoy.
💡 Deep Fried Calamari Tips
Since deep-fried calamari is the most well-known variety of squid eaten in the United States, I feel that tips and tricks on how to prepare this dish are the most sought after.
Tip 1: Make In Small Batches
Calamari needs to be fried using high heat. When you add too many pieces to your oil it causes the temperature of the oil to cool which can cause it to become chewy.
Tip 2: Always Pre-Soak
While many people assume the pre-soak is an optional step, the truth is that it really makes the squid better. The acidic pre-soak allows it to remain juicy and tender and prevents it from drying out. It also enhances the flavor and helps the breading stick.
Tip 3: Add A Dash Of Salt Immediately After Removing It From The Oil
Be sure to add a dash of salt immediately after you remove the calamari from the oil. Adding the salt right away helps it stick and binds the flavors together.
😋 What Does Calamari Taste Like
Calamari has a mild flavor with just a dash of sweetness. It has a firm texture, but can also be chewy or rubbery when overcooked. The squid itself doesn't have a bold flavor but will take on the flavors of the spices used when preparing it. That is why marinading and seasoning it is an important part of the cooking process.
🔎 Calamari Vs Octopus
Calamari and octopi are similar sea creatures, both are cephalopods with large heads and multiple tentacles. Calamari is more known for being cut into rings and battered and deep fried, while octopus is known for being eaten raw or cooked and is usually prepared whole rather than cut into rings.
Both calamari and octopus have a similar mild flavor, neither one has a fishy or oceanic taste. Both are protein-rich and low in fat, which makes them equally good options.
🍽️ Best Calamari Recipes
This is the perfect snack or appetizer for everyone in your household. It is one of the best vessels for dips that I've ever eaten! Scoop up dips such as aioli, marinara, queso, or salsa with your crunchy battered calamari, or eat them with a spritz of lemon juice!
💪 Is Calamari Good For Me
Yes! It is full of essential vitamins and minerals such as vitamin B, potassium, iron, and phosphorus. But always remember that the way you cook it also matters. Deep-fried calamari is not going to be as healthy as baked or broiled because of the added oil.
🛒 Where To Buy Calamari
It can be purchased at your local grocery store in the seafood section. You can buy prepared and breaded calamari rings, frozen, or fresh squid that will need to be washed and prepared by you.
🥡 Storing
Properly stored calamari will last up to 3 days in the refrigerator. If cooked, store it in an airtight container in the fridge after it has properly cooled.
🐟 Varieties
While calamari is squid, not all squid are calamari. There are over 300 species of squid throughout the world, but less than a dozen are used for cooking!
Southern and Northern calamari are the two most popular varieties used in cooking.
Now that you know everything about this tasty squid, what recipe are you wanting to try first? Let me know in the comments below!
📋 Recipe
Print Recipe
Leave A Comment
Love This Recipe?
Click On A Star To Rate It!
What Is Calamari: Fried Calamari (+Cooking Tips & Recipes!)
What is calamari, how do I cook it, what does it taste like, where can I find it, and why does everyone love it? This article will go over everything you need to know about this tasty food! Keep on reading to find out all the details on calamari, as well as some delicious recipes for it!
Total Time
2
hours
25
minutes
Share on Facebook
Ingredients
1

lb

squid

(cleaned, slice tubes into ½ inch thick rings, leave tentacles whole)

1

cup

buttermilk

(see buttermilk substitutes)

cooking oil

1 ½

cups

all-purpose flour

⅓

cup

yellow cornmeal

2

teaspoon

Old Bay Seasoning

2 ½

teaspoon

Kosher salt

(divided - 2 teaspoons, and ½ teaspoon portions)

lemon wedges

(optional garnish)
Instructions
Pat your cleaned squid dry using paper towels (especially if it has been thawed) then place in a bowl and pour the buttermilk over it, tossing to coat evenly. Cover with plastic cling film wrap and refrigerate for at least 2 hours and up to 24 hours at a maximum.

1 lb squid,

1 cup buttermilk

Heat your deep fryer or a deep skillet or Dutch oven with cooking oil to 375°F (190°C).

While the oil is heating, prepare the breading. In a shallow dish combine the all-purpose flour, cornmeal, Old Bay Seasoning, and the first 2 teaspoon portion of Kosher salt.

1 ½ cups all-purpose flour,

⅓ cup yellow cornmeal,

2 teaspoon Old Bay Seasoning,

2 ½ teaspoon Kosher salt

Work in batches as needed and use a fork to remove the squid pieces from the bowl of buttermilk. Allow the pieces to drip dry as much as possible, then transfer into your shallow dish of breading mixture. Lightly dredge each piece of squid then shake off the excess.

Gently place breaded squid pieces into the heated oil and fry until a light golden color and crisp, about 45 seconds is all it takes! Use a slotted spoon or metal tongs to remove the fried calamari to a wire cooling rack (with paper towels beneath it to catch the oil).

When all of the calamari is fried, place the calamari in a large bowl and sprinkle with remaining ½ teaspoon of Kosher salt. Toss to coat then serve immediately. Garnish with lemon if desired, and serve with marinara.

2 ½ teaspoon Kosher salt,

lemon wedges
Equipment You May Need
Notes
The slightly acidic buttermilk will help to soften the squid before cooking. It also helps the breading to stay in place (rather than using eggs).
The cornmeal is optional but recommended for the best crunchy results. Yellow or white cornmeal can be used. Process in a food processor to make a finer consistency if desired.
Make sure that you allow your oil to return to 375°F (190°C) between batches so that your calamari is CRISP.
Nutrition
Calories:
366
kcal
(18%)
|
Carbohydrates:
53
g
(18%)
|
Protein:
26
g
(52%)
|
Fat:
5
g
(8%)
|
Saturated Fat:
2
g
(13%)
|
Polyunsaturated Fat:
1
g
|
Monounsaturated Fat:
1
g
|
Cholesterol:
271
mg
(90%)
|
Sodium:
1568
mg
(68%)
|
Potassium:
460
mg
(13%)
|
Fiber:
3
g
(13%)
|
Sugar:
3
g
(3%)
|
Vitamin A:
163
IU
(3%)
|
Vitamin C:
5
mg
(6%)
|
Calcium:
124
mg
(12%)
|
Iron:
4
mg
(22%)
Calamari, what is calamari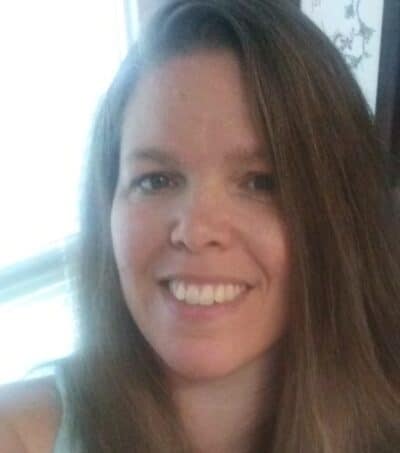 Angela is an at home chef that developed a passion for all things cooking and baking at a young age in her Grandma's kitchen. After many years in the food service industry, she now enjoys sharing all of her family favorite recipes and creating tasty dinner and amazing dessert recipes here at Bake It With Love!