The ideal sausage internal temperatures are in place by the USDA to keep our food safe to eat while still tasty! No one wants to serve up food poisoning or burnt sausage! Just follow these temperatures to get perfectly cooked sausage every time.
Ideal Sausage Internal Temperature
There are so many different cuts of meat that sometimes it can be tricky to keep up with the best cooking methods and practices for each one. It is common kitchen knowledge that large cuts of meat (like roasts) need to reach a certain internal temperature for doneness, but what about smaller cuts of meat (like sausage)?
Even small cuts of meat like sausage have an ideal internal temperature for doneness. Moreover, knowing this temperature is essential for cooking sausage that is safe to eat.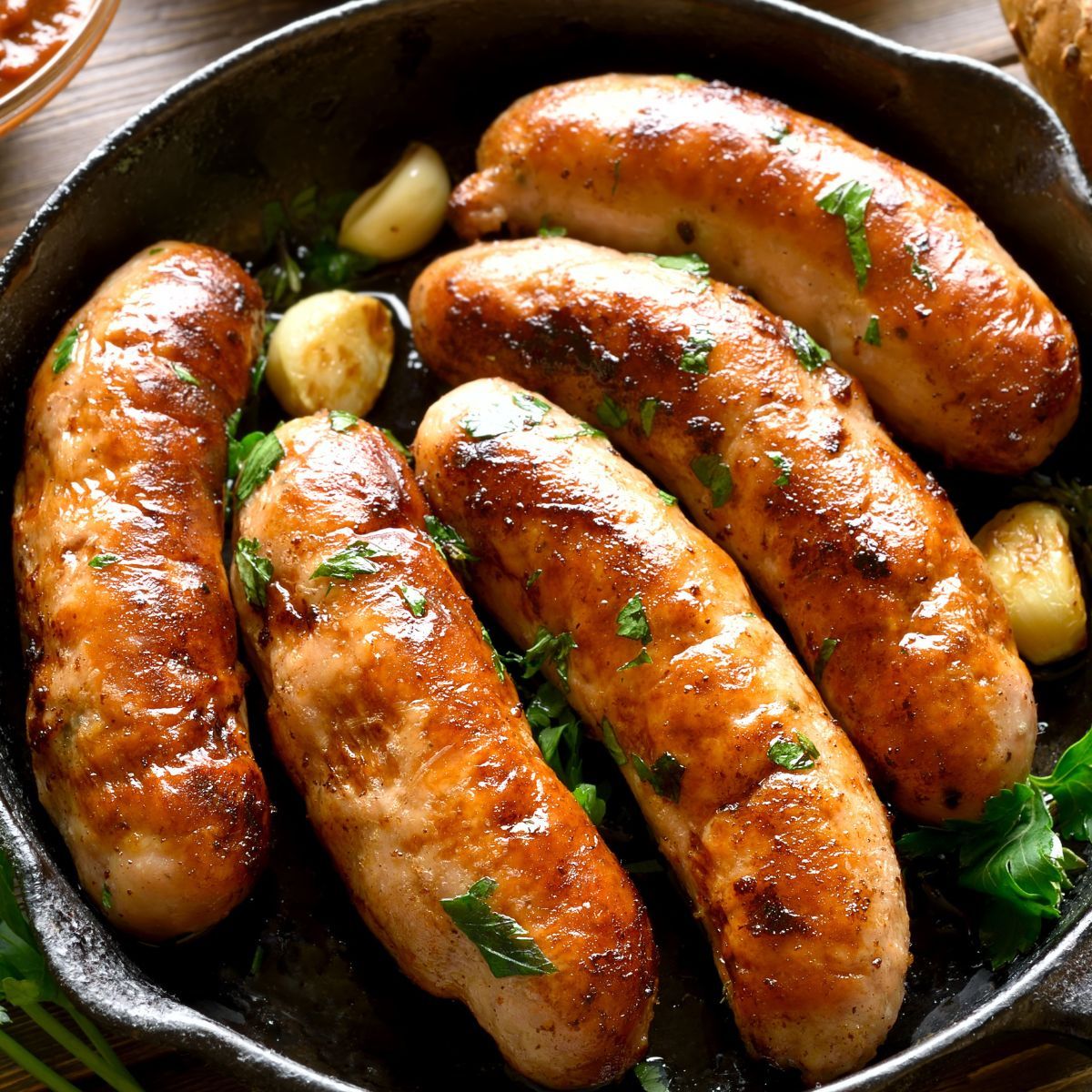 Jump to:
Desired Level Of Doneness For Sausage
As a smaller cut of meat that can quickly be cooked up for breakfast or grilled for dinner, it is not a cut that gets the same attention as a roast or steak. However, just because it is a smaller cut of meat does not mean it doesn't have the same potential health risks if not cooked properly.
Cooking sausage to its full internal temperature is even more important than a steak! Due to the way sausage is ground and processed, it has more potential to cause food-related illnesses than other cuts of meat. Therefore, knowing the ideal internal temperature for sausage is essential to cooking up the healthiest versions.
USDA Recommendations For Sausage Cooking Temperature
The USDA recommends that pork sausage reach at least an internal temperature of 160°F. This recommendation is the same for links, patties, and ground sausage.
This is 15 degrees higher than the recommended internal temperature of pork chops or pork tenderloins. This is due to the process of grinding the pork to make sausage. As mentioned above, this process creates more opportunities for the bacteria that lead to food-borne illnesses form. Therefore, sausage needs to reach a higher internal temperature.
While pork sausage is the most popular type of sausage it is not the only type. Sausage can be made from ground beef, chicken, and turkey. The recommended internal temperature for doneness varies from meat to meat. Therefore, it is important to take note of what type of sausage you are cooking and double-check the recommended internal temperature.


Internal Temperatures For All Types Of Sausage
Use this quick guide to see what the recommendation is for different types of sausage.
Pork Sausage - 160°F (71.1°C)
Beef Sausage - 160°F (71.1°C)
Pork and Beef Mixed Sausage - 160°F (71.1°C)
Chicken Sausage - 165°F (71.1°C)
Turkey Sausage - 165°F (71.1°C)
How To Cook Sausage
There are several ways to cook sausage. There is not one best way, but there are some recommendations that work better for different types of sausage.
Let Meat Come To Room Temperature
Regardless of what type of sausage you are cooking, take it out of the fridge about 10-15 minutes before cooking. This allows the sausage to come to room temperature and will result in more evenly cooked sausages.
1. In A Skillet
Using a skillet to cook sausage on the stove is a popular method for cooking breakfast sausage. This method works well for any type of sausage. It can be used to easily cook links, patties, and ground sausage.
Heat a skillet to medium heat
Lightly spray the pan with cooking spray or add a teaspoon of butter or oil (this helps keep the sausage from sticking in the beginning and makes it easier to clean up).
If cooking patties or link sausages, let the juices start to rise to the surface on one side. Then, turn the sausage to cook for the same amount of time on the other side
*For link sausages, sear the other sides as you turn the link to cook. This will give it an even golden outside all around.
If cooking ground sausage, place it in the pan and break it up with a spatula. Stir regularly to get cooked on all sides.
When done cooking, remove the skillet from the heat and cover the pan with aluminum foil. Let sausage sit for about 5 minutes before serving.
2. In The Oven
The oven is a quick and easy way to cook link sausages and patties. However, it is not the best choice for ground sausage as it can quickly dry the meat out.
Preheat the oven to 350°F
For the best results, sear the sausages in a skillet first. While this is not required, it will help seal in some of the juices and give them a beautiful golden brown on all sides.
Lay the sausages out on a cookie sheet. To make clean-up easier at the end, line the cookie sheet with aluminum foil. The aluminum foil will catch all the grease and you just pull it off the cookie sheet and throw it in the garbage at the end.
Cook the sausages on the first side for about 5-7 minutes. Once the juice starts to rise, use a pair of tongs to turn (or roll) the sausages to the other side. Let the sausages continue cooking on the other side for the same amount of time.
Once sausages are done, remove them from the oven. Cover with foil and let sit for 5 minutes.
Try my baked Italian sausages for a perfect way to bake sausage.
3. On The Grill
A grill is a perfect option for cooking larger sausages, like a bratwurst. However, you could also grill up your favorite breakfast sausages if you had time (or while camping).
If using an electric grill, turn it on to medium to low heat.
If cooking on a charcoal grill, wait until the flame has gone down and the embers are glowing. *You will need to keep a closer eye on the sausages to make sure they don't burn.
Place sausages on the grill and close the lid.
Let sausages cook for about 5-7 minutes and then check them. Like the other methods, look for the juices to start to rise and then roll to the other side to cook.
Roll the sausage to the other side to cook for another 5-7 minutes. Depending on the size of your sausage, you may need to roll it a few times to cook it on 3 or 4 sides.
Remove the sausages from the grill and cover with foil. Let them rest for a few minutes before eating.
Want to grill up some sausages, how about my grilled bratwurst.
4. Cook In Water
While most people prefer to cook sausages to have a crisp golden outside, it is not required. Therefore, if you prefer a sausage that is not crisp on the outside you can cook it in water.
Simmering sausage in water is best for link sausages. *This method is also great for those who want to slice the link sausages before cooking, such as for a stew or sauce.
Heat a skillet with water in it (about 2 to 3 inches of water depending on how large the sausage is).
Once the water has come to a slow simmer, place the sausage in its water.
Let the sausage cook on one side for about 5-7 minutes. The sausage will not produce as much juice in the same way as other cooking methods. Therefore, pay attention to when it looks like the outside edges of the sausage are starting to darken, and then turn or roll the sausage to the other side.
Allow the sausage to cook on the other side (or sides) until done all the way around.
After checking that the sausage is cooked to doneness, remove it from the water and cover it with foil to let it rest.
Let The Sausage Rest
Regardless of how you choose to cook your sausage, you will notice the last step is always to let the sausage rest. This is the same practice that is used for other cuts of meat as well.
Allowing the sausage to rest for about 5 minutes allows the meat to continue to cook through the center. This creates an even doneness throughout. Moreover, it allows the juices to thicken and settle as they cool. Therefore, when you cut into the sausage you get a juicy piece of meat with every bite.
How Long To Cook Sausage
Most sausages will take about 15-20 minutes to cook. However, this will vary depending on the type of sausage and the size.
Breakfast sausages that are links or patties will be on the lower end for about 15 minutes. This goes for ground sausage as well. Larger sausages, like a bratwurst, may need longer.
How To Know If The Sausage Is Done
There are two ways to check for doneness when cooking sausage: with a thermometer or without a thermometer.
Checking For Doneness With A Thermometer
The only way to check for an exact internal temperature is to use a meat thermometer. This will give you an exact reading and let you know that your sausage is completely cooked.
With larger cuts of meat, such as a roast, you insert the thermometer vertically into the thickest part of the meat. In contrast, with smaller cuts like sausage, it is better to insert the thermometer horizontally.
Inserting the thermometer horizontally provides a wider surface space and a more accurate reading.
When you use a thermometer the key to getting an exact degree of doneness is to look for a temperature that is 5 degrees less than done. This is because when you let the meat rest for five minutes, it will continue to cook through the middle.
Therefore, since the desired internal temperature of pork sausage is 160°F (71.1°C) you want to remove it when the thermometer reads 155°F (68.3°C).
How To Check For Doneness Without A Thermometer
Although a meat thermometer is the best way to check for doneness, not everyone wants to take the time to do so when cooking smaller cuts of meat. Moreover, with cuts like ground sausage, it is difficult to use a thermometer.
When you don't want to use a thermometer (or don't have one) you can check for doneness by the look of the sausage.
Look for brown on all sides. Moreover, cut open the sausage to see the internal color. Look for a fully cooked internal sausage that does not have any pink!
While other cuts of meat can still have some pink coloring (such as a medium steak) sausage should not have any pink. You want the center to be brown or opaque white (depending on the type of sausage).
When checking the color for doneness keep in mind instances where you are cooking a seasoned sausage. Sausages that have been seasoned may have a different internal color. Therefore, look for that opaque coloring that typically shows up when meat is fully cooked. If it looks like anything is still raw, let it continue to cook.
📚 More Cooking Guides
We hope to have cleared up any questions you had on safe sausage internal temperatures! Tell us what recipe you're making with sausage by shooting us a message below!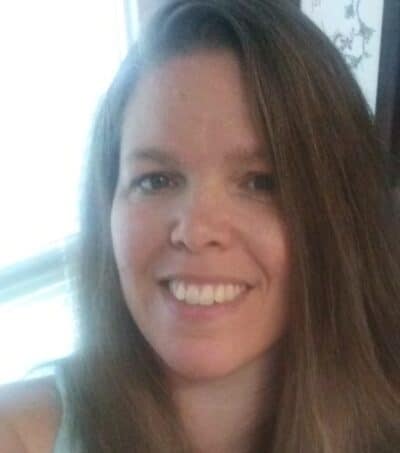 Angela is an at home chef that developed a passion for all things cooking and baking at a young age in her Grandma's kitchen. After many years in the food service industry, she now enjoys sharing all of her family favorite recipes and creating tasty dinner and amazing dessert recipes here at Bake It With Love!