Here's how to fix sauce too sweet so that you can still use your tasty sauce and don't have to start over! From adding different flavors to upping the liquid content, I'm going to walk you through a bunch of different options for fixing your sauce. Keep on reading to find out what you need to do!
How To Fix Sweet Sauce
Sometimes adding a sweet sauce to your recipe is a good thing, but other times it is a mistake! Some sauces, like ketchup or caramel, are supposed to be sweet, while others are meant to be savory.
If you accidentally added too much sweetness to your sauce, then use one of my tricks listed below. I have quite a few tips to help dilute the sweet flavor!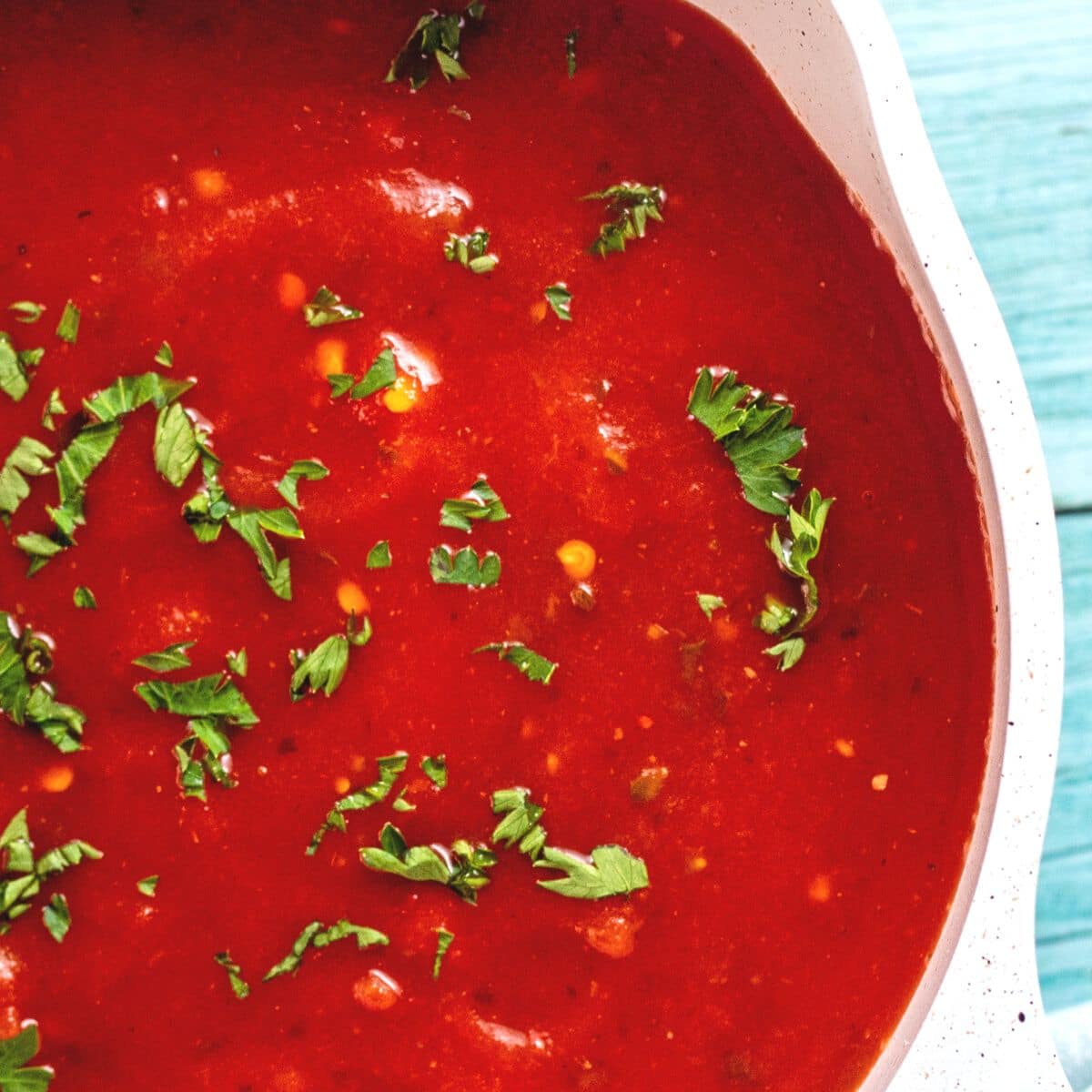 Jump to:
Here are my recommended options to help you balance out your sweet sauce!
🌶️ Add Other Flavors
One of the easiest ways to help dilute the sweetness of your sauce is to add other flavors. Not sure what to add? Try one of the following:
Add Some Spice
Adding spiciness will help reduce the sweet flavor of your sauce, it will also add a kick to the recipe! Try spicy peppers such as finely chopped fresh red chilis or jalapeños.
No peppers? No problem! You can also balance your sauce with spices such as cayenne pepper or red pepper flakes!
If you love spice, then try adding 1 teaspoon of spice at a time. Check the flavor, and increase the amount if you want it to be spicier. If you don't like spice, start by adding ½ a teaspoon to be safe!
Add Something Bitter
Adding bitter flavors can help neutralize the sweetness in your sauce, try ingredients such as bitter leafy greens, fresh cranberries, or even a scoop of unsweetened cocoa!
For a large pot of sauce, add bitter ingredients in small amounts until the sauce is no longer too sweet.
Add Something Acidic
Try adding more acid to your sauce when it tastes too sweet. Acidic flavors can help subdue the sweetness and allow the sauce to become savory and balanced.
Try various types of vinegar such as white vinegar, apple cider vinegar, or balsamic vinegar. Citrus juice is also a great acidic alternative!
Add acids little by little to your sauce, start with about a tablespoon and increase as desired.
Add Something Salty
Salt can help complement sweet flavors, which makes it a top option when you are trying to make your dish taste savory. You can use table salt, sea salt, garlic salt, or onion salt!
Salt can be overwhelming sometimes, be sure to only add a pinch at a time to your sauce. Taste the sauce, and add more if needed.
💧 Add More Liquid
Adding more liquid helps balance the flavor in multiple ways. If the liquid added is flavored, it can help minimize the sweetness from overpowering the dish.
Liquid also helps dilute the sauce, which can reduce the sweetness. Here are some great choices for diluting your sauce:
Chicken Broth
Chicken broth adds savory flavors that help mask the sweetness, as well as volume to help dilute the sauce.
Add 1 cup of chicken broth to your sauce to help dilute it. Add more chicken broth if you want the sauce to be thinner.
Tomato Sauce
Adding a can of tomato sauce will create more sauce, helps the sauce taste great, and can help reduce the sweetness.
You can add as much tomato sauce to your recipe as you would like. Tomato sauce will balance the sweetness and can be added 1 can at a time.
Cream
Cream is a great additive to help reduce the sweet taste in your sauce. It has a high-fat content that helps absorb that extra sweetness.
Heavy cream, whole milk, sour cream, and yogurt are all great alternatives.
Add about half of a cup to your sauce and taste it, if needed continue this process until it tastes right.
Water
Water is the simplest way to dilute your sauce. It will help balance the sweet flavor, while also increasing the volume.
Add 1 cup of water to your sauce, stir and taste. Add more water if needed!
Citrus
Citrus is a unique alternative for reducing sweetness in a dish. Add the acidic juice of a lemon, lime, grapefruit, or orange.
Add 1 tablespoon of citrus juice at a time. Thoroughly stir your sauce, then add more if needed.
Unsweetened Nut Butter
Unsweetened nut butter is a great way to fix an overly sweet sauce. The nut butter helps add creaminess, balance the sweetness, and make the sauce thicker.
Add half of a cup of unsweetened nut butter to your sauce and allow it to thicken.
Herb Infused Oil
Herb-infused oil will help add flavor while also reducing the amount of sweetness in your sauce.
Add your herb-infused oil 1 tablespoon at a time. Taste your sauce and add more if needed.
🥔 Add Flavor Absorbent Ingredients
Sometimes we just need to add other ingredients that help absorb the sweetness, the following choices are ones that we highly recommend!
Potato Puree
Potato purée can help neutralize the sweetness of your sauce, while also keeping it thick. It also bulks up the sauce and increases its volume!
Add 1 cup of potato purée and stir the dish. Taste the sauce, and add more if desired.
Cheese
Cheese is one of my favorite foods, it is a great additive for sauces that are too sweet as well. Use shredded mozzarella cheese or chunks of sharp cheddar!
Start with 1 cup of cheese for the whole pot of sauce, add more as desired.
Bacon
Bacon has a very powerful and bold flavor that can help neutralize the sweetness in most sauces.
The best thing about bacon is that you can never add too much! Add as much as you want!
🥣 Leave The Sauce Alone
If you want to help compliment the sweet sauce instead of changing it, that is an option too!
Pair sweet sauces with some fresh whole wheat bread from scratch, this savory balsamic roasted brussel sprouts, or my succulent baked chicken wings.
Do you like sweet or savory sauces? When you have a sauce recipe that is too sweet, what is your favorite thing to help balance it out? I would love to know which recommendation you prefer in the comments down below!
📖 More Cooking Guides
📋 Recipe
Print Recipe
Leave A Comment
Love This Recipe?
Click On A Star To Rate It!
Sauce Too Sweet & How To Fix It: Teriyaki Sauce (+Great Tips For Any Sauce!)
Here's how to fix sauce too sweet so that you can still use your tasty sauce and don't have to start over! From adding different flavors to upping the liquid content, I'm going to walk you through a bunch of different options for fixing your sauce. Keep on reading to find out what you need to do!
Pin Recipe
Share on Facebook
Instructions
Combine the sauce ingredients (soy sauce, orange juice, water, light brown sugar, rice vinegar, garlic, and ginger) in a sauce pan over medium heat. Stir occasionally until the brown sugar dissolves, about 5 minutes.

½ cup soy sauce,

¾ cup orange juice,

¼ cup water,

½ cup light brown sugar,

2 teaspoon rice vinegar,

1 tablespoon garlic,

2 teaspoon ginger

In a small bowl whisk the cornstarch and cold water together to make your slurry.

2 tablespoon cornstarch,

¼ cup water

Pour the slurry into your sauce mixture and whisk to combine. Continue to cook, stirring frequently, as the sauce thickens. This typically takes about 3-4 minutes.

Remove from heat and use in your favorite recipe or allow to cool completely before storing.
Notes
*Nutrition information is calculated for the whole 2 cup batch of teriyaki sauce. I typically use only ¼ to ½ cup per recipe.
If your sauce thickens too much, add a drizzle of water to thin to your desired consistency.
Nutrition
Calories:
325
kcal
(16%)
|
Carbohydrates:
76
g
(25%)
|
Protein:
7
g
(14%)
|
Fat:
1
g
(2%)
|
Saturated Fat:
1
g
(6%)
|
Polyunsaturated Fat:
1
g
|
Monounsaturated Fat:
1
g
|
Sodium:
3261
mg
(142%)
|
Potassium:
407
mg
(12%)
|
Fiber:
1
g
(4%)
|
Sugar:
62
g
(69%)
|
Vitamin A:
186
IU
(4%)
|
Vitamin C:
48
mg
(58%)
|
Calcium:
77
mg
(8%)
|
Iron:
2
mg
(11%)
fix a sauce that turned out too sweet, sauce too sweet, Teriyaki Sauce, what to do when your sauce is overly sweet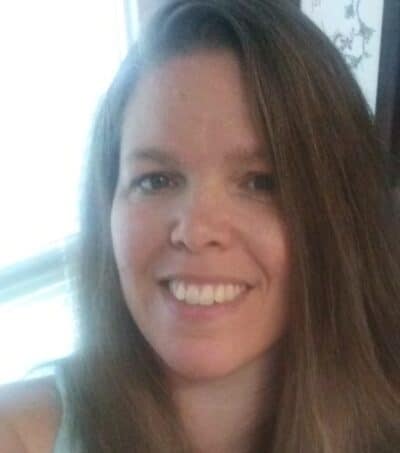 Angela is an at home chef that developed a passion for all things cooking and baking at a young age in her Grandma's kitchen. After many years in the food service industry, she now enjoys sharing all of her family favorite recipes and creating tasty dinner and amazing dessert recipes here at Bake It With Love!