Potato calories and nutrition: A complete guide to calories, nutrition, carbohydrates, vitamins, and more! This post will walk you through the complete nutritional makeup of potatoes so you know exactly what you are eating! Keep on reading to find out why potatoes should be included in your diet!
Guide To Potato Nutrition
Everyone loves potatoes, right? They are versatile, delicious, and a great starch-based vegetable to incorporate into your diet!
Potatoes tend to get a bad reputation when it comes to health benefits, but they are actually jam-packed with nutrition! In this post, we are going to go over all of the macronutrients, calories, and other important health information!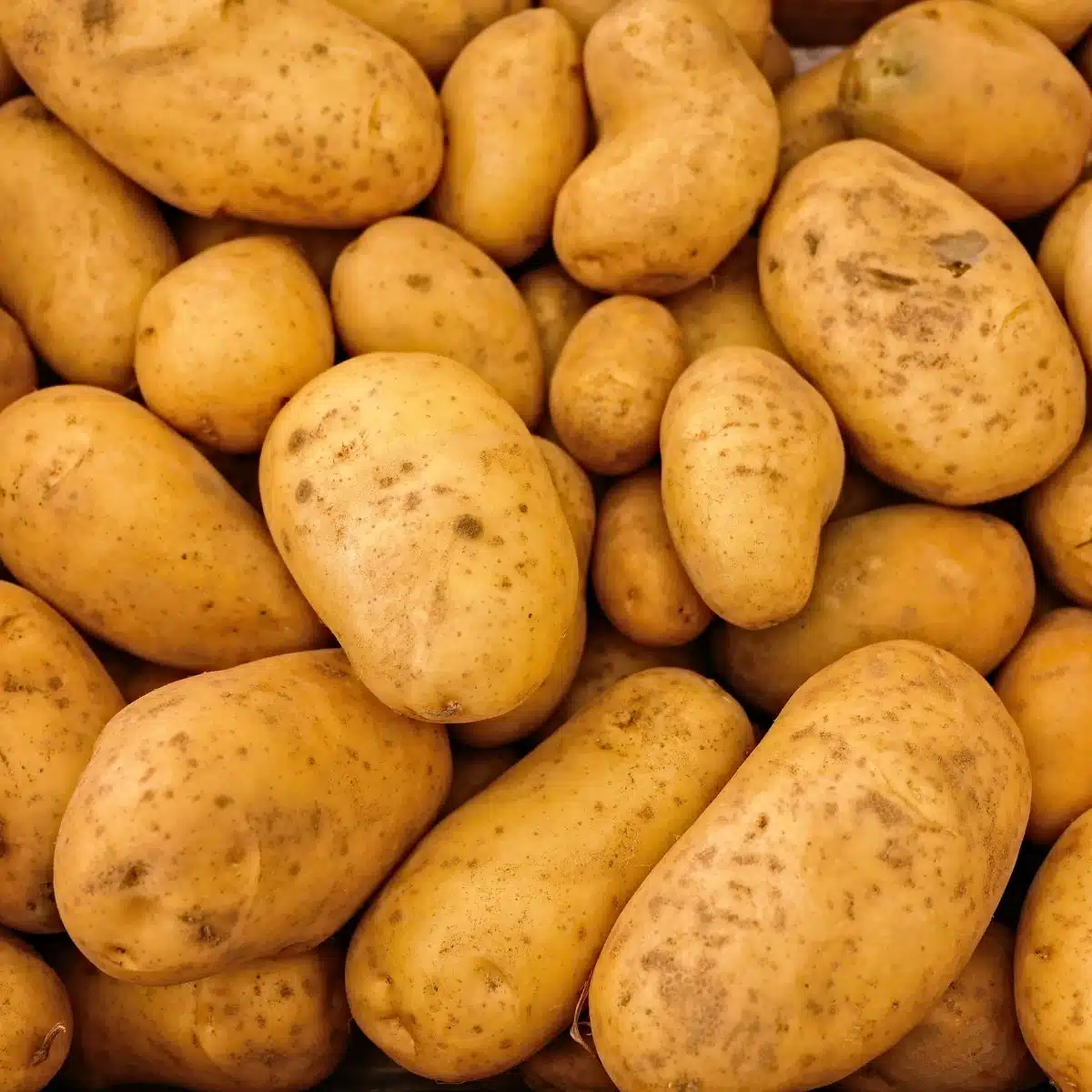 Jump to:
I have so many useful informational posts about potatoes! Take a look at my ultimate guide to potatoes, my post on how to bake potatoes, and this guide to the best potatoes for mashed potatoes!
Dietary Benefits Of Potatoes
To start, potatoes are naturally gluten-free and fat-free, with no sodium or cholesterol! They are also rich in vitamin C, potassium, vitamin B6, and carbs!
They are easy to incorporate into most diets and are definitely packed full of health benefits!
How Many Calories In Potatoes
The calorie content of a potato will vary based on its size and variety. A typical, medium-sized russet potato weighs about 5.3 ounces (or 148 grams) and contains 150 calories.
Since it is hard to determine the exact calories per potato due to weight variances, we will discuss the nutritional value based on weight or cups.
1 cup of boiled, skin-on potatoes is 113 calories, while 100 grams of potatoes (about ⅔ cup) is 93 calories.
How Many Carbs In Potatoes
Potatoes are well-known for being carb-heavy. In fact, they are mainly composed of carbs (primarily in the form of starch)!
Due to this carb-rich nature, potatoes are commonly categorized with foods such as bread, pasta, and rice. However, they are officially a vegetable (and are packed with nutrients!)
100 grams of potatoes contain 21 grams of carbs, while 1 cup of potatoes contains 26 grams of carbs.
Vitamins And Minerals In Potatoes
Potatoes are not high in fiber or protein, but there are tons of great vitamins and minerals that they do contain!
Potassium
Potassium is an electrolyte that is essential for muscle function, and it is super prominent in potatoes!
Potatoes are an excellent source of potassium and actually contain more than bananas do! 100 grams of potatoes contain 535 mg of potassium, which is 11% of your recommended daily amount! 1 cup of potatoes has 653 mg of potassium (14% of the daily value).
Vitamin C
Vitamin C is a water-soluble vitamin that is essential in producing blood vessels, collagen, cartilage, and muscles. It is vital to your body's ability to heal, as it is an antioxidant that helps to protect your cells against free radicals (molecules that are produced when you break down food, it is exposed to smoke, absorb radiation from the sun, etc).
People typically think of oranges when talking about foods that are high in vitamin C, but potatoes are another great choice! In one medium-sized potato, you will find about 42 mg of vitamin C, which is 70% of your daily value!
Vitamin B6
Vitamin B6 is an essential vitamin that serves numerous purposes within the body. Primarily, it supports brain development as well as keeps your nervous system and immune system healthy.
One standard potato has 0.2 mg of vitamin B6, which is about 10% of your daily value and is considered to be a good source!
Additional Calories In Potatoes
While potatoes themselves are super healthy and nutritious, they tend to get a bad rap for being "unhealthy" due to how they are prepared. When adding cheese, butter, or cream to potatoes, you will be adding additional calories to your dish.
For example, it is common for baked potatoes to be loaded up with tasty toppings such as sour cream or bacon, which can easily increase the fat and caloric contents.
Keep your added ingredients in mind when you are trying to stick to certain dietary restrictions.
Potatoes With Vs Without The Skin
Potatoes are easily enjoyed both with and without the skin. There's no need to fret if you are someone who prefers their potatoes peeled, as the only real nutrient you will be diminishing is fiber!
Potatoes are low in fiber, to begin with, but the skin of the potato does contain over half of the dietary fiber (2 grams of fiber with skin vs 1 gram of fiber without the skin). However, the majority of the nutrients are found within the flesh of the potato itself.
Go ahead and enjoy your potatoes however you like!
Cooking With Potatoes
One of the great things about potatoes is how versatile they are! They can be boiled, baked, sauteed, pan-fried, fried, and more!
Frying or roasting with oil will add calories, but you can easily bake or boil your potatoes without adding any extra fat or calories! It is recommended to keep the skin on to retain the maximum level of nutrients when boiling, though.
>>>>See all of my recipes HERE<<<<
How do you like to incorporate potatoes into your diet? Leave a comment down below and let me know your thoughts!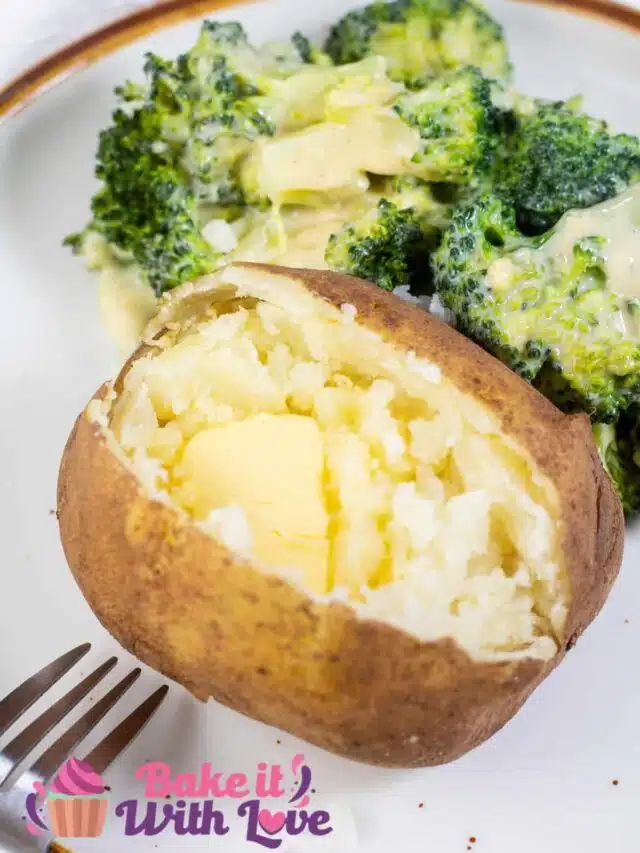 🥔 Best Potato Recipes
Do you love a recipe you tried? Please leave a 5-star 🌟rating in the recipe card below and/or a review in the comments section further down the page.
Stay in touch with me through social media @ Pinterest, Facebook, Instagram, or Twitter! Subscribe to the newsletter today (no spam, I promise)! Don't forget to tag me when you try one of my recipes!
📋 Recipe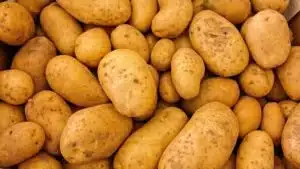 Print Recipe
Leave A Comment
Love This Recipe?
Click On A Star To Rate It!
Potato Calories And Nutrition: Oven Baked Potatoes (+More Potato Recipes!)
Potato calories and nutrition: A complete guide to calories, nutrition, carbohydrates, vitamins, and more! This post will walk you through the complete nutritional makeup of potatoes so you know exactly what you are eating! Keep on reading to find out why potatoes should be included in your diet!
Pin Recipe
Share on Facebook
Ingredients
4

medium

russet potatoes

1

tablespoon

olive oil

(extra virgin)

½

tablespoon

sea salt
Instructions
Preheat your oven to 425°F (215°C) and line a baking sheet with parchment paper.

Wash your potatoes and pat them completely dry. Then, use a fork to poke holes all over the potatoes.

Place the potatoes onto the prepared baking sheet, brush them with olive oil, and then generously sprinkle sea salt over them.

1 tablespoon olive oil,

½ tablespoon sea salt

Bake in the oven at 425°F (215°C) for 45-60 minutes, or until the skin is crispy and the potatoes can easily be pierced with a fork.

Remove the potatoes from the oven, slice them open, fluff the inside, and then serve immediately with your desired toppings.
Equipment You May Need
Notes
Russet potatoes are my favorite for baking as they are high in starch content and make some super fluffy baked potatoes! For more options, check out my post on the best potatoes for baked potatoes!
Don't skimp on the salt! You want to essentially coat the exterior of the potatoes in salt to create a flavorful and crispy crust!
Depending on how large your potatoes are, your cooking time may vary slightly. Smaller potatoes will cook quicker, while larger potatoes may take the full 60 minutes. 
To store: Keep any leftover baked potatoes stored in a sealed container in the refrigerator for up to 4 days. Make sure you let them cool completely before storing them.
To reheat: Reheat your baked potato in the air fryer at 350

°F (175°C) for 3-5 minutes or in the oven at

350

°F (175°C) for 15-20 minutes. 
Nutrition
Calories:
199
kcal
(10%)
|
Carbohydrates:
38
g
(13%)
|
Protein:
5
g
(10%)
|
Fat:
4
g
(6%)
|
Saturated Fat:
1
g
(6%)
|
Polyunsaturated Fat:
0.5
g
|
Monounsaturated Fat:
3
g
|
Sodium:
883
mg
(38%)
|
Potassium:
888
mg
(25%)
|
Fiber:
3
g
(13%)
|
Sugar:
1
g
(1%)
|
Vitamin A:
2
IU
|
Vitamin C:
12
mg
(15%)
|
Calcium:
28
mg
(3%)
|
Iron:
2
mg
(11%)
oven baked potatoes, potato calories and nutrition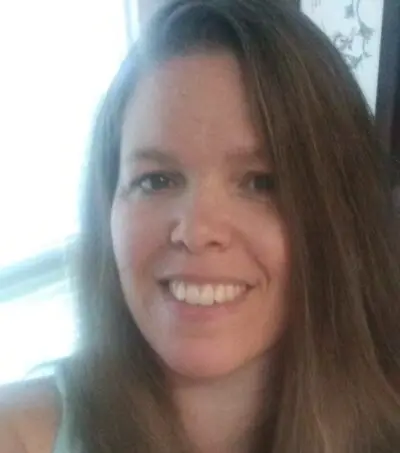 Angela is an at home chef that developed a passion for all things cooking and baking at a young age in her Grandma's kitchen. After many years in the food service industry, she now enjoys sharing all of her family favorite recipes and creating tasty dinner and amazing dessert recipes here at Bake It With Love!