Perfectly pan seared sea bass is literally just minutes away and you can enjoy a fabulous seafood dinner of flaky white fish. The simple seasoning allows the sea bass to really shine as the star of the show!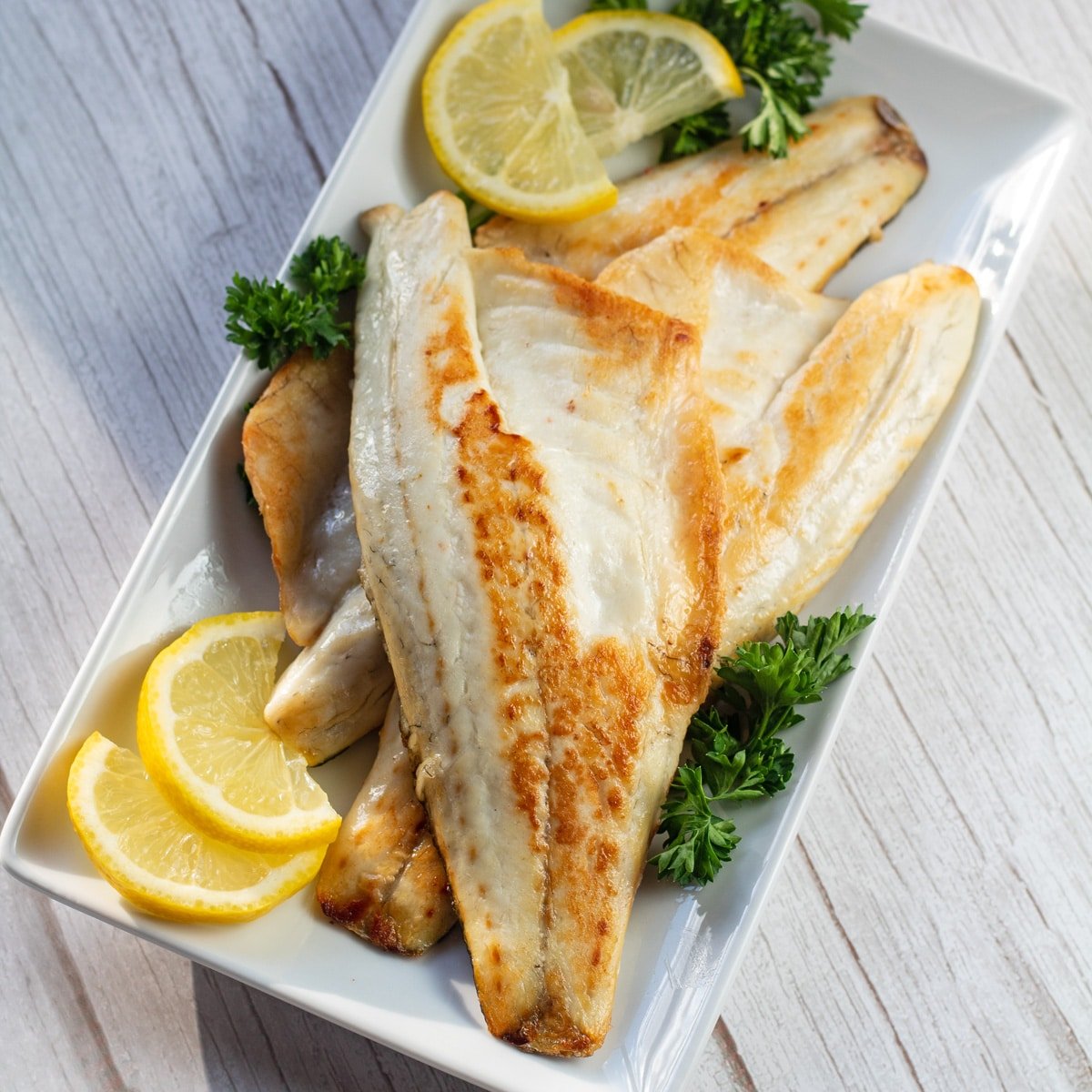 A light, flavorful fish that's simple to prepare and everyone will love!
Pan-searing is one of the easiest, quickest ways to cook a good fish dinner. You can pull this recipe together in about 13 minutes. It's hard to get any faster than that!
Sea bass is a mild-tasting whitefish that lends itself to all kinds of different spice options. With this short list of ingredients, I focus on bringing out the delicate flavor of the fish. The whole family will love this one.
Jump to:
You can make this scrumptious dish without all the breading and stray oil cleanup involved with deep frying. If you're new to seafood, this is a great place to start!
🤔 Sea Bass vs Chilean Sea Bass?
---
Sea Bass is the general term for a group of fish that include many bass and non-bass species. Chilean Sea Bass aren't actually bass at all. Their technical name is Patagonian Toothfish, a type of cod icefish. They are from the oceans around South America and Antarctica, and they taste kind of like cod.
If you're trying to decide what ingredients to buy for this recipe, consider asking your fishmonger for something sustainable. Regardless of species, all sea bass can be classified as lean whitefish with small to medium flakes and a mild taste.
They're great options for diners who aren't sure if they like seafood. Fish that fall under this category can be found all over the world. But for the record, cod would also be delicious in this recipe.
❤️ Why You'll Love This Recipe!
Easy Cleanup! With just a single pan to wash, you'll save both cooking AND cleaning time with this recipe!
Light Meal! This is a fantastic main dish when you want to enjoy a light dinner!
It's simple! With only a few basic ingredients, the natural taste of the sea bass is really highlighted.
🥘 Ingredients
Only 4 ingredients are needed, and I can all but guarantee that you have half of them sitting in your pantry on any given day. Grab some fresh fish and citrus and get to cooking!
Sea Bass - Pick the freshest sea bass or Chilean sea bass you can find at your local seafood market or grocery store.
Sea Salt - I love the thick flakes of sea salt in this dish!
Olive Oil - Try an infused olive oil for a variation on flavor.
Lemon Wedges - Use these to add fresh citrus over your finished product and to garnish.
📖 Variations
There's nothing better with fresh sea bass than the simplicity of the recipe as it's written. But if you want to try something a little different, experiment with some of the flavors below:
Basil pesto and Lemon Juice. This combo goes on after you finish cooking. As soon as you pull the fish out of the skillet, spread on a little bit of the garlicky green stuff, and give it a squeeze of lemon.
This is especially good for people who think they don't like fish. It's an easy, common flavor that, while delicious, minimizes the flavor of the fish.
Butter. The simplest variation of all…swap or combine olive oil with butter. For a richer taste, cook the fish in a pat of salted or unsalted butter.
Garlic and Black Pepper. Want something simple that offers a burst of flavor? Try this. While still a simple blend, the pepper adds a completely different element and goes really well with this dish.
🔪 Step-By-Step Instructions
Fish is always quick to cook, especially on the stove top. To make this dish, you'll need a non-stick frying pan or skillet and a fish spatula.
Pat the fish dry. Using paper towels, pat the 8 ounces of sea bass fillets until dry (as dry as possible).
Then, add the seasoning. Using 2 teaspoons of salt, season both sides of the fish.
Heat the oil. In a skillet, heat 1 tablespoon olive oil over medium-high heat. It is ready when the oil is shimmering.
Transfer the fish. Carefully lay the fish in the pan. If relevant, skin-side should be facing down.
Sear the fillets. Leave the fish over the heat for 4-5 minutes before flipping it over. Cook for another 2-3 minutes or so. When it's done, it will be white with reduced transparency and will flake easily with a fork.
Remove and garnish. Transfer fish to plates or a serving dish and squeeze a fresh lemon over the top. Serve immediately when done.
This makes a flavorful, light lunch or dinner and goes great with turmeric rice and air fryer carrots. Garnish with lemon slices and springs of fresh parsley. Enjoy!
💭 Angela's Tips & Recipe Notes
Dry the fish as noted in the instructions.
This will result in fish that is fried best, rather than getting a 'steamed' effect.
Check the internal temperature to be sure your fish is done cooking.
Both sea bass and Chilean sea bass (as well as any fish species) should have an internal temperature of 145℉ (63℃) in order to be safe to eat. Use a digital meat thermometer in the thickest part of the fish for an accurate reading.
Cooking times may vary for larger, thicker fillets vs smaller, thinner fillets.
Fish vary in size, so cook until the flesh is flaky and until the minimum internal temperature is reached.
Smaller fillets can be cooked fully with only 3-4 minutes on the skin side, and finished with an additional minute or two on the reverse side.
Thicker fillets should be cooked for 4-5 minutes, then reduce the heat and continue cooking the skin-side down until the fillet has cooked ⅔rds of the way through. Then flip and sear for a minute.
Alternatively, thicker fillets can be pan-fried then placed in a 400°F (205°C) oven to finish.
To experiment with other flavors, try using an infused olive oil.
I personally like a Baklouti green chili olive oil option. It adds some spice without changing the flavor much. You could also use rosemary or garlic-infused versions. Make your own or explore the selection available at local specialty stores.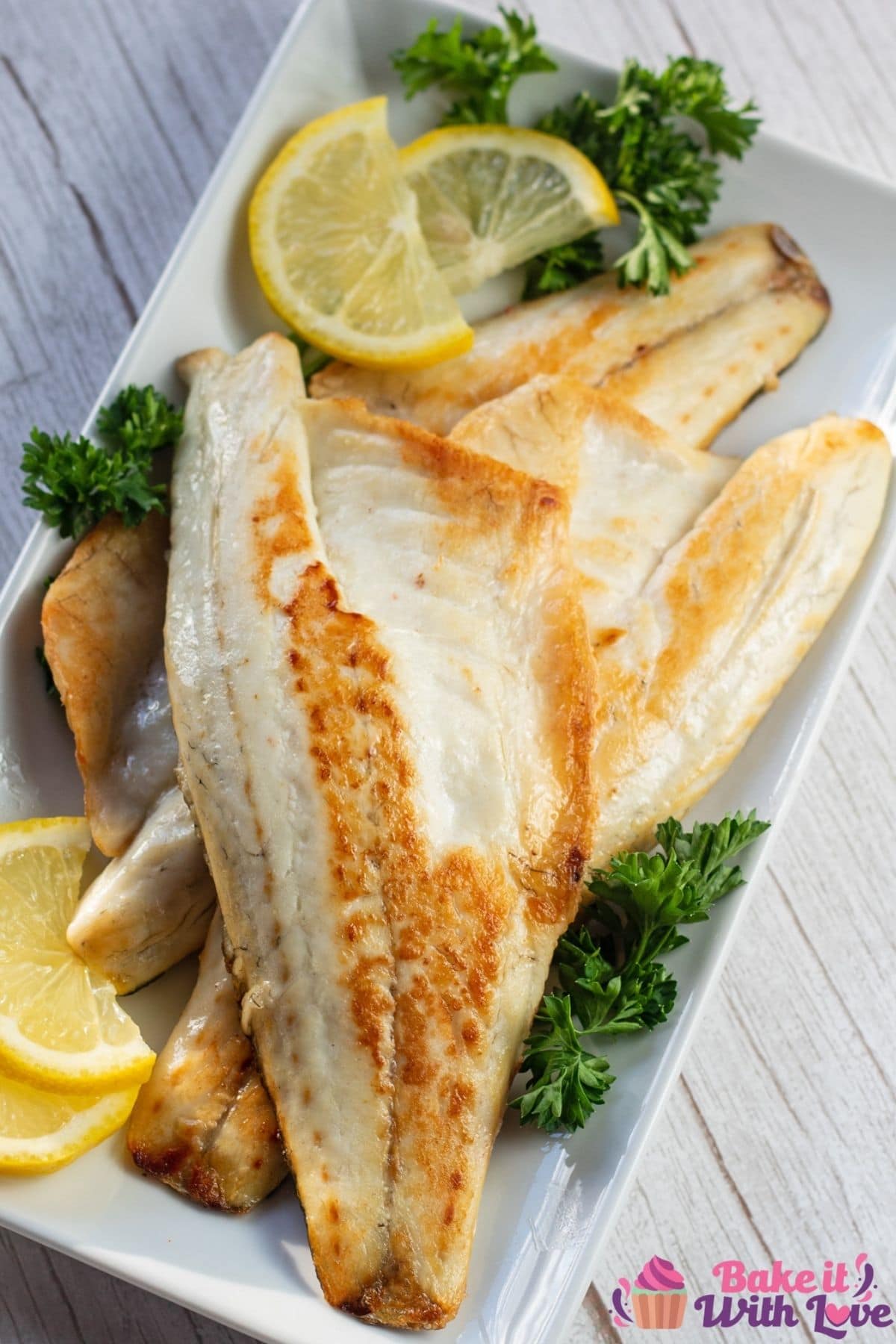 🥡 Storing & Reheating
Keep leftovers in the fridge for 3-4 days in an airtight container or wrapped tightly in aluminum foil or plastic wrap.
If stored in a freezer bag or a shallow covered container, leftover pan seared sea bass can be kept for up to 3 months in the freezer.
Reheating Pan Seared Sea Bass
To steam, use a bamboo steamer or metal insert to steam the fish for a few minutes until hot. This is a great way to keep it from drying out.
To some, the only way to reheat fish is to bring it to room temperature. Do this by setting your oven on 400℉ (205℃) and putting your fish on a plate on the stove in the path of the ambient heat until the chill is gone.
🐟 Other Great Seafood Recipes
---
Take a look at all my seafood recipes! Also check out some of my favorites below.
❓ FAQ
Why is Chilean Sea Bass so pricey?
Keep in mind that there are many types of sea bass you can use for this recipe. Chilean Sea Bass is a popular fish, because it tastes great and is easy to cook. With a high demand has come periods of over-fishing, driving up prices even higher. This is also a fish often seen on the menu in fine dining establishments. 
One of the biggest reasons for the price tag is because of the way it must be caught. It's a deep-sea fish. Fishermen have to venture way out into the ocean and use special equipment. This requires more skills, fuel for their boats, and ice/cooling options to keep fish from spoiling on the way back to shore.
On top of that, the further you are from the southern part of South America, the higher the refrigerated shipping costs are.
📋 Recipe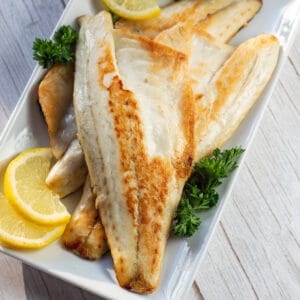 Print Recipe
Leave A Comment
Love This Recipe?
Click On A Star To Rate It!
Pan Seared Sea Bass
Perfectly pan seared sea bass is literally just minutes away and you can enjoy a fabulous seafood dinner of flaky white fish. The simple seasoning allows the sea bass to really shine as the star of the show!
Pin Recipe
Share on Facebook
Ingredients
8

oz

sea bass

2

teaspoon

sea salt

(to taste)

1

tablespoon

olive oil

(extra virgin)

lemon wedges

(optional, garnish)
Instructions
Pat dry the sea bass using paper towels, then season both sides with sea salt.

8 oz sea bass,

2 teaspoon sea salt

Heat a non-stick frying pan or skillet to medium high heat with the olive oil and heat until the oil is shimmering.

Carefully place the fish into the pan (skin side down if your fish has skin).

Cook 4-5 minutes skin side down, then carefully flip the fish over, continue cooking about 2-3 minutes. Cook until the sea bass is cooked throughout and flakes easily with a fork.

Remove from the pan. Squeeze a little fresh lemon juice over the top, serve, and enjoy!
Equipment You May Need
Notes
The Chilean sea bass is done cooking when the internal temperature reaches 145°F (63°C).
Nutrition
Calories:
484
kcal
(24%)
|
Protein:
26
g
(52%)
|
Fat:
42
g
(65%)
|
Saturated Fat:
8
g
(50%)
|
Polyunsaturated Fat:
1
g
|
Monounsaturated Fat:
10
g
|
Cholesterol:
100
mg
(33%)
|
Sodium:
4762
mg
(207%)
|
Potassium:
1
mg
|
Vitamin A:
454
IU
(9%)
|
Calcium:
3
mg
|
Iron:
1
mg
(6%)
how to cook sea bass, Pan Seared Chilean Sea Bass, Pan Seared Sea Bass, white fish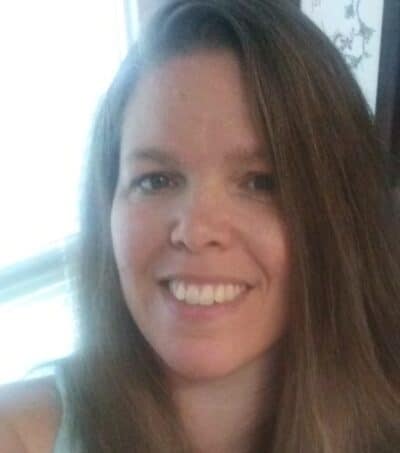 Angela is an at home chef that developed a passion for all things cooking and baking at a young age in her Grandma's kitchen. After many years in the food service industry, she now enjoys sharing all of her family favorite recipes and creating tasty dinner and amazing dessert recipes here at Bake It With Love!