Start your Feast of the Seven Fishes right with all of these amazingly flavorful dishes that range from traditional to just plain, simple, and tasty! There's something for everyone to enjoy with simple pan-seared fish, seafood pasta, and more!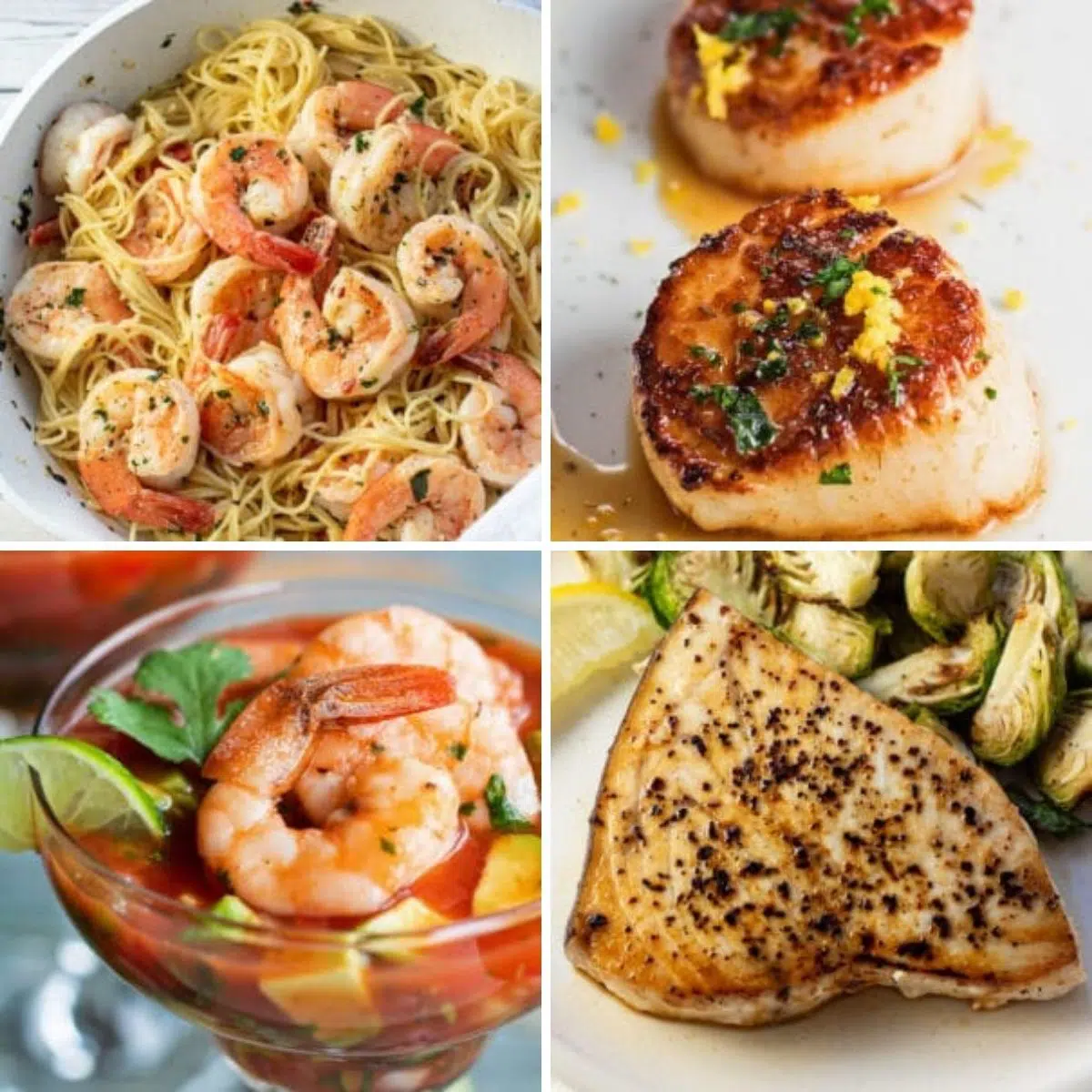 This tasty assortment of seafood-centered dishes will make any feast special!
If you're a seafood-lover, The Feast of the Seven Fishes is bound to be one of your favorite food holidays of the year! For many Italian-Americans, Christmas Eve is about celebrating the wait for the birth of Jesus while abstaining from eating meat.
It's a practice that stems from Roman Catholic beliefs and is a tradition that came over from Southern Italy with immigrants making their way to New York City in the late 1800s.
Jump to:
Feast of the Seven Fishes Dishes
The main courses are full of flavorful seafood without any type of animal fats, as prescribed by the holiday. That means no butter, but that's no problem!
Just swap it out for olive oil to make a Feast Of The Seven Fishes-friendly dish. Cheese is another common ingredient that can easily be left out for the event. So find your nearest seafood shop and see what's fresh!
Any of the dishes below would be perfect for the big day. Most of these only take 10 minutes to make, so you'll be able to cook everything and still have plenty of time to spend with family.
1. Mexican Shrimp Cocktail
This Mexican-style appetizer is a light and refreshing start to the feast. It combines the fresh taste of onions, jalapeños, cucumber, and avocado in a spicy tomato and clam sauce with a twist of lime.
Serve in a margarita glass hung with shrimp for an extra festive party dish! It's perfect for the Feast or a random taco night. Either way, your guests will be thrilled.
2. Calamari
Squid isn't usually on the menu at my house, so it makes an extra special holiday dish. The golden breading gives this typically chewy seafood an appetizing crunch.
Add a few spices to ramp up the flavor, and you'll be wondering why you don't eat this more often! It's an easy–and enticing–way to add some variation to the Feast of Seven Fishes.
3. Pan-Seared Swordfish
Keep up the citrus theme with some pan-seared swordfish. Cooked to perfection, the lemon pepper sauce takes things to another level! It's quick, light, and oh-so-delicious.
Swordfish is a hearty fish that I find can easily take the place of meat in a meal. If you're worried about guests leaving the table unsatisfied, don't be. It truly is the steak of the sea!
4. Pan-Seared Sea Bass
Sea bass has a delicate flavor that is enhanced by the simple flavors of extra virgin olive oil and salt. It's an simple main that will go well with anything else on the menu.
Anyone who shies away from stronger fish flavors, this is the one for you. And as an added bonus, at 13 minutes, it's quick to put together at the last minute! Pull out your skillet and get ready to show off your skills!
5. Baked Flounder
Flounder is another mild-tasting fish that is great for kids and the less seafood-inclined. While the delicious Parmesan panko crust usually contains cheese, it can easily be removed for the Feast!
Try adding your favorite spice blend for extra flavor. It's incredibly versatile; the secret to this dish is the golden panko crust. However you decide to spice it up, the crunch will leave a lasting impression.
6. Lemon Garlic Shrimp Pasta
Seafood pasta dishes are some of my favorites, including this one. Shrimp goes with lemon and garlic like salt goes with pepper; they're made for each other. Combine shrimp with some spaghetti and red pepper flakes, and you've got a real winner.
Just remember to eliminate the Parmesan and replace the butter with olive oil! If you want to turn it into a fun family activity, you can even make your own noodles for an extra special touch.
7. Boiled Lobster
Lobster is the king of special occasion foods. Not many people can say they work this into their weeknight rotation, so if you're trying to impress your guests, look no further.
Boiling these shellfish in water flavored with bay leaves, Old Bay seasoning, and lemon juice results in a delectable meat! It's perfectly suited to tossing with some pasta as well, or adding into your favorite dishes.
If you are craving a dipping sauce, hunt down a high-end olive oil. Either plain or an infused olive oil would be excellent with your Feast of the Seven Fishes dinner!
8. Air Fryer Tilapia
I love using my air fryer for quick meats and sides, and this is no exception. When you're pulling together several dishes at one time, you'll need to spread out the cooking to different devices. Using stoves, ovens, and air fryers can make scheduling easier.
This Cajun-seasoned tilapia can be ready to serve in 10 minutes. It comes out perfectly flaky and full of powerful spice! Many of these recipes are seasoned to highlight the flavor of the fish. Air fryer tilapia does exactly that, and it's really good!
9. Pan-Seared Salmon
If I had to choose, salmon would be on my list of must-haves when it comes to seafood. It's rich and buttery without any type of seasoning, and it goes well with any basic side or even on a salad.
Just add salt, pepper, and dill, and cook it in some coconut oil for a slightly sweet taste.
Throw some lemon on top to balance out the flavors, and you're ready to go. This is another option that will only cost you 10 minutes of your time. Trust me; it's worth it!
10. Pan-Seared Scallops
The key to mouth-watering scallops is pan-searing. There's nothing more appetizing than seeing that crusty sear on both sides. Salt, pepper, oil, and lemon are all you need to make these outstanding bites of bliss.
From start to finish, this too only takes 10 minutes. Cooking a feast doesn't have to be time-consuming. Don't forget to swap out the butter for oil!
11. Cod en Papillote
If you haven't heard of Cod en Papillote, you're not alone. While it may not be a household name, it's a fantastic cod dish cooked in a parchment envelope with carrots and leeks.
Fennel, thyme, and lemon add a burst of flavor as they steam in the parchment package with it.
Not only does it taste amazing, but it looks beautiful on a plate! The colorful herbs and vegetables definitely make this Insta-worthy. So if you're looking to try something new, channel your inner chef and try this out!
12. Air Fryer Shrimp
This should come as no surprise, but shrimp does really well in the air fryer. In 10 minutes, you can turn raw, frozen shellfish into pink, seasoned appetizers, ready to be dunked in cocktail sauce.
And better yet, you can flavor them however you want! Plain is good, but try Cajun! Or lemon pepper! Brush your air fryer basket with coconut oil for an exotic tropical taste.
13. Steamed Clams
If you're lucky enough to have access to some fresh clams, I can't recommend this enough! This is my husband's favorite seafood dish, and with good reason. It's bursting with rich flavor.
Clams are steamed in wine, water, and onions. Top it all off with a squeeze of lemon. This truly is simplicity at its best!
14. Frutti di Mare
Frutti di Mare is a popular Italian dish that translates to "fruit of the sea." It's a tomato-based pasta dish full of whatever fresh shellfish you can muster up–shrimp, clams, mussels, squid, scallops.
You name it, it can be added. The sauce is typically spiced with things like garlic and red pepper flakes. A generous splash of white wine adds complexity and elevates the dish.
This is another option you can't go wrong with. For anyone who likes shellfish as much as me, it doesn't get much better. The smell alone is enough to bring everyone to the kitchen.
15. Blackened Cod
Try this Southern-style blackened cod for a flavorful seafood entree. Tender pieces of cod will end up crisp on the outside, flaky, and moist on the inside.
A perfect main dish for family meals any night of the week, it's also perfectly suited for serving on your Christmas Eve Feast of the Seven Fishes menu!
16. Spanish Mussels
An interesting take on classic mussels that will be a new favorite! Perfectly cooked mussels are served in 'sailor's sauce' making them rich, flavorful, and aromatic!
You simply can't go wrong with all of these easy-to-make Feast of the Seven Fishes dinner recipes! Let me know what your favorites are and I'll add them too!
📋 Recipe