These nectarine recipes are perfect for whipping up some delicious treats using this juicy summertime fruit! From refreshing smoothies to comforting cobblers, there is something for everyone! Make sure you have a ton of nectarines on hand because you'll want to make all these!
Best Recipes Using Nectarines
Nectarines are such an underrated fruit, always living in the shadow of the more well-known peaches. However, nectarines (which are a type of peach) are a great choice for baking because they can remain firm after being in the oven, while typical peaches become very soft!
These recipes are perfect for using up any fresh nectarines you may have on hand- and they are all ridiculously delicious!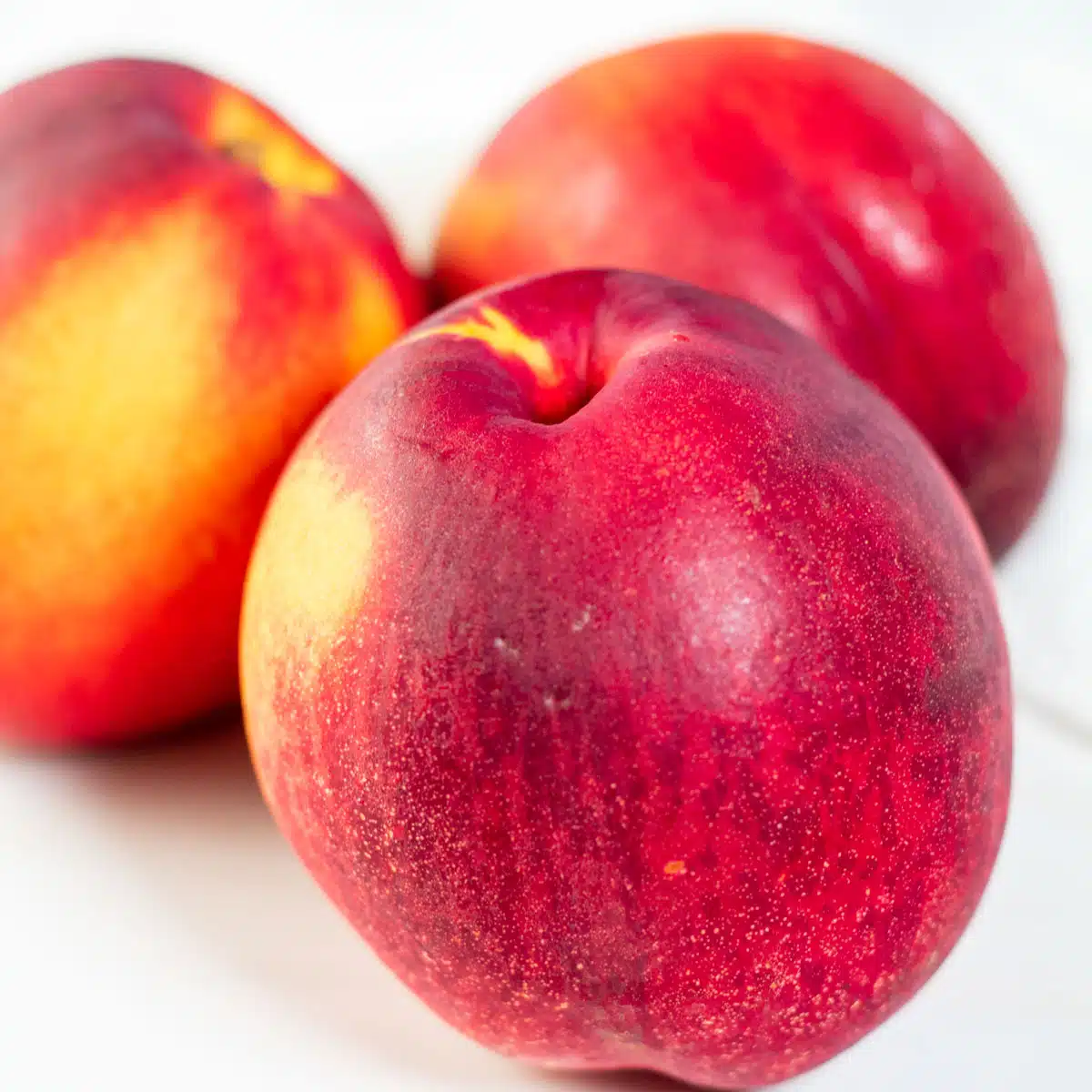 Jump to:
1. Nectarine Cobbler
This beginner-friendly, easy-to-make cobbler will make all of your summertime dreams come true! All you need to do is mix up the easy batter and stir in your sliced nectarines before popping it into the oven!
Don't forget to buy some vanilla ice cream to get the ultimate experience!
2. Nectarine Crisp
This delicious crisp features perfectly ripe nectarines and an irresistible oatmeal streusel topping! It is so simple to throw together using common baking ingredients that it will easily become one of your favorite desserts!
Add a scoop of vanilla ice cream and a light drizzle of toffee sauce for an out-of-this-world treat!
Read all about the similarities and differences between cobblers, crisps, crumbles, & buckles if you want to learn more!
3. Nectarine Upside Down Cake
We all know and love pineapple upside-down cakes, but did you know you could replicate them using nectarines? In fact, it is just as delicious as it sounds!
Simply layer your brown sugar and nectarines, and then cake batter into your pan before baking. Once it is done, you can flip it over to reveal the sweet upside-down cake!
4. Nectarine Ice Cream
Everyone loves ice cream, and this homemade nectarine version is bound to be a new favorite! It combines nectarines and brown sugar for an ultra-delicious flavor combination that is hard to beat!
5. Grilled Nectarines
If you are already grilling out, this easy recipe makes a fantastic sweet treat after the main course (or as a side dish!) When grilled, the nectarines become tender and extra sweet.
Drizzle them with a delicious honey-balsamic glaze to take them to the next level! These nectarines are an easy, guilt-free dessert!
6. Nectarine Pie
I'm a huge fan of any variety of fruit pie, and this nectarine pie is no exception! It is the perfect balance between sweet and tart and is completely addicting.
You can use some store-bought pie crust for an extra easy and quick dessert, or make the dough entirely from scratch!
7. Nectarine Vanilla Bean Scones
It only takes 30 minutes from start to finish, and then you'll be sitting down and enjoying these sweet scones! The scones themselves are chock full of fresh nectarines with a hint of vanilla.
Finish them off with a simple vanilla bean glaze, and you're ready to eat!
>>>>See all of my recipes HERE<<<<
8. Nectarine Clafoutis
If you've never heard of clafoutis before, it is a French dessert that features fruit and a custard-like batter. It's a similar concept to a tart but with no pie crust!
It is definitely impressive enough to serve on any special occasion you may have coming up!
9. Brown Butter Nectarine Tart
Flaky pie crust is topped off with a filling consisting of nectarines, browned butter, and jam for an easy yet sophisticated dessert! It's the perfect way to enjoy the end of the season!
The nectarines make this tart naturally beautiful, and you can even add some slices of plums for variety if you like!
10. Nectarine Popsicles
When the weather is extra hot, what's a better way to cool off than with an icy cold, refreshing popsicle? Not to mention, these incredibly delicious popsicles only use four ingredients!
Yogurt makes them extra creamy, while the nectarines, honey, and vanilla add flavor. Just grab your popsicle mold, and you are ready to begin!
11. Nectarine Galette
Easier to make than a traditional pie, a galette is an open-faced type of pie that has the bottom crust gently folded up around the filling. This recipe uses both peaches and nectarines, but you can certainly use all nectarines if you like!
I also have a recipe for a delicious peach galette or blueberry galette if you want to try those, too!
12. Nectarine Raspberry Jam
This beginner-friendly jam uses just a handful of ingredients and tastes great on everything! Try it with cathead biscuits, as a pancake topping, on some toast, or even as a glaze for pork or chicken!
Go ahead and make a huge batch to use up any nectarines and raspberries you may have left, and then you'll have enough jam to last you all year (or gift it to others!)
13. Nectarine Golden Cake
Homemade yellow cake is layered with slices of fresh nectarines for a fluffy, flavorful, and slightly sweet dessert. It's a simple (and completely easy) summertime cake that is perfect for enjoying while relaxing on a warm afternoon.
14. Nectarine Sunshine Smoothie
Smoothies are a fantastic way to jump-start your day, or you can enjoy them as a snack or as a part of your lunch! This one blends together nectarines, bananas, oranges, and yogurt for a sweet yet tart refreshing beverage.
It's the perfect treat for both kids and adults alike!
15. Nectarine Lemon Bars
Imagine tangy and refreshing lemon bars but with the added sweetness from some slices of nectarines!
One batch makes 20 bars so they can easily accommodate even a large group. Plus, the bars are easy to serve when you're hosting events or just hanging out with friends and family.
💭 Tips For Cooking With Nectarines
Cooking and baking with nectarines can be a delightful experience, adding a sweet and tangy flavor to various dishes. They can also be used interchangeably in many peach-based recipes, so feel free to experiment!
Choose ripe nectarines: Look for nectarines that are slightly soft to the touch and have a fragrant aroma. They should give slightly when pressed. If they are still hard, let them sit for a few more days to finish ripening.
Wash and dry thoroughly: Rinse the nectarines under cold water and pat them dry with a paper towel before using them to remove any dirt or residue.
Slice or chop uniformly: To ensure even cooking and baking, slice or chop nectarines into consistent sizes.
Pair with herbs and spices: Try out some fresh herbs like basil or mint and spices such as cinnamon or ginger to enhance the nectarine's flavor.
Freeze for later: If you have an abundance of ripe nectarines, freeze them for future use. Slice or chop them, lay them on a baking sheet to freeze individually, then transfer them to a sealed container.
What do you think of this collection of nectarine recipes? Leave a comment down below and let me know which one you are the most excited to try out!
📋 Recipe