These Cointreau cocktails celebrate the signature bitter and sweet orange flavor of this classic top-shelf triple sec! Cointreau makes a wonderful addition to tropical fruity drinks as well as stiff, robust cocktails. Discover a few of the best cocktail recipes featuring Cointreau right here!
Best Cointreau Cocktails
The distinct taste of Cointreau adds a unique depth and complexity to any cocktail. That's why it's a must-have ingredient in any home bar or professional mixologist's toolkit!
Below are some of the best cocktail recipes that can be made with Cointreau. From fruity tropical cocktails to classic mixed drinks, there's something here for everyone!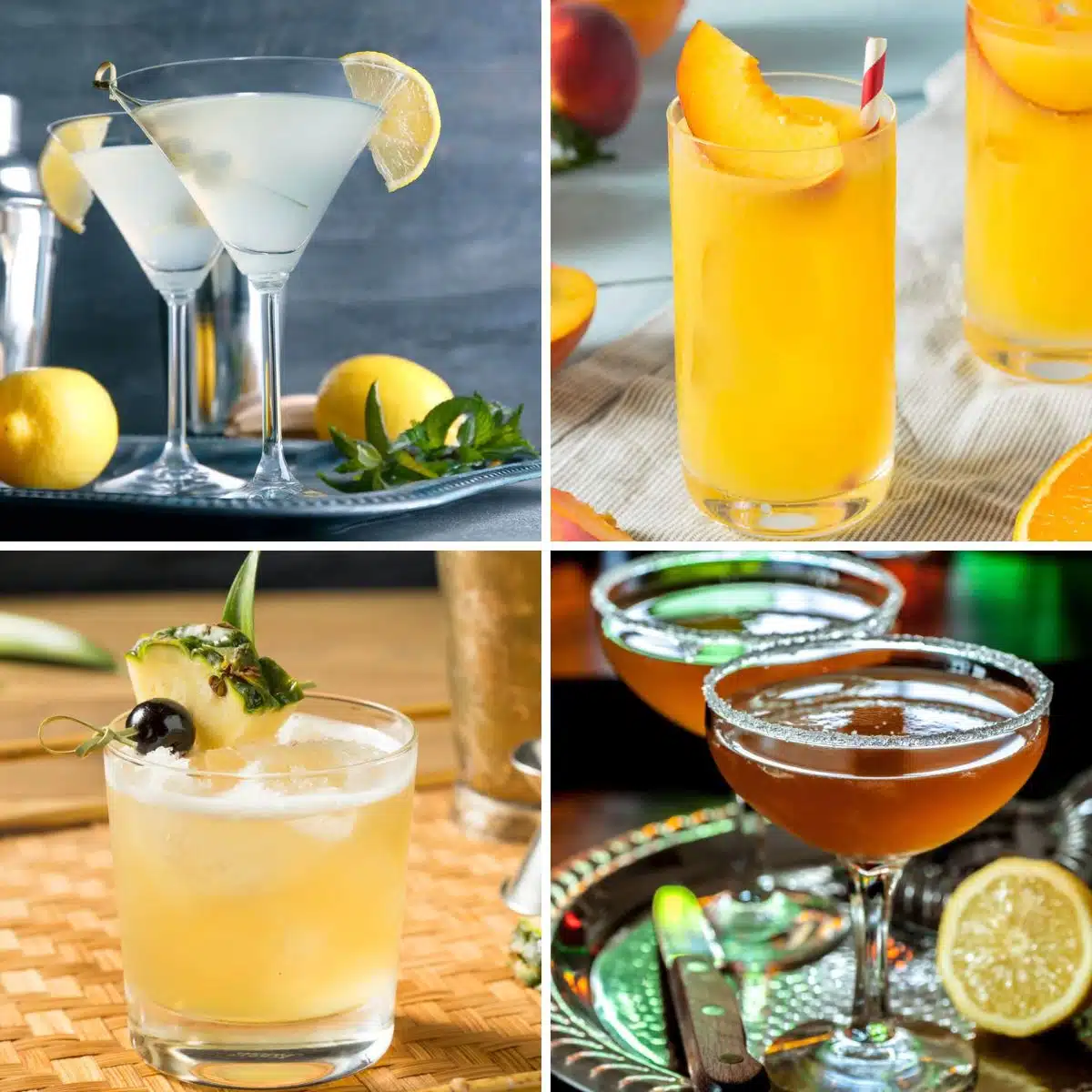 Jump to:
1. Lemon Drop Martini
A lemon drop martini is a citrusy cocktail made using Cointreau, vodka, and fresh lemon juice. The Cointreau adds a sweet and slightly bitter orange flavor to the drink that complements the tanginess of the lemon juice perfectly!
2. Fuzzy Navel
A fuzzy navel is a refreshing cocktail made with Cointreau, peach schnapps, and orange juice. The name refers to the 'fuzzy' color of the drink and navel oranges.
The tart flavor of the orange juice is balanced by the dryness of the Cointreau, resulting in a perfectly balanced fruity cocktail!
3. Mai Tai
A mai tai is a tropical cocktail that's made using Cointreau, rum, lime juice, and orgeat syrup. The Cointreau adds a hint of orange flavor to the cocktail, while the orgeat syrup adds a nutty sweetness that complements the rum perfectly!
4. White Lady Cocktail
A white lady cocktail is a classic, elegant drink that is made by combining Cointreau, gin, and lemon juice. The Cointreau provides a sweet orange flavor that complements the tangy lemon juice, while the gin adds a botanical note that rounds out the drink!
5. Sidecar Cocktail
This classic cognac cocktail features triple sec, or Cointreau, and lemon juice. It's smooth and well-balanced, making it the perfect drink for a nightcap or dinner party.
6. Cosmopolitan
The Cosmopolitan, also known as the "Cosmo," is a popular cocktail made with Cointreau, vodka, and cranberry juice. The Cointreau adds a lovely orange flavor that balances the tartness of the cranberry and lime juice, while the vodka provides a smooth and clean finish.
7. Vodka Margarita
Instead of tequila, try a refreshing vodka margarita this summer! Made with Cointreau, vodka, lime juice, and simple syrup, this margarita has the perfect combination of sweet and sour flavors.
8. Pink Vodka Margarita
A pink vodka margarita is a fun and fruity twist on the classic margarita. The color comes from pink vodka, which adds a tart and sweet contrast to the dry bitterness of the Cointreau. It's a perfectly balanced cocktail that looks at good as it tastes!
>>>>See all of my recipes HERE<<<<
9. Cointreau Fizz

A Cointreau fizz is a refreshing and easy-to-make cocktail that is perfect for hot summer days. Made with Cointreau, fresh lime juice, and sparkling water, this cocktail has a crisp and tangy flavor with a satisfying fizz!
10. French 75
A French 75 is a classic gin cocktail that can be made with triple sec, or better yet, Cointreau. Cointreau adds a bitter orange flavor that complements the floral notes of the gin, while the lemon juice provides a tangy freshness.
11. Kahlua Cointreau French Coffee
A Kahlua Cointreau French coffee features coffee liqueur, coffee, and triple sec. It's a satisfying cocktail that is perfect for serving after dinner or enjoying at breakfast or brunchtime!
12. Singapore Sling
A Singapore sling is a fresh and fruity beverage made with Angostura bitters, cherry brandy, triple sec, lime juice, pineapple juice, and gin. This cocktail really packs a punch, but it tastes so delicious it's hard not to go for seconds!
13. Test Pilot
A test pilot is a delicious tiki drink that is made with 2 kinds of rum, triple sec, lime juice, Angostura bitters, falernum syrup, and an anise-flavored liqueur. It is a rich and complex cocktail that's so smooth you will savor every sip!
I hope you enjoy making and sipping on these delicious drinks! Don't forget to let me know in the comments how everything turns out, and feel free to share your own twists on these classic cocktails!
🍹 More Tasty Cocktails To Try
📋 Recipe