These apple cake recipes are the perfect homemade desserts for celebrating holidays, birthdays, or just as an after dinner treat! This list features cakes for every season with plenty of fall flavors and sweet summery desserts! Try one or try them all, you won't be sorry you did!
Best Apple Cake Recipes
Nothing says 'thoughtful' like presenting someone with a homemade cake. These apple cake recipes are some of my favorites for gifting and sharing!
There's no better use for fresh apples than turning them into an unforgettable dessert. This list features some classic cakes and some fun and flavorful recipes you may have never tried before!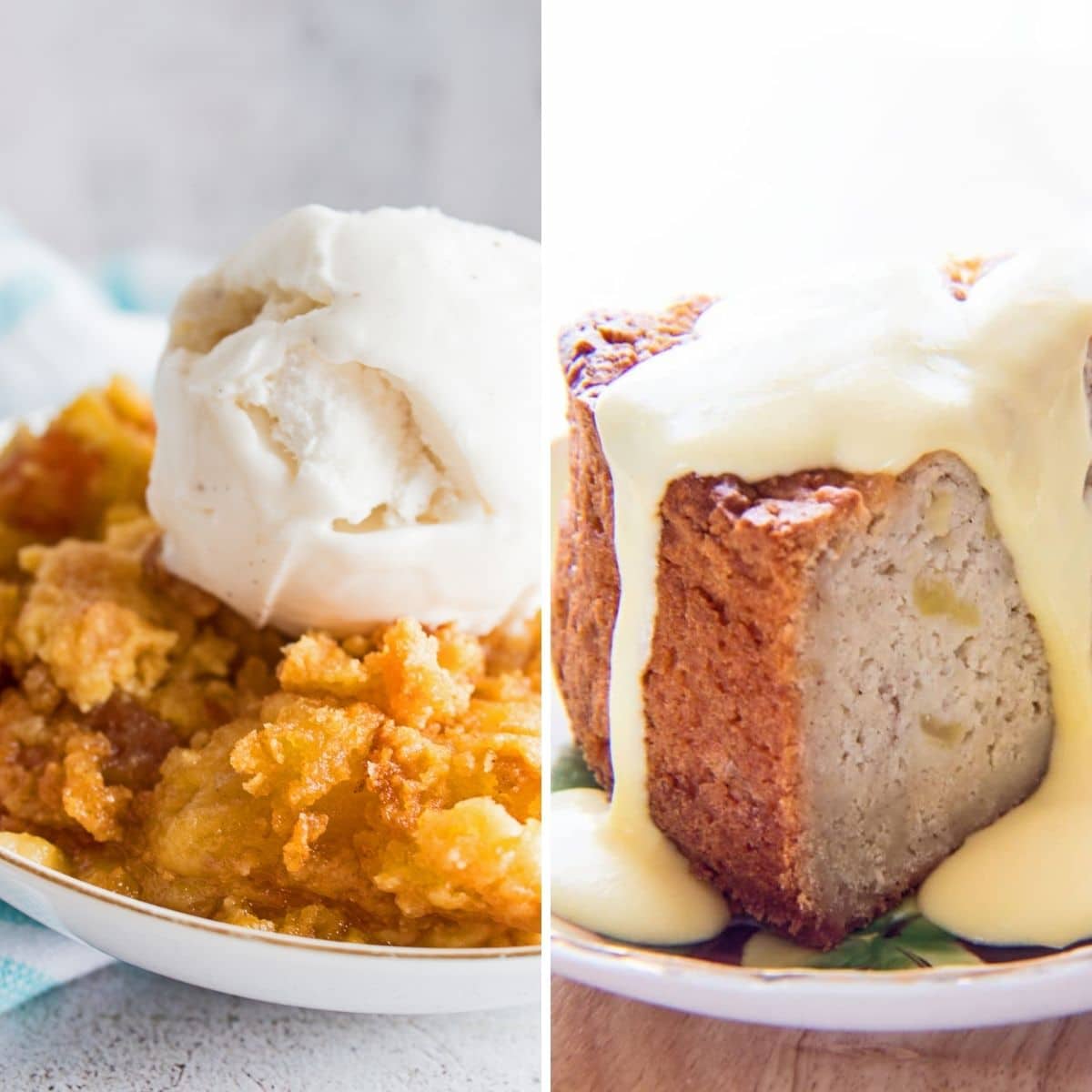 Jump to:
Homemade Apple Cakes
These homemade apple cakes are the best way to use up fresh apples. They are perfect for celebrations, holidays, or just because!
1. Irish Apple Cake
This traditional Irish apple cake is coated with an incredible custard sauce that's hard to resist!
2. Apple Cake Topped With Almonds
A swirl of freshly sliced apples and a sprinkling of thinly sliced almonds adorn this sweet fluffy cake!
3. Apple Dump Cake
If baking is not your forte, anyone can make this fabulous apple dump cake! It's an easy recipe that tastes like it took a lot of time and effort!
4. German Apple Cake
This German apple cake is great for Christmas or Thanksgiving potlucks (or any time of year)!
5. Jewish Apple Cake
This Jewish apple cake is filled with fresh apples, cinnamon, and orange juice with a drizzle of icing to top it off!
6. French Apple Cake
This buttery, soft rum cake is packed with bits of sweet apple. It's simple, yet delicious!
7. Caramel Apple Cupcakes
These spiced cupcakes are covered in a heavenly caramel and pecan topping!
8. Dutch Apple Cake
Dutch apple cake is a soft and fluffy coffee cake full of juicy apple slices.
9. Apple Spice Cake
Apple spice cake is full of autumn flavors and juicy Granny Smith apples. Toss in some pecans or walnuts for texture!
10. Cranberry & Apple Cake
The flavors of cranberry, apple, orange, and cinnamon fill this cake and the addition of sour cream keeps it decadently moist!
11. Apple Stack Cake
This cake alternates layers of sweet cake and a smooth apple filling! It takes some time to make, but every minute is well worth it.
12. Apple Pudding Cake
Apple pudding cake is so soft and tender! The only thing that makes it better is the cinnamon butter sauce that is spooned over the top!
13. Apple Coffee Cake
All coffee cake is delicious, but apple coffee cake is truly decadent! The apples add a subtle sweetness and keep the cake extra moist and crumbly.
14. Apple Butter Cake Roll
This gingerbread roll is full of sweet, creamy apple butter. It makes a lovely gift during the holidays or a delightful sweet breakfast!
15. Apple Fritter Cake
Vanilla coffee cake stuffed with sweet cinnamon apples makes for a fabulous breakfast!
16. Apple Walnut Cake
You don't even need frosting for this moist and flavorful cake. A scoop of ice cream is always good, though!
17. Apple Cider Donut Loaf Cake
I love apple cider donuts, so I really like sharing it in cake form! This cake is perfect for bake sales, potlucks, or any get-together!
18. Apple Skillet Cake
The apple skillet cake is incredible but it's the salted caramel frosting that truly sets this recipe apart!
19. Pumpkin Apple Dapple Cake -
If you're tired of traditional pumpkin desserts, this cinnamon apple pumpkin cake is a great compromise! It's easy to make and packed with flavorful bits of apple!
20. Cinnamon Apple Cake
This cinnamon apple cake makes a delicious breakfast or dessert! It will keep for a week, so you can save the leftovers for a quick weekday snack.
21. Apple Pear Coffee Cake
Apple and pear are a fabulous flavor combination that is way underrated. This coffee cake features both!
22. Applesauce Cake
Applesauce is often used to keep baked goods moist, and this cake is just that. It's a fairly quick and simple recipe that makes a breakfast or on-the-go snack!
23. Chunky Apple Cake
If you love apples, this chunky apple cake is as apple-flavored as it gets! Walnuts are added for texture and it's all coated in a simple, yet delicious, vanilla frosting.
24. Spiced Apple Upside Down Cake
Everyone's had pineapple upside down cake, but what about apple upside down cake? With a blend of autumnal spices, this cake is perfect for fall!
25. Applesauce Cupcakes
Soft apple cupcakes covered with browned butter frosting, what's not to love?
26. Caramel Apple Cake
This caramel apple cake is perfect for Halloween or Thanksgiving! The sticky caramel sauce is just heavenly.
27. Apple Sour Cream Cake
This apple sour cream cake is decadently moist, but not too sweet. If you prefer a breadier dessert, this one is perfect for you!
28. Spiced Apple Cake
A classic spiced apple cake is the perfect addition to any get-together! A whipped caramel topping makes it even more tasty!
29. Apple Crumble Cake
This homemade crumb cake is chock full of cinnamon apples and topped off with an extra crumbly streusel topping.
30. Toffee Apple Cake
Toffee apple cake is a show stopping dessert! It's made with layers of spiced spongecake, vanilla icing, and a sweet and sticky caramel apple filling.
31. Dorset Apple Cake
This rustic cake has chunks of tender apple and a finger-licking good demerara sugar topping!
🍰 More Incredible Cakes
One of these homemade apple cake recipes may become a new family tradition! Leave a comment below if you give any of these recipes a try and tell me how they turned out!
📋 Recipe