Many of us have encountered a recipe or multiple recipes that we're eager to try, only to find that the oven settings provided are different from what we're accustomed to using.
Whether it's a family recipe handed down through generations or a new culinary experiment from a foreign cookbook, these differences in temperature measurements can be a stumbling block.
This guide bridges that gap and offers a comprehensive overview of oven temperature conversions. It covers a broad spectrum of temperature scales, providing both the mathematical calculations you might need and a handy quick-reference chart.
The most frequently asked conversion is what is 350°F in Celsius; it's 177°C.
Understanding how to convert between different temperature scales is essential for anyone who enjoys cooking or baking. It ensures that you can accurately follow any recipe, regardless of its origin or the units of measurement used.
Below, you'll find simple instructions for converting between Fahrenheit and Celsius, the two most common temperature scales used in cooking.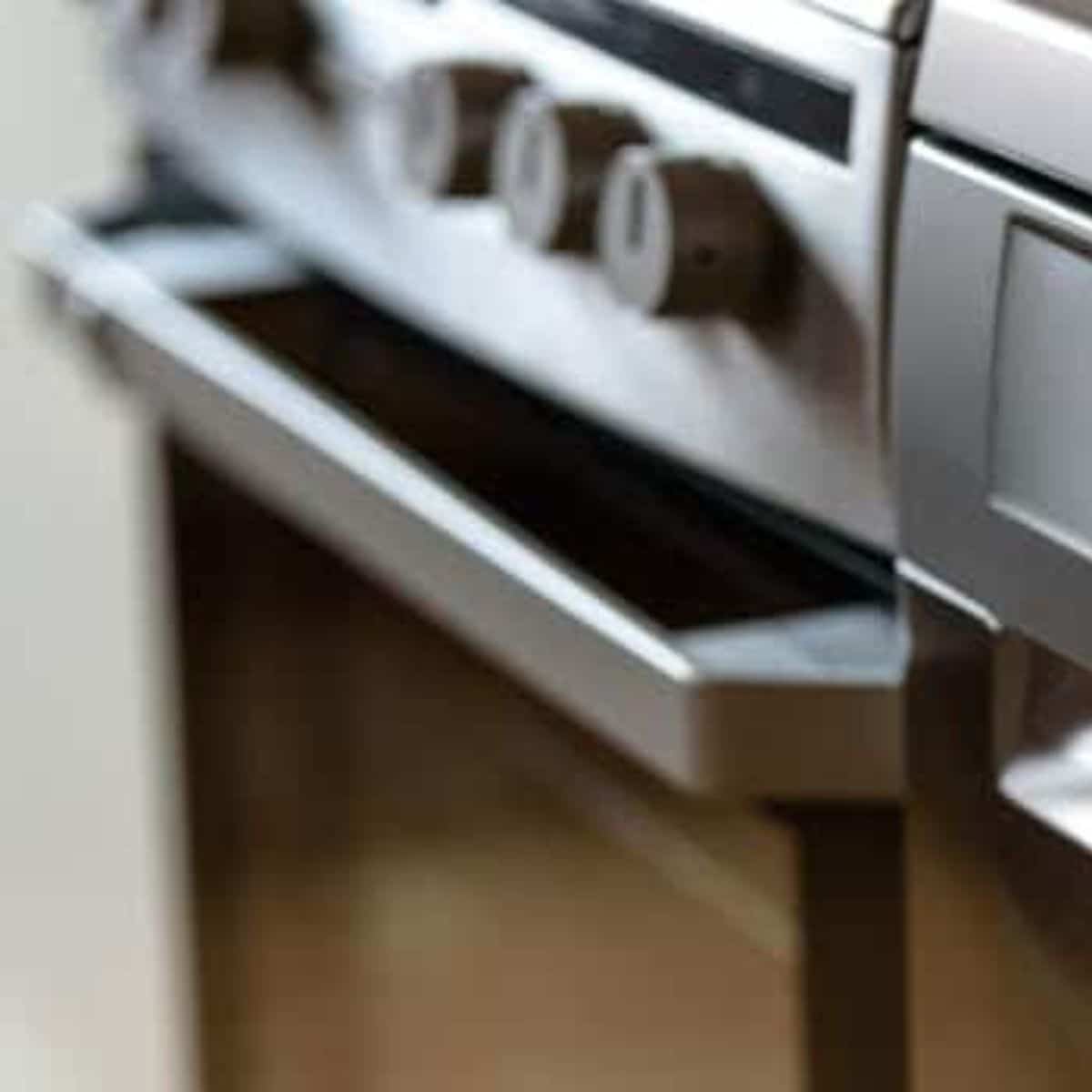 Jump to:
Quick oven temperature conversions are listed in the table below.
Table 1: Oven Conversions
| Fahrenheit (degrees F) | Celsius (degrees C) | Gas Mark | Description | German Stufe | French Thermostat |
| --- | --- | --- | --- | --- | --- |
| 225°F | 105°C | ¼ | Very Cool | Stufe ½ | |
| 230°F | 110°C | ¼ | Very Cool | | |
| 250°F | 120°C | ½ | Very Slow | | Thermostat 4 |
| 265°F | 130°C | 1 | Very Slow | | |
| 275°F | 135°C | 1 | Very Slow | | |
| 300°F | 150°C | 2 | Slow | Stufe ¾ | Thermostat 5 |
| 325°F | 160°C | 3 | Slow | Stufe 1 ¼ | |
| 350°F | 175°C | 4 | Moderate | Stufe 1 ¾ | Thermostat 6 |
| 375°F | 190°C | 5 | Moderate | Stufe 2 ¼ | |
| 400°F | 205°C | 6 | Moderately Hot | Stufe 3 | |
| 410°F | 210°C | 6 | Moderately Hot | Stfufe 3 | Thermostat 7 |
| 425°F | 220°C | 7 | Hot | Stufe 4 | |
| 450°F | 230°C | 8 | Hot | Stufe 4 | |
| 460°F | 240°C | 8 | Hot | Stufe 5 | Thermostat 8 |
| 475°F | 245°C | 9 | Hot | Stufe 5 | |
| 500°F | 260°C | 10 | Very Hot | | |
| 520°F | 270°C | 10 | Extremely Hot | | Thermostat 9 |
| 550°F | 290°C | 10 | Broiling | | |
How To Convert Fahrenheit to Celsius
Subtract 32: Start with the temperature in Fahrenheit and subtract 32 from it. This adjustment aligns the freezing points of both scales.
Multiply by 5: Next, multiply the result by 5. This step begins the process of scaling the temperature to the Celsius scale.
Divide by 9: Finally, divide the result by 9. This completes the conversion, giving you the equivalent temperature in Celsius.
How To Convert Celsius to Fahrenheit
Multiply by 9: Start with the temperature in Celsius and multiply it by 9. This step scales the temperature up in preparation for conversion to the Fahrenheit scale.
Divide by 5: Next, divide the result by 5. This step adjusts the scale to align with the Fahrenheit system.
Add 32: Finally, add 32 to the result. This completes the conversion, giving you the equivalent temperature in Fahrenheit.
Convection Oven Temperature Conversion: Understanding the 'Fan' Mode
In the world of modern cooking, convection ovens, also known as fan-assisted ovens, have become increasingly popular. These ovens are equipped with a fan that circulates hot air around the food, allowing it to cook more evenly and often more quickly. When a recipe refers to the term 'Fan,' it's specifically alluding to this convection or fan-assisted feature.
How to Adjust Temperature in a Convection Oven
When you're using a convection oven, temperature adjustments are essential to ensure that your dish is cooked to perfection. Here's how you can make those adjustments:
Follow the Original Baking Time: Start by adhering to the baking time provided in the original recipe. The convection oven's fan helps in distributing the heat more uniformly, so the cooking time usually remains the same.
Reduce the Temperature: Since the fan circulates the hot air, it can make the oven's interior hotter and more efficient than a conventional oven. To compensate for this, you'll need to reduce the convection oven temperature by 20-25 degrees Fahrenheit (-4 to -7 degrees Celsius). This reduction helps in mimicking the temperature conditions of a standard oven, ensuring that your dish doesn't overcook.
Why Make the Adjustment?
The reason for this temperature adjustment lies in the unique way convection ovens operate. The fan creates a consistent temperature environment, eliminating the hot and cold spots that can occur in a traditional oven. This means that food cooks more evenly but can also cook more quickly if the temperature is not adjusted down.
Tips For Success
Use an Oven Thermometer: To be precise with the temperature, consider using an oven thermometer. It will help you monitor the actual temperature inside the convection oven.
Experiment with Your Oven: Every oven is slightly different, so don't hesitate to experiment a little to find the perfect temperature reduction for your specific appliance.
Consult the Oven's Manual: Many modern convection ovens come with guidelines for converting recipes. Consult your oven's manual for specific instructions related to your model.
When it comes to baking, understanding the oven temperature and power levels is crucial. Different types and brands of ovens may vary, and factors like altitude, ambient temperature, and humidity can influence cooking. This guide provides essential insights that should cater to most of your baking needs.
Are you looking for precision in your cooking and baking? Individual ovens may differ by +/- 25 degrees F (-4 degrees C). For the most accurate temperature control, consider using an internal oven thermometer. While we typically refrain from endorsing products, we've found immense value in our own thermometer, available in the budget-friendly $2-8 price range. It's a must-have kitchen tool for those aiming for perfection in their culinary creations.
Ever wondered how to gauge your oven's temperature without a thermometer? Some say that if you can hold your hand inside the oven for 8-12 seconds, it's approximately 350°F (180°C). However, this method isn't recommended by culinary experts.
For safety and accuracy, invest in a quality oven thermometer. It's a small investment that can make a big difference in your cooking and baking experience. Explore our site for more tips and tools to elevate your kitchen skills!