Maybe you have been wondering the differences between a malt vs shake, or perhaps you thought they were the same, but they're not! Both are delicious, cold, creamy treats, but their differences are what is key to their texture and flavor!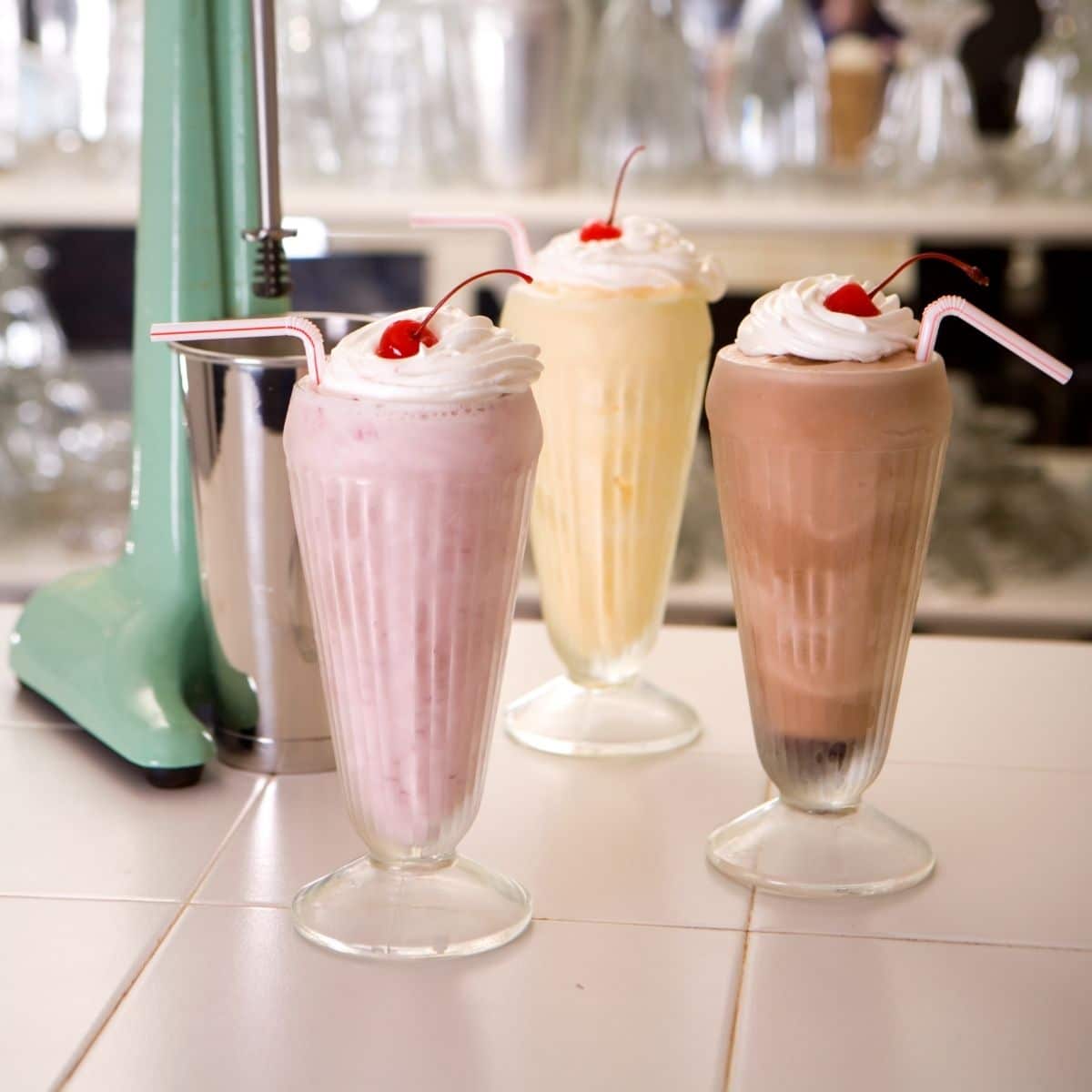 The milkshake and the malt - what's the real difference?
Milkshakes and malts are quintessential American cuisine. Hamburgers and milkshakes are classic diner foods we all grew up eating or seeing in movies as part of what the cool kids enjoyed at 1950s soda fountains.
But there's another traditional ice cream treat that is sometimes overlooked or equated with milkshakes despite one major difference. The malt.
Jump to:
When I was a kid, this was my go-to snack when I took a break from the long summer days in the public swimming pool. They even came with a wooden spoon!
Chocolate malts are by far the most popular and–in my opinion–most delicious. There's something about those flavors that were just made for each other.
Both of these are making me want to drive to the nearest grocery store and stock up on supplies. So what is the big difference between a malt vs shake? Is there really that much of a distinction?
What Is A Shake?
I think we all know what shakes are. They're an addictive combination of ice cream and milk blended up until it's drinkable, and it often comes with fluffy whipped cream and a maraschino cherry to top it all off. They're cold and creamy and oh-so-delicious.
Sometimes, extra flavoring or mix-ins can be added. This can range from anything like a chocolate or butterscotch syrup to crumbled cookies or pieces of candy. Butterfinger or Heath bars are always my favorite.
There tend to be lots of fruit options as well. Originally, flavor options were limited to chocolate, vanilla, and strawberry.
These days, restaurants will blend extra fruit in with the ice cream to create more options. Banana milkshakes are amazing! Chocolate, too? Yes, please! Or try my personal favorite, a root beer shake!
Records of the first milkshakes were recorded in 1885, but they weren't anything like the dessert we know them as today. They more closely resembled eggnog and were an adults-only beverage.
It wasn't until the early 20th century the whiskey and eggs were swapped out, and we saw the modern version that is still around.
What is a malt?
Malts are also known as malted milkshakes. This should give you an indication of the minor change.
They're made with the same types of ingredients but with a notable addition. After the milk and ice cream is mixed together, malted milk powder or syrup is added and blended in too!
The "malt" was first created by Walgreens employee Ivar "Pop" Coulson in 1922, not too long after the milkshake craze started. Promoting a rebirth of the malt craze, in my humble opinion, is a worthy endeavor!
And as anyone who has had a malt can tell you, there is a very special flavor that makes all the difference. You could do a blind taste test and be able to identify the malt at first sip.
Malted Milk Powder, What is It?
Malted milk powder is a type of evaporated powder with a unique flavor. It's made from wheat flour, barley–also used to make beer and whiskey–and whole milk. In other words, if you're gluten-free, you're not going to want to get one of these!
This powder makes malts a bit sweeter and thicker. The ones I often had as a kid were so thick you could turn them upside down, and nothing would come out, hence the reason they included a wooden spoon. Some people make them so you can still use a straw, but there is a range.
In fact, it's often used in chocolate candies and milk powder blends like Whoppers and Ovaltine. You can put it in cakes or cookies as well for a delicious change in flavor.
I recently made a dark chocolate cake with malt and chocolate malt icing that went over really well with my family. If you're looking to make your own malt powders, you'll find them near the powdered chocolate milk mixes.
One thing to note about malt is its nutritional value. When it was new on the market, people saw it as a health-focused flavoring.
There are definitely some vitamins and minerals in this, but with the amount of powder you add to a malt, the health benefits are minimal.
Malt vs Shake: Which is Better?
To review, malts are a type of milkshake, but not all milkshakes are malts. Both of these are fantastic treats on a hot day or with a great retro diner-style burger. Both can be made with a milkshake machine or your blender when preparing one at home.
When it comes down to it, it's all about personal preference. While you might find a wider variety of flavors of the former, none of them will taste like a classic malt without the powder.
Are you team chocolate, vanilla, or strawberry?? Let us know in the comments below!
Do you love a recipe you tried? Please leave a 5-star 🌟rating in the recipe card below and/or a review in the comments section further down the page.

Stay in touch with me through social media @ Pinterest, Facebook, Instagram, or Twitter! Don't forget to tag me when you try one of my recipes!
📋 Recipe
Print Recipe
Leave A Comment
Love This Recipe?
Click On A Star To Rate It!
Malt vs Shake: What's the Difference Or Are They The Same?
Maybe you have been wondering the differences between a malt vs shake, or perhaps you thought they were the same, but they're not! Both are delicious, cold, creamy treats, but their differences are what is key to their texture and flavor!
Pin Recipe
Share on Facebook
Ingredients
1 ½

cups

vanilla ice cream

(approximately 4 large scoops)

¼

cup

milk
Optional Toppings
sprinkles

maraschino cherry

chocolate syrup

(or other syrup)
Instructions
Add the vanilla ice cream and milk into your blender. Blend or pulse until you reach a favorite milkshake consistency.

1 ½ cups vanilla ice cream,

¼ cup milk

Pour into a tall frosted milkshake glass and top with your favorite optional toppings. Don't skip the cherry on top!

whipped cream,

sprinkles,

maraschino cherry,

chocolate syrup
Notes
Use whole milk or a combination of half & half and milk for the best rich, creamy, and silky smooth milkshakes (or malts).
To make your milkshake a malt, simply add 2 tablespoons malt powder (of any flavor) to your combined ice cream and milk.
Nutrition
Calories:
447
kcal
(22%)
|
Carbohydrates:
50
g
(17%)
|
Protein:
9
g
(18%)
|
Fat:
24
g
(37%)
|
Saturated Fat:
15
g
(94%)
|
Polyunsaturated Fat:
1
g
|
Monounsaturated Fat:
6
g
|
Cholesterol:
93
mg
(31%)
|
Sodium:
185
mg
(8%)
|
Potassium:
475
mg
(14%)
|
Fiber:
1
g
(4%)
|
Sugar:
45
g
(50%)
|
Vitamin A:
932
IU
(19%)
|
Vitamin C:
1
mg
(1%)
|
Calcium:
322
mg
(32%)
|
Iron:
1
mg
(6%)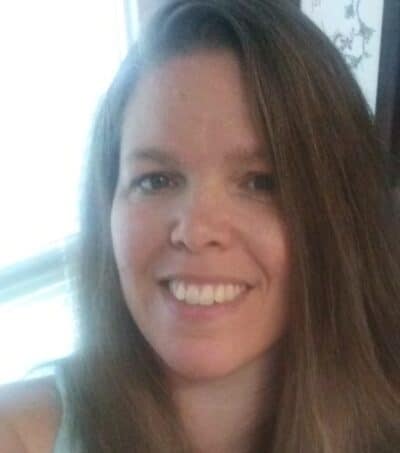 Angela is an at home chef that developed a passion for all things cooking and baking at a young age in her Grandma's kitchen. After many years in the food service industry, she now enjoys sharing all of her family favorite recipes and creating tasty dinner and amazing dessert recipes here at Bake It With Love!