If you are wondering how to activate yeast, or what yeast even is, you are not alone and I'm here to help answer those questions! Yeast is an important ingredient in most baking and it will make your future culinary endeavors much easier if you learn how it works!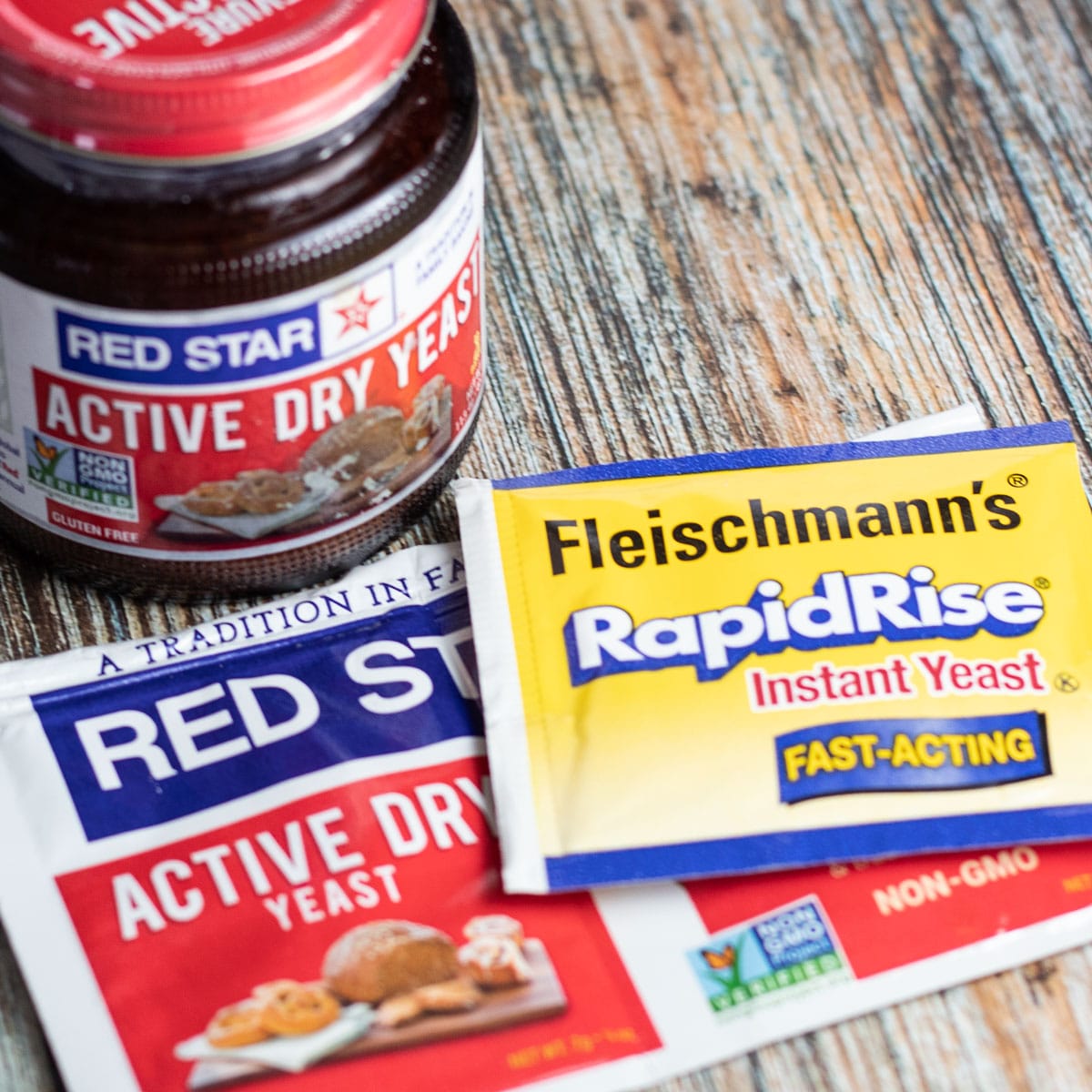 These key things will help you get the most from your yeast and make the best baked goods yet!
With more people working from home and taking an interest in what they are eating, baking has made a comeback. No longer is baking a loaf of bread at home seen as something only a stay-at-home mom would be interested in learning.
People of all ages and genders are now stepping into the kitchen to explore the joy of baking fresh bread from home. With a new generation of bakers rising up there is a need for a review on the most important ingredient in bread. Yeast!
Jump to:
Before reviewing how to activate yeast though, take a moment to learn what yeast is used for so that you better understand the importance of activating it properly.
What is Yeast Used For?
Yeast is the key ingredient that allows bread and other gluten goods to rise. This includes pizza dough, cinnamon rolls, bagels, and other similar baked goods. In addition, yeast is also the key ingredient in making beer and wine.
What exactly is this magical ingredient that provides us with bread, beer, and wine?!
In scientific terms, yeast is a microscopic living organism. Technically, it's a fungus. Don't worry, it's a good kind of fungus!
There are thousands of different yeast cells around the world and in our everyday life. While some forms of yeast are not good for us, there is also the type of yeast that safely creates some of our favorite foods.
The yeast used in our food is known as a leavening agent. It also contributes to the taste.
Two things occur when the yeast essentially "eats" the starch or sugar in a recipe. As the sugar metabolizes, it creates carbon dioxide and alcohol. The carbon dioxide is what allows bread to rise. The alcohol helps make beer and wine, but also adds the yeast flavor to your favorite baked goods.
What is the difference between Active (dry) Yeast vs. Instant Yeast?
If you have tried to bake with yeast you may have seen two different options available at the grocery store: dry yeast and instant yeast.
Dry yeast, also known as active yeast, was the most popular kind of yeast until just recently. Dry yeast comes in small vacuum-sealed packets or a jar. The granules of yeast are larger than instant yeast. Since it is dry you must rehydrate it with water before adding it to your recipe.
In contrast, instant yeast has fine granules. The smaller granules allow the yeast to dissolve more quickly. Therefore, you can add instant yeast directly to the recipe without reactivating it first.
Active dry yeast and instant yeast can both be used in common bread recipes and other baked goods. Both types of yeast should be refrigerated once it is opened. Prior to opening, it is important to keep it in a cool dry place. Where you store the yeast can greatly affect how the yeast works.
Are Active Yeast and Instant Yeast Interchangeable?
Yes and no. The most important thing to remember about using active yeast vs. using instant yeast is that they are started with different temperatures of water or milk.
The temperature is necessary to re-hydrate the yeast and bring it out of dormancy, or "activate" it. This is what ensures the yeast is still alive and ready to go.
Active dry yeast can be activated with liquid that is between 105℉ (40℃) and 115℉ (46℃) - (I find I have the most success at 108℉ or 42℃).
Alternatively, instant yeast requires the temp to be in the 120-130℉ (49-55℃) range in order for it to rise.
This is important because if you try to use instant yeast in a recipe that calls for dry yeast, the temperature will not get high enough for it to rise properly. This results in dough that takes forever to rise or doesn't rise at all.
If you use dry yeast in a recipe that calls for instant yeast, the high temperature will kill the organisms and the dough will not activate.
That's not to say all is lost if you only have instant yeast on hand or vice versa. By following the appropriate substitution rules below, you can make the swap work!
How to Activate Dry Yeast
Active dry yeast is sold in two different forms: individual packets or a jar. Both will often provide directions on how to activate the yeast. However, it can be helpful to compare those directions to the ones provided below. The steps here are the best way to activate yeast. So, if you are unsure about the steps on the packet, try these steps.
What you will need to activate the yeast:
½ cup warm water – the temperature of the water is essential! You want it warm enough to activate the yeast and dissolve the sugar; however, you don't want it to be too hot because that can kill the yeast.
The ideal temperature is between 105℉ (40℃) and 115℉ (46℃). If you have a kitchen thermometer you will get the best results by measuring; however, you can gauge the right temperature by aiming for water that is just above lukewarm.
When yeast is called for in a recipe, the measurement does not matter. You will follow the same measurements for water and sugar for any amount of yeast. However, if you double the recipe, you may need to add a ¼ cup more water and ¼ teaspoon of extra sugar.
1 cup measuring container – you want a cup or bowl that is big enough to allow the yeast to grow when it gets activated. This will also help you determine if the yeast is fully activated before adding it to the dough. *I prefer my 2 cup liquid measuring cup as it is also microwave-safe for heating the water quickly.
1 teaspoon of sugar – this is to feed the yeast so that it can activate before it is added to the dough (where it will continue to activate by feeding on the flour).
Yeast - typically a single packet is called for which equals 2 ¼ teaspoons of active dry yeast.
Activate Your Yeast
Combine the ingredients above into the 1 or 2 cup measuring cup. Stir gently and then let sit for 5-10 minutes. It will begin to slightly bubble when you mix it together.
Then, just let it sit and activate. After 10 minutes check to see that it has doubled in size – it should be almost to the top of the 1 cup measuring glass.
If the yeast has grown, it means it is alive and ready to use! Go ahead and add it to the rest of your ingredients and follow the directions of your recipe.
If the yeast has grown a little bit, but not doubled in size then let it sit for another 5-10 minutes. If it is still not activating, then your yeast is probably dead. At this point, you will want to start over.
Follow the directions above using a new packet of yeast. If you are using yeast from a jar, don't panic. There is usually only about 25% of inactive yeast cells in a batch; therefore, you should be able to still get a viable portion.
How to Activate Instant Yeast
While it takes a bit of work to get dry yeast to wake up, instant yeast is ready to go. As a result of this, you can simply add the instant yeast directly into the recipe. However, to get the best result you want to make sure the liquid in the recipe is warm.
To help the yeast activate upon being added to the other ingredients make sure the milk or water in the recipe is warm. Ideally, this is 130°F or almost hot water from the tap (not boiling, just hot).
Substituting Instant Yeast for Active Dry Yeast
If your recipe calls for active yeast and you only have instant, don't fret. Some bakers prefer instant because it rises quickly and dissolves immediately when wet.
If using instant in place of active dry, you can skip the initial activation step and add it directly into the recipe. Any liquid you would have used should be added to the total amount of liquid for the recipe and heated to the appropriate temperature.
You should also decrease the amount of instant yeast used by 25%. The reasoning behind this is that roughly ¼ of the organisms in active yeast are dead while all the organisms in instant yeast are alive.
Substituting Active Dry Yeast for Instant Yeast
If substituting active yeast for instant, increase the amount of yeast used by 25%. Additionally, the dry yeast MUST be activated. So, subtract the amount of water needed to activate the yeast from the total amount required for the recipe.
Activate the yeast as normal, and finish the recipe as instructed. Use more flour when mixing the dough if you feel it is too wet.
Tips for Activating Yeast in the Winter
While a cool place is essential for storing yeast, a warm place is essential to activating yeast. Ironically, the time of year when people are most inclined to bake bread - winter – is also one of the more difficult times to work with yeast.
If you live in a cold climate and find that your kitchen reflects this, set your measuring glass or bowl in the warmest part of the kitchen. For example, next to the stove (not on top of it) while it is preheating.
If you find yourself baking regularly in cold temps (like me!) a folding proofer box is an amazing tool!
What affects how the yeast works?
Remember that yeast is a living organism and just like all living things - it can die. This is one of the most important things to remember when using yeast. Especially active dry yeast.
The traditional process of drying yeast so that it can be stored and sold naturally results in some of the yeast cells dying from the process. The result is varying living yeast granules in each packet.
Therefore, activating the yeast before adding it to the recipe is essential. You want to make sure the packet has enough active yeast cells.
Something to keep in mind is that yeast is highly perishable. To help preserve the yeast between uses make sure it is kept in a cool dry place or in the refrigerator. This helps keep the living cells alive.
While dry yeast is more susceptible to outside factors, instant yeast is much more stable. In fact, instant yeast is almost guaranteed to be active upon contact with the other ingredients.
While it is more expensive than dry yeast, if you are new to baking starting with instant yeast is a user-friendly place to begin and see success in the kitchen.
Ingredients That Can Affect Yeast
Additionally, certain ingredients can slow (inhibit) or inactivate yeast. Too much salt, for instance, can essentially dehydrate the yeast by absorbing some of the water needed for it to ferment and activate, causing it to rise slowly or not at all.
Cinnamon in very small amounts is fine, but large amounts of cinnamon inhibit the yeast from rising. (This is true for many tree bark spices like nutmeg and allspice.) That's why you don't generally see cinnamon in the dough for cinnamon rolls, but rather in a ribbon that's rolled up in the dough.
On the other hand, dough that is higher in sugar will tend to rise at about the same rate with both dry and instant yeast. This is a result of the extra sugar helping to activate the dry yeast more quickly.
For this reason, it is important to follow your recipe closely.
Is Active Dry Yeast or Instant Yeast better?
Both active dry yeast and instant yeast are great options for basic rising dough. They will both perform in a similar way for cold-proofed dough and for dough that requires more than one rise.
However, to achieve the most accurate results as described in the recipe, use the yeast that is referenced.
The reason that some bakers still prefer to use active dry yeast, despite the ease of instant yeast, is for the flavor that develops from a longer rise time.
Another thing to consider is that instant yeast can change the consistency of the dough. For example, replacing active dry yeast with instant yeast can result in a much denser final product.
Instant yeast is a quicker option on all fronts. Most dough that is made with instant yeast will rise more quickly than dough made with dry yeast.
While the final product will be just as delicious, the distinct bread flavor may not be as pronounced as in a bread that took the longer and slower approach to rise.
In the end, which yeast you use is up to you and what you have access to. Whichever yeast you choose simply follow the directions to activate it above – then sit back and relax while it goes to work!
We hope we've answered all of your yeast-related questions! If you've used these tips to do some baking, let us know how it turned out in the comments below!
📋 Recipe
Print Recipe
Leave A Comment
Love This Recipe?
Click On A Star To Rate It!
How To Activate Yeast
If you are wondering how to activate yeast, or what yeast even is, you are not alone and I'm here to help answer those questions! Yeast is an important ingredient in most baking and it will make your future culinary endeavors much easier if you learn how it works!
Pin Recipe
Share on Facebook
Ingredients
1

cup

water

(or the amount of water or milk called for in your recipe)

1

teaspoon

sugar

2 ¼

teaspoon

active dry yeast

(or 1 packet)
Instructions
Heat water or milk to 110-115°F (43-46°C) then stir in the sugar until dissolved.

1 cup water,

1 teaspoon sugar

Stir in the yeast then set your measuring cup aside for 5-10 minutes to allow the yeast to bloom. It should be bubbly and frothy when ready to use.

2 ¼ teaspoon active dry yeast
Equipment You May Need
Notes
Tap water can be heated by simply running your hot water.
To heat either water or milk on the stovetop, place in a small sauce pan and heat over medium until the desired temperature is reached.
Both water and milk can also be heated in the microwave. Use short 30-second intervals until warmed. You should be careful not over-heat your liquid and also note that you will need to stir the milk or water before checking the temperature.
Nutrition
Calories:
6
kcal
|
Carbohydrates:
1
g
|
Protein:
1
g
(2%)
|
Fat:
1
g
(2%)
|
Saturated Fat:
1
g
(6%)
|
Monounsaturated Fat:
1
g
|
Sodium:
2
mg
|
Potassium:
16
mg
|
Fiber:
1
g
(4%)
|
Sugar:
1
g
(1%)
|
Vitamin C:
1
mg
(1%)
|
Calcium:
1
mg
|
Iron:
1
mg
(6%)
blooming active dry yeast, How To Activate Yeast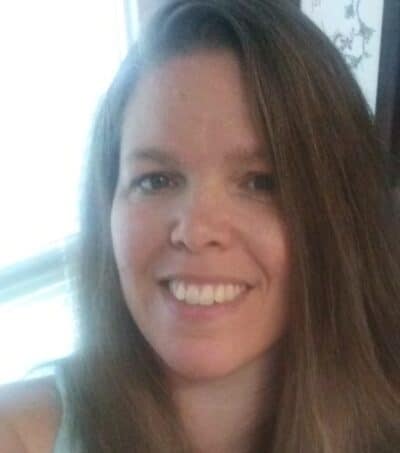 Angela is an at home chef that developed a passion for all things cooking and baking at a young age in her Grandma's kitchen. After many years in the food service industry, she now enjoys sharing all of her family favorite recipes and creating tasty dinner and amazing dessert recipes here at Bake It With Love!