Learn how long to cook spaghetti so that you can enjoy this perfectly cooked and delicious pasta as often as you like! From boiling times to answering the most commonly asked questions, I'm going to break down everything you need to know about cooking a pot of spaghetti! You'll have it mastered in no time!
Guide To Cooking Spaghetti
Have you ever just opened a box of spaghetti, dumped it into a pot of water, and hoped for the best? The box mentions 'al dente', but do you know what that means? Don't worry, you're not alone!
In this thorough and simple guide, I'm going to answer all of your spaghetti-based questions so that you can be whipping up some tasty pasta dishes like an expert!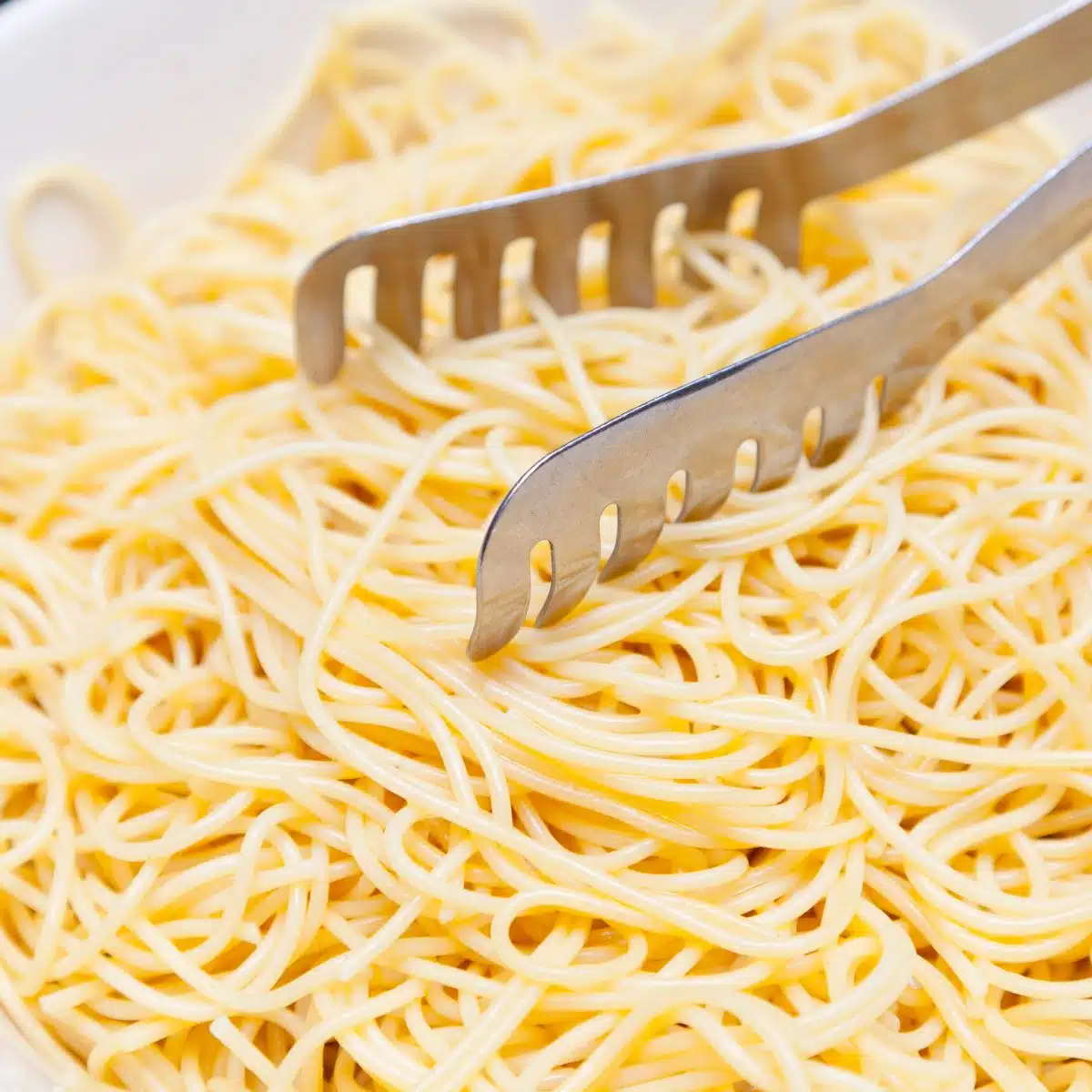 Jump to:
Want More Recipes? Enter your email below and we'll send them straight to your inbox!
Keep in mind that this guide is specifically for store-bought dried pasta. If you are preparing fresh spaghetti, it is best to follow the recipe specifically for the most accurate cook times.
How To Boil Spaghetti
Boiling spaghetti is really a simple task, however, there are a few rules to follow in order to ensure it is perfectly cooked every single time!
Fill a large pot with water that is cold. *You'll want a large pot so that the noodles can move freely.
Let the water come to a full, rolling boil.
Add salt to the water! You'll want to use about 1 tablespoon of salt per gallon (or 4 quarts) of water. This is ideal for ensuring the pasta is seasoned even without adding the sauce.
Add in your pasta (only after the water is boiling).
Stir occasionally while the pasta is boiling using a side-to-side motion until the noodles become pliable enough to be able to move in the water by themselves.
Taste the pasta 2-3 minutes before your packaging recommends. This will help you find the perfect al dente spaghetti without running the risk of overcooking your noodles.
Drain and enjoy!
How To Cook Spaghetti Without It Sticking
Believe it or not, you actually should not add oil to the water you use to cook pasta! Rather than keep the spaghetti from sticking, the noodles will absorb the oil which makes it hard for the sauce to stick to them!
Instead, you should follow a few tips to prevent sticking. First, wait until your water is fully boiling before adding the spaghetti. Secondly, you'll want to stir your pasta occasionally while it is cooking. Don't just add the pasta and walk away!
How Long To Cook Spaghetti
Depending on how thick the noodles are and the variety of pasta, the time it takes to cook could range anywhere from 7-14 minutes. However, for spaghetti specifically, you'll need to boil your noodles for 8-10 minutes.
Make sure to read the packaging, as the time can vary slightly based on the kind of spaghetti you are using. Since the pasta cooks so quickly, you'll want it to be the final thing you make when preparing your meal (so make the sauce first!)
*Make sure you taste test your spaghetti 2-3 minutes before the packaging states!
What Does Al Dente Mean
You've probably seen the term 'al dente' all over every box of pasta in the store, regardless of type. But what does that even mean?
Al dente (which literally translates to "to the tooth") simply means that the pasta still has a bit of firmness when you bite into it. If you cook your spaghetti past this ideal stage, it will start to become mushy.
This is why you'll want to make sure to taste your spaghetti a couple of minutes before the box says it will be al dente.
How Much Spaghetti To Make Per Person
I would be lying if I said I haven't just dumped some spaghetti into a pot of water and hoped it was the right amount (just to find out later that I made way too much!)
It's hard to eyeball how much you really need, as dry pasta and cooked pasta look very different. As a rough rule, you'll want 2 ounces (56 grams) of dry spaghetti per person. If your pasta is already cooked, you'll want to aim for about 1 cup of cooked spaghetti per person.
A simple kitchen scale is a great tool that you can use to weigh out your pasta servings. Of course, this amount can really vary based on the person and can range from 2 ounces (56 grams) - 7 ounces (200 grams) of dry spaghetti or pasta for one person.
If you're using a small pasta variety (like bowtie pasta), aim for 1 heaping cup of dry pasta per serving (or one ladle scoop).
You can even purchase a pasta measuring tool!
>>>>See all of my recipes HERE<<<<
Now you know how to perfectly cook spaghetti every single time! What's your favorite way to enjoy spaghetti? Leave a comment down below and let me know!
❓ FAQ
How Much Water Do You Use To Boil Spaghetti?
You'll want enough water in the pot so that the noodles can freely move around, regardless of pasta variety. Typically, when you buy pasta, the box is one pound. For this amount, you'll want to use 1 gallon of water (or 4 quarts).
Should I Rinse Spaghetti?
No! You shouldn't rinse any pasta after it has been cooked. Rinsing the pasta will cool it down and hinder its ability to properly absorb the sauce. Plus, the starch from the water helps the sauce stick to the noodles!
What Stove Setting Should I Use For Pasta?
When you first place your pot of water on the stove, you can set the heat to high. This will get the water boiling faster. Add your spaghetti and allow the water to return to a boil. Then, reduce the heat to medium or medium-high in order to prevent the water from boiling over while you cook.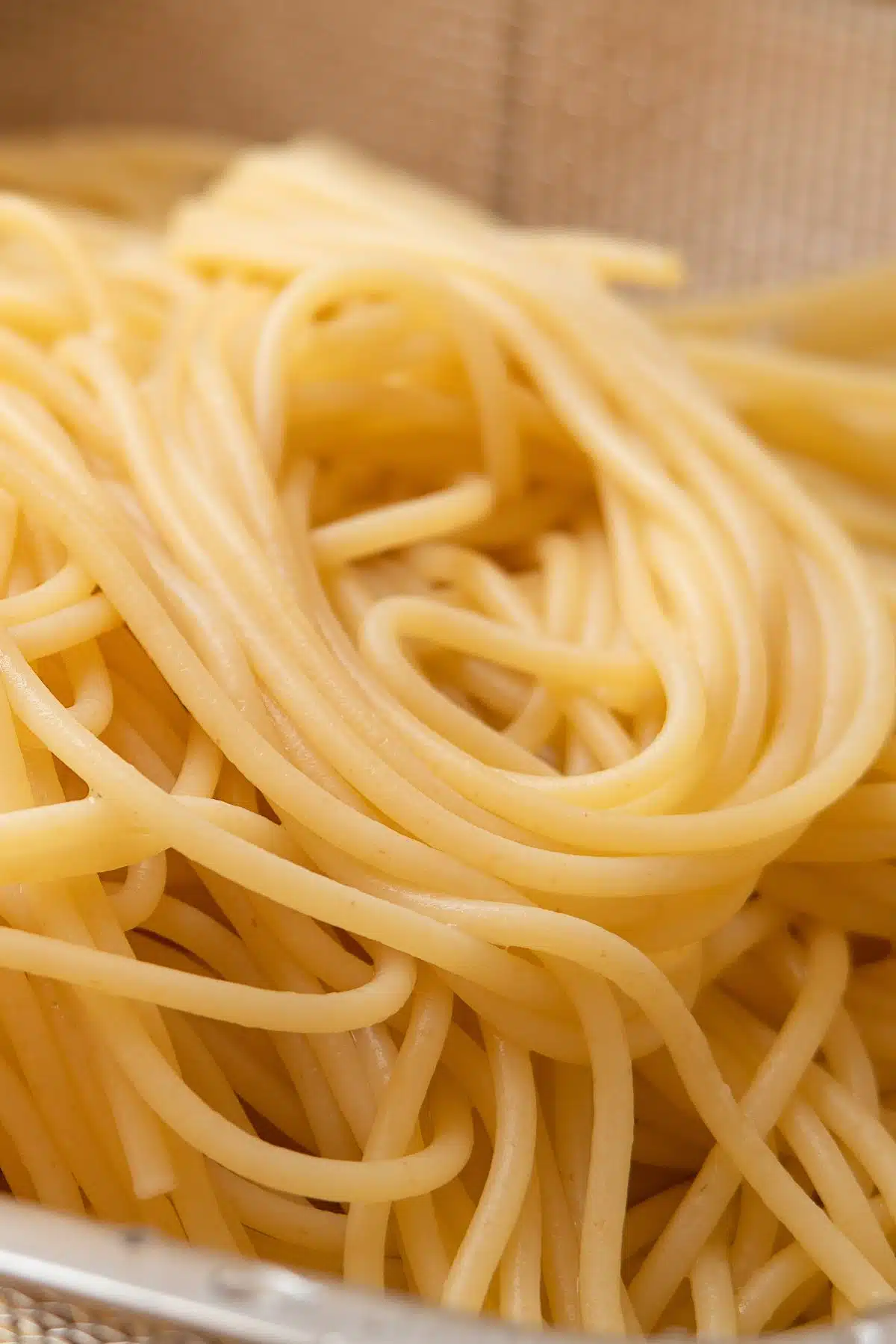 🍝 Recipes Using Spaghetti
📋 Recipe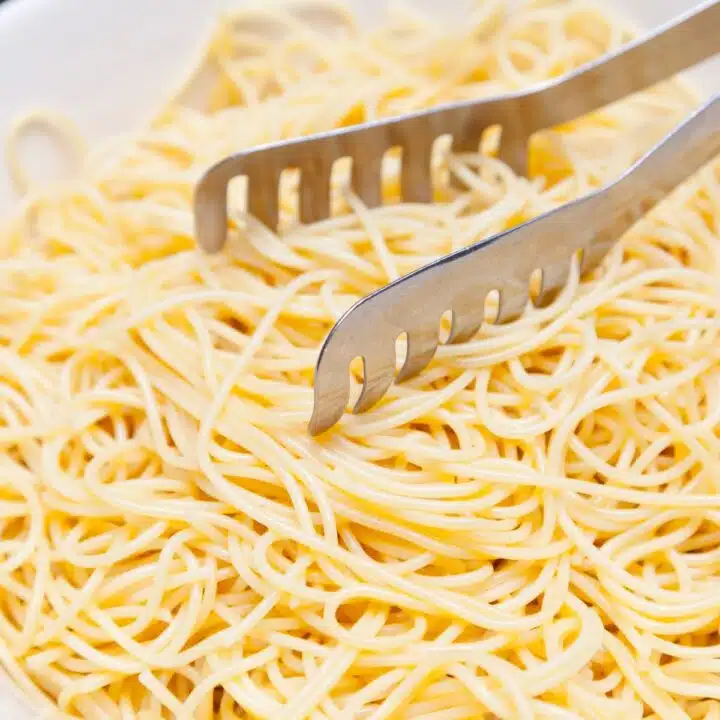 Print Recipe
Leave A Comment
Love This Recipe?
Click On A Star To Rate It!
How Long To Cook Spaghetti: Spaghetti Bolognese (+Tips & Tricks For Perfect Pasta!)
Learn how long to cook spaghetti so that you can enjoy this perfectly cooked and delicious pasta as often as you like! From boiling times to answering the most commonly asked questions, I'm going to break down everything you need to know about cooking a pot of spaghetti! You'll have it mastered in no time!
Pin Recipe
Share on Facebook
Ingredients
1 ½

tablespoon

olive oil

(extra virgin)

2

teaspoon

garlic

(minced)

1

large

onion

(white or yellow onion, finely diced)

1

large

carrot

(washed and grated)

2

ribs

celery

(finely diced)

1

lb

ground beef

(or a combo of half ground beef & half ground pork)

½

cup

dry red wine

(I like cabernet sauvignon, pinot noir, and malbec)

2

beef bouillon cubes

(or 2 teaspoons Better Than Bouillon beef base)

28

oz

crushed tomatoes

2

tablespoon

tomato paste

2

teaspoon

Worcestershire sauce

2

large

bay leaves

1

teaspoon

dried oregano

1

teaspoon

dried basil

each, salt & pepper

(to taste)

12

oz

spaghetti pasta

(dried)
Instructions
Heat a deep skillet, pot, or Dutch oven with the olive oil over medium-high heat until the oil begins to shimmer. Add the minced garlic, diced onion, grated carrot, and finely diced celery (sofrito!) and saute for 3 minutes or until softened and fragrant.

1 ½ tablespoon olive oil,

2 teaspoon garlic,

1 large onion,

1 large carrot,

2 ribs celery

Add the ground beef (or ground pork combo) to the skillet and brown. Break up the ground meat as you cook it until it is fully cooked, about 6 minutes.

Once the beef has been browned add the red wine to deglaze the pan and bring it to a simmer. Cook for 1 minute as you scrape the bottom of the pot clean of any debris. *The alcohol smell should be cooked off by this time.

Add most of the remaining ingredients (beef bouillon cubes or Better Than Bouillon, crushed tomatoes, tomato paste, Worcestershire sauce, bay leaves, thyme, and oregano).

2 beef bouillon cubes,

28 oz crushed tomatoes,

2 tablespoon tomato paste,

2 teaspoon Worcestershire sauce,

2 large bay leaves,

1 teaspoon dried oregano,

1 teaspoon dried basil

Stir to mix and bring the pot back to a simmer. Reduce to medium-low and simmer for 20-30 minutes without a lid. Watch the sauce and add water as needed while simmering.

Adjust seasoning after the cooking time has elapsed and all of the flavors have had time to 'marry'.

Cook the pasta when your sauce is almost ready to serve. Boil the pasta in salted water according to the package instructions, minus approximately 1-2 minutes for an al dente texture. Drain the pasta, reserving about ½ cup of the pasta water. Set aside.

Serve bolognese sauce tossed with pasta and pasta water, or over pasta, and topped with freshly grated Parmesan cheese.
Equipment You May Need
Notes
Some crushed red bell pepper flakes, fresh herbs, half or more of a red bell pepper, even some bacon, are all great additions to your hearty bolognese.
Sugar is a debated ingredient in spaghetti sauce. However, if you like just a touch of sweetness start with 2 teaspoons of granulated white sugar and adjust to taste. Also, the better quality canned tomatoes the better the flavor (less bitterness). *Note that the carrot and tomato paste add some sweetness to this tasty red sauce.
To make an alcohol-free version simply use more beef broth or water.
Slow-simmered for more flavor: cover the pot with a lid and simmer for 2-3 hours to get the best flavor in your bolognese sauce. *Be sure to add liquid as needed while simmering!
Nutrition
Calories:
502
kcal
(25%)
|
Carbohydrates:
58
g
(19%)
|
Protein:
24
g
(48%)
|
Fat:
20
g
(31%)
|
Saturated Fat:
7
g
(44%)
|
Polyunsaturated Fat:
1
g
|
Monounsaturated Fat:
9
g
|
Trans Fat:
1
g
|
Cholesterol:
54
mg
(18%)
|
Sodium:
620
mg
(27%)
|
Potassium:
881
mg
(25%)
|
Fiber:
6
g
(25%)
|
Sugar:
10
g
(11%)
|
Vitamin A:
2382
IU
(48%)
|
Vitamin C:
16
mg
(19%)
|
Calcium:
96
mg
(10%)
|
Iron:
5
mg
(28%)
how long to cook spaghetti, Spaghetti Bolognese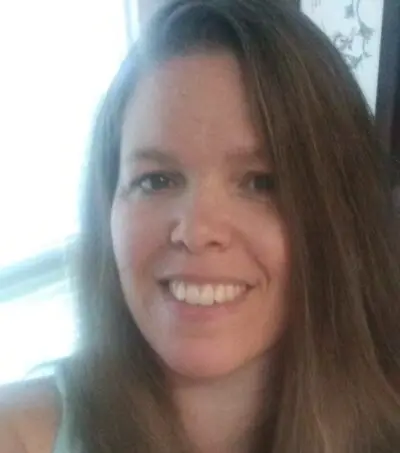 Angela is an at home chef that developed a passion for all things cooking and baking at a young age in her Grandma's kitchen. After many years in the food service industry, she now enjoys sharing all of her family favorite recipes and creating tasty dinner and amazing dessert recipes here at Bake It With Love!