Halloween trunk-or-treat ideas are just what you need to have your kid(s) and your car ready for some epic Halloween fun! We have all of the best themes for dressing up the whole family and decorating your trunk. You'll be the most popular stop on the trunk-or-treat candy route!
What Is Trunk Or Treat?
Trunk-or-treat is a fun Halloween activity where groups or families decorate their trunks and hand out candy from their vehicles! It will generally take place in a large parking lot such as a church or outdoor event space. That way kids can safely walk from trunk to trunk, collecting lots of treats!
Oftentimes, families or groups will decorate their trunks and coordinate their outfits to match a theme. It is loads of fun for kids and adults alike!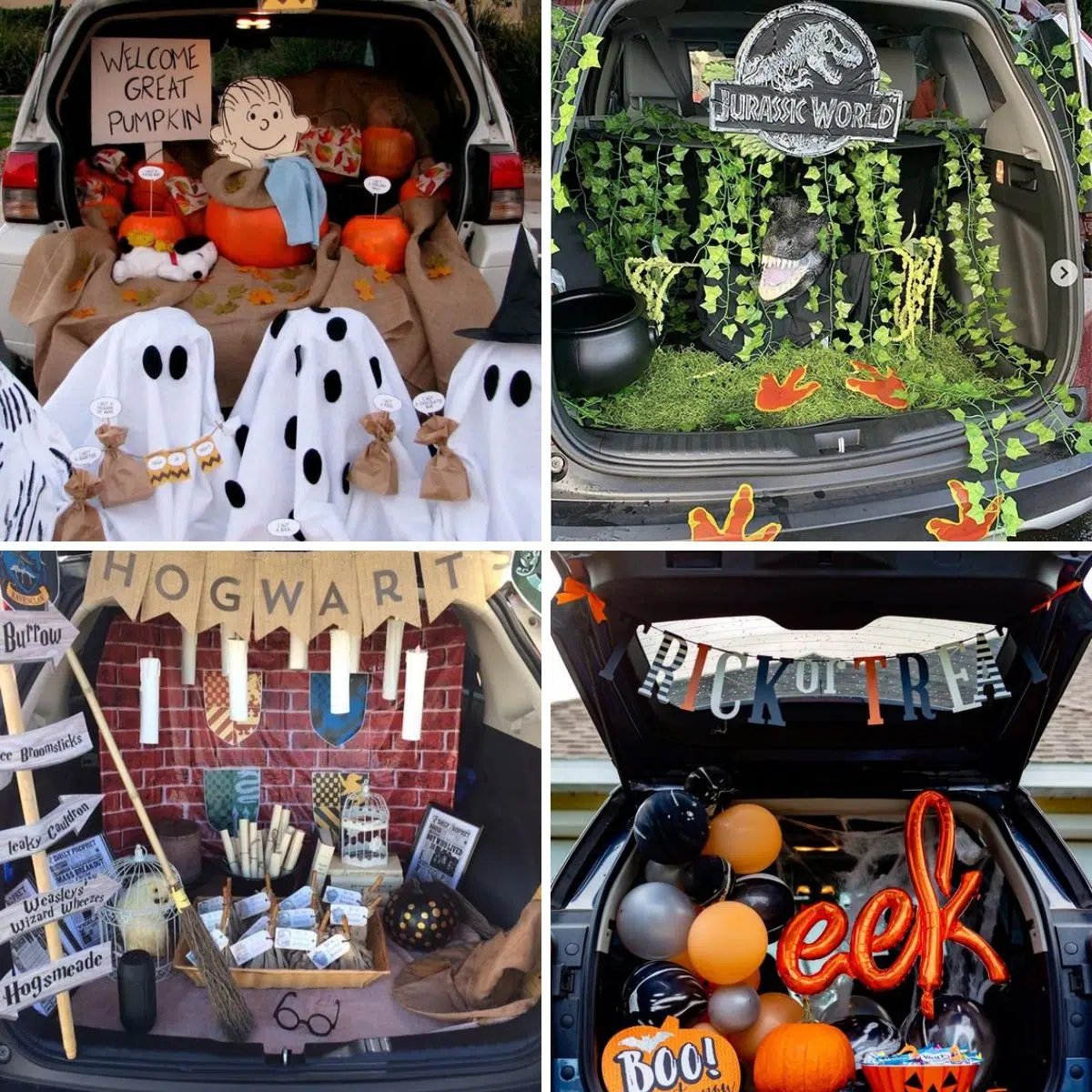 Jump to:
What Do You Do At A Trunk-or-Treat?
Trunk-or-treating is just like trick-or-treating but instead of going door to door, you go from car to car!
Many of the trunk or treaters will have a decorated vehicle of their own. So mom or dad can man the candy station while the kids collect their candy.
Often times you can watch the kids walk from your parking spot, but it's best for an adult to walk along with them to guide the way (especially when you have a large trunk or treat event with lots of cars).
It's a lot like tailgating but with more candy and fun costumes!
Are Kids Dressed Up For Trunk-or-Treat?
Dressing up is half the fun! Everyone should wear their favorite Halloween costumes (that goes for adults, too)!
It's not a requirement, however, and the kiddos will get their candy either way. So if a spur-of-the-moment trunk-or-treat invite comes along, don't hesitate to stop by!
How To Organize A Trunk-or-Treat Event
If you are thinking of getting a trunk-or-treat event started in your community, follow these steps!
1. Pick a time and date
Trunk-or-treat events do not usually take place on Halloween so kids can still go traditional trick-or-treating if they want to. Choose a weekend in October so parents will have time off work.
2. Reserve a location
Churches or recreation centers are a popular choice. Make sure to get permission to use private parking lots and if needed, obtain city permits. If you are unsure if you need a permit, contact your city's permitting office. Nothing is worse than getting closed down and sending kids home candy-less.
3. Find volunteers
Trunk-or-treat is nothing without trunks! Reach out to friends, family, and neighbors. If you are hosting it at a church, invite the congregation to participate. You can also reach out to your local high school or other community organizations like the boy or girl scouts, fire department, or police department!
4. Secure sponsors
This isn't a requirement, but you may find that many organizations are willing to donate candy for recognition or just because they love to help out their community! If you can't obtain sponsors, make sure volunteers know to supply their own candy.
5. Choose a trunk-or-treat judge
One lucky individual should be responsible for picking which trunk has the best decorations! It's always fun to pick a 1st, 2nd, and 3rd place winner with respective prizes.
6. Plan activities
Other than collecting candy, try and have some fun activities for parents and kids to participate in. Depending on your budget, there are lots of fun things you can do in between car-hopping. Things like slides, bounce houses, and other soft play activities are always a hit. Find a volunteer face painter, or set up an old-fashioned game of bobbing for apples!
7. Promote your event
Leading up to your event you need to promote as much as possible. Describe it as a family-friendly and safe alternative to trick-or-treating. Make flyers, post on social media, and spread it by word of mouth!
8. Host and have fun
Make sure your event runs smoothly while having a good time! Ensure all vendors and participants know when to arrive. Help set up the activities. Play some fun music and tell your judge when it's time to rate the trunks. Also, take lots of pictures!
9. Get ready for next year
After your successful trunk-or-treat has ended, continue to promote for next year. Post pictures online of participants and activities, as well as the winning trunk and their prizes. Then give yourself a pat on the back for pulling it all together!
What Time To Start, And How Long Should A Trunk-or-Treat Be Open?
Participants with vehicles are generally asked to arrive early to secure their place and decorate their trunks. Usually, around 4 p.m. so the kids can start collecting candy at about 5 p.m.
The trunk or treat event will generally go for a couple of hours, ending around 7 p.m. just before it gets dark.
Halloween Trunk-or-Treat Theme Ideas
The most fun part of trunk-or-treating is choosing your theme! Below are some fun themes that the whole family can get into!
Disney
Wreck-It Ralph
Aladdin
Frozen
Pirates of the Caribbean
The Nightmare Before Christmas
The Little Mermaid
Alice In Wonderland
Toy Story
101 Dalmations
Mickie & Minnie Mouse
Star Wars
Monsters Inc.
The Incredibles
Charlie Brown (and the Great Pumpkin)
Kid Favorites
Old McDonald/Farmer and Animals
Noah's Ark
Minions
Harry Potter
Sesame Street
Mario
Hawaiian Luau
Angry Birds
Wizard of Oz
Ghost Busters
Pac Man
Candyland
Jurassic Park & Jurassic World
Pumpkin Patch
Pirate & Treasures
Spaceships
Dunkin Donuts
Halloween & "Boo" Themes
Movie Night
Camping
Where's Waldo?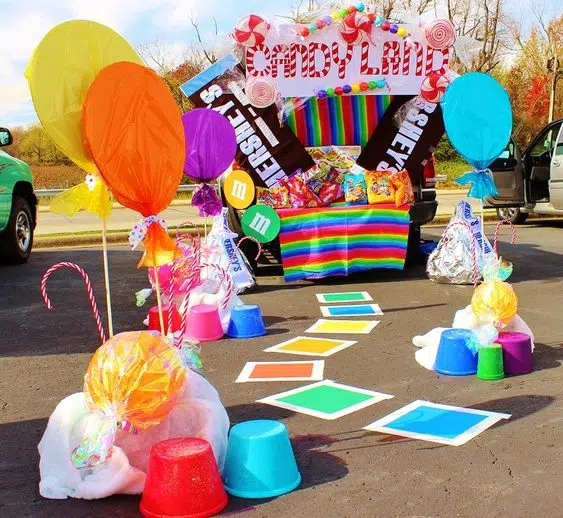 DC
Batman and Batgirl
Wonder Woman and Superman
Teen Titans
Justice League
Marvel
Thor
Spiderman
The Avengers
Black Panther
Fantastic 4
Hulk and She-Hulk
Iron Man
Fun Halloween Themes
Spiderwebs and Spiders
Witches and Wizards
Monsters
Surfers/Shark Attack
Jungle
Under the Sea
Day of the Dead (Sugar Skulls)
Unicorns
Does Each Trunk-or-Treat Participant Hand Out Candy?
Anyone who registered their car to be a part of trunk-or-treat should be prepared to hand out candy. If you did not register your vehicle, no need to have candy on hand. Enjoy trunk or treating and fill up your candy pale!
How To Make Your Halloween Candy A Part Of Your Theme Or Decor
There are a couple of fun Halloween trunk-or-treat ideas to make your candy a part of your trunk-or-treat decor. Hand out candy in goody bags that match your theme or decorate a bowl to match your decor and use it to pass out candy!
🎃 Fun Halloween Recipes To Make
Meringue Ghosts

-

Soft and airy meringue ghosts are a cute addition to any party!
Mini Mummy Pizzas - English muffin cheese pizzas with a fun mummy face made with olives!
Mummy Pie - Spooky fruit-filled pies with eyes and a mouth that look like tasty mummies!
Mummy Macarons - Buttercream-filled vanilla macarons with tasty candy eyes.
Mummy Dogs - Cute hotdog mummies with crescent roll wrapping and candy eyes!
Candy Corn Rice Krispies Treats - Soft, chewy, and ridiculously delicious Rice Krispies treats that we all know and love - loaded with chopped candy corn!
I hope these Halloween trunk-or-treat ideas help you pull off a fun event for the whole community! Let me know how trunk-or-treating goes in the comments below and feel free to send pictures to me too! I'll add them to the page with a note about who sent them! Send to angela @ bakeitwithlove.com!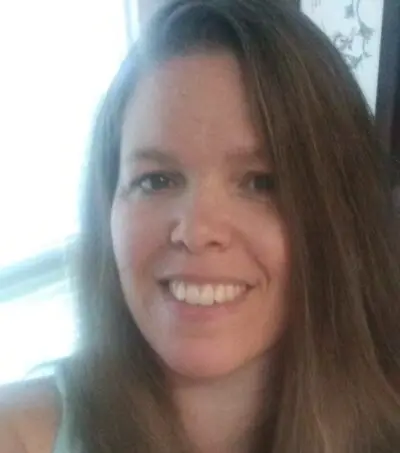 Angela is an at home chef that developed a passion for all things cooking and baking at a young age in her Grandma's kitchen. After many years in the food service industry, she now enjoys sharing all of her family favorite recipes and creating tasty dinner and amazing dessert recipes here at Bake It With Love!