If you are looking for a great fenugreek substitute, I have a list of the 13+ best alternatives for any recipe! You could be in the middle of a recipe and realize you don't have any on hand, or you don't want to buy some fenugreek for just one recipe and would rather use something you already have. Either way, I have an option that will finish any recipe you might have!
The Best Fenugreek Substitutes
Fenugreek is an herb that is used on its own and alongside other spices to season foods and drinks. It is even used in seasoning tobacco. Native to western Asia, southern Europe, and the Mediterranean region, it is popularly found in this variety of cuisines.
Therefore, depending on where you live and the types of cuisine you typically eat, this may not be a spice that you are familiar with and may be why you need a substitute.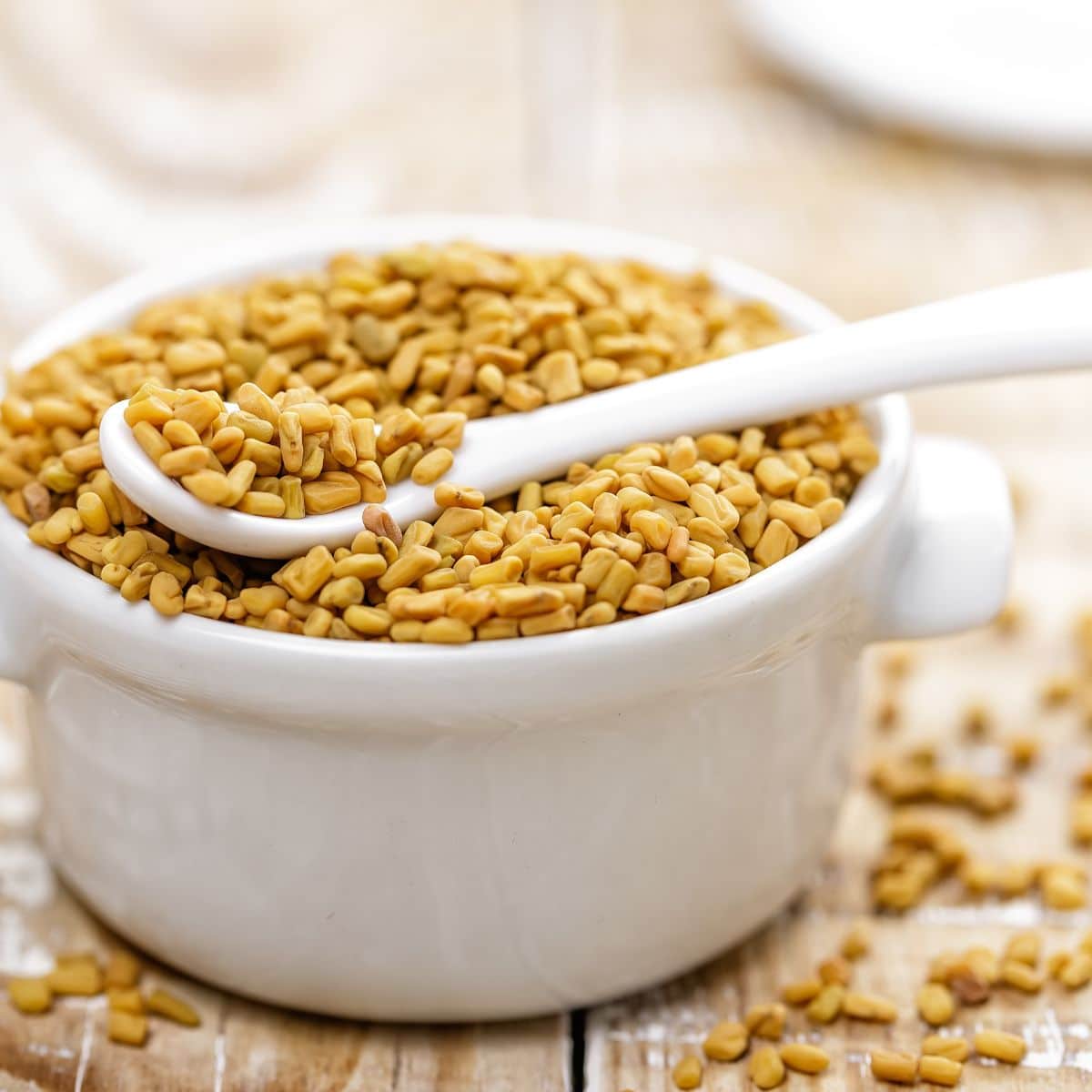 Jump to:
What Does Fenugreek Taste Like
Like many other herbs, fenugreek has both seeds and leaves that can be used in cooking. The seeds are typically ground and used in spice blends, while the leaves are often used on their own to add flavor to a soup, sauce, or salad.
While some herbs have distinctly different flavors between the seeds and leaves, fenugreek maintains a similar flavor between both parts of the plant. This unique herb is known for its distinctive flavor and aroma that resembles maple syrup. In addition, you will notice bitter and spicy notes that remind you of cloves.
While you may not be familiar with the flavor of fenugreek on its own, you have probably enjoyed it in spice mixes like curry powder. Combined with other spices that create curry powder, it helps elevate the other spices and balances bolder spices with its soft notes of sweetness.
How Is Fenugreek Used
It is important to acknowledge how fenugreek is typically used because this will play a role in how to use your substitutes. When using fenugreek seeds, the seeds are typically added as one of the first steps. This is typically done when they are added to the oil that is being heated for cooking. Cooking the seeds in the hot oil brings the flavor out and helps distribute the seasoning throughout the oil.
When looking at the list of substitutes you will notice that some of the other substitutes, like mustard seeds, follow this same cooking process. However, other substitutes (like maple syrup) will be added later in the cooking process. It is important to follow the timing (if mentioned) to maintain the best flavor of the substitute.
The addition of fenugreek leaves will vary from recipe to recipe. Therefore, you can simply add the fenugreek leave substitutes at the same time as noted in the recipe.
Best Substitutes for Fenugreek Seeds
Unless specifically noted that fenugreek leaves are being used, assume that the recipe calls for fenugreek seeds. The seeds are not only the most commonly used in cooking but also the easiest to find in the grocery store. Therefore, if you decide to try the real thing you can most likely find these seeds in the spice section of your grocery store.
1. Maple Syrup
The best substitute for fenugreek seeds is not another herb but another natural ingredient: real maple syrup. While we typically only think of maple syrup as being sweet, it also has some mild undertones that are bitter. This flavor balance is the closest flavor substitute available for fenugreek.
Maple syrup can be used in place of fenugreek in any recipe. However, due to its texture, it is better to use in soups and sauces.
While the flavor is quite close between fenugreek and maple syrup, the syrup is still going to be naturally sweeter. Therefore, start with half the amount. Add the maple syrup at the end of cooking.
2. Yellow Mustard Seeds
Yellow mustard seeds are a great substitute for fenugreek seeds due to their spicy and sweet flavor profile. While slightly more spicy and less sweet, yellow mustard seeds have an overall flavor profile that is like fenugreek. Therefore, they make a great substitute.
Moreover, yellow mustard seeds are more commonly used in western cooking. Therefore, it is possible you already have these in your spice cabinet. If you don't, look and see if you have Dijon mustard though as that is also a great substitute.
Mustard seeds can be used in any recipe that calls for fenugreek seeds. Substitute them in a simple 1:1 ratio.
3. Black Mustard Seeds
While yellow mustard seeds have the closest flavor match for fenugreek, black mustard seeds can also be used as a substitute. However, black mustard seeds are quite pungent. They are also spicier than yellow mustard seeds, and fenugreek. Therefore, these are best for when you want to add a bold flavor to your dish.
If your goal is a strong flavor go ahead and use it in a 1:1 ratio. However, if you are using these as a last resort substitute, then start with half the amount.
Like fenugreek, you will get the most from the flavor by adding these seeds to the oil at the beginning of the cooking process.
4. Dijon Mustard
Speaking of mustard seeds, the product of those seeds – Dijon mustard – can also work as a fenugreek substitute. Dijon mustard has a bold and tangy flavor that will enhance the flavor of sauces, soups, and curries. It can even be used as a rub or marinade for meat.
Keep in mind that Dijon mustard is a thick paste rather than a seed. Therefore, it could slightly shift the texture of your recipe. However, most recipes call for such a small amount of fenugreek that you will most likely not have to worry about the texture.
The consistency of Dijon mustard compared to fenugreek also makes it difficult to do an exact ratio exchange. In most recipes, ½ to 1 teaspoon of Dijon mustard will be the perfect amount. Start there and then add more if you feel like the flavor is not strong enough.
5. Fennel Seeds
While black mustard seeds will give you a bold flavor, reach for the fennel seeds if you want a softer flavor. Fennel seeds resemble fenugreek with their slight bitterness and hints of sweetness. However, the overall flavor profile is much milder than fenugreek.
Fennel seeds are a great choice for any recipe. Especially if you don't love the strong flavor of fenugreek. They will give you a similar final flavor but not as pungent.
Use fennel seeds in a simple 1:1 substitution for fenugreek. Add at the beginning of cooking.
6. Fennel Seeds + Mustard Seeds
If you don't have fenugreek but want the same strong flavor of fenugreek, then combine fennel seeds with mustard seeds. This will give you a stronger flavor than just fennel seeds on their own. Moreover, it will add the mild sweetness of the fennel seeds to the bitterness of the mustard seeds.
Use half fennel seeds and half mustard seeds to equal 1 part fenugreek.
7. Celery Seeds
Celery seeds may not be the substitute that you have on hand since, like fenugreek, it is not the most popular in western cooking. However, celery seed shares many similar flavor qualities with fenugreek.
While they do share the same bitter notes, celery seed is missing the sweet undertones of fenugreek. Therefore, without the sweetness to balance out other flavors this substitute will provide a slightly bolder and spicier flavor.
Use celery seeds in a direct 1:1 substitution for fenugreek.
8. Curry Powder
If you regularly make curry, then you may have a bottle of curry powder in the cabinet. Curry powder contains fenugreek. Therefore, it will lend some similar flavor notes.
However, curry powder is also made up of several other spices. These additional spices will also show up in your dish. If you don't love the flavor of fenugreek on its own, then using curry powder is a good way to get some similar warmth in your dish without the pungency of fenugreek.
Use half the amount of curry powder to begin. If desired, add more to taste.
Best Substitutes for Fenugreek Leaves
While most curries, sauces, and meat rubs call for fenugreek seeds there are several recipes that specifically use fenugreek leaves. If you are in search of a substitute for fenugreek leaves, check out this list of tasty alternatives.
1. Mustard Greens
Mustard greens are the best choice as a flavor substitute for fenugreek leaves. They have a slightly peppery taste with a hint of spice. This resembles the same bitter qualities of fenugreek leaves. However, it does not lend the same sweetness.
Use in a 1:1 ratio.
2. Kale
Kale is a nutrient-packed green leafy vegetable that has a bold and bitter taste. The bitterness of kale has some similarities to fenugreek leaves, but zero sweetness. Therefore, it can be too strong of a flavor for some. However, to cut the bitterness you can add a bit of sugar to bring out the sweetness of a dish. Moreover, using kale in cooked dishes will help cut the bitterness as well.
Use kale in a simple 1:1 ratio.
3. Spinach
While spinach isn't the closest in flavor to fenugreek it is one of the most common substitutes to have around. It is also one that most people are already familiar with the taste of. Therefore, it can be a good choice for those dishes where you want a milder flavor than fenugreek.
Use a 1:1 ratio to begin.
4. Celery Leaves
While often overlooked, the leaves atop celery stalks can be used in cooking. These leaves have a mild and bitter taste that resembles many other leafy greens, including fenugreek leaves. Not only are these a handy substitute you may have in your fridge, but the milder flavor is also a good alternative for those who don't love fenugreek.
Celery leaves can be used in a 1:1 ratio.
5. Chinese Celery Leaves
Not as common as grabbing the leaves from a stalk of celery, Chinese celery leaves may not already be available as a substitute. However, if you want to pick this up at the store it is a good choice for a sharper flavor.
Start with only half the amount of Chinese celery leaves and test the flavor. If it's not bold enough, add more.
I hope this list of handy fenugreek substitutes helped you to round out your recipes! Leave a comment down below and let me know your favorite way to use fenugreek!
🌿 Other Helpful Substitutes
📋 Recipe
Print Recipe
Leave A Comment
Love This Recipe?
Click On A Star To Rate It!
Best Fenugreek Substitute: Maple Syrup (+ More Tasty Alternatives To Use In Recipes!)
If you are looking for a great fenugreek substitute, I have a list of the 13+ best alternatives for any recipe! You could be in the middle of a recipe and realize you don't have any on hand, or you don't want to buy some fenugreek for just one recipe and would rather use something you already have. Either way, I have an option that will finish any recipe you might have!
Pin Recipe
Share on Facebook
Ingredients
Best Fenugreek Seed Substitute
Fenugreek Leaves Substitute
1

cup

mustard greens

1

cup

kale
Instructions
Best Fenugreek Seed Substitute
Use maple syrup for one of the very best fenugreek matches, especially in sauces. Start with less, about half the amount of fenugreek that's called for. Add more to taste.

Yellow mustard seeds and fennel seeds can replace fenugreek seeds in a 1:1 ratio for any recipe.

1 teaspoon yellow mustard seeds,

1 teaspoon fennel seeds
Fenugreek Leaves Substitute
Mustard greens and kale are wonderful fenugreek leaves alternatives that can be used in an equal 1:1 ratio to complete your recipes.

1 cup mustard greens,

1 cup kale
Equipment You May Need
Notes
*Nutritional information is calculated for the maple syrup only.
Nutrition
Calories:
9
kcal
|
Carbohydrates:
2
g
(1%)
|
Sodium:
0.3
mg
|
Potassium:
8
mg
|
Sugar:
2
g
(2%)
|
Calcium:
4
mg
best fenugreek alternatives, Fenugreek Substitute, substitutions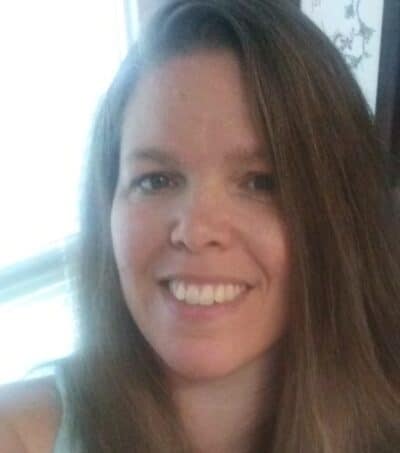 Angela is an at home chef that developed a passion for all things cooking and baking at a young age in her Grandma's kitchen. After many years in the food service industry, she now enjoys sharing all of her family favorite recipes and creating tasty dinner and amazing dessert recipes here at Bake It With Love!