Caribbean recipes are full of unique flavors, fresh ingredients, and fragrant herbs and spices, that are a joy to cook with and to eat! I've featured some of the very best recipes from Jamaica, Puerto Rico, Cuba, the Dominican Republic, and more, that showcase all the irresistible flavors of the islands!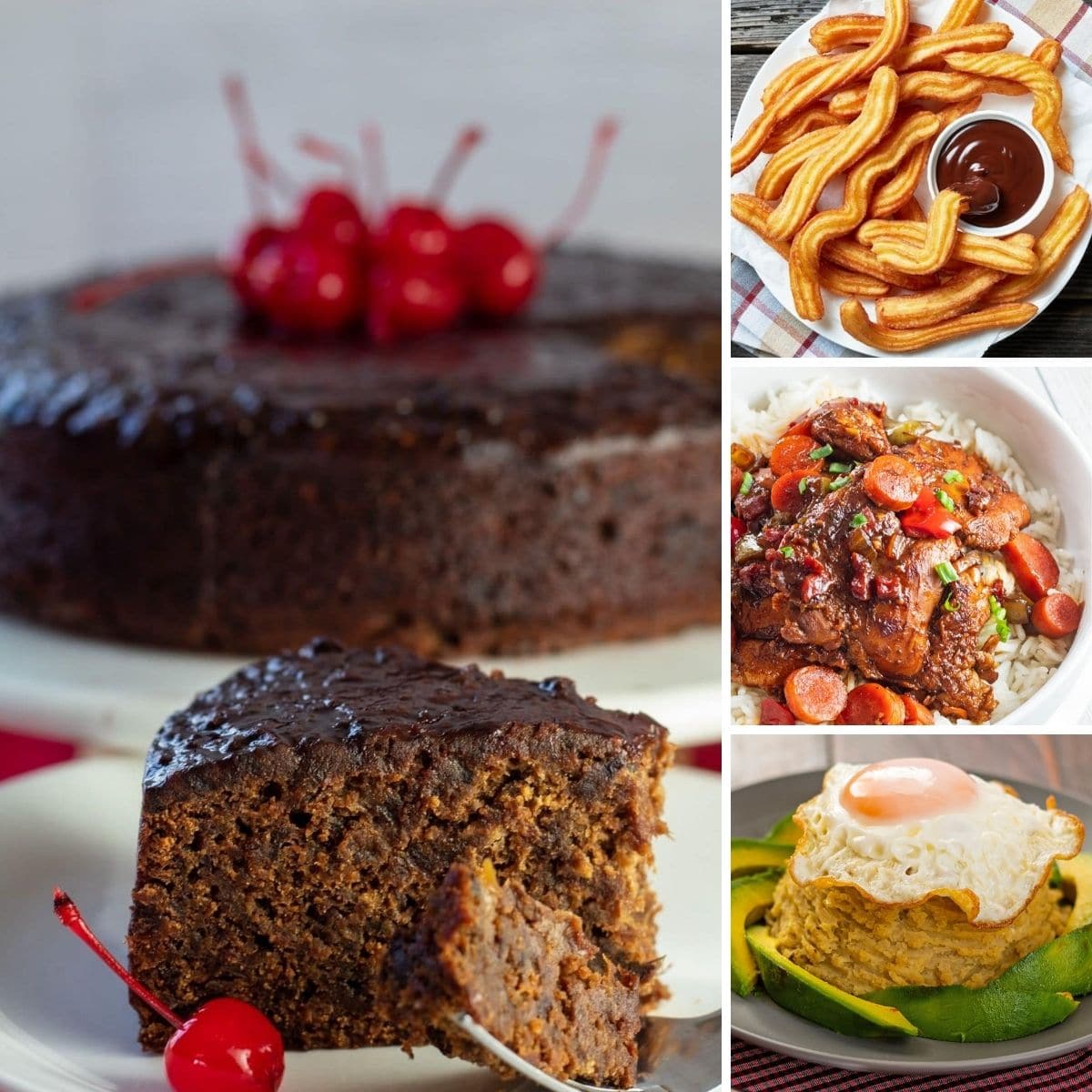 Fabulously tropical recipes from the Caribbean that you're sure to love!
Dreaming of a trip to a tropical island? Take your taste buds on a culinary vacation through the Caribbean.
These recipes are packed full of flavor and will transport you to your favorite island with one bite. You'll feel like you're on those white sandy beaches while in the comfort of your own home!
Jump to:
Best Caribbean Recipes
The great thing about these Caribbean dishes is that they are full of fresh ingredients and fairly simple to make. So, take a culinary trip with me through Cuba, Puerto Rico, The Dominican, Jamaica, and beyond.
1. Jamaican Black Cake
Jamaican black cake is similar to a classic holiday fruitcake, but with a tasty tropical twist! It's a very popular cake throughout the Caribbean!
This decadent, boozy dessert includes fruit soaked in rich port and dark rum that is encompassed in a moist, spiced cake. There is no shortage of flavor here!
2. Stewed Oxtails
Tender, braised beef ox tail is slowly simmered with an irresistible blend of herbs, veggies, and tasty butter beans. It's delicious when enjoyed as a stew on its own, but even better when served over some steamy white rice!
3. Jamaican Rum Cake
The lighter version of the Jamaican black cake, a Jamaican rum cake is a fruitcake traditionally enjoyed around Christmas time.
You can frost this cake, or not, but there's something about a sprinkle of toasted coconut on top that makes the cake extra special.
4. Jamaican Jerk Chicken
Jamaican jerk chicken is arguably one of the most popular dishes to come out of Jamaica! Marinading chicken breasts overnight in a smoky, fragrant jerk marinade is what brings the unique flavor that is key to its popularity.
Then, grill the chicken over medium heat for 35-40 minutes until it is tender and perfectly browned. Serve it up with some white rice to help balance the heat!
5. Brown Stew Chicken
Brown stew chicken is a fabulous Caribbean stew that combines saucy, marinated chicken thighs and tender vegetables. Traditionally, this zesty chicken stew is served over a steaming bowl of white rice.
It's a uniquely flavorful comfort food that is always a welcome change from the usual chicken dinners!
6. Mangu (Dominican Mashed Plantains)
Mangu is a popular Dominican side dish made from mashed plantains that is often served up with a variety of things! Anything from eggs and bacon to pickled onions or fried salami!
Mangu is creamy and mild in flavor, but best of all, it only takes 4 ingredients to make!
7. Churros
Who doesn't love fried dough rolled in sugar? Churros are standard fair food, but in Cuba they are often enjoyed with a warm cup of dipping chocolate!
Churros are dangerously easy to make, so once you make a batch you may find yourself making them all the time!
8. Beef Picadillo
This beef picadillo is a traditional dish with a blend of ground beef, onions, garlic, bell peppers, tomato sauce, raisins, capers, and other ingredients. This savory dish can be eaten on its own or used in other dishes.
Whichever way you choose to utilize this traditional recipe, you won't be disappointed with the wonderful flavors and hearty dish that is beef picadillo.
9. Ropa Vieja (National Dish of Cuba)
This ultimate dish is packed full of flavor and fresh ingredients. Chuck roast, red, yellow, and green bell peppers, onion, tomatoes, and an array of tasty spices or a few of the ingredients that blend together for the ultimate dish.
10. Caribbean Coleslaw
Coleslaw is such a great dish because it can be used as a side to a variety of main dishes. This coleslaw is a twist on the classic American style as it is mayo-free and fruitier.
It's a zesty blend of shredded cabbage, mango, shredded carrots, jalapeno, Dijon mustard, red wine vinegar, and other flavors. It all comes together for a refreshing, light coleslaw ready to be devoured at your next BBQ.
11. Papas Rellenas
This incredible recipe is a meat and potato lover's dream. These are little croquettes made out of potato and filled with a beef mixture known as picadillo.
Picadillo is a savory blend of beef, tomatoes, and spices. Once the croquettes are filled with the beef, they are fried until golden brown. Crispy on the outside, soft on the inside, and oh so flavorful!
12. La Bandera (Traditional Dominican Lunch)
This is a signature dish in the Dominican Republic. "La Bandera Dominicana" translates into "The Dominican Flag" and is also known as the standard lunch meal of beans, rice, and meat.
This recipe uses chicken and beef both cooked in flavor spices.
13. Coco Bread 
There is just something about homemade bread fresh from the oven! Some call this the perfect sandwich roll; it's buttery, light, and has flaky layers perfect for building the best sandwich.
The great thing about this recipe is that you can make this bread in an hour. It's a simple recipe of flour, water, milk, butter, sugar, yeast, salt, and oil. Eat as is or layer on your favorite sandwich fixings and enjoy.
14. Caribbean Shrimp
Shrimp is a staple seafood around the world and is in almost every culture's culinary creation, and The Caribbean is no exception. This recipe is a magical blend of several seasonings including thyme, cayenne pepper, onion powder, and black pepper.
Jumbo shrimp are marinated in the mixture for a few minutes and then broiled to perfection. Serve with white rice are eat a la carte.
15. Tostones
Tostones are simply fried plantains. They are larger and firmer which makes them great for frying.
Slice your plantain, fry in oil, and enjoy! If you've never had them, I highly recommend trying them as they really are a great treat.
16. Cuban Sliders
Cuban sliders are perfect party appetizers, a fun meal, and a favorite among kids and adults alike. These Cuban sliders are a fun alternative to the traditional American style.
They are piled high with ham, pulled pork, and pickles, and have a tangy mustard and Worcestershire sauce. These are a crowd-pleasing appetizer that will get gobbled up in no time!
17. Jamaican Beef Stew
Beef stew is a hearty and rich comfort food, especially during the cold months. This stew takes it up a few notches in the flavor department with a copious amount of seasonings and spices.
With sweet potato, tomato, green bell pepper, and fresh thyme, this dish is a one-pot wonder you'll have on repeat all winter long.
18. Cuban Style Pork Chops
Cuban pork chops take on the flavors of the simple seasoning mixture that includes cumin, oregano, garlic powder, and black pepper. Topped with a squeeze of lime juice before cooking gives them an extra zing of flavor.
Serve with your favorite side and you've got a quick, simple, and flavorful meal.
19. Jamaican Rice and Peas
This is a delicious, hearty dish that is traditionally served as a side dish, typically with chicken. It's full of long-grain wild rice, kidney beans (or green pigeon peas), and the traditional spice combination of thyme, scallions, and garlic.
The scotch bonnet pepper and fresh ginger give this dish a little kick and a nice hit of flavor.
20. Caribbean Yucca Fries
Yucca, also known as cassava, is a root native to the Caribbean and parts of Latin America. They are a great alternative to potato fries.
Simply peel, cut, and fry your Yucca for a delicious side dish. Once you try these, you may not go back to traditional American potato fry.
21. Jamaican Curry Goat
Goat isn't eaten as much in the states as it is around the rest of the world, but it's actually one of the most consumed meats worldwide! This recipe is full of flavor with tender pieces of meat, ginger, onion, garlic, fresh thyme, potatoes, and curry powder.
It's an easy-to-make recipe so try it today and be surprised by how much you love it!
22. Flan de Queso
This recipe is a great twist on the traditional flan typically found in Latin America. Flan de queso recipes use cream cheese (queso) to create a rich dessert similar to cheesecake.
To make it even more amazing, the flan is served sitting in a pool of delicious caramel. This may be your new favorite dessert!
23. Cuban Sandwich (Cubano)
A Cubano in its simplest form is a ham and cheese sandwich. But a true, traditional Cubano is a wonderful sandwich with pork roast, sliced ham, Swiss cheese, and pickles served on Cuban bread.
You can find these delicious sandwiches on more and more menus because they are that good. If you like pork, this is the sandwich for you.
24. Bistec Encebollado (Puerto Rican Steak and Onions)
Utilizing adobo, sazon seasoning, sofrito (a popular mixture used in many recipes- *see next recipe), a Spanish onion, and tomato sauce, it's a flavorful and delicious steak dish. Pair with potatoes or rice and make it a complete meal.
25. Sofrito
Sofrito is a simple mixture of vegetables and herbs creating a unique flavor and added to many dishes in Puerto Rico. It is used as a base for some recipes and simply an ingredient in others.
However you choose to use it, it will add a nice flavor to your dish.
26. Puerto Rican Arroz Con Pollo (Chicken and Rice)
This one-pot meal is a favorite in the Caribbean, Spanish, and Latin areas. This isn't your ordinary chicken and rice dish. Sofrito, garlic, cloves, adobo, and tomato sauce are just a few of the ingredients in this hearty, flavorful entrée.
27. Lechon Asado - Cuban Roast Pork
This delicious recipe is packed full of flavor. It has a citrus and garlic marinade that your taste buds will love.
Lime, Orange, and Lemon juice blend with oregano, cumin, garlic, and onion. This slow-roasted pork is a great dinner and leftovers are perfect for a Cubano sandwich.
28. Jamaican Callaloo
Jamaican Callaloo is a leafy green vegetable and is a staple of Caribbean recipes. The greens are sauteed with thyme, onion, garlic, tomatoes, and scotch bonnet peppers.
It's a perfect side dish for your jerk chicken, roast pork, or any other main dish you love to make.
29. Paletas de Coco - Coconut Popsicles
This is a quick and easy Caribbean recipe is less than 5 ingredients and is the perfect treat on a hot summer day. Coconut flakes, coconut milk, heavy cream, and condensed milk are all it takes to create these tasty frozen treats.
Feeling creative? Add your favorite fruit such as pineapple or strawberries to add a layer of flavor.
The unique flavors of the Caribbean shine through in each and everyone one of these fantastic recipes! If we missed one of your favorite Caribbean recipes, let us know in the comment section below!
📋 Recipe