If you've ever wondered what is monkfish, how is it cooked, and what does it have to do with lobster- I have all of the answers! This odd-looking fish is truly delicious, and I'm going to let you know the best ways to cook it! Trust me, this is one fish you have to try out!
What Is Monkfish
Monkfish is definitely an interesting-looking fish that won't be winning any beauty contests. It is a bottom-dwelling fish that resides in the North Atlantic.
While it may have an unsightly appearance, it is certainly prized as a true delicacy! Typically, you will find the tail meat being sold as it is the most tender and delectable part of the fish, but the cheeks are also eaten.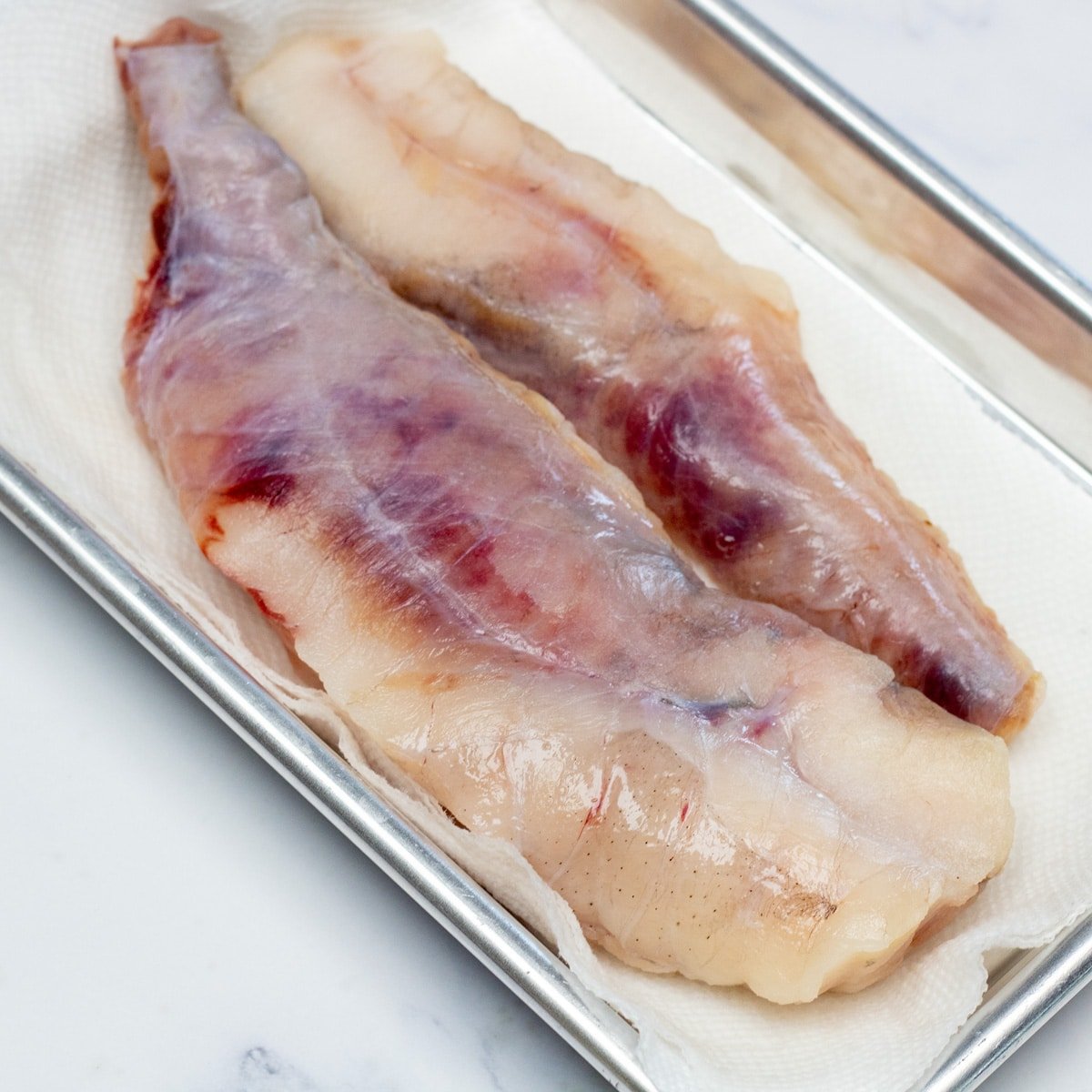 Jump to:
🍲 How To Cook Monkfish
This is an incredibly forgiving fish when it comes to cooking (even if you accidentally cook it just a tad too long)! It is extremely versatile and can be cooked in so many different ways.
The firm meat helps it to hold up well to grilling (unlike some more delicate fish) as well as being tasty when baked, broiled, sauteed, fried, or poached! It also takes very well to marinades and sauces.
You will usually find this meat sold in fillets from either side of the central tailbone. If you do have some monkfish that still has the central bone, it doesn't even have to be removed before cooking (and you can easily eat around it).
There are no small bones like most other fish, which makes it perfectly easy to prepare and great for even a beginner!
😋 What Does Monkfish Taste Like
Monkfish has firm meat and a mildly sweet flavor (again, similar to lobster). It is usually found in French cuisines and fine dining.
As long as your monkfish is fresh, there really isn't any "fishy" flavor to it. Plus, it is meatier than your standard white fish and it pairs well with many different flavor profiles like butter, lemon, or garlic!
🔎 Monkfish vs Lobster
At first glance, you would think that there is no way that monkfish could be anything like lobster. However, you're sure to be pleasantly surprised! I was surprised - hello, new fave!!
Monkfish are commonly referred to as "the poor man's lobster" because it tastes so similar (yes, it is that delicious!). Not only is the flavor similar, but so is the appearance and texture!
In fact, you could use monkfish as a substitute for lobster in any recipe! Plus, monkfish is much cheaper.
🍽️ Best Monkfish Recipes
This versatile fish can be cooked in so many ways as well as be substituted for other firm, white fish. Make sure to adjust cooking times as needed when using it as a substitution.
Check out these recipes that can use monkfish:
💪 Is Monkfish Good For Me?
This ocean fish is incredibly nutritious! It is low in calories and fat as well as high in lean protein. It also contains good amounts of B vitamins, phosphorous, and selenium!
In 2007, the FDA warned people to avoid consuming monkfish because there was an incident in which puffer fish was being sold mislabeled as monkfish. Unfortunately, puffer fish can be extremely toxic if not prepared correctly, which gave monkfish a bad reputation. So, to put that to rest, it is not toxic at all!
Fun fact: the pancreas of the monkfish was one of the first sources of manufactured insulin in the fight against diabetes!
🛒 Where To Buy Monkfish
You're not going to be able to pick up some monkfish at your local supermarket, unfortunately. You can most likely find it at a specialty grocery store or any store that has a high-quality seafood counter. Of course, you can always order it online!
Make sure to take these things into account when choosing your fish to ensure it is as fresh as possible.
Choose meat that is moist and shiny, not dull.
Bright red blood shows that it is recently caught, whereas some brown blood means it is beginning to age.
Don't choose any fillets with an overly fishy smell.
The meat should be an off-white or slightly grey color.
🥡 Storing
When purchasing monkfish, make sure to keep it in the refrigerator and enjoy it within 2 days (the sooner, the better). To freeze, you can wrap it tightly in plastic wrap and place it into a freezer bag to be stored in the freezer for up to 6 months.
If you purchased your fish already frozen, you can place it straight into the freezer. If it has already defrosted, do not refreeze it!
Once cooked, store your fish in an airtight container in the fridge for up to 2 days.
🐟 Varieties
Monkfish is an anglerfish and has 7 different distinct species, with the first being what you're most likely going to find in stores.
American angler
Blackbellied angler
Devil anglerfish
Yellow goosefish
Blackfin goosefish
Shortspine African angler
Now that you know more about this delectable fish, make sure you give it a try! Leave a comment down below and let me know what you think about monkfish!
📋 Recipe
Print Recipe
Leave A Comment
Love This Recipe?
Click On A Star To Rate It!
What Is Monkfish: Baked Monkfish (+Everything You Need To Know About This Versatile White Fish!)
If you've ever wondered what is monkfish, how is it cooked, and what does it have to do with lobster- I have all of the answers! This odd-looking fish is truly delicious, and I'm going to let you know the best ways to cook it! Trust me, this is one fish you have to try out!
Pin Recipe
Share on Facebook
Ingredients
1

lb

monkfish

½

tablespoon

olive oil

(extra virgin)

½

teaspoon

each, salt & pepper

½

teaspoon

paprika

¼

teaspoon

onion powder
Instructions
Preheat your oven to 400°F (205°C) and line a baking sheet with parchment paper.

Rinse the monkfish, then pat your fillets dry using paper towels. Lightly coat the fish on all sides with olive oil. Season with salt, pepper, paprika, and onion powder.

1 lb monkfish,

½ tablespoon olive oil,

½ teaspoon each, salt & pepper,

½ teaspoon paprika,

¼ teaspoon onion powder

Bake in the middle of your oven's center rack at 400°F (205°C) for 12-15 minutes, depending on your monkfish fillet thickness.

Once the fillets have cooked to a minimum internal temperature of 145°F (63°C) remove from the oven and serve immediately.
Equipment You May Need
Notes
If your monkfish fillets vary significantly in size, make sure to check the smaller fillets for doneness while cooking so that they can be removed from the oven while the large ones finish cooking.
To store: Place any leftovers into an airtight container in the fridge for up to 2 days. I don't recommend freezing cooked monkfish.
To reheat: When reheating fish, it's important to use a low temperature to keep it from drying out. Bake your monkfish in a preheated oven at 275°F (140°C) for roughly 15 minutes.
Nutrition
Calories:
103
kcal
(5%)
|
Carbohydrates:
0.2
g
|
Protein:
16
g
(32%)
|
Fat:
4
g
(6%)
|
Saturated Fat:
1
g
(6%)
|
Polyunsaturated Fat:
1
g
|
Monounsaturated Fat:
2
g
|
Cholesterol:
28
mg
(9%)
|
Sodium:
311
mg
(14%)
|
Potassium:
461
mg
(13%)
|
Fiber:
0.1
g
|
Sugar:
0.03
g
|
Vitamin A:
168
IU
(3%)
|
Vitamin C:
1
mg
(1%)
|
Calcium:
10
mg
(1%)
|
Iron:
0.4
mg
(2%)
Baked Monkfish, fish, seafood, What Is Monkfish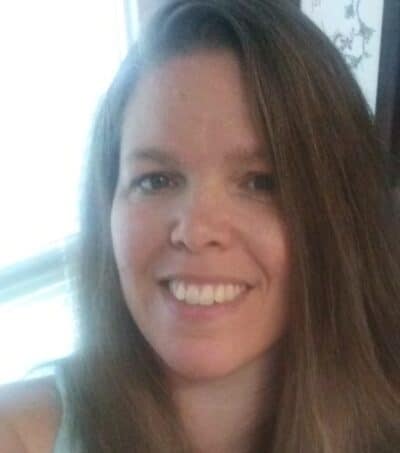 Angela is an at home chef that developed a passion for all things cooking and baking at a young age in her Grandma's kitchen. After many years in the food service industry, she now enjoys sharing all of her family favorite recipes and creating tasty dinner and amazing dessert recipes here at Bake It With Love!