Fish internal temperatures are the most accurate way to tell when your fish is perfectly cooked for the best texture and flavor! Not only does it let you know when your fish will taste the best, but also when it is safe to consume. This guide is going to cover all of the ideal temperatures for any of your favorite fish!
Ideal Fish Internal Temperatures
For a lot of families, fish is one of the less common proteins to cook on a regular basis. Therefore, it sometimes gets forgotten when discussing internal temperatures.
However, just like there is an ideal internal temperature for beef, poultry, and pork, there is also a recommended internal temperature for fish.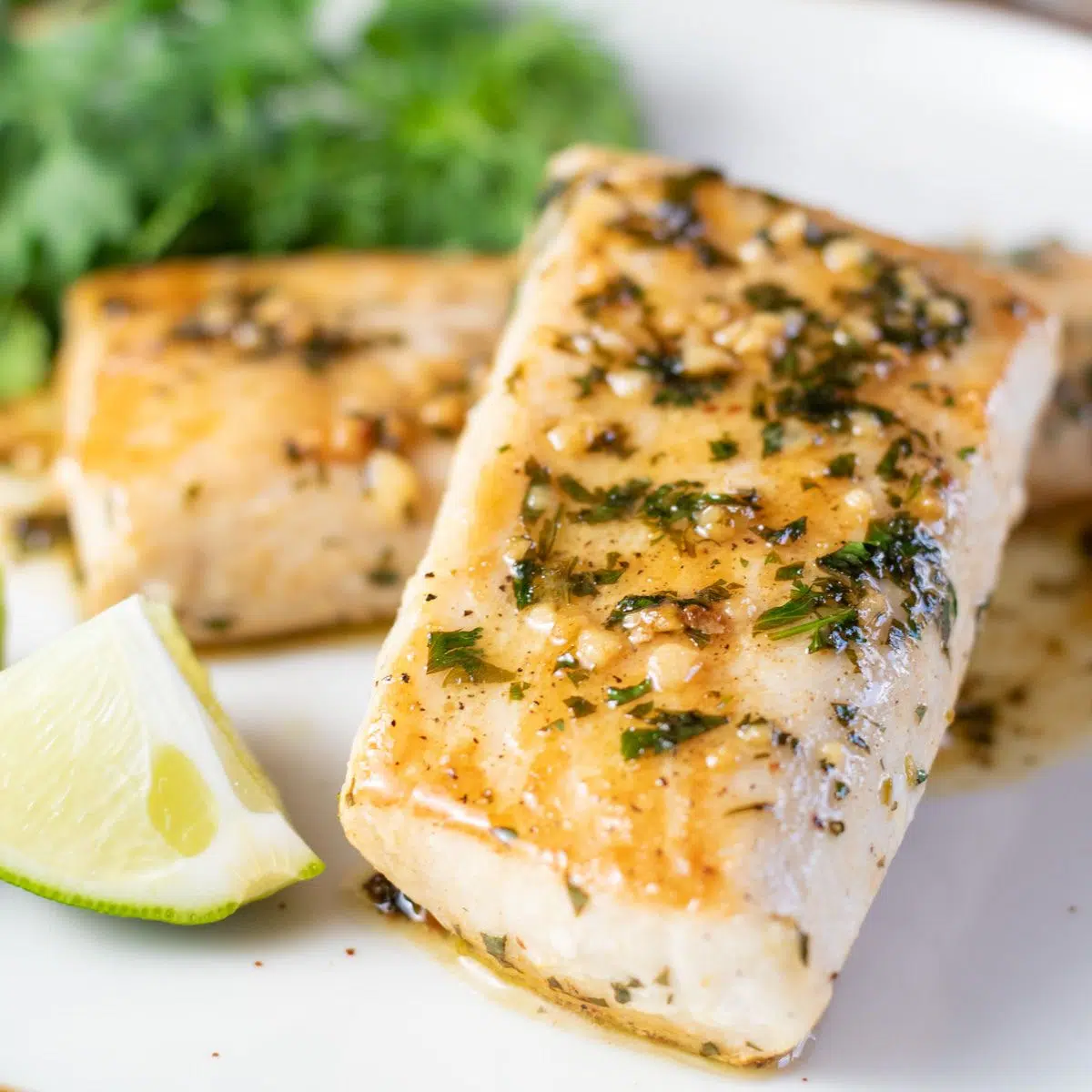 Jump to:
Why You Should Check The Internal Temperature Of Fish
Just like with any animal product, there is always the potential for bacteria that can cause food-borne illnesses. The only way to guarantee that bacteria has been killed is to cook the fish until it reaches a certain temperature.
The recommended temperature is determined by the USDA. While one general temperature is recommended for all fish, there are also different temperature choices depending on the type of fish. Just like how different cuts of beef can be prepared at different temperatures such as rare, medium-rare, or medium.
How to Measure the Internal Temperature of Fish
A thermometer is the best way to measure the internal temperature of any type of fish. You can use the same meat thermometer you would use for beef, poultry, pork, or lamb.
For the best results, insert the thermometer into the thickest part of the fish. Let it sit for about 30 seconds until you have a stable read. While this is the standard practice for measuring the temperature of fish, it will vary with shellfish. Keep reading to learn the specific measurement protocols for lobster and other shellfish.
Recommended Internal Temperature for Whole Fish
Whole fish refers to bone-in, intact fish. It is the easiest way to cook fish to the proper temperature because you can easily insert a meat thermometer to check the core temperature.
The general recommended temperature for cooking fish is 165°F (74°C). This is the temperature the USDA recommends for avoiding potentially harmful bacteria.
This temperature is correct for whole fish, steaks, or fillets. However, many chefs will say this temperature is too high for many types of fish.
Fish is much leaner than other animal meat like beef, chicken, or lamb. Therefore, fish can get overcooked more quickly than other types of protein. Moreover, it can dry out if overcooked.
*TIP! Slash your whole fish to help it cook quickly and evenly. I generally slice the top of my fish 3-4 times diagonally partway into the fish before grilling or roasting to perfection.
One of the reasons people often say they don't like fish is because it has been overcooked and lost its flavor. Cooking fish whole is the best way to retain as much moisture as possible.
To help maintain the ideal texture and flavor for the fish you are cooking use my tip for slashing the whole fish along with the guides below. 
Internal Temperature Guide for Fish
While you can always use the default of 165°F (74°C) when cooking fish, finding the suggested internal temperature for each type of fish will give you the best results. Use the quick guide below to find the best temperature for many popular types of fish.
Keep in mind that these recommendations are based on the best temperature for taste and texture. To maintain the best flavor, many of the recommendations are lower than the prescribed temperature by the USDA. However, if safety measures are followed it is typically safe to serve and eat fish at these lower temperatures.
To safely cook fish at these lower temperatures it is important to choose high-quality cuts of fish. The best choice is to buy fish from a butcher that you trust. Moreover, if possible, look for wild-caught fish. Wild caught fish is typically less susceptible to being contaminated in the way that farmed fish is.
Another important thing to consider is how fresh the fish is. A good rule is that if the fish has been in the refrigerator for more than 2 days – throw it away. You can also determine the freshness based on the smell. The fishier it smells – the less fresh it is! You want it to only have a mild fish or ocean smell.
Best Internal Temperature for Salmon, Halibut, and Other Fish
The ideal final temperature for the fish listed below is 130°F to 135°F (54°C to 57°C). The best way to reach this internal temperature is to take the fish away from the heat when it is about 10 degrees below the ideal temperature.
Therefore, for the following list of fish stop cooking them when the core temperature is between 120°F to 125°F (48°C to 51°C). Then let the fish rest for about 10 minutes until it reaches the desired final temperature. To help the fish continue to cook internally, loosely cover it with tin foil once it is removed from the heat.
Salmon
Halibut
Cod
Red Snapper
Sea Bass
Tilapia
Trout
Best Internal Temperature for Tuna, Swordfish, and Marlin
When cooking the tuna, swordfish, or marlin, the ideal final temperature is 125°F (51°C). This temperature will result in fish that is cooked to medium-rare with a warm pink center and opaque outside.
This is recommended especially for tuna. If tuna is overcooked, it quickly dries out and loses its flavor. To help avoid overcooking you can follow the same practice mentioned above: remove the fish just before it reaches the desired temperature and then let it rest.
Since these three fish are saltwater fish, they tend to be less exposed to harmful contaminants. Therefore, if you purchase your fish from a butcher who has safely prepared the fillets you should be safe to eat these different types of fish medium rare.
Desired Internal Temperature of Ahi Tuna
Ahi Tuna is one of the few fish that is served rare. This means that the internal temperature is 115°F to 120°F (46°C to 49°C). However, this is only recommended if the fish has been properly prepared.
To properly prepare ahi tuna must be flash frozen. This process kills bacteria while still allowing the fish to be consumed rare. Once it is flash frozen it can be used for sashimi.
In addition, ahi tuna that is sashimi grade (flash frozen) can be used to make seared ahi. Seared ahi tuna is quickly cooked on the outside but maintains a rare center.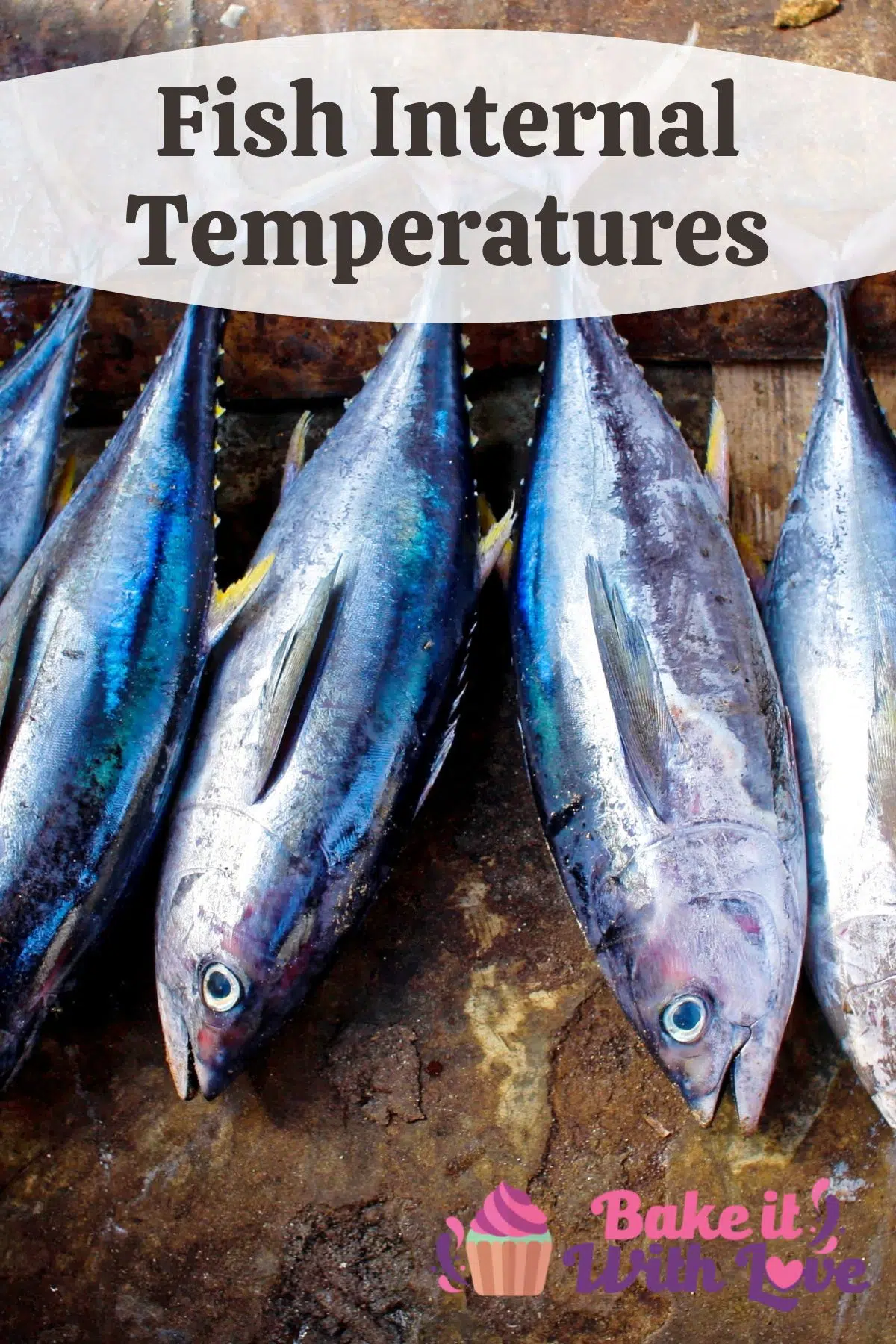 Best Internal Temperatures for Shellfish
In addition to the internal temperatures for fish steaks and fish fillets, there are additional recommendations for shellfish. Like other types of fish, you will notice that many of these temperatures are lower than the USDA recommendation.
However, these temperatures will provide you with the best texture and taste. As with other types of fish, if you purchase your lobster, crab, scallops, and other shellfish from a trusted butcher you should be safe preparing your fish at a lower temperature.
In addition, you will notice that some small shellfish have recommendations based on cooking protocols rather than a core temperature. Follow the suggested protocols for the best outcome with each different type of shellfish.
Best Temperature for Shrimp
Cook shrimp to medium rare. The shrimp will have just barely turned pink.
To test the internal temperature, insert a thermometer into a few pieces. The desired internal temperature is 120°F (49°C). If you have a few pieces that are the same temperature, and all the shrimp are similar in color you do not have to test the temperature of every single piece of shrimp.
Desired Temperature for Lobster
The ideal temperature for whole lobster is 145°F (62°C). This is the same whether the lobster is boiled, steamed, or grilled. To check the temperature of the lobster you will insert the thermometer into the tail. It is recommended that you check the temperature of each individual lobster.
If you are cooking only the lobster tail and it is cut down the center with the meat exposed, then the best temperature is 140°F (60°C).
To avoid overcooking any lobster, remove the whole lobster or lobster tail from the heat when the temperature measures 130°F- 135°F Cover with foil and let rest until it reaches 140°F-145°F
Ideal Temperature for Scallops
Scallops have one of the lowest suggested internal temperatures. They can be safely eaten at 120°F (49°C). However, the ideal temperature for eating scallops is 125°F (51°C) to 130°F (54°C).
Scallops can be quite temperamental when cooking. Therefore, to get the ideal temperature it is recommended that rather than cooking the scallops to the desired temperature, you remove them when the internal temperature is 115°F. Then let them sit for about 5-10 minutes while they finish cooking internally.
Preparing your scallops in this way will help you avoid overcooking them. When scallops are overcooked, they have a rubbery texture that can ruin an otherwise delicious dish.
Best Internal Temperature for Clams, Mussels, and Oysters
Clams, mussels, and oysters are some of the few animal products that you do not need to check the internal temperature of. Instead, you can determine if they are done by watching the shells.
Cook these three shellfish just until the shells open. Once the shells open, remove them from the heat and prepare to serve. If any of the shells do not open, throw those ones away. You do not want to force open a shell. So, if any shells don't open simply throw those away and only eat the ones that opened.
Best Internal Temperature for Crab Cakes
Crab cakes are made with crab meat that has been processed. Processed meat is always more susceptible to contaminants. Therefore, it is recommended that it be cooked longer than other fish.
However, even though it needs to be cooked longer than most other types of shellfish it can safely be consumed at 150°F to 155°F (65°C to 68°C). It does not need to reach 165°F.
Crab cakes can easily be checked with a thermometer. Check each one individually.
>>>>See all of my recipes HERE<<<<
Fish Internal Temperature Reference Chart
*Don't forget to remove the fish from the heat source just before it reaches the ideal temperature, allowing it to rest until it reaches the correct temperature.
| | |
| --- | --- |
| Fish | Ideal Internal Temperature |
| Whole Fish, Steaks & Fillets | 165°F (74°C) |
| Salmon, Halibut, Cod, Red Snapper, Sea Bass, Tilapia, Trout | 130°F-135°F (54°C-57°C) |
| Tuna, Swordfish, Marlin | 125°F (51°C) |
| Ahi Tuna | 115°F-120°F (46°C-49°C) |
| Shrimp | 120°F (49°C) |
| Whole Lobster | 145°F (62°C) |
| Lobster Tail | 140°F (60°C) |
| Scallops | 125°F-130°F (51°C-54°C) |
| Clams, Mussels, Oysters | When shells open |
| Crab Cakes | 150°F-155°F (65°C-68°C). |
Now you know all of the ideal temperatures for any of your favorite fish! Leave a comment down below and let me know which fish is your favorite to cook!
🐠 Delicious Fish Recipes
Do you love a recipe you tried? Please leave a 5-star 🌟rating in the recipe card below and/or a review in the comments section further down the page.
Stay in touch with me through social media @ Pinterest, Facebook, Instagram, or Twitter! Subscribe to the newsletter today (no spam, I promise)! Don't forget to tag me when you try one of my recipes!
📖 Recipe Card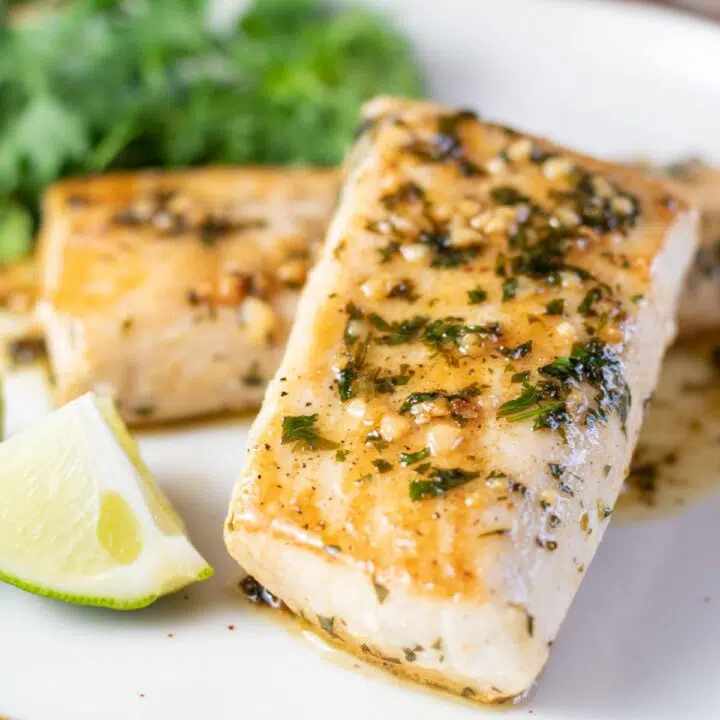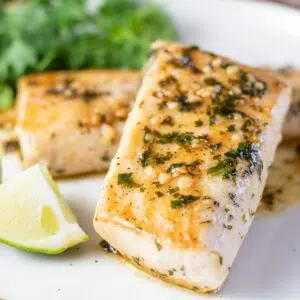 Print Recipe
Leave A Comment
Love This Recipe?
Click On A Star To Rate It!
Fish Internal Temperatures: Salmon with Dill Sauce (+Ideal Temperatures For Fish)
Fish internal temperatures are the most accurate way to tell when your fish is perfectly cooked for the best texture and flavor! Not only does it let you know when your fish will taste the best, but also when it is safe to consume. This guide is going to cover all of the ideal temperatures for any of your favorite fish!
Pin Recipe
Share on Facebook
Ingredients
8

oz

salmon fillets

(2 4 ounce portions)

1

tablespoon

coconut oil

(for frying)

each, salt & pepper

(to taste)
Greek Yogurt Dill Sauce
⅓

cup

Greek yogurt

½

tablespoon

dill weed

(fresh, chopped)

½

teaspoon

lemon juice

(fresh squeezed)

1

pinch

garlic powder

1

pinch

each, salt & pepper

(to taste)
Help Us Out!
If you love a recipe, be sure to come back and share your ratings. This helps future users, and allows me to continue sharing free recipes! Angela
Instructions
Prepare your salmon fillets by checking to see if the scales have been removed. Simply scrape a sharp chef's knife back and forth over the salmon skin (the scales tend to fly around) until you have a netting appearance on the skin side. Rinse your de-scaled fillets then dry them using paper towels. *Do this diligently, repeating as needed, since the very best crispy skin results from starting with very dry salmon!

Heat your pan or skillet to medium-high heat. Give the pan plenty of time to heat thoroughly so that the entire pan surface is evenly heated for best searing. Add enough oil to coat the bottom of the pan lightly. *You may need more oil if your pan likes to stick at all.

Pat the salmon dry again just before cooking, then season the skin side with salt RIGHT before placing it into your heated pan. Once the oil is shimmering and slightly smoking, the pan is ready. *If your oil is smoking a lot, reduce the heat slightly.

Place the salmon into your fully heated pan with the skin side down. *Test an edge of the salmon in the pan, it should sizzle/hiss if the pan is sufficiently heated. Cook on the skin side for 4-5 minutes depending on the thickness of your fillets.

When the salmon is almost entirely done, season the top then flip and just 'kiss' the flesh side in the pan. This is only for a short 15-30 seconds. Remove from the pan and serve immediately with the sauce.
Dill Sauce
In a small mixing bowl, combine the sauce ingredients (Greek yogurt, dill weed, lemon juice, garlic powder, salt, and pepper). Stir until the sauce is smooth, then refrigerate until ready to serve your pan seared salmon.

⅓ cup Greek yogurt,

½ tablespoon dill weed,

½ teaspoon lemon juice,

1 pinch garlic powder,

1 pinch each, salt & pepper
Equipment You May Need
Notes
You can use sour cream in place of the Greek yogurt. Or use a 50/50 combo of sour cream or Greek yogurt with mayonnaise.
Nutrition
Calories:
242
kcal
(12%)
|
Carbohydrates:
1
g
|
Protein:
26
g
(52%)
|
Fat:
14
g
(22%)
|
Saturated Fat:
7
g
(44%)
|
Polyunsaturated Fat:
3
g
|
Monounsaturated Fat:
3
g
|
Cholesterol:
64
mg
(21%)
|
Sodium:
81
mg
(4%)
|
Potassium:
605
mg
(17%)
|
Fiber:
1
g
(4%)
|
Sugar:
1
g
(1%)
|
Vitamin A:
54
IU
(1%)
|
Vitamin C:
1
mg
(1%)
|
Calcium:
51
mg
(5%)
|
Iron:
1
mg
(6%)
Pan Seared Salmon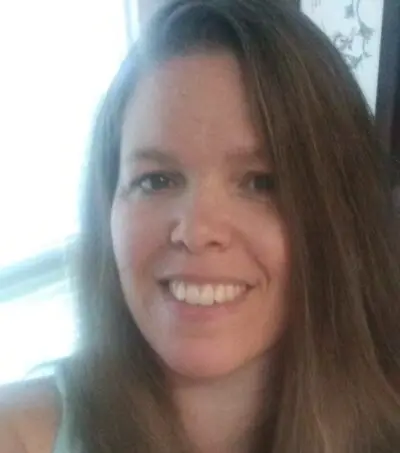 Angela is an at home chef that developed a passion for all things cooking and baking at a young age in her Grandma's kitchen. After many years in the food service industry, she now enjoys sharing all of her family favorite recipes and creating tasty dinner and amazing dessert recipes here at Bake It With Love!