Chicken chow mein calories and nutrition: A complete in-depth guide to the nutritional values of Chinese chicken chow mein! This article offers everything you need to know about enjoying this tasty dish, from calories to carbohydrates and more. You'll even get some information about chow mein using different types of protein!
Calories In A Cup Of Restaurant Chicken Chow Mein
Chow mein is an easy Chinese dish of stir-fried noodles, vegetables, and your choice of protein (chicken is a popular choice). A favorite for takeout and restaurants alike, this dish combines those yummy ingredients with a sauce made from sesame oil, oyster sauce, soy sauce, and Shaoxing (Chinese Cooking Wine—optional).
Also easy to make at home, this comforting and tasty dish has a calorie value that depends on how it is cooked. Obviously, meals eaten while dining out will have more calories because of the extra fats and sugars.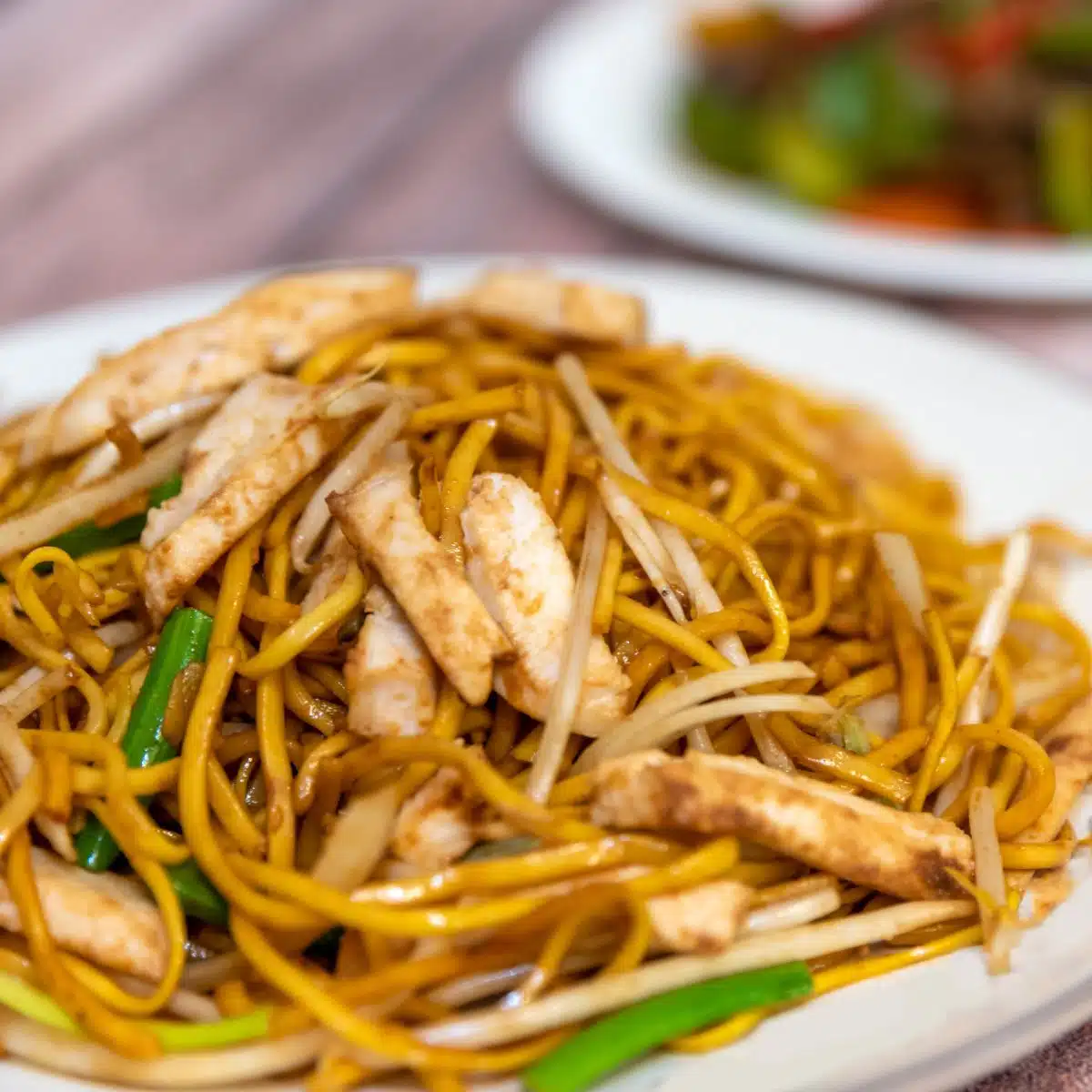 Jump to:
For example, one cup of restaurant chicken chow mein has 194 calories, whereas a whole serving has 513 calories. Making the dish at home will allow you to control the amount and quality of the ingredients used, thereby altering the calorie count.
Calories In Homemade Chicken Chow Mein Entrees
Cooking meals at home is the best option for those who want to enjoy their favorite foods and maintain a healthy lifestyle.
You can cut how many calories are in chicken chow mein by adding extra vegetables, using less oil to cook the veggies, choosing lean meat such as chicken breast, or steaming the noodles rather than frying them.
To steam the noodles, flash fry them, then stir-fry them by tossing them in the wok and adding meat and veggies coated in a light sauce. Flash frying is a deep-frying technique that prevents the oil from penetrating the noodles.
With a minimum amount of oil, cook the pasta for 1-5 minutes until the outside is seared.
A two-cup serving of homemade chicken chow mein typically has 200-300 calories.
Carbs In Chicken Chow Mein Without Rice or Noodles
Counting carbs is just as important as watching your calorie intake. Carbohydrates (sugar molecules) are one of the 3 main sources of nutrients in the food we eat, the other two being proteins and fats.
Most of the carbs in chicken chow mein come from the noodles or rice. Steamed rice is typically served with chicken chow mein on the East Coast rather than Chinese egg noodles.
One cup of steamed rice has 44 grams of carbs, and 0.5 cup of Chinese egg noodles has 19 grams of carbs. Fortunately, for carb counters, chicken chow mein can be eaten without noodles or rice and still have a wonderful flavor because of the sauces and oils, which have very little carbohydrates.
One cup of Chinese chicken chow mein without rice or noodles has about 9.7 carbs.
>>>>See all of my recipes HERE<<<<
Additional Calories In Chow Mein Dinners
There are different types of chow mein besides chicken. All chow mein dishes are made with soy sauce and oyster sauce, with Shaoxing, peanut oil, and sesame oil optional.
In addition, a touch of honey or brown sugar can balance the sauce's saltiness.
The quantity of vegetables you use is based on preference, as well as which kinds you may or may not include. Some of the most common choices are celery, bean sprouts, carrots, green bell peppers, yellow onions, mushrooms, red cabbage, broccoli florets, snow peas, and water chestnuts.
Protein Variances
The main variation of the recipes is the use of protein, which will also change the amount of carbohydrates in the dish.
Vegetable (or vegetarian) chow mein adds vegetable stock and utilizes corn starch in the sauce for thickening. It is often served without meat or with tofu for those who still want a meaty texture.
Table 1: Calories Per Chow Mein Recipe
Below is a quick guide for calories in one cup of the different chow mein dinners:
| Dish | With Noodles | Without Noodles |
| --- | --- | --- |
| Turkey Chow Mein | 275 calories, 19.95g carbs | 194 calories, 9.97g carbs |
| Beef Chow Mein | 420 calories, 27g carbs | 268 calories, 11.7g carbs |
| Pork Chow Mein | 442 calories, 30g carbs | 277 calories, 11.7-14g carbs |
| Vegetable Chow Mein | 273 calories, 45g carbs | |
| Shrimp Chow Mein | 260 calories, 23g carbs | 143 calories, 9.9g carbs |
Calories and carbs for different chow mein recipes, with or without noodles.
How Many Ounces In A 100-Calorie Serving
Typically, the favorite serving size choice to order chicken chow mein is one cup (8 ounces), which has about 284 calories. A 100-calorie serving would be just under 3 ounces.
Nutritional Value of Chicken Chow Mein
Nutrition is more than the calories and carbohydrates you consume, though those numbers are important. Macronutrients (proteins, fats, vitamins, and minerals) play a vital role in helping you to keep a balanced diet, especially if you have a weekly cheat meal or are eating on the go!
One cup (181 grams) of chicken chow mein has 18g of protein, 15g of fat, and 22g of carbohydrates. Some other primary micronutrients in chicken chow mein include Vitamin B6, Vitamin C, Vitamin K, Iron, and Selenium. Calcium and Vitamin E are not as prevalent but still beneficial.
With this information about the nutrients in chicken chow mein, you can make the best choice for your meals. Try the dish with other proteins, steamed rice, or noodles to determine your favorite way of eating chow mein!
Do you love a recipe you tried? Please leave a 5-star 🌟rating in the recipe card below and/or a review in the comments section further down the page.
Stay in touch with me through social media @ Pinterest, Facebook, Instagram, or Twitter! Subscribe to the newsletter today (no spam, I promise)! Don't forget to tag me when you try one of my recipes!
📋 Recipe
Print Recipe
Leave A Comment
Love This Recipe?
Click On A Star To Rate It!
Chicken Chow Mein Calories and Nutrition: Cantonese Chow Mein (Everything You Need To Know!)
Chicken chow mein calories and nutrition: A complete in-depth guide to the nutritional values of Chinese chicken chow mein! This article offers everything you need to know about enjoying this tasty dish, from calories to carbohydrates, and more. You'll even get some information about chow mein using different types of protein!
Pin Recipe
Share on Facebook
Ingredients
2

tablespoon

soy sauce

(reduced sodium recommended)

2

tablespoon

dark soy sauce

2

teaspoon

sugar

1

teaspoon

sesame oil

15

oz

chow mein noodles

2

tablespoon

cooking oil

8

oz

mung bean sprouts

(rinsed and drained)

3

stalks

green onion

(chopped)

2

bunches

baby bok choy

(optional, coarsely chopped)

2

teaspoon

sesame seeds

(optional for garnish)
Help Us Out!
If you love a recipe, be sure to come back and share your ratings. This helps future users, and allows me to continue sharing free recipes! Angela
Instructions
Make the sauce in a small mixing bowl by whisking together

2 tablespoon soy sauce

,

2 tablespoon dark soy sauce

,

2 teaspoon sugar

, and

1 teaspoon sesame oil

. Set aside.

2 tablespoon soy sauce,

2 tablespoon dark soy sauce,

2 teaspoon sugar,

1 teaspoon sesame oil

Boil the

15 oz chow mein noodles

as directed on the package (about 10 minutes). Once cooked, drain them and set aside.

Add

2 tablespoon cooking oil

to a large wok or frying pan over medium heat. Once the oil is shimmering hot, add the cooked chow mein noodles and let them fry until golden and crispy on the bottom.

Flip the noodles over, adding more oil if needed, and fry the opposite side until golden and crispy. You can press down on the noodles gently with a spatula if needed.

Add

8 oz mung bean sprouts

,

3 stalks green onion

, and the optional

2 bunches baby bok choy

and stir fry for another 30 seconds to 1 minute or until the veggies are cooked to your liking.

8 oz mung bean sprouts,

3 stalks green onion,

2 bunches baby bok choy

Add your prepared sauce to the pan and toss until all the noodles are evenly coated, then remove from heat. Garnish with

2 teaspoon sesame seeds

if desired, and serve right away.
Notes
Cantonese chow mein calls for regular soy sauce for its salty flavor in addition to dark soy sauce, which provides color and a bit of sweetness. The combination of the two gives the sauce its signature balance of flavors!
Add 1 pound of boneless, skinless chicken breast (or chicken thighs) if desired. Cut into strips, fry the noodles and remove them from your wok or skillet, then fry the chicken and remove. Cook the vegetables and add the chicken and noodles back in once the veggies are fork-tender.
You can add any of your favorite stir-fry vegetables to this chow mein. Bell peppers, shredded carrots, zucchini, and mushrooms would all be delicious!
Give your chow mein a zesty kick by adding some red chili paste or chili oil to the stir-fry sauce.
To store: Store any leftover Chow Mein in an airtight container in the fridge for up to 3 days.
To reheat: Reheat your leftovers in a pan over medium heat, stirring frequently until warmed through. You can also reheat individual portions in the microwave. 
Nutrition
Calories:
669
kcal
(33%)
|
Carbohydrates:
110
g
(37%)
|
Protein:
26
g
(52%)
|
Fat:
14
g
(22%)
|
Saturated Fat:
1
g
(6%)
|
Polyunsaturated Fat:
4
g
|
Monounsaturated Fat:
7
g
|
Trans Fat:
0.04
g
|
Sodium:
2282
mg
(99%)
|
Potassium:
203
mg
(6%)
|
Fiber:
10
g
(42%)
|
Sugar:
10
g
(11%)
|
Vitamin A:
3488
IU
(70%)
|
Vitamin C:
46
mg
(56%)
|
Calcium:
119
mg
(12%)
|
Iron:
7
mg
(39%)
Cantonese chow mein, chicken chow mein calories and nutrition, Chow Mein, nutrition info for chinese chicken chow mein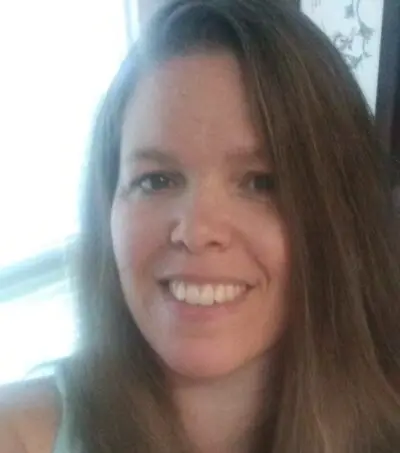 Angela is an at home chef that developed a passion for all things cooking and baking at a young age in her Grandma's kitchen. After many years in the food service industry, she now enjoys sharing all of her family favorite recipes and creating tasty dinner and amazing dessert recipes here at Bake It With Love!