For what to serve with sweet potatoes, look no further than this list of amazingly tasty main courses and complementary side dishes! These recipes are suitable for special occasions, holidays, or a casual family dinner. Whether you are making sweet or savory sweet potatoes, these tasty recipes will be a perfect match!
Recipes That Complement Sweet Potatoes
Sweet potatoes are such versatile root vegetables. They can be sweet, or they can be savory, and they are a healthier alternative to classic potatoes!
If you are trying to build your menu around sweet potatoes or you are looking for some complementary sides or main dishes, you are in the right place. The recipes featured below all fit the bill perfectly!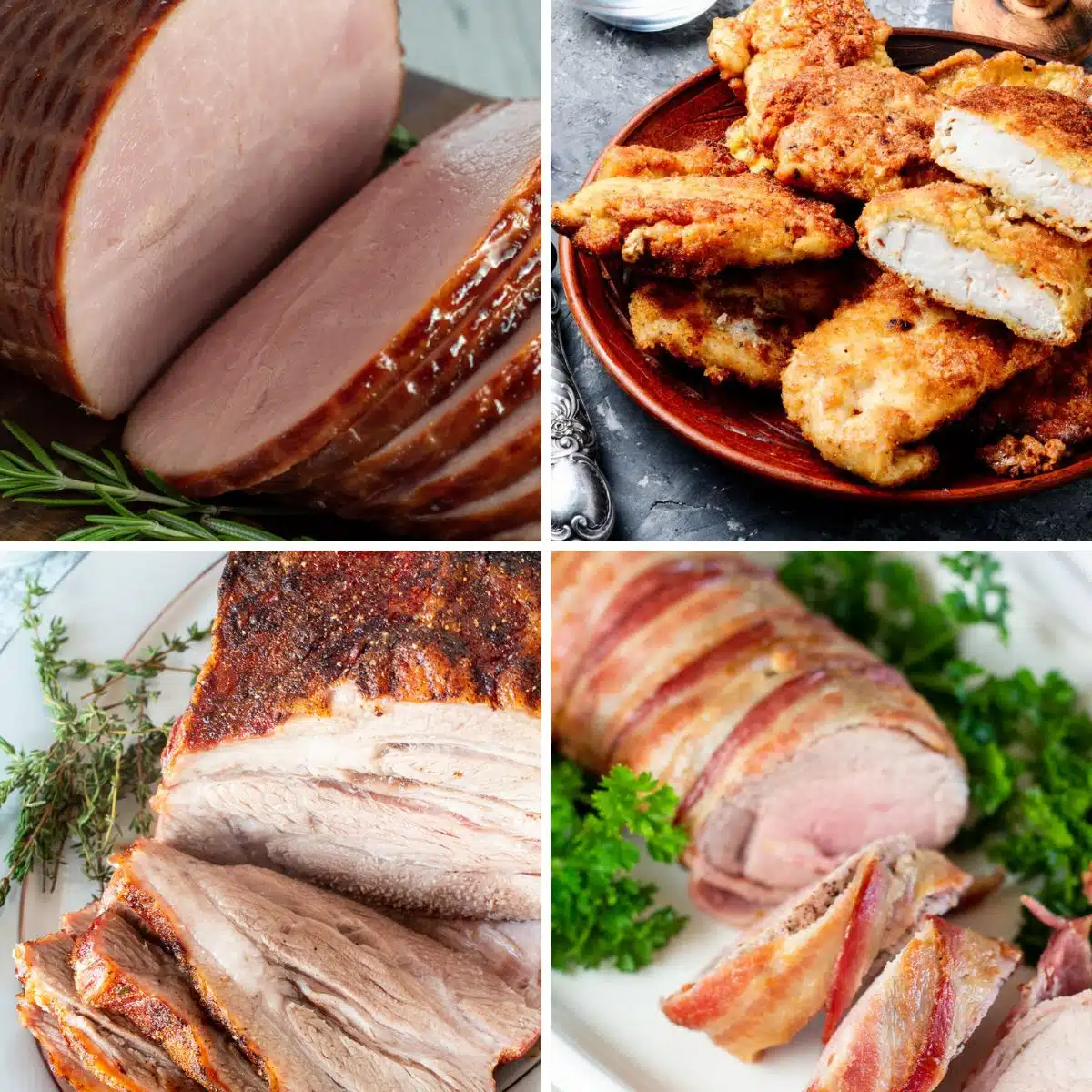 Jump to:
Main Courses
These entrees are even more delicious with a side of sweet potatoes. From meaty main courses to hearty vegetarian dishes, there's something for everyone here!
Check out all of my savory sweet potato recipes for more delicious ways to cook up this amazingly versatile starch!
1. Honey Glazed Ham
A roasted ham is a perfect choice for any holiday main course. The sweet honey glaze complements the sweetness of sweet potatoes!
2. Shake and Bake Pork Chops
These easy shake-and-bake pork chops are a favorite family dinner! They are ready to eat in just 30 minutes and will pair with sweet or savory sweet potatoes.
3. Air Fryer Bacon Wrapped Pork Tenderloin
What's not to love about a juicy pork tenderloin wrapped in crispy bacon? It's even better when you can make it in under 30 minutes with your air fryer!
4. Smoked Leg of Lamb
A juicy and flavorful smoked leg of lamb always leaves a lasting impression. The smoky and herbaceous flavor pairs wonderfully with sweet potatoes, whether they are savory or sweet!
>>>>See all of my recipes HERE<<<<
5. Chicken Schnitzel
These crispy chicken cutlets come together in a snap and are loved by kids and adults alike! A side of sweet potatoes is all you need to turn them into a quality meal.
6. Grilled Ribeye
Everyone loves a juicy steak dinner. Get your family together and fire up the grill because a ribeye steak and baked sweet potato should be on the menu at any cookout!
7. Air Fryer Salmon
You can have a delicious salmon dinner on the table in no time at all with your air fryer! Add a side of sweet potatoes, and you have an easy and nutritious dinner.
Wondering what the difference is between yams vs sweet potatoes? I'll tell you all of the ways to tell them apart here!
8. Bag Roasted Chicken
You can make a succulent whole-roasted chicken with ease by using this bag-roasting method! It makes for a stunning and delicious main course that, of course, pairs fabulously with sweet potato.
9. Pork Shoulder Butt Roast
A deliciously juicy pork shoulder butt roast is the perfect main course for pleasing a crowd. It only takes about 5 minutes of prep time, and then you just pop it in the oven while you focus on your side dishes!
10. Lemon Butter Baked Cod
Not only is this lemon butter cod healthy, but it is super tasty, too! The flaky and mildly sweet meat of this white fish will pair wonderfully with sweet potato.
11. Mushroom Risotto
This risotto is a creamy and flavorful vegetarian main course that will pair wonderfully with sweet potato. A baked sweet potato would make this risotto into a well-rounded and filling meal!
13. Dutch Oven Chili
I highly recommend trying chili inside of baked sweet potatoes! It may not seem like a conventional topping, but the smokey, savory, and sweet flavors blend beautifully!
14. Monterey Chicken
With melted cheese, crispy bacon, tender tomatoes, and green onions, these juicy chicken breasts are always a great main course. Whether you roast them, bake them, or pan-fry them, sweet potatoes will make an excellent accompaniment to the meal!
15. Creamy Duck and Wild Rice Soup
A bowl of soup and a baked sweet potato makes an easy and satisfying meal for breakfast, lunch, or dinner. This rich and creamy wild rice soup features tender chunks of buttery duck meat that will have you savoring every last drop!
16. Pan Seared Scallops
Any seafood lover will be head over heels for these perfectly pan-seared sea scallops! They are mild and subtly sweet, just like sweet potatoes, but they have a golden brown crust on the outside that is undeniably the best part!
Complementary Veggie Sides
If you already have the main course in mind, these side dishes will help complete your menu! Having multiple sides is always ideal, so try any of these recipes to round out your meal in addition to the sweet potatoes.
17. Bacon Wrapped Asparagus
This recipe is an easy way to dress up a classic vegetable side dish. Bacon-wrapped asparagus is suitable for any occasion, whether it's a formal get-together or something more casual.
18. Zucchini Squash Casserole
A warm, creamy, cheesy zucchini squash casserole is an inviting side dish that everyone will enjoy. It's a nice contrast to the sweetness of sweet potatoes, and the crunchy Panko topping is downright delicious!
19. Pan Seared Brussel Sprouts
Brussel sprouts are another vegetable that pairs well with any main course (as well as sweet potatoes)! The slight caramelization of the brussel sprouts adds plenty of flavor and a nice crispy exterior.
20. Garlic Green Beans
These pan-fried garlic green beans with crispy bacon will add color and flavor to your dinner spread! Carbs are covered by sweet potatoes, so it is a nice way to get some veggies on the table.
21. Jiffy Corn Casserole
If you are looking to make a meal full of comfort foods, this Jiffy corn casserole is the way to go. This soft cornbread full of creamy corn is always a hit during the holidays!
22. Buttered Peas & Carrots
Not only are buttered peas & carrots delicious, but they are incredibly easy to make! If you have time restraints, you can even whip them up in the microwave.
I hope I was able to help you find the perfect pairing for your sweet potatoes! Let me know which recipes you chose by commenting below!
🍠 Sweet Potato Recipes To Try
📖 Recipe Card