Despite being impressive on its own, sometimes you need to know what to serve with shepherd's pie to truly complete your meal! This list includes sides for when you want an impressive Irish spread, or lighter options to offer some variety!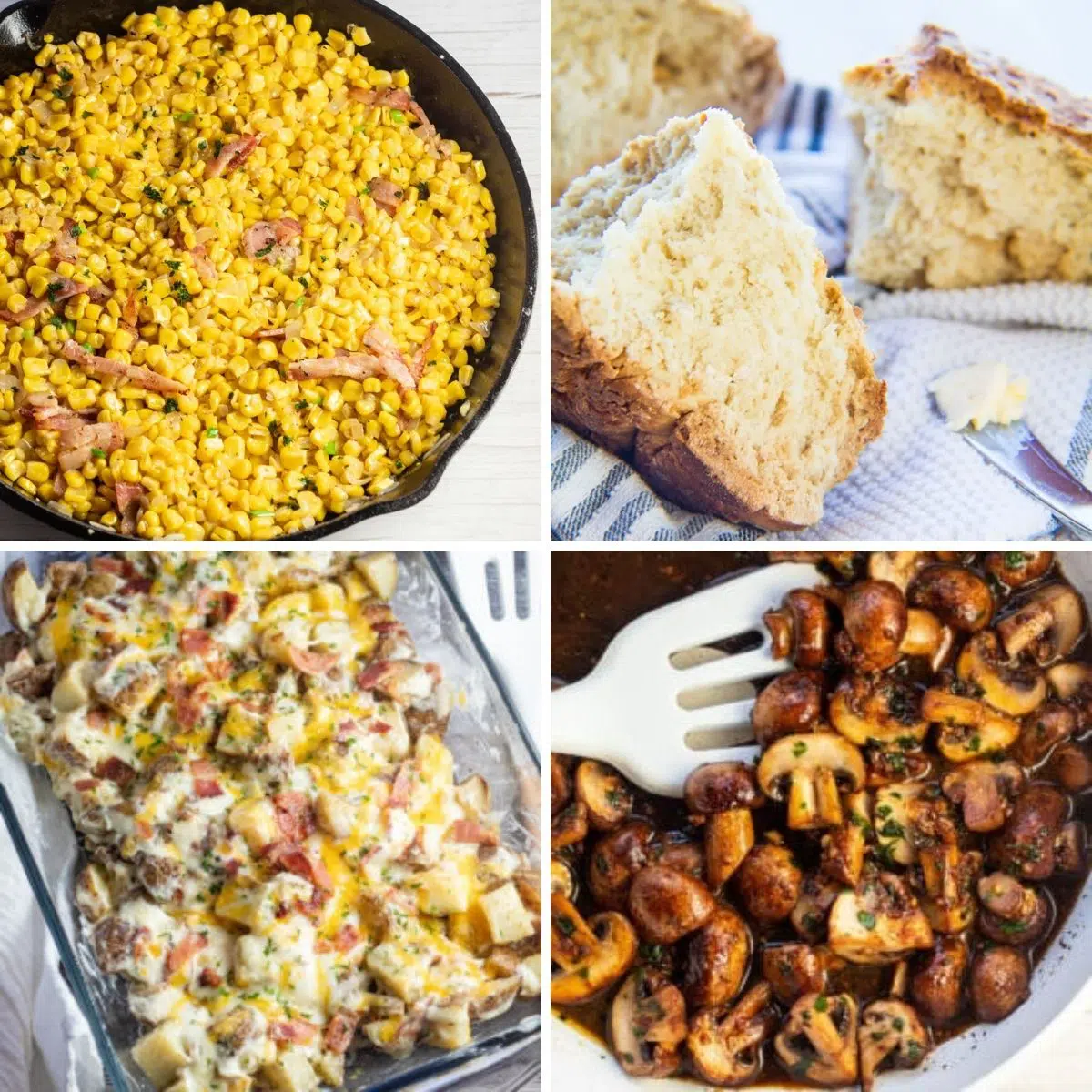 Shepherd's pie is a casserole that embodies simple, homey comfort food- find the sides to match!
You wouldn't think that shepherd's pie needed any accompaniments because it's so filling and delicious. Side dishes, on the other hand, help to counterbalance and enhance the meal's flavors.
Even though this hearty and meaty dish can be served on its own, it's still best served with a few side dishes. If you're stumped on what to serve with shepherd's pie, perhaps this list will help spark your imagination.
Jump to:
1. Honey Glazed Carrots
Honey glazed carrots are highly addictive, and you'll be surprised at how simple they are to make. You only need a few basic ingredients and a baking sheet to make this delicious and nutritious vegetable dish!
These delectably sweet carrots go perfectly with a savory shepherd's pie.
2. Balsamic Roasted Brussel Sprouts
Roasted Brussel sprouts are delicious, but tossing in some balsamic vinegar takes it to the next level! This dish complements so many other dishes because it is flavorful but not overpowering.
They're also incredibly easy to make. While they roast in the oven, you can focus on the other dishes without becoming stressed out in the kitchen.
3. Roasted Green Beans
Roasted green beans are another simple but tasty vegetable dish that goes well with shepherd's pie.
To make these, you just need a few basic ingredients, and the process is extremely straightforward. We love how inexpensive it is to make this dish.
4. Irish Soda Bread
Irish soda bread is one of my favorite bread to make because it is so tasty and always turns out so well.
This quick bread is ideal for when you want bread but don't have time or don't want to work out your muscles. Our favorite feature of this bread is that it only requires four ingredients to make.
5. Air Fryer Asparagus
Have you ever tried air frying asparagus? Air fried asparagus is an absolute game-changer!
Not only do they produce that delectable bite, but it is also a much healthier option. It takes only a few minutes to air fry asparagus. Isn't that incredible? This goes well with a variety of dishes, including steaks, roasts, and even shepherd's pie!
6. Succotash
Not only does succotash taste scrumptious, but it also looks stunning! The combination of beans and vegetables makes this colorful dish both nutritious and filling!
Succotash is an excellent way to incorporate vegetables into your diet. Because it doesn't have a strong flavor, this quick vegetable side dish complements a wide range of dishes.
7. Yorkshire Pudding
This delectable side is so versatile that it can be served in a variety of ways. You can bake mini Yorkshire puddings for the plate, or huge ones as a dish on their own.
It tastes and looks a lot like a pancake, but it's much more than that. You can serve it at any time and with a variety of other dishes, including roast beef, gravy, and shepherd's pie.
8. Baked Sweet Potato
When you bake sweet potatoes, they always turn out perfectly. They are so fluffy and delicious that we make them whenever we can.
Baking them in the oven is also a fantastic way to prepare them because it brings out their natural and delicious flavor. They are perfect and nutritious. You simply cannot go wrong with them.
9. Cheesy Bacon Ranch Potatoes
This delectable dish combines cheese, bacon, ranch dressing, and potatoes. What else could you want?
It's always a crowd-pleaser because everyone enjoys the heavenly combination of sour cream, cheese, and crispy bacon. These potatoes are bursting with flavor, and we can't get enough of them.
10. Southern Fried Corn
When a food is labeled "Southern," you know it's going to be good. It's almost always comforting food that makes you feel warm, cozy, and nourished.
This easy fried corn cooks in minutes but is still so full of flavor! This is a superb and tasty side dish to serve with shepherd's pie if you want something quick.
11. Irish Nachos
This easy pub appetizer is a refreshing take on traditional nachos. You and your guests will love how crispy and flavorful they are, as well as the variety of delicious toppings that come with them.
Whether you're enjoying the big game with friends or just serving as an appetizer, these are perfect.
12. Garlic Butter Mushrooms
They can be so unassuming at times, but when cooked correctly, mushrooms are a delectable treat. To make this elegant and flavorful side dish, all you need are a few common ingredients.
It goes well with so many mouthwatering dishes. In addition, they have an incredible flavor!
13. Oat Rolls
Oat rolls are so fluffy, soft, and tender that they're a real treat to eat. Whether you want to serve this as a snack or as a side dish, they go well with a variety of different meals.
You can make the oat rolls ahead of time, freeze them, and then bake them when you're ready to serve.
14. Creamed Kale
Make this creamy and simple appetizer whenever you're looking for a simple weeknight starter to serve with a variety of different dishes.
A twist on creamed spinach, creamed kale is a favorite in our house. It makes a great side for any hearty dish!
15. Baked Beans
Baked beans and shepherd's pie are a surefire way to ensure that you'll be stuffed to the gills and happy with your meal. Baked beans are one of our most favorite classic side dishes, and we never get tired of them.
You can keep it simple or add ground beef and bacon to amp it up. Whichever is the case, we can always count on this dish to satisfy our cravings for a filling and delectable meal.
We hope with our suggestions for side dishes that pair with shepherd's pie you'll be able to put together a hearty meal that everyone will enjoy! Please let us know if you give any of our suggestions a shot and how they turn out by leaving us a message below!
📋 Recipe