If you're wondering what to serve with sausage and peppers, I've got plenty of ideas that can help you make the perfect meal! Whether your cooking dinner for guests or making a quick meal at home, there is a perfect side for every occasion!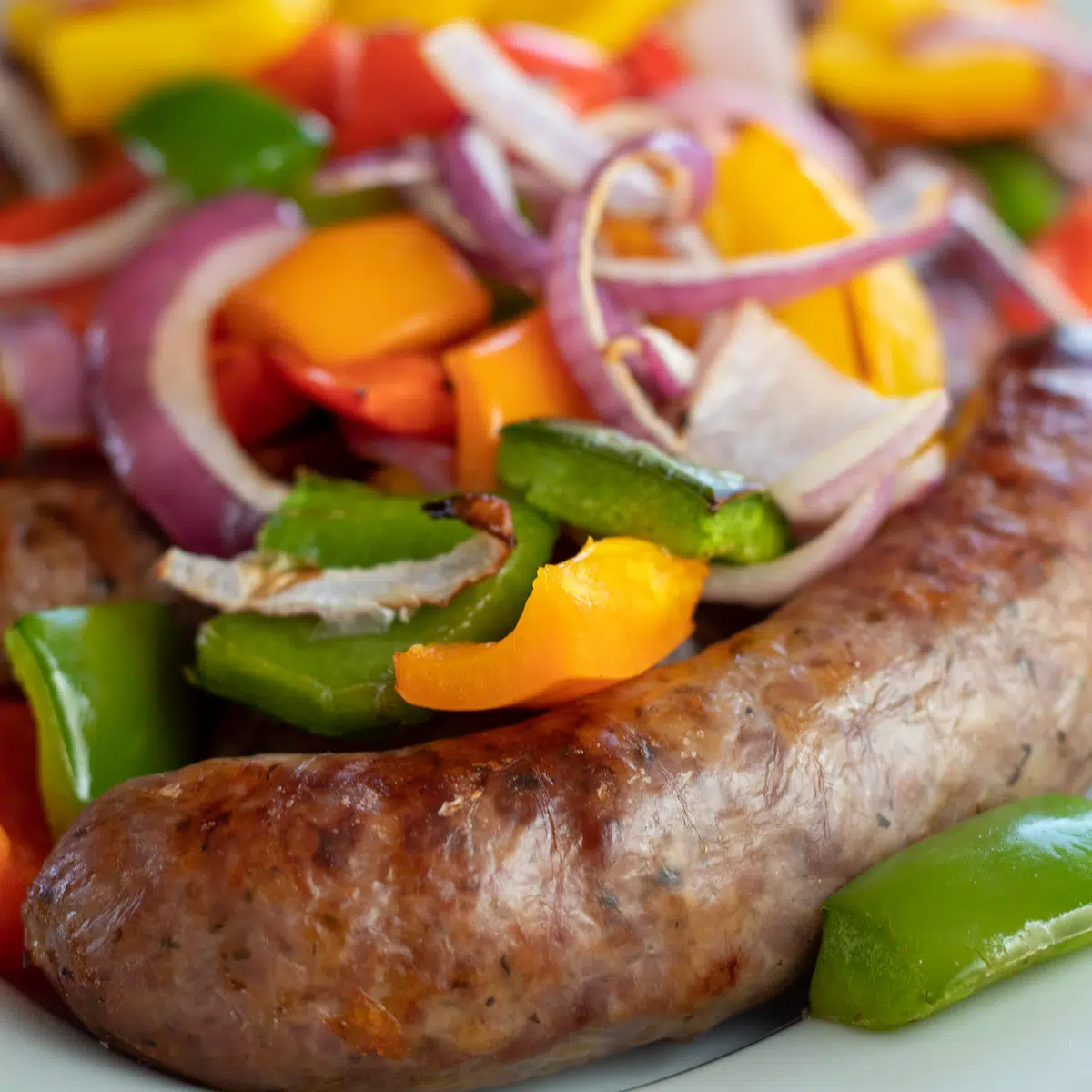 All the best sides to pair with sausage and peppers for any occasion!
You can't go wrong with a scrumptious plate of sausage and peppers. It's one of those dishes that appeal to both the nose and the eyes, thanks to its vibrant color and incredible aroma.
You know your dinner is going to be delicious if it looks so good! It's as much fun to eat as it is to make because it has so much flavor and texture.
Jump to:
Even though sausage and peppers are great on their own, they're even better when paired with some mouthwatering side dishes. Here's a list that has something for everyone, whether you're looking for something to add to your regular dinner rotation or something to try out if hosting a dinner.
1. Sauteed Broccolini
Sauteed broccolini is a delicious vegetable side dish that the whole family will enjoy. It only takes a few minutes of cooking time for the delicate broccolini to turn out wonderfully!
Even though this tasty vegetable is hard to come by in stores, it is well worth stocking up on as many as you can find! The combination of crisp, fresh broccolini is a delightful addition to any meal.
2. Mushroom Risotto
Mushroom risotto is a creamy Italian rice dish with chicken broth and your favorite mushrooms. To make it on the stovetop, you'll need to be patient and stir slowly.
The mushroom risotto's complex flavors blend beautifully. Parmesan and butter make this dish super creamy, with a nuttiness from Arborio rice and mushrooms' rich, earthy flavor. It's the ultimate comfort food meal!
3. Cream Cheese Pasta
Cream cheese pasta can be made in less than ten minutes, making it an excellent dish for a chilly night in. This easy and inexpensive pasta dish is ideal for a last-minute midweek dinner.
Cozy and filling, this is a great option to serve with sausage and peppers. It's quick and easy to put together, and everyone will enjoy it!
4. Cucumber Vinegar Salad
This dill, red onion, and cherry tomato salad with cucumber vinegar is a light side dish or appetizer. You can't go wrong with the combination of tangy and sweet flavors in this salad.
It's a great side dish for any time of the week, and it goes well with a variety of other dishes, such as Swedish meatballs and sausage and peppers, which are both scrumptious.
5. Dijon Mustard Brussel Sprouts With Bacon
Delicious and simple, these Bacon and Dijon Mustard Sauce Roasted Brussels Sprouts are a great side dish for any meal. Brussel sprouts are one of our favorite veggies because of their versatility and long shelf life.
As a bonus, they're both nutritious and delicious! You can't go wrong with these guys! Everyone will be happy to eat their vegetables if you serve them these.
6. Dirty Rice
Look no further than this quick and flavorful side dish. Simple to prepare, dirty rice goes well with a variety of foods.
This dish is bursting with authentic Cajun flavor! We love to serve this as a tasty side dish with Sausage and Peppers at dinner time.
7. Cajun Fries
These Cajun fries are perfect in every way! The flavor and crispiness is unbeatable, and we can't imagine anything topping them. You'll love these if you're a big fan of french fries.
These Cajun fries are perfect as a snack or side dish, especially if you absolutely love spicy food. Serve with Sausage and Peppers and a Bisquick peach cobbler for dessert, and you've got yourself a southern meal to remember!
8. Garlic Herb Focaccia Bread
Garlic herb focaccia bread is crispy on the outside and soft and chewy on the inside. Served with dinner, soups, and stews or even with sandwiches, it is a delicious addition to any meal.
You don't need any fancy equipment, you can easily whip up this garlic herb focaccia bread at home.
9. Potatoes O'Brien
Pan-fried Potatoes O'Brien are excellent for a country breakfast, but also great at lunch or dinner. Pair these simple potatoes with sausage and peppers for a hearty and satisfying dish.
Thanks to these potatoes, you'll have plenty of energy to get through the day!
10. Roasted Vegetable Medley
Roasted vegetables are a colorful, nutritious, and quick side dish that is a must-try! These seasoned vegetables have the perfect combination of tenderness and crunch.
Meat, poultry, pork, and fish are all tasty when served with a medley of oven-roasted vegetables. These veggies will convert vegetable haters to vegetable lovers!
11. 4 Ingredient Potato Soup
4 Ingredient Potato Soup is the simplest and most delicious comfort food you'll ever make! This soup only requires four simple ingredients, most of which you already have in your pantry.
It's also cost-effective! Try this creamy soup for your next weeknight dinner.
12. Southern Fried Cabbage
In our opinion, Southern Fried Cabbage is one of the best ways to prepare cabbage. This is a tasty recipe that can be tailored to your personal preferences.
The longer you cook the cabbage, the less texture you'll get out of it. It will need to be cooked longer for those who prefer it tender.
Cooking until you're satisfied with the taste is as simple as taking a bite or two of each step. When paired with sausage and peppers, it's a total winner.
13. Jiffy Corn Casserole
With every bite, you'll taste the creamy corn mixed into the cornbread in this Jiffy corn casserole, a side dish made in heaven! Everybody loves cornbread, and this side dish, which can be referred to as corn casserole, corn pudding, or spoon bread, goes well with almost anything!
As an added bonus, it's simple to put together and doesn't cost a lot of money. As a result, it's a great addition to a wintertime meal at home or a summertime picnic in the park.
14. Sauteed Mushrooms and Onions
If you're a fan of mushrooms, you'll love this dish. These simple and delicious mushroom and onions require only a few ingredients and a few minutes to prepare.
As they cook, they have an amazing aroma. Sauteed Mushrooms and Onions are a delicious side dish or topping, and we love serving them with Sausage and Peppers.
15. Pasta e Fagioli Soup
This hearty soup may have been popularized by Olive Garden, but there's no need for an Italian restaurant to get your soup fix.
This tomato-based soup is full of flavor, and pairs wonderfully with the salty and savory flavors of sausage and peppers.
So, now that you know what to serve with your Sausage and Peppers, we hope your meal is out-of-this-world! We'd absolutely love to hear what you think in the comments section below!
📖 Recipe Card