Here's what to serve with red beans & rice so you can complete your delicious Cajun dinner with easy and flavorful side dishes! From tangy sour cream cornbread to classic Southern collard greens, you'll find a dish that everyone will love! Try a few recipes out to make an amazing family dinner!
Best Side Dishes For Red Beans & Rice
Red beans & rice is a classic Louisiana dish that is widely popular for its rich and hearty flavors! Although it can be enjoyed as a meal on its own, there are delicious side dishes you can prepare to make it an even more satisfying dinner!
I've gathered a list of the best side ideas that will complement the Cajun flavors of red beans & rice wonderfully! From light and refreshing sides like a salad or creamed corn to more comforting dishes like jalapeno cornbread, you can't go wrong with any side that you choose!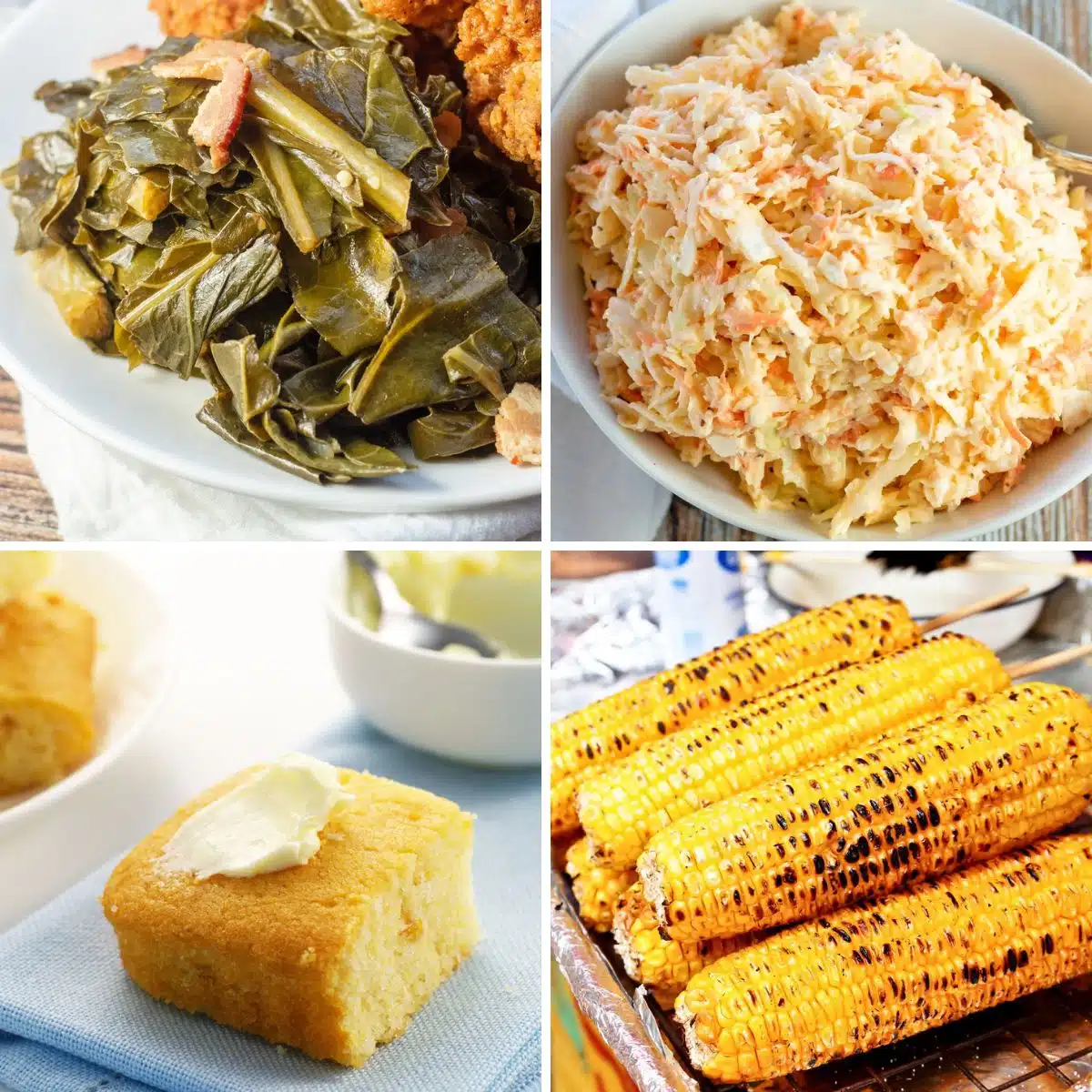 Jump to:
1. Sour Cream Cornbread
Sour cream cornbread is a delicious and easy-to-make side dish that pairs perfectly with many different main course meals! This recipe only requires a few common pantry items that bake to golden perfection in a 9x13 baking dish.
It's a dish full of tangy flavor from the sour cream that adds a nice contrast to the savory flavors of red beans & rice! Plus, by adding sour cream, you'll get super moist cornbread every time!
2. Southern Coleslaw
This Southen coleslaw recipe combines crunchy vegetables with a creamy dressing made out of mayonnaise, apple cider vinegar, and Dijon mustard. It's a refreshing side to pair with red beans & rice or to top your favorite sandwiches or tacos.
Plus, it's extra quick to make! You can even make it a few days ahead and store it in your refrigerator for up to 3-5 days.
3. Creamed Corn
An easy and delicious homemade creamed corn recipe using fresh or frozen corn! No more heating up canned creamed corn once you see how much everyone enjoys it.
I mix the corn with heavy cream, sugar, butter, salt, pepper, milk, flour, and Parmesan cheese to make an incredibly creamy vegetable side dish. It only takes 15 minutes from start to finish, yet will taste like it took you so much longer!
4. Instant Pot Collard Greens
Collard greens are a classic Southern side dish that tastes amazing with red beans & rice! With the help of your pressure cooker, you can have it on the table in 45 minutes.
Chunks of bacon, finely chopped onion, and minced garlic are first sauteed in the Instant Pot. Then apple cider vinegar, chicken broth, collard greens, and seasonings are added before the pressure cooker takes over the rest of the work!
5. Jalapeno Cornbread
Upgrade a box of Jiffy cornbread mix by adding in diced jalapenos, red bell pepper, buttermilk, sour cream, butter, and cheddar cheese! It's the perfect Mexican-inspired side dish to pair with any of your favorite main course dishes.
I've even added some other tasty variations in case you are looking for different flavors. Everyone who has tasted it has always gone back for seconds!
6. Grilled Corn On The Cob
Whether you are planning on grilling or need an easy side to pair with your red beans & rice, this recipe is a must-try! The grill adds a depth of smokiness to the sweetness of fresh corn on the cob.
It only takes 15-20 minutes for the corn to cook on the grill, then you mix melted butter with seasonings and brush it on right before you serve!
>>>>See all of my recipes HERE<<<<
7. Bisquick Biscuits
Freshly baked biscuits are always a great option when you're in the mood for red beans & rice. I especially love dunking them in my bowl to soak up all of the tasty flavors of the chicken broth.
This simple recipe only requires 2 ingredients - Bisquick baking mix and milk! You could also add in cheddar cheese and chives for extra deliciousness.
8. Zucchini Fritters
Even though these zucchini fritters make an excellent appetizer or snack, they also are a great vegetable side dish for any meal! It's a fun way to transform your favorite summer squash into a dish that will be loved by adults and kids alike.
Start by grating the zucchini, then combine it with flour, seasoning, Parmesan cheese, minced garlic, and an egg. The steps in this recipe are straightforward and easy to follow, plus you can customize your fritters with any of your favorite spices!
9. Air Fryer Frozen Breaded Okra
Whenever I think of what to make with a Southern meal, breaded okra is always at the top of the list! And it just got way easier to make with this air fryer recipe!
There's no need to make a dredging station or make a huge mess with a deep fryer. Frozen breaded okra will crisp up wonderfully in the air fryer and you can serve it with your favorite dipping sauce like my Cajun dipping sauce!
10. Southern Fried Corn
This Southern-fried corn recipe features sweet corn cooked with garlic butter, sauteed onions, chopped bacon, and fresh chives! It's incredibly quick to make, yet full of tasty flavors!
Once you try it for yourself, you'll never want to make plain corn again! Plus, all of the ingredients pair well with pretty much any meal making it extra easy for you to choose a main dish.
11. Instant Pot Long Grain White Rice
Since rice is a key ingredient in the Southern classic red beans & rice dish, let your pressure cooker do all of the work for you! This way you focus on sauteeing the veggies and Andouille sausage, then you'll add the rice before you simmer everything with chicken broth!
All you'll need to do is wash the rice before adding water and salt to the pressure cooker. Plus, it's a recipe that will go with any meal so make sure to add it to your go-to list of easy side dishes!
12. Wedge Salad
A fresh wedge salad is an easy and flavorful side that's loaded with delicious toppings! Even if you aren't a fan of blue cheese dressing, you can substitute it for ranch or Caesar and a different crumbled cheese.
Feel free to customize it and add in other tasty salad toppings like croutons, green onions, radishes, or pepitas. It's one of my favorite salads to get creative with and my family raves about it every time!
13. Jalapeno Cheddar Scones
These tasty scones are loaded with freshly grated cheddar cheese and pickled jalapeno slices! It's the perfect savory bread recipe to pair with your favorite comfort dishes.
Every time red beans & rice is on the menu, I always plan to make them as a side because they are just that delicious. These scones also freeze very well so you can thaw them out and enjoy them as a snack on a later day!
14. Bacon Cheddar Turnovers
If you've never made turnovers before, this incredibly easy and flavorful recipe is the perfect way to start. Rich, buttery puff pastry is combined with crispy smoked bacon and gooey melted cheddar cheese!
The hardest part about this dish is waiting for them to cool down enough to eat! Enjoy them as a tasty snack on their own or serve them as a starter or side to your red beans & rice dinner.
15. Smoked Baby Back Ribs
If you are a big fan of tasty BBQ dishes, then you have to try out my smoked baby back ribs! The meat is incredibly moist when spritzed with apple cider vinegar and the BBQ sauce carmelizes to perfection in the smoker.
All it takes is a few simple ingredients to make melt-in-your-mouth tender ribs! The smokiness of this dish will complement the Cajun flavors of red beans & rice beautifully.
Now that you have some easy side ideas to pair with red beans & rice, which one are you most excited to try first? Let me know if you end up making any of them by leaving me a comment down below!
📋 Recipe