The next time you make a tasty quiche, you'll know exactly what to serve with quiche with this amazing compilation of the best side dishes! From savory to sweet sides, each of these recipes works to round out a flavorful quiche breakfast, brunch, or dinner!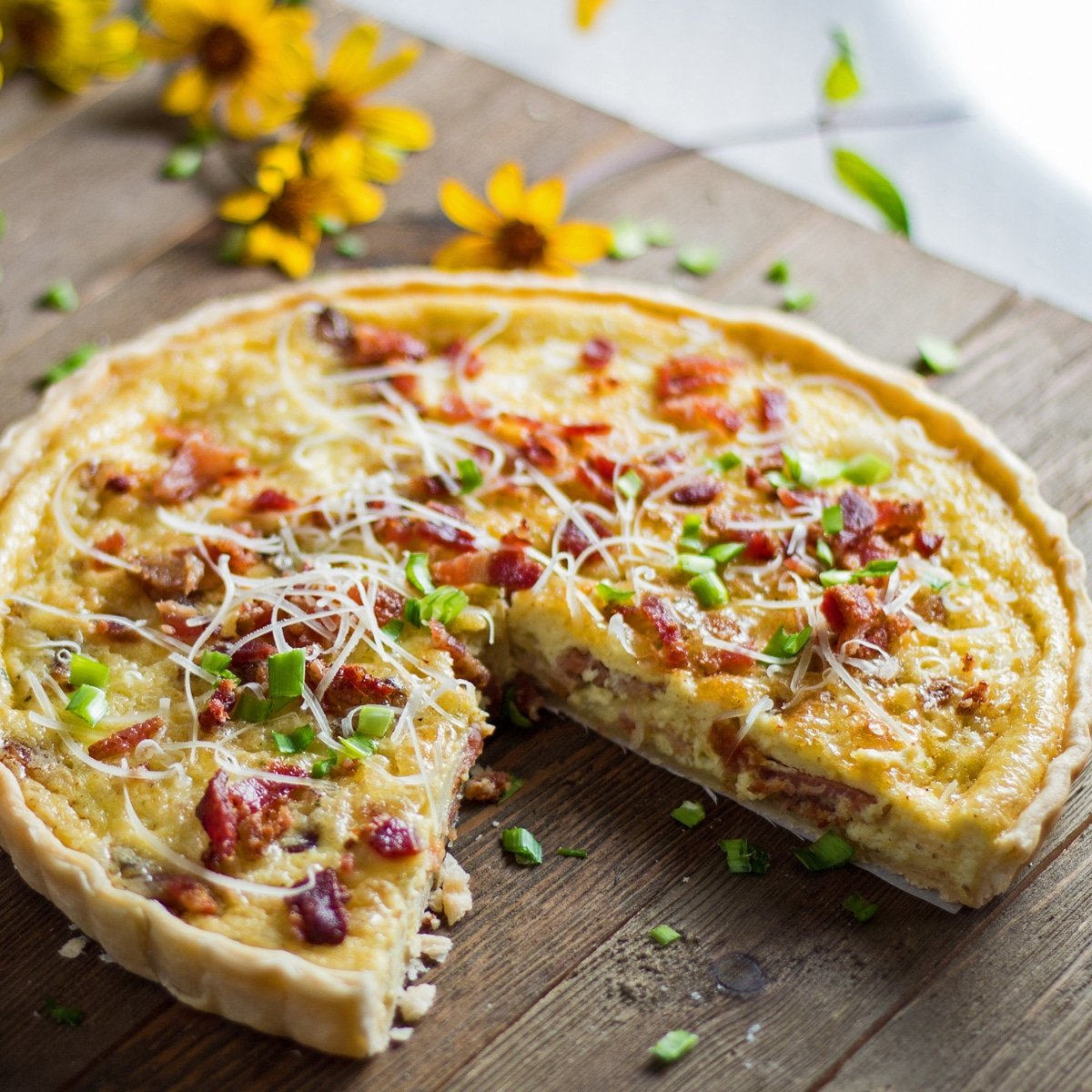 The perfect sides for pairing with your tender, tasty quiche!
Quiche can be made with a wide variety of fillings, some of which are more geared towards breakfast and others, dinner. Are you a feta and bacon fan? Asparagus and ham? Maybe you love a great mushroom and onion quiche?
As long as there is a buttery crust involved, I'm interested! Regardless of your preferences, here's a handy list of the best side dishes that would pair well with your egg-cellent quiche!
Jump to:
1. Blueberry Scones
Scones are an excellent excuse to eat something with all the makings of a dessert that is socially accepted as a breakfast or teatime food. Serve these buttery delicacies as a side dish with your quiche for a delicious morning meal or brunch.
The blueberries add that "something sweet" while the cream cheese adds a tangy flavor that is perfect when served with a rich, savory egg dish.
I always like to see lots of colors in my meals, so between whatever you decide to put in your quiche and the blueberries, this is a very visually appealing meal!
2. Hard Boiled Eggs
Sometimes, you just need more eggs. How often do you eat scrambled eggs for breakfast and find yourself craving egg salad for lunch?
There are so many different ways to make them, they really seem like they should be different food groups. A perfectly cooked hard boil egg makes a great addition to a slice of quiche for anyone who wants just a little more protein.
In all fairness, most quiche recipes don't even call for that many eggs. Season these any way you'd like for any meal of the day!
3. Raisin Bran Muffins
Quiche with a side of muffins makes any breakfast better. These delightful cinnamon-y bran muffins with raisins are so much better than the cereal version, you'll forget it ever existed.
You can take these tasty muffins to the next level if you have a bit of butter and honey to drizzle on top! The sweetness would be a tasty contrast when served with a rich, savory breakfast quiche!
Bran adds fiber and that nutty flavor we all know and love. Smear on some cream cheese if you're feeling bold. Go ahead. It's worth it.
4. Sausage Cream Cheese Balls
Looking for something a little more savory? Try these! Cheesy, sausage biscuit bites are filled with flavor and are a great side with quiche at any meal of the day.
If you're craving a spinach and mushroom quiche or have a vegetarian joining you for dinner, this is a great way to add something on the side for the meat lovers of the group.
5. Cinnamon Rolls
Round out a breakfast or brunch quiche with something sweet! Is there any meal that isn't made better with a cinnamon roll?
Whether you make the rich, vanilla icing or the tangy, cream cheese, you really can't go wrong! They're both a perfect topping to these homemade cinnamon rolls.
Are you sensing a trend? Balancing sweet and savory is the best combo ever! Maybe some of these pairings will convince you to serve breakfast for dinner!
6. Dutch Babies
This German pancake is becoming more and more popular in the US. It's an eggy and delicious base for adding things like powdered sugar and lemon, fruit, or your favorite syrup or jam.
For those who lean towards savory vs. sweet, try adding avocado and shaved ham or sauteed kale and bacon topped with a little bit of cheddar! Your options are endless when serving this tasty pancake with your quiche!
If you have a group with mixed tastes at your table, you can even do half and half. Better yet, you could create a toppings bar and let everyone individualize their own piece of the Dutch baby pancake. Yum!
7. Hash Browns
Fry some hash browns to add a salty crunch on the side of your quiche. Mix in some chives and cheddar for something really special. We usually think about breakfast or brunch when we hear about these, but there's no reason you can't pull them out for lunch or dinner, too!
Potatoes are fantastic at any time of day. Hash browns and eggs, or in this case quiche, is a classic combination that will have everyone asking for seconds!
Want a creative upgrade to your quiche? Try baking a hash brown crust (instead of the usual butter crust or shortcrust pastry) before adding your quiche filling!
8. Blueberry Pancakes
Pancakes. Is there any better breakfast food? Fluffy, buttery, sweet, and dripping with butter and maple syrup or blueberry syrup. And in this case, filled with blueberries! There's something nostalgic about blueberry pancakes.
Going out for breakfast used to mean choosing between egg dishes and sweet breads like pancakes or french toast. With this meal, you get the best of all the morning foods on one plate!
9. French Toast
French toast is good. Sourdough french toast with rich maple and vanilla egg coating is better! Try adding this next to your plate full of quiche.
I'm sure no one will complain! The cinnamon and nutmeg on top make this a real show-stopper. Try my strawberry coulis for an even more flavor-packed breakfast side!
10. Banana Muffins
Here is another tasty muffin option. They're filled with blueberries and bananas and a dash of lemon. It's really an amazing recipe!
And as an added bonus, if you know you're going to be in a time crunch, you can make these muffins in advance. Both the quiche and banana muffins can be reheated just a few minutes before you're ready to eat.
11. Pan Fried Potatoes
These perfectly fried potatoes are the dinner equivalent of hash browns. Then again, they're always welcome at breakfast, too. At least in my house.
With that oh-so-good flavor (and smell!) of fried onions and garlic, this recipe is a keeper. Bring a smoked element to your meal with some smoked paprika to surprise and delight your guests.
12. Cheddar Biscuits
Cheddar Bacon Chive Biscuits are exactly what your quiche meal is missing. This flaky side dish melts in your mouth and can be served at any meal alongside your main.
Try to fill your quiche with complementary fillings without repeating what is in your biscuits. In other words, putting bacon in both might be an overkill. Or not. You're the chef! 🙂
13. Savory Jalapeno Scones
Scones are the British equivalent of biscuits, so you know these are good. With cheddar and jalapeño slices, these scones bring a little of the American southwest to the table.
Depending on your quiche fillings, you might even want to try a different combination. Goat cheese, chives, spinach, feta, Parmesan, and fennel all make tasty options.
These rich and delicious scones can also be made ahead, so make different kinds to serve as a selection with your quiche! You can always freeze your leftovers.
14. Sauteed Mushrooms
If you're looking to add some vegetables, this is a flavor-packed side dish to serve with quiche. I usually associate sauteed mushrooms with dinner, but as with most of these side options, you could really serve them at any meal.
With balsamic vinegar, Parmesan, and brown sugar, these are some of the most flavorful mushrooms you'll ever taste! They're definitely a favorite in our house.
📋 Recipe