Everything you need for what to serve with brisket to assemble an amazing lunch or dinner that the whole family will love any night of the week! All of the best side dishes for brisket whether it's been smoked, braised, or slow roasted!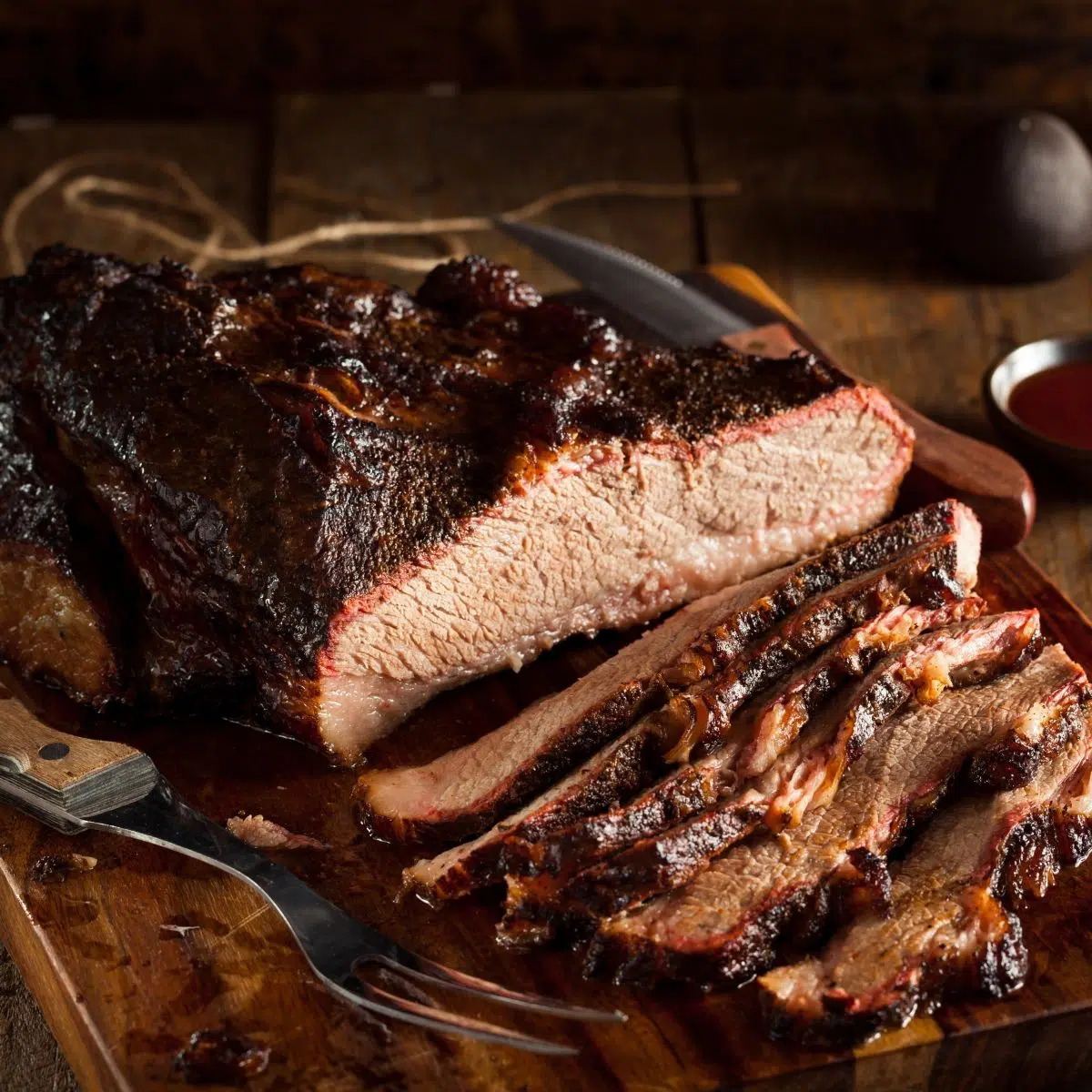 Brisket is the salty, smoky, juicy, delicious centerpiece for a perfect barbecue!
Whether you like your brisket on a sandwich or by itself, it's the ultimate barbecue or party food. Smoked or slow-cooked to perfection, brisket makes an amazing family dinner any time of the year!
Looking for some ideas on what to serve on the side? I've got you covered. Loads of dishes would be amazing with brisket, but these are some of my favorite sides for any meal featuring hearty brisket as the star!
Jump to:
1. Smoked Asparagus
If you follow my blog you know how much I love my smoker. Smoked asparagus is one of a few smoky recommendations that pair perfectly with brisket!
The sweet natural flavor and black pepper go perfectly with the rich, smoky taste. Top it all off with a sprinkle of Parmesan cheese and you're ready to go!
2. Smoked Mac and Cheese
Cheese and smoke are an inseparable pairing. Have you tried smoked Gouda? If not, you might want to plan a trip to the grocery store. ASAP.
Between that, cream cheese, and cheddar, it's a creamy, cheesy dream of a side dish. Mix in bacon, jalapeño, cream cheese...that's where the magic happens!
All of that smoky, cheese, ridiculously tasty goodness is a personal fave for serving with brisket! Pile up the mac and top it with your smoked brisket - you can even smoke them together!
3. Smoked Baked Potatoes
Put these in the smoker with your brisket, and it'll be one of the easiest meals you've made. And one of the most amazing.
With only three ingredients, three steps, and two hours of cooking, it's the ultimate potato side dish. Do it right, and you'll get that fluffy inside while keeping the skin delightfully crunchy!
4. Smoked Brussel Sprouts
Brussel sprouts tend to divide diners between those that love them and those that don't (craziness, I know!). I'm in the first group. This recipe is for all the sprout-lovers of the world, but it's also for anyone who hasn't quite found a taste for them.
It's different from your average roasted-in-the-oven fare with salt or balsamic vinegar. Try them in the smoker! It changes the texture and flavor of your brussel sprouts entirely.
Oh, and this version has bacon. Everything's better with bacon! 🙂
Plus, the robust flavor of these smoked brussels is a perfect pairing with any brisket meal. An even bigger bonus is that they can be cooked alongside smoked brisket too!
5. Baked Beans
This meaty baked bean recipe takes Busch's Original Recipe and amps it up a bit - or a lot! Adding ground beef and bacon creates a blend of meat flavors that are out of this world.
The sweet brown sugar blends with hickory liquid smoke, Worcestershire sauce, and green peppers to make the ultimate saucy side dish for your brisket.
You can even make them in a slow cooker! If you have any leftovers, serve them the next day with leftover brisket as a full meal in itself.
6. Roasted Carrots
Roasted vegetables are amazing with brisket, especially honey-glazed, oven-roasted carrots. Not only will you add something deliciously sweet to your meal, but you will add color!
Food can be even better when it looks as amazing as it tastes. With fresh herbs, honey and butter, the whole family will love this vitamin-packed dish!
7. Oven Roasted Potatoes
Oven-roasted potatoes are the starchy half of any classic meat-and-potatoes dish. There is a reason potatoes have been served alongside meat for most of history - they just go together!
Serving these crispy roasted potatoes alongside your brisket will satisfy everyone at the table!
8. Boiled Corn on the Cob
We've all had boiled corn on the cob, but have you ever boiled it in milk? This unique technique allows the corn to soak up the milk, butter, and sugar. It enhances the natural sweetness in each ear of corn.
One bite, and you'll wonder why you ever did it any other way. For a decorative dash of red, sprinkle it with paprika when you're ready to serve. It's so good!
9. Au Gratin Potatoes
Au gratin potatoes are another delicious, creamy, cheesy potato side dish that is perfectly suited to serving with a hearty brisket dinner!
This recipe features sliced potatoes, turmeric, onions, and cooked ham blending their delicious flavors together. It really is a perfect potato side dish!
10. Acorn Squash
Acorn squash is amazing! They're versatile vegetables that can serve as edible bowls for savory quinoa or as a stand-alone side dish.
Try this quick and easy, microwavable version dressed up with butter and brown sugar. It's a tasty contrast to your brisket main dish!
11. Parmesan Roasted Mashed Potatoes
To really highlight roasted garlic flavor, make these potatoes! A crunchy crust is baked on top that's made of butter, breadcrumbs, and Parmesan. The rich and creamy potatoes underneath are perfectly fluffy and soft!
Everything compliments the garlic while bringing it to the forefront. You can use any type of potatoes you have on hand.
12. Potato Skins
So many potatoes! If you can't tell, brisket is absolutely fantastic with practically any type of potato dish on the side!
Use your air fryer to pull together these oh-so-flavorful potato skins. You can make them in advance or even use leftover baked potatoes.
Plus, they make excellent finger food for parties. Cheese, bacon, onion, sour cream - what's not to love?
13. Cheddar Bay Biscuits
For those who love Red Lobster's cheddar bay biscuits as much as I do, I can't recommend this recipe enough! Cheese is also a common theme of our sides, and this recipe is no exception.
Salty cheddar and garlic come together brilliantly in these fluffy, slightly sweet biscuits that will definitely be a crowd-pleaser. On days when you just don't want to go out, mimic your favorite restaurant food in your own kitchen!
14. Potato Salad
Potato salad is another classic picnic and barbecue food that you won't want to miss. Choose your favorite potato, mayo-mustard-vinegar combination, seasonings, etc. to make this uniquely yours.
It goes really well with the brisket! And potato salad is pretty much a summertime staple for bbq meals!
15. Macaroni Salad
This cold pasta can be made with anything from pickle juice and red wine vinegar to yellow mustard and green bell peppers. It's good no matter how you make it, and it's a perfect pairing with any brisket meal. Yum!
16. Coleslaw
Traditional coleslaw is creamy, crunchy, and sometimes vinegary. There are many ways to make this classic, and each and every one of them works well with brisket.
We hope that you enjoy a fabulously rich and tasty brisket dinner with these ideas for the best sides to serve with your meal! Be sure to share your favorite sides in the comments below and stop back in to let us know what you liked best! Enjoy!
📋 Recipe