What to serve with beef Wellington: A collection of the best side dishes to complete this elegant and spectacular beef dinner! From roasted garlic mashed potatoes to mushroom risotto, you will find a recipe to satisfy everyone's taste buds! No matter which one you choose, you are in for a fabulous and unforgettable meal!
Best Beef Wellington Side Dishes
Beef Wellington is a classic dish often served with a variety of side dishes that complement the rich and savory flavors of the beef. I've gathered some of my favorite side dishes that pair well with this impressive beef dinner!
From quick and easy vegetables to satisfying and hearty potato dishes, there are plenty to choose from! Go ahead and pick a few to make a fantastic meal that everyone will love!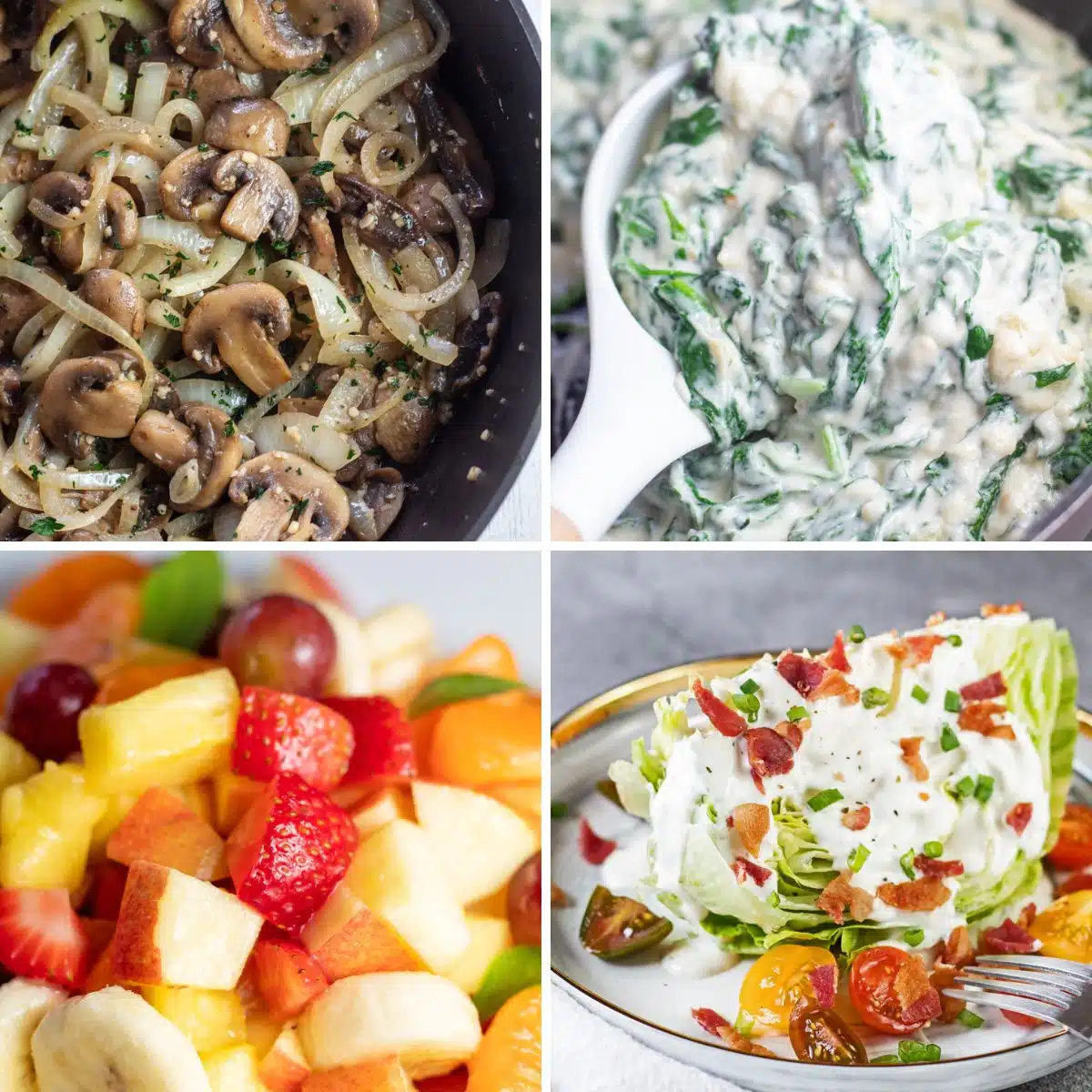 Jump to:
Want More Recipes? Enter your email below and we'll send them straight to your inbox!
1. Roasted Garlic Mashed Potatoes
These roasted garlic mashed potatoes are so creamy and delicious that you'll never want to make them any other way! This tasty recipe features red potatoes, cream cheese, roasted garlic cloves, heavy cream, parsley, and salt and pepper!
2. Ratatouille
Ratatouille is a hearty and healthy vegetable dish that will impress anyone that tries it! This dish is the best way to enjoy all of your favorite summer veggies, plus, it's not as complicated to make as you may think!
3. Candied Carrots
Candied carrots are a tasty vegetable side dish loved by kids and adults alike! All you need is a pound of carrots, brown sugar, and butter to make this wonderful and flavorful side to pair with your favorite chicken, pork, or beef dinners!
4. Green Bean Almondine
This classic green bean side dish is a great addition to any weeknight dinner or holiday get-together! It's an elegant dish that will complement the savory flavors of Beef Wellington very well!
If you regularly serve green beans as a side dish, try my sauteed green beans or garlic green beans with bacon!
5. Mushroom Risotto
Mushroom risotto is filled with rich, nutty, and earthy flavors and a super creamy texture! It's the perfect side to impress your dinner guests with Beef Wellington as the main course!
6. Roasted Brussels Sprouts with Bacon
If you're a fan of brussel sprouts, then you must try these tangy and slightly spicy brussel sprouts with bacon! This recipe features pan-seared brussel sprouts roasted in the oven with a sauce made out of Dijon mustard, ground mustard, crushed red pepper flakes, balsamic vinegar, and paprika!
7. Mirliton
Mirliton is a classic and flavorful Cajun dressing filled with chayote squash, shrimp, cubed ham, herbs, spices, and bread crumbs! With its comforting texture and Cajun flavors, this dish will quickly become a new favorite!
8. Microwave Cauliflower
When you're needing a quick vegetable side dish with minimal effort, this recipe is for you! You can steam fresh cauliflower in the microwave with water and have it ready to serve on the table in under 15 minutes!
I also have a tasty steamed broccoli recipe that you can prepare in the microwave too!
9. Pan Fried Sweet Potatoes
Pan-fried sweet potatoes are incredibly easy and quick to make! When you're in the mood for a simple sweet and savory side, this recipe is just the thing! They're so versatile that you can season them with any of your favorite seasoning blends!
10. Creamed Corn
This delicious side dish is beginner-friendly and tastes like it was prepared all day! It is so incredibly creamy and is way better than the canned version. Plus, you don't have to wait for corn to be in season, you can simply use frozen or canned corn!
11. Sauteed Mushrooms & Onions
These tender mushrooms and caramelized onions are just what you need to complement your favorite meaty main dishes! This dish will add the right amount of savory and earthy flavor to practically any meal.
12. Baked Zucchini Fries
Baked zucchini fries are a wonderful alternative to fried potatoes or calorie-dense snacks! Plus, it's a great way to convince your kids to eat and enjoy their veggies.
13. Wedge Salad
This tasty and easy wedge salad recipe features iceberg lettuce, bacon, cherry tomatoes, chives, blue cheese crumbles, and blue cheese dressing! Serve it alongside your Beef Wellington dinner or enjoy it as an appetizer or lunch.
14. Fresh Fruit Salad
A fresh fruit salad is a bright and refreshing side dish that is the ultimate treat to enjoy at any time of the year! It's loaded with grapes, nectarines, bananas, mango, kiwi, strawberries, oranges, and pineapple lightly tossed in a sweet honey sauce!
15. Roasted Vegetable Medley
This roasted vegetable medley is a colorful and flavorful side dish that is easy to prepare and perfect for serving with your chicken, pork, or beef dinners! All you have to do is load them on a baking sheet with parchment paper then let your oven do all of the work!
16. Creamed Spinach
When you plan on making Beef Wellington, go ahead and plan on preparing this delicious and creamy spinach dish! Spinach is coated with a tasty cream sauce made of mozzarella cheese, cream cheese, and Parmesan cheese!
You can also try my creamed kale recipe with your beef dinner too!
17. Butternut Squash Risotto
If you've never tried a butternut squash risotto, get ready for a side dish that is creamy, comforting, and packed full of flavor! It's the perfect way to enjoy your favorite fall flavors, plus, it can be served as an appetizer or main course too!
18. Slow Cooker Roasted Potatoes
These slow-cooker roasted potatoes are not only simple to prepare, but they are also buttery, tender, and bursting with delicious savory flavor! This is a wonderful side dish to cook in your Crock Pot while you focus on your Beef Wellington!
If you're a fan of roasted potatoes, try my ranch roasted potatoes, onion soup mix roasted potatoes, or roasted potatoes & onions!
19. Honey Roasted Carrots
This herb and honey oven-roasted carrot recipe is incredibly addicting and makes a fantastic addition to any meal! Plus, you'll only need a handful of basic ingredients and 5 minutes of prep work!
Conclusion
These side dishes will complement the rich, savory flavor of the Beef Wellington and provide a well-rounded meal for your guests. Don't forget to finish off the meal with a delicious dessert, such as a fruit tart or chocolate cake!
Now that you have some easy ideas on what to serve with a Beef Wellington, which ones are you most excited to try? Leave a comment down below to let me know!
>>>>See all of my recipes HERE<<<<
🥩 More Tasty Beef Recipes
📋 Recipe