What is halibut, why is it so popular, how do I cook it, and what are some great, delicious recipes for it? I'm going to let you know everything about this giant flatfish! Keep on reading to find out all of the answers.
What Is Halibut
Halibut is the largest flatfish in the ocean, with some even growing up to 15 feet long! It is a popular white fish that is lean, firm, and meaty.
You can find both farm-raised and wild-caught halibut, with it being a common debate as to which one is the best. It is actually one of the more expensive fish on the market, usually selling for around $25 per pound or more.
Jump to:
🍲 How To Cook Halibut
Generally, halibut is sold in thick fillets with the skin already removed. If you do happen to find some fillets with the skin still on, go ahead and remove it as it is tough and chewy.
Since this is such a lean fish, it can quickly become overcooked and dried out so I don't recommend smoking it. Additionally, it is important to keep an eye on it while it cooks.
The best methods for cooking this fish would be options like braising, poaching, or steaming in order to keep it nice and juicy. Of course, it can be grilled or baked as well, just make sure it doesn't get overcooked.
😋 What Does Halibut Taste Like
Halibut is a lean fish with a mild, sweet flavor. Actually, it is one of the leanest fish around so it has absolutely no fishy taste! In fact, it has a similar taste to that of tilapia, which is also very popular.
🔎 Halibut vs Flounder
Of course, they are not the same fish. They are easily confused because they are both flatfish and many people use the names interchangeably (which is incorrect).
To start, halibut are massive compared to flounder. They can get as large as 400 pounds while flounder barely even tips the scales at only 30 pounds.
As far as flavor goes, these two fish do actually taste pretty similar. The big difference here is that they do not have the same texture!
Halibut is meaty and firm whereas flounder is delicate and flaky. This leads halibut to be a great grilling fish while flounder would be better baked. Additionally, flounder is a considerably fattier fish.
🍽️ Halibut Recipes
Of course, halibut can be used in a variety of recipes that specifically call for it. Plus, you could use halibut as a substitution in any recipe that features a firm, white fish. This could include tilapia, snapper, cod, haddock, catfish, bass, and grouper!
💪 Is Halibut Good For Me
Halibut is extremely rich in micronutrients like selenium, which decreases inflammation! One half-fillet will give you your entire daily amount of selenium!
Of course, it contains many other essential vitamins and minerals as well as protein. If you're concerned about mercury levels, don't worry! This fish contains low to moderate amounts of mercury, so it is safe to eat in moderate amounts, or about once a week.
🛒 Where To Buy Halibut
Halibut is such a popular fish that it is widely available everywhere. You can find it at any grocery store or supermarket in both the frozen aisle as well as fresh at the seafood counter.
Halibut that is caught in the US and Canada is sustainable as it follows regulations and is harvested responsibly, so choose those options, if available. However, the fish that is caught in Mexico is labeled as "avoid" by the Monterey Bay Aquarium Seafood Watch Program.
Keep these things in mind when choosing fresh halibut:
Choose a fish that has shiny, white meat.
Don't choose any fillets that look dull or dry.
Avoid meat that has any brown spots.
🥡 Storing
If you purchased halibut that is already frozen, just keep it in the freezer until you are ready to use it and then defrost it in the refrigerator overnight.
If you purchased fresh or non-frozen halibut, it really should be eaten the same day or within 2 days maximum. It is not recommended to freeze it, as it was most likely frozen previously and it is not safe to freeze, thaw, and refreeze fish.
🐟 Varieties
The term "halibut" includes three different species of flatfish. There are the Pacific, Atlantic, and Greenland varieties. These 3 fish are extremely similar, with just minor differences.
For example, the Atlantic variety has a stronger taste compared to the Pacific and is fattier and juicier than the Greenland kind.
Now that you know everything about this delicious flatfish, it's time to taste it for yourself! Leave a comment down below and let me know your favorite way to cook halibut!
📋 Recipe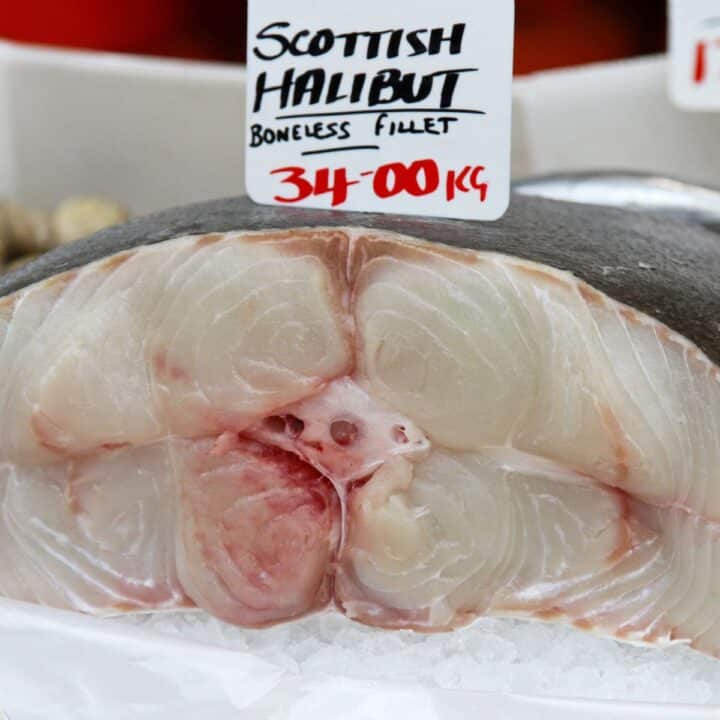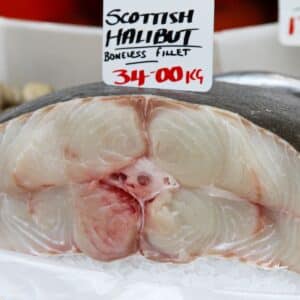 Print Recipe
Leave A Comment
Love This Recipe?
Click On A Star To Rate It!
What Is Halibut: Pan Seared Halibut (+Cooking Tips & Recipes!)
What is halibut, why is it so popular, how do I cook it, and what are some great, delicious recipes for it? I'm going to let you know everything about this giant flatfish! Keep on reading to find out all of the answers.
Pin Recipe
Share on Facebook
Ingredients
16

oz

halibut steaks

(4 portions of 4 ounces)

1

teaspoon

each, salt & pepper

(to taste)

1

tablespoon

cooking oil

1

teaspoon

garlic

(minced)

½

cup

dry white wine

(my fave is Pinot Grigio)

1

large

lemon

(juice & zest)

½

tablespoon

dill

(fresh or use ½ teaspoon dried dill weed)

½

cup

heavy cream

3

tablespoon

butter

(cold, cubed)

salt

(optional, to taste)

½

cup

leek

(optional, sliced)

2

slices

bacon

(optional, sliced into ½-inch pieces)
Instructions
Start your creamy lemon dill white sauce in a medium saucepan, combining the garlic, dry white wine, and lemon and bringing them to a slow boil over medium high heat. Add the dill and cook for about 3 minutes.

1 teaspoon each, salt & pepper,

1 teaspoon garlic,

½ cup dry white wine,

1 large lemon,

½ tablespoon dill

Whisk in the cream and lemon zest and reduce the heat to low. Then add the cold, cubed butter whisking it in one cubed piece at a time until creamy and smooth. Stir occasionally until the halibut steaks are ready to serve.

½ cup heavy cream,

3 tablespoon butter

In a large skillet or frying pan (we prefer to use stainless steel) heat the coconut oil to medium high heat. Place halibut steaks in the pan and cook the first side for about 6 minutes, or until golden coated. Flip the halibut steaks and cook the second side for about 4 minutes, or until the second side is golden coated and crisp as well. Remove the halibut steaks from the pan and let rest.

16 oz halibut steaks,

1 tablespoon cooking oil

(Optional) In the same skillet or frying pan add the bacon and leek and cook until the bacon pieces are crispy, about 8-10 minutes. Serve the halibut steaks with rice or your favorite vegetable, the creamy lemon dill white sauce, and topped with the fried bacon and leek.

½ cup leek,

2 slices bacon,

salt
Nutrition
Calories:
301
kcal
(15%)
|
Carbohydrates:
7
g
(2%)
|
Protein:
34
g
(68%)
|
Fat:
8
g
(12%)
|
Saturated Fat:
3
g
(19%)
|
Cholesterol:
92
mg
(31%)
|
Sodium:
201
mg
(9%)
|
Potassium:
885
mg
(25%)
|
Fiber:
1
g
(4%)
|
Sugar:
2
g
(2%)
|
Vitamin A:
318
IU
(6%)
|
Vitamin C:
16
mg
(19%)
|
Calcium:
34
mg
(3%)
|
Iron:
1
mg
(6%)
halibut, pan seared, what is halibut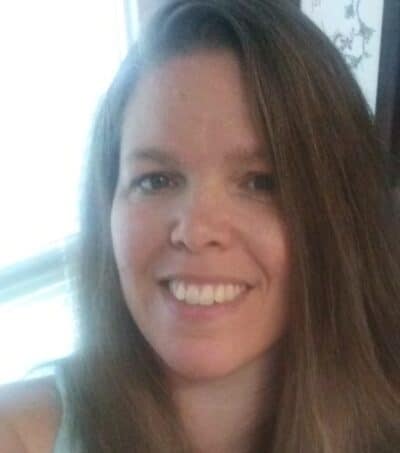 Angela is an at home chef that developed a passion for all things cooking and baking at a young age in her Grandma's kitchen. After many years in the food service industry, she now enjoys sharing all of her family favorite recipes and creating tasty dinner and amazing dessert recipes here at Bake It With Love!