What is blue steak, what does it taste like, how do you cook it, what cuts of meat can I use and not use, and is it safe to eat? This ultimate guide is going to answer any questions you might have about this soft and tender steak! Keep reading on to learn everything between preparation, cooking, and storing blue steaks!
Guide To A Blue Rare Steak
If you've been to a restaurant and overheard someone asking for a blue steak and wondered what that meant, I'm here to tell you about it! Essentially, a blue steak is a steak that is cooked extremely rare.
Why is it called "blue" and is it actually safe to eat? Let's dive into everything there is to know about blue steaks and which cuts of meat are the best to achieve a delightful tender and buttery steak!
Jump to:
🥩 What Is A Blue Steak
Blue or "bleu" steak is an extra rare steak that has been lightly seared on the outside so that the inside remains completely cool and red. It is the very first stage that a steak reaches and is actually slightly less cooked than a rare steak!
Blue steaks are seared on all sides for a very short amount of time. It only takes 1 minute on each side to achieve a true blue steak. To many steak connoisseurs, this steak is a delightful experience, but it's definitely not for everyone. If you frequently order your steaks rare, you have to try a blue steak next time!
🤔 Why Is It Called Blue Steak
There are many theories on why blue steaks acquired the name. Some believe that when the meat is cut, it's first blue or purple in color. The color quickly changes from blue to a bright red when the myoglobin in meat is exposed to oxygen.
Blue or "bleu" is also a reference in general to doneness. It's a descriptive word that equates to raw and cold. So when you barely cook a steak to where it's mostly raw with a cool interior, the term French "bleu" is used.
🔪 How To Cook Blue Steak
It is recommended that you sanitize your tongs in warm water with soap or food sanitizing wipes after using them to touch raw meat. So, after you flip your steak, give them a rinse before you get the cooked steak out of the pan. Metal tongs are best!
Let it come to room temperature. Take out your steak and let it rest at room temperature for an hour or until the interior of the steak is warm. Pat dry with a paper towel and season with your favorite steak seasoning.
Sear over high heat. Heat a cast iron pan on high and add oil that has a high smoke point. Once the oil is hot and starts to smoke, place your steak in the pan. Sear the first side for one minute and do not move, touch, or press down.
Flip. Use tongs to flip the steak and let the other side sizzle for 1 minute. Sear all edges by rolling the steak without pressing down.
Rest. Let your steak rest in butter on a plate for a few minutes and serve!
The internal temperature should reach about 5° less than a rare steak which has an internal temperature range of 115-120°F (46-48°C). Check out my full article on beef internal temperature for more information!
😋 What Does It Taste Like
A blue steak will taste just like the cut of steak that you are cooking. It will have a beefy flavor, however, the texture is what will surprise you!
Blue steaks have a spongey or chewy texture without all of the juice that you get from a medium-rare steak. Once you bite down on a piece, you'll first reach the same brown caramelized and seasoned crust as any other steak, but the interior will be much cooler!
It may take you a while to get used to if you've never experienced a blue steak. To many, it's an acquired taste that they begin to love and order every time!
🤔 Is A Blue Steak Safe To Eat
Blue steaks are safe to eat if they are cooked correctly. Bacteria are found on the outside of the steak, so each side (including all edges) must be seared or grilled.
Typically a seared steak that is cooked longer doesn't require the edges to be cooked. The sides of the steak will heat through with longer amounts of cooking time. However, it's an absolute must that all sides are seared for a blue steak.
Also, when cooking an extra raw steak, it's a good idea to either have multiple tongs to utilize or you'll have to at least sanitize the tongs after flipping the steak. This ensures that the bacteria doesn't transfer from any raw side to the already cooked side.
What Cuts Of Steak To Use
To achieve the best blue steak, any steak that is lean with minimal marbling and sliced thick (at least 1-1.5 inches) will work best. Thinly sliced steaks will cook too fast and will result in a medium-rare steak.
Here are a few of the best cuts of steak to use for a delicious blue steak:
New York Strip
Tenderloin
Sirloin
Round Steak
What Cuts Of Steak To Not Use
Any tough cut of steak that needs to be tenderized will not work when cooking a blue steak. These types of steaks need more time in the heat to break down the connective tissue so that they are edible.
Also, avoid steaks that have a lot of fat. The fat in a steak needs time to distribute moisture so it would turn out tough, chewy, and undesirable.
Skip out on these cuts of steak when cooking blue:
🔎 Blue vs Rare Steaks
If you're new to blue steaks, you may think that it looks and tastes the same as a rare steak. A rare steak will be mostly red in the center, but the edge towards the exterior should be brown and caramelized.
A blue steak's center is completely bright red and will have a cooler temperature when you bite into it. Blue steaks are cooked about 5° less than a rare steak and should not exceed an internal temperature of 115°F (46°C).
Now you know everything there is to know about what a blue steak is! Have you tried one before and did you like it? Leave me a comment down below to let me know!
>>>>See all of my recipes HERE<<<<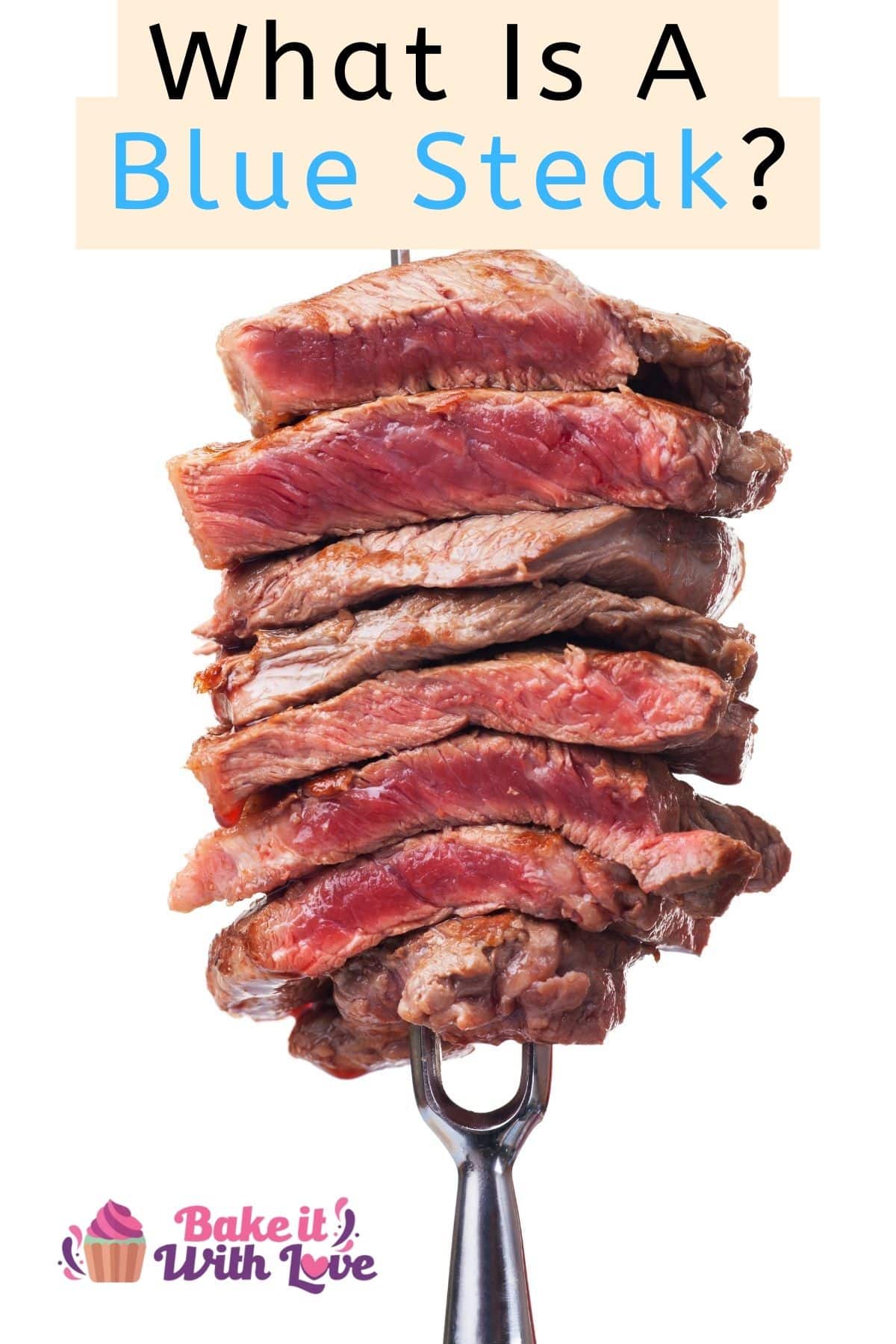 📖 More Helpful Steak Guides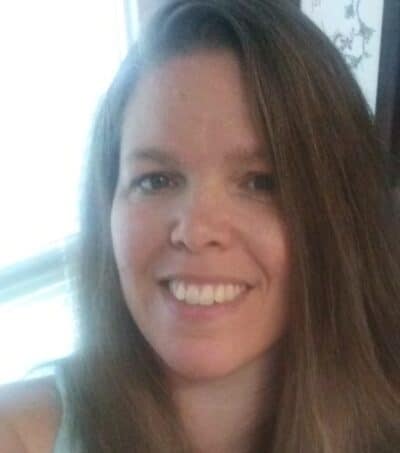 Angela is an at home chef that developed a passion for all things cooking and baking at a young age in her Grandma's kitchen. After many years in the food service industry, she now enjoys sharing all of her family favorite recipes and creating tasty dinner and amazing dessert recipes here at Bake It With Love!