These side dishes for roast lamb are a collection of the most delicious and easy-to-make sides that are perfect for rounding out your lamb dinner! Whether you are making roast lamb for a holiday gathering or for a Sunday family meal, these recipes will complement your lamb's unique and rich flavors! From pan-fried sweet potatoes to sauteed broccolini and green bean casserole, you'll find a tasty side dish that everyone will enjoy!
Best Sides To Serve With Roast Lamb
Roast lamb is a delightfully elegant main course to make for the holidays, family gatherings, or any occasion. If you've ever wondered what side dishes you can prepare to highlight the robust and earthy flavors of this delectable protein, then you're in the right place!
Below you will find a collection of fool-proof side dish recipes that will complete your roast lamb and make it an extra special dinner! From roasted brussel sprouts to pan-fried sweet potatoes and butter herb rolls, I've got it all!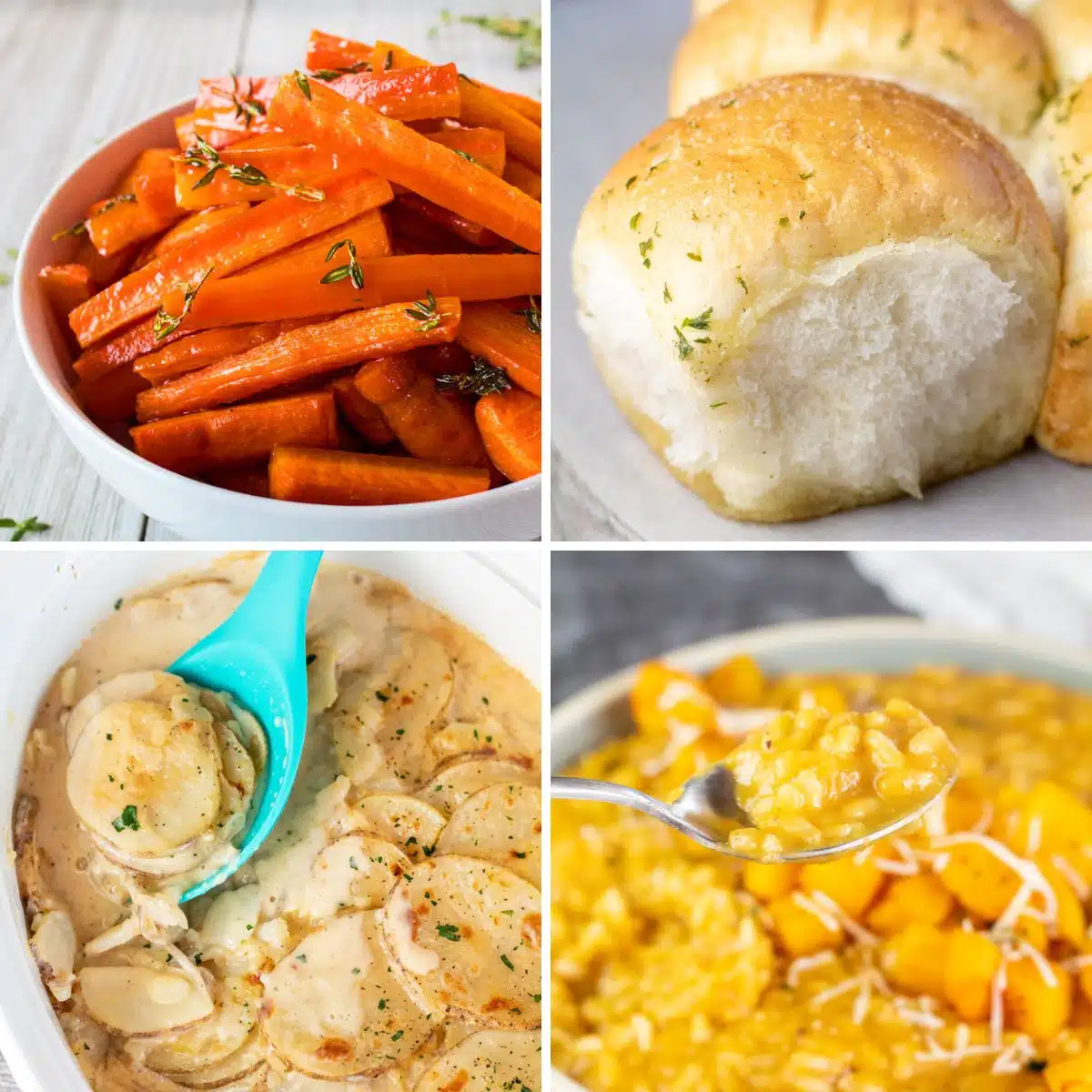 Jump to:
Want More Recipes? Enter your email below and we'll send them straight to your inbox!
Check out my post 'what to serve with lamb' for more delicious side dish suggestions! And if you need tips and tricks for preparing a lamb roast, this Ultimate Guide to Cooking Lamb covers it all!
1. Roasted Vegetable Medley
This roasted vegetable medley is a colorful assortment of veggies that caramelize, crisp up amazingly in the oven, and taste delicious with lamb! Brussel sprouts, carrots, parsnips, beets, and minced garlic are drizzled with olive oil, seasoning, and fresh herbs.
Plus, they even taste delicious with chicken and beef dinners too!
2. Honey And Herb Oven Roasted Carrots
Fresh herbs and the sweetness of roasted carrots and honey complement the earthy flavors of roast lamb. They're so easy to make and your family will absolutely love them!
3. Cauliflower Mac And Cheese
This cauliflower mac and cheese recipe is so rich, delicious, and creamy that you won't even care that it's made with a vegetable! The cauliflower brings an earthy flavor to the dish which pairs perfectly well with lamb.
4. Instant Pot Au Gratin Potatoes
These au gratin potatoes are creamy, rich, and wonderfully cheesy! Plus, they're so quick and easy to whip up in the Instant Pot and they go great with any main course protein.
5. Roasted Brussel Sprouts
Roasted brussel sprouts have a crispy exterior and a soft and tender center! They make a great veggie side dish to pair with roast lamb, especially on the holidays!
Try my pan-seared brussel sprouts, air fryer brussel sprouts, and balsamic roasted brussel sprouts with your roast lamb too!
6. Sauteed Asparagus And Cherry Tomatoes
Asparagus with cherry tomatoes make an exquisite and vibrant side dish that is loaded with delicious flavor! It's the perfect recipe to make when you want are preparing a roast lamb for a holiday or special occasion.
>>>>See all of my recipes HERE<<<<
7. Pan Fried Potatoes And Onions
These pan-fried potatoes and onions are an incredibly easy and versatile side dish that makes a wonderful addition to pretty much anything! Plus, you can even save time by skipping out on boiling the potatoes.
If you love crispy potatoes, try my oven-roasted potatoes, duck-fat fried potatoes, or ranch-roasted potatoes! Enjoy!
8. Fresh Green Bean Casserole
If you're like me, then you really enjoy a delicious green bean casserole during the holidays. This recipe uses fresh green beans, garlic, a creamy sauce, Panko breadcrumbs, and fried onions! Yum!
The next time you are craving green bean casserole and need some tips on how you can make it extra tasty, check out my article on how to make green bean casserole!
9. Buttered Peas & Carrots
Buttered peas & carrots are very simple to make, incredibly flavorful, and ready to serve in 15 minutes! These veggies are the perfect vegetable side dish to serve alongside your lamb.
10. Butter Herb Rhodes Rolls
These tasty butter herb Rhodes rolls are by far one of the easiest rolls to prepare for your dinner! This recipe is beginner-friendly as it doesn't require any kneading or mixing.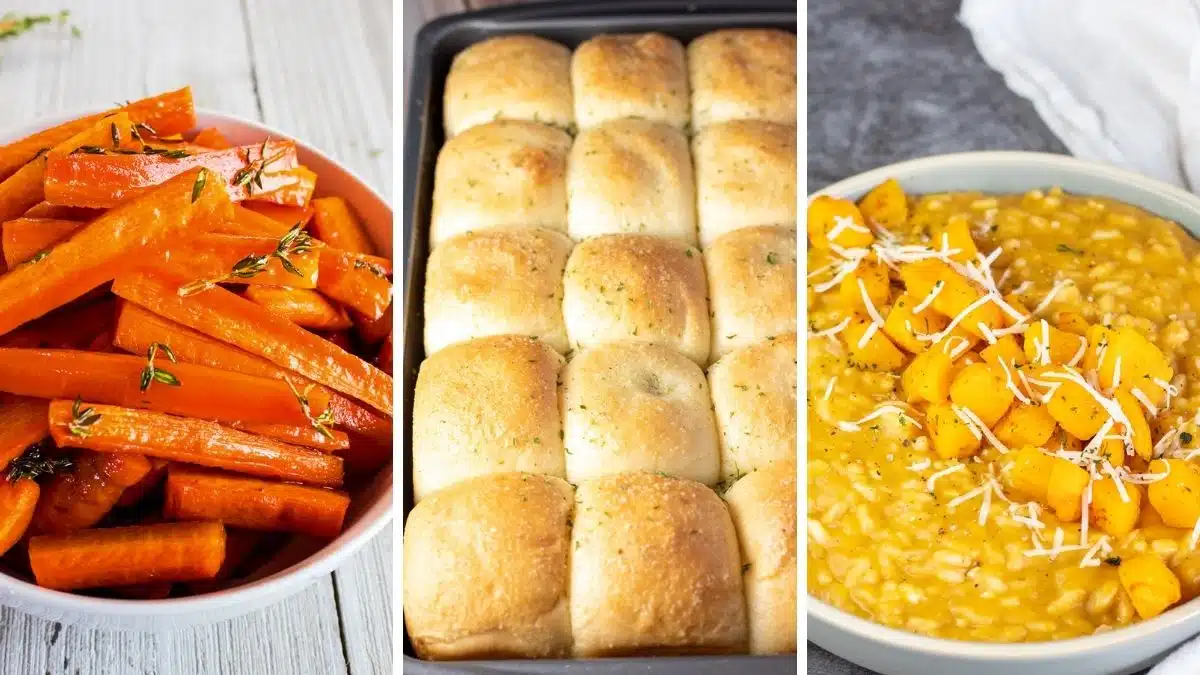 11. Sauteed Broccolini
Fresh broccolini is sauteed with lemon juice, lemon zest, salt, pepper, and olive oil, then topped off with Parmesan cheese! It's a tasty and healthy side dish that you'll want to make over and over again.
12. Pan Fried Sweet Potatoes
These stove-top sweet potatoes come together quickly and are the perfect balance of sweet and savory. This recipe is just the thing when you are needing a tasty side dish in a jiffy!
You can also try my microwave-baked sweet potatoes or mashed sweet potatoes when you are making lamb for dinner!
13. Butternut Squash Risotto
This butternut squash risotto is a warm and comforting dish that can be enjoyed on its own, as an appetizer, or as a side! Even if you've never made risotto before, this recipe is completely straightforward and easy to follow.
14. Green Beans Almondine
Green beans almondine is a French-inspired vegetable side dish that features green beans tossed with butter, garlic, salt, pepper, and almond slivers! It's classic, elegant, and just may become your new go-to veggie to make with roast lamb for your holiday gatherings!
15. Lemon Asparagus Orzo
This recipe combines pieces of tender asparagus with orzo pasta and a tangy lemon garlic sauce! Its refreshingly light flavors will let the robust flavors of your roast lamb shine.
Now that you have a collection of amazing side dishes for roast lamb, which one are you excited to try first? Leave a comment down below to let me know!
😋 Tasty Lamb Recipes To Try
📋 Recipe