These side dishes for ham are a selection of the tastiest sides that are incredibly easy to make and perfect for rounding out your ham menu! Whether you're preparing ham for a holiday feast or for a hearty weeknight family dinner, these sides will complement your ham's sweet and savory flavors! From mashed potato casserole to sauteed green beans, and honey-glazed carrots, you'll be able to find a dish or two that your family will enjoy!
Best Sides To Serve With Ham Dinners
If you're looking for some tasty side ideas to serve with ham, you've come to the right place. I've gathered the best recipes for easy and delicious side dishes that will make a wonderful addition to your ham dinner!
From healthy vegetables to hearty casseroles, I've got you covered! You can even pick several of these sides to make a well-rounded meal.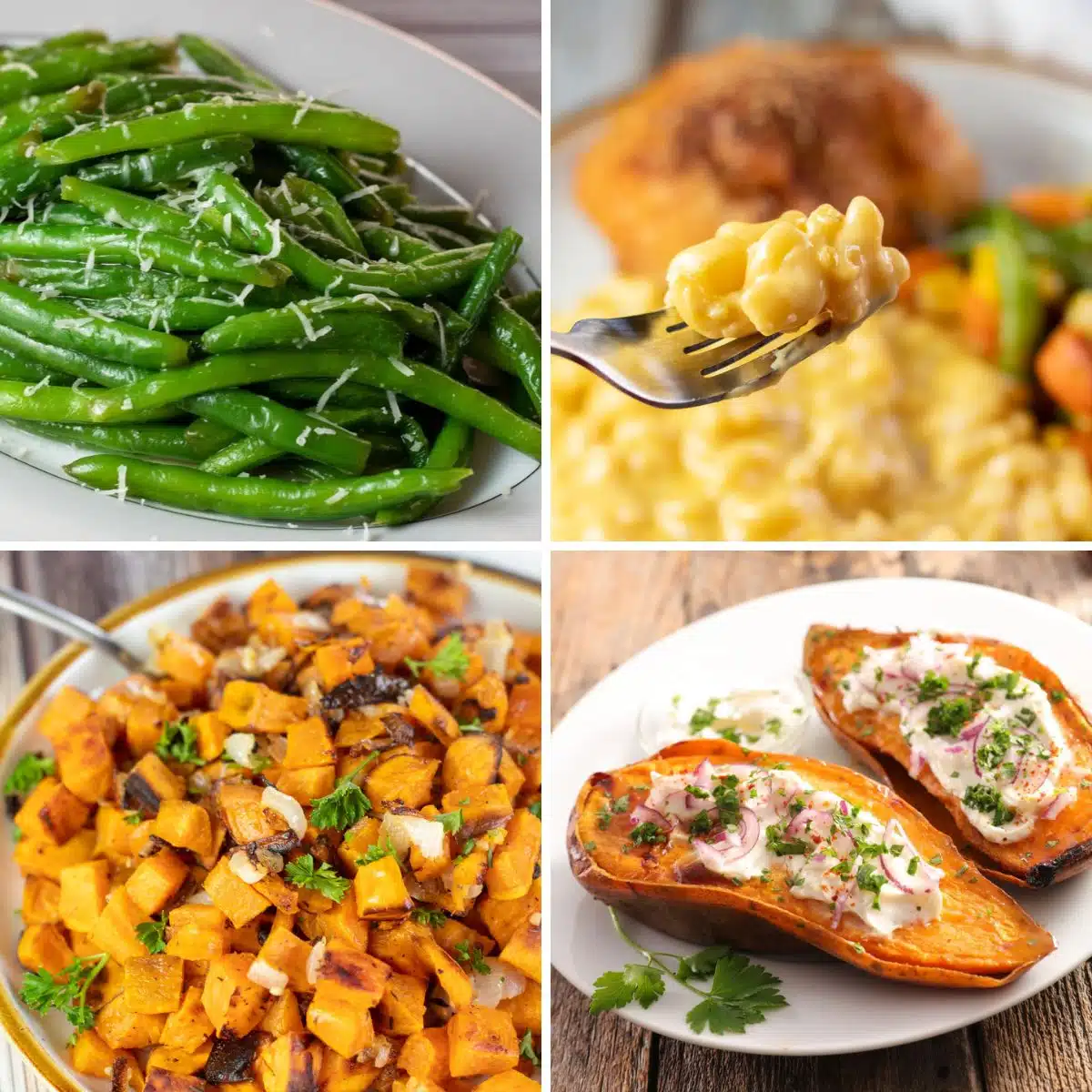 Whether you are preparing a holiday feast or a weeknight family meal, try pairing your ham dinner with a few of these tasty suggestions below!
Sauteed Green Beans
Roasted Sweet Potatoes & Onions
Velveeta Mac And Cheese
Southern Candied Sweet Potatoes
Jiffy Jalapeno Cornbread
Bacon Cream Cheese Mashed Potatoes
Air Fryer Frozen Sweet Potato Fries
Microwave Cauliflower
Roasted Broccoli With Garlic And Parmesan
Mashed Potato Casserole
Baked Sweet Potatoes
Keep reading to check out even more fantastic side dishes to serve with ham!
Jump to:
If you're preparing a large ham and need some ideas on what you can do with the leftovers, check out this list of the best leftover ham recipes that I've put together! Enjoy!
1. Sauteed Green Beans
Sauteed green beans are a classic and straightforward vegetable side dish that will pair well with the sweet and savouriness of ham! This recipe highlights the fresh taste of green beans and garlic and onion flavors.
Garlic green beans, roasted green beans, or green beans almondine would be delicious with ham too!
2. Roasted Sweet Potatoes & Onions
These savory roasted sweet potatoes & onions are tossed in olive oil and seasonings, then baked in the oven for 35 minutes! It's a beginner-friendly and versatile side that will balance out the sweetness of honey-baked ham!
3. Velveeta Mac And Cheese
If your family loves creamy, cheesy macaroni and cheese, this recipe is a must-try! It's a one-pot dish that is easy to prepare, plus I use an entire block of Velveeta cheese!
You could also try out some crockpot mac and cheese, Instant Pot mac and cheese, or smoked mac and cheese too!
4. Southern Candied Sweet Potatoes
Southern candied sweet potatoes are a family favorite in my household! Not only do they taste like a dessert, but the cinnamon and nutmeg flavors are also the perfect combination for the holidays!
Pair this Southern classic side dish with my gingersnap-crusted ham for a delicious holiday meal!
5. Jiffy Jalapeno Cornbread
This Jiffy jalapeno cornbread recipe combines the sweetness of Jiffy corn muffin mix with spicy jalapeños, cheddar cheese, and red bell peppers! Make this Southwestern-style cornbread to dip in my delicious and hearty ham chowder or your favorite chili!
6. Bacon Cream Cheese Mashed Potatoes
There are so many ways to make mashed potatoes, but adding bacon and cream cheese just hits differently. This recipe takes mashed potatoes to a new rich and satisfying level of deliciousness!
If you like serving mashed potatoes on a regular basis, my Parmesan roasted mashed potatoes and red skin mashed potatoes would be a fantastic side for a ham dinner too!
7. Air Fryer Frozen Sweet Potato Fries
Skip the deep fryer and make some perfectly crispy frozen sweet potato fries in the air fryer instead! All you need to do is season them with a dash of salt and pepper after they are done cooking.
When you have leftover ham to cook with, you can make air fryer ham grilled cheese sandwiches with these air fryer sweet potato fries!
8. Microwave Cauliflower
It doesn't get easier than steaming vegetables in the microwave to serve as a healthy side! For this recipe, all you need is a fresh head of cauliflower, water, butter, and a microwavable bowl.
9. Roasted Broccoli With Garlic And Parmesan
Roasting broccoli in the oven brings out the best flavors of broccoli! Plus I added garlic and Parmesan cheese to make it extra tasty and flavorful.
Of course, you can also try some sauteed broccolini or steamed broccoli with my easy cheese sauce too!
10. Mashed Potato Casserole
This tasty mashed potato casserole is a great way to use leftover mashed potatoes or you can easily make it from scratch! Creamy mashed potatoes are combined with cheddar cheese and flavorful seasoning then topped with some crunchy breadcrumbs!
11. Baked Sweet Potatoes
Sweet potatoes are a delicious and versatile vegetable side that will fluff up perfectly in the oven! You can stuff them with your favorite sweet or savory toppings depending on how you prepare your ham dinner!
Of course, a microwave-baked sweet potato would be just as delicious! Or my pan-fried sweet potatoes and mashed sweet potatoes pair well with ham too.
12. Air Fryer Asparagus
Asparagus is one of my favorite vegetables to serve with any main course protein! Roasting it in the air fryer is not only incredibly easy, but it also will turn out perfectly crisp every time.
13. Zucchini Squash Casserole
This zucchini squash casserole features a combination of tender summer squash with a delicious homemade garlic cheese sauce! Bake it to perfection in the oven and this just may be your new go-to vegetable side dish!
14. Green Bean Casserole With Bacon
Green bean casserole is always a popular and delicious side dish to make with ham for a holiday dinner! This recipe combines steamed green beans with cheddar cheese, cream cheese, bacon, Parmesan cheese, and breadcrumbs!
If you love green bean casserole as much as I do, then you can also try my Campbell's green bean casserole or my fresh green bean casserole!
15. Instant Pot Au Gratin Potatoes
Au gratin potatoes just got more convenient and easier to prepare with this Instant Pot recipe! Thinly sliced potatoes are layered with melted cheese and a flavorful blend of seasoning for a mouthwatering side dish everyone will love!
Serve this savory side to complement the sweetness of my glazed honey ham!
16. Honey Glazed Carrots
Honey-glazed carrots are an easy vegetable side dish that complements holiday ham dinners so wonderfully! These carrots are roasted with honey, brown sugar, butter, and fresh herbs for an extra delicious touch.
17. Cheesy Bacon Ranch Potatoes
There's nothing like cheesy bacon ranch potatoes to change things up from your usual mashed potatoes! Chunks of potatoes are baked in the oven until fork-tender, then I mix them with a tasty combination of sour cream, cheese, ranch seasoning, and crispy bacon!
18. White Cheddar Mac And Cheese
If you've never made macaroni and cheese with white cheddar before, then this incredibly delicious recipe is one that you have to try! It only requires a handful of ingredients and will be ready to serve alongside your ham dinner in just 30 minutes!
19. Wedge Salad
Who doesn't love a fresh, crisp, and loaded salad wedge that pairs well with any dish? This wedge salad features a creamy blue cheese dressing, crispy bacon, chives, and tangy tomatoes!
20. Baked Bacon Wrapped Asparagus
This baked bacon-wrapped asparagus recipe is an impressive side dish that everyone at your table will enjoy! Crispy and salty bacon brings an exciting and irresistible touch to asparagus, you'll never want to make it any other way!
21. Deviled Eggs
Of course, when you think of a traditional holiday ham dinner, deviled eggs always come to mind! They're the perfect light and easy appetizer to munch on while you wait for your main course to be served.
22. Macaroni And Tomatoes
This macaroni and tomatoes recipe is a classic Southern pasta side dish that is budget-friendly and easy to throw together! Everyone of all ages will enjoy tender macaroni and juicy tomatoes with a smoky bacon flavor.
23. Butter Herb Rhodes Rolls
Butter herb Rhodes rolls are a delicious and beginner-friendly side to pair with any main course. There is no kneading or mixing required to make these soft, fluffy pull-apart dinner rolls!
My onion rolls or cheese rolls would be a fantastic addition to your ham dinner too!
24. Steakhouse Creamed Spinach
This creamed spinach recipe is ultra creamy and rich, but also incredibly easy to make too! Fresh (or frozen) spinach is cooked into a creamy sauce made of three different types of cheese and a flavorful blend of seasonings!
25. Broccolini Salad
All you need is some broccolini, mushrooms, green onions, and carrots for the base of this easy side salad. Toss it all in a sweet, savory, and slightly spicy sesame soy dressing for a restaurant-quality flavor that everyone will adore!
26. Collard Greens With Bacon
Collard greens with bacon is a classic Southern dish that is made with a handful of ingredients! It can be paired with any main course and deserves to be on your dinner plate more often!
27. Pan Seared Brussel Sprouts
These incredibly easy-to-make brussel sprouts caramelize beautifully when you sear them in oil, salt, pepper, and butter on your stovetop! You'll never want to make brussel sprouts any other way!
28. Roasted Vegetable Medley
If you can't decide on one vegetable to make, this healthy side dish combines 4 delicious vegetables into a medley! They're easy to prepare and full of flavor, even your kids will enjoy them!
29. Instant Pot Braised Red Cabbage
Red cabbage is cooked with onion and sweet apples in a flavorful sauce made with butter, brown sugar, spices, and apple cider vinegar! It will pair wonderfully alongside your ham dinner or even on top!
You could even try my sweet and sour red cabbage recipe that features green apples for an extra tart and tangy flavor!
30. Crockpot Green Beans And Potatoes
Tender potatoes and green beans are slowly cooked in chicken broth with minced garlic, onion, and bacon! It's an easy and hands-off side dish that will pair fantastically with the sweetness and savoriness of ham!
31. Creamed Corn
This creamed corn recipe is beginner-friendly and full of deliciousness! In just 15 minutes you'll have a creamy and sweet vegetable side dish that you can enjoy during the holidays or any time of the year!
I hope that this list of easy sides helps make the planning of your ham dinner easier! Leave me a comment down below to let me know what you love pairing with ham!
>>>>See all of my recipes HERE<<<<
😋 Tasty Ham Recipes To Try
📖 Recipe Card