These recipes using canned pie filling save you that one extra step of making your own pie filling from scratch. These fruity desserts still taste like they are made from scratch, and no one will be any the wiser! Next time you need a dessert on the fly, give one of these treats made with canned pie filling a try!
Desserts Made With Canned Pie Filling
Keeping key ingredients on hand, like ready-made pie filling, makes whipping up a quick and easy dessert, a breeze! From breakfast strudel to a delicious cobbler – this list has you covered!
Pie filling is simple to make from scratch but sometimes it is fantastic to have a supply of good quality shortcut products such as pie filling. They are flexible and fun and can create an entire plethora of scrumptious recipes!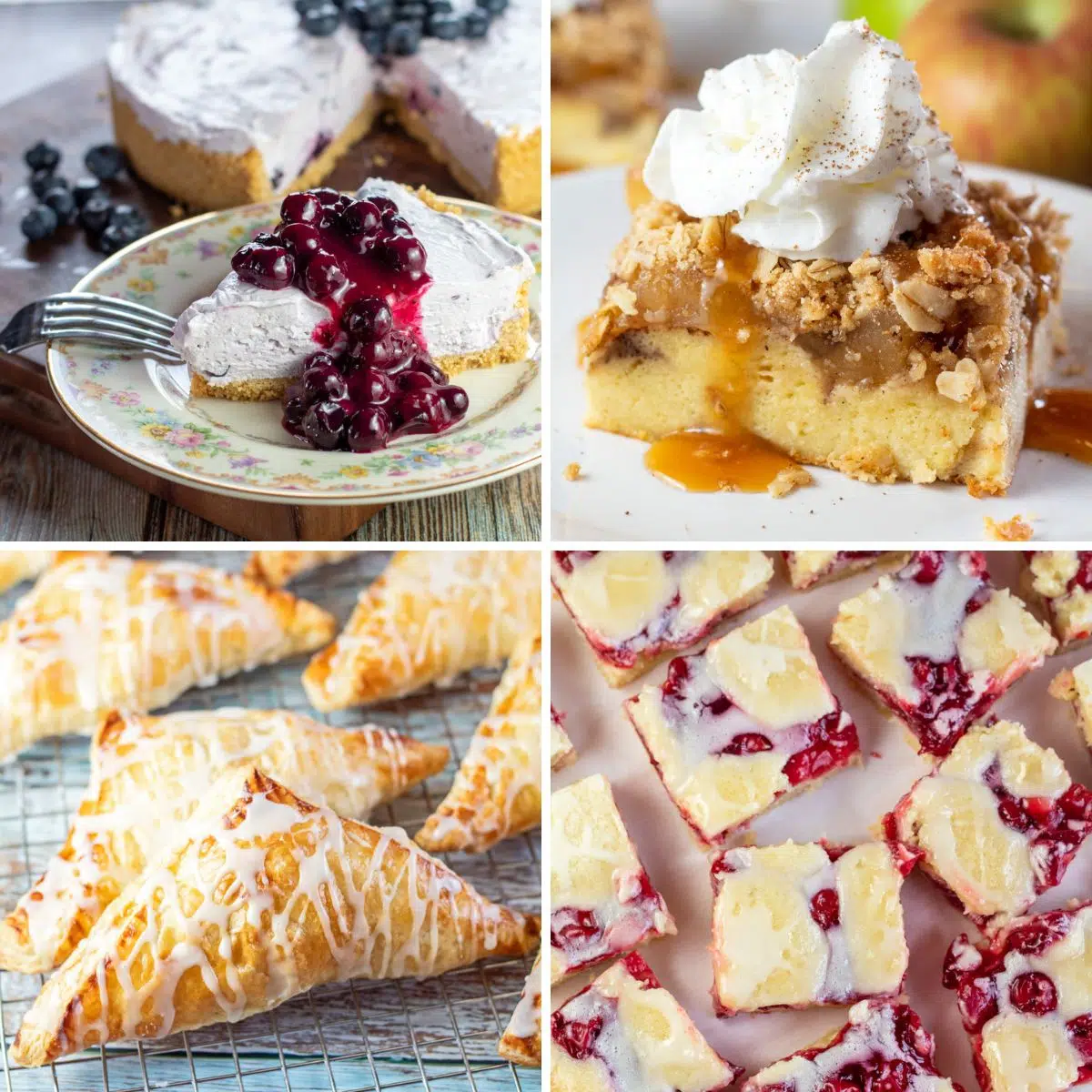 Jump to:
1. No Bake Blueberry Cheesecake
The cheesecake is ready very quickly, as it does not require any baking – just time for the ingredients to firm up in the fridge. The filling includes cream cheese, cool whip, and sugar; the base is a traditional base consisting of graham crackers and butter.
The cheesecake looks beautiful, especially when you reserve some extra berries to drizzle over the top of the dish to garnish.
2. Cherry Pie Bars
There is probably only one thing better than cherry pie – and that is handheld cherry pie bars! These cute little dessert bars are wonderful for feeding a crowd!
All the ingredients are baked in one large baking dish and then once baked and cooled, cut into small squares. The vanilla sugar glaze elevates this dish even further – not only does it look delicious; but it also tastes delicious!
3. Apple Dump Cake
Despite the rather silly name, dump cakes are marvelous recipes to keep on hand for last-minute hosting. A dump cake requires practically zero washing up, which is always a winner in my book!
The pie filling is the base element of the dish, a box of cake mix is sprinkled on top and then the entire dish is drizzled in butter! The cake requires no further hands-on time – (other than eating it)!
4. Puff Pastry Apple Turnovers
For a dessert that truly looks like it took an immense amount of effort, try your hand at these easy-peasy puff pastry apple turnovers! The rich vanilla glaze adds a professional touch and amplifies the sweetness of the pie filling.
This recipe only requires a handful of ingredients that you likely already have in your pantry, fridge, or freezer! The turnovers are made from pre-made puff pastry, apple pie filling, and egg wash to ensure the edges are firmly sealed. The glaze is a simple combination of powdered sugar, a dash of vanilla, and milk!
5. Sugar Cookie Apple Cobbler
This recipe uses two key ingredients which are both readily available in a convenient form – refrigerated sugar cookie dough and canned pie filling! The pie filling forms the base of the dessert while the cookie dough is crumbled on the top, forming a delicious sugary crust.
The pie spice is optional; however, it does add a delicious depth of flavor.
6. Blackberry Pie Bars
Blackberries have such a delicious flavor, and their coloring makes for some seriously pretty pie bars! A delectable combination of sweet and fruity – these bars will be an instantaneous cult classic at every family gathering!
The bars can be prepared with canned pie filling or real fruit, should blackberries be in season. As the berries bake, the dish is transformed into sweet purple swirls. The vanilla glaze enhances the aesthetics of this dish even further!
7. Apple Pie French Toast Casserole
This French toast casserole makes cooking for a crowd so easy! This dish takes all of the classic and beloved ingredients for French toast and combines them into an easy and epic casserole!
The dish combines the traditional flavor elements of bread, pie filling, eggs, and apple pie filling while the topping is comprised of a delicious sugary and buttery oat streusel. This dish is sure to wow your guests and allows everyone to have a relaxed morning!
8. Blueberry Pie
There is something very, very special about a homemade pie – a great deal of time, effort, and love go into a made-from-scratch pie. This recipe utilizes fresh or frozen blueberries, but you can simply swap those out for a canned blueberry pie filling.
This recipe does include instructions on how to make homemade pastry however if you don't have the time or patience for that, you can easily use store-bought pastry (hey – even real chefs do this)! Serve this with good quality vanilla ice cream and you'll have them licking the bowls!
9. Sugar Cookie Cherry Cobbler
You simply cannot beat two-ingredient desserts that look like a million bucks. Nobody needs to know how easy this recipe is!
The cobbler utilizes two convenient items that you might already have on hand: cherry pie filling and ready-made sugar cookie dough. The pie filling makes the base layer and it is topped with crumbles of the delicious dough!
10. Apple Pie Cobbler Bars
These bars are made for a Fall gathering! The flavors embody the season including warm vanilla, crisp apple, and spice!
The dough incorporates pie spice, creating a delicious warm base for the other flavors. You can use pre-made pie filling or have a go at making your own taking advantage of the abundance of seasonal apples!
11. Cherry and Blueberry Dump Cake
This will fast become one of your favorite recipes to have on hand – it's so perfect for a last-minute gathering and it is an absolute crowd pleaser!
The recipe calls for two different types of pie filling which creates a delicious and complimentary flavor profile – alongside a really pretty cake! It is amazing how delicious this cake is considering how little preparation work is needed!
12. Blueberry Tart
If you have never made a tart before, then you are in for an absolute treat! The buttery sweet pastry holds a mixture of fresh and canned blueberries.
I love that this recipe utilizes both fresh and canned pie filling which creates great texture, and it looks great too! If you are short on time, you can use store-prepared pastry to speed things along.
13. Cherry Chocolate Dump Cake
There aren't many better flavor combinations than cherry and chocolate. The tartness of the cherry when paired with rich chocolate, is to die for!
I love the colors of this dump cake, a rich red and deep chocolatey gooey goodness! This is a guaranteed crowd-pleaser with only three ingredients, no dirty dishes, and very little work!
13. Blueberry Galette
Think of a galette as a rustic pie. The pastry is laden with seasonal fruits and then the edges are just simply folded in the create a crust. It sounds fancy and looks spectacular on a cake stand but here is a quick secret – this is easier to make than pie!
This recipe outlines the method of using fresh berries however, canned would work just fine and so would a combination of both fresh and canned, especially for aesthetic purposes. This dessert really looks stunning and elegant on a stand – and it's so easy!
14. Puff Pastry Hearts
These puff pastry hearts are perfect for Valentine's Day – or when you feel like showing someone that you care! You do need to ensure that you have a pair of heart-shaped pastry cutters for this recipe to be effective!
You only need two ingredients to make these desserts and you might just have what you need on hand: cherry pie filling and puff pastry sheets. The recipe specifically calls for cherry pie filling, but any pie filling would work if you wanted to try different-colored hearts!
15. Pineapple Pie Bars
People often overlook pineapple pie filling when it comes to sweet desserts, but it really makes for the most surprising, refreshing, and tropical treat! These bars are perfectly portable and wonderful for a picnic or beach day!
The make-ahead nature of the bars makes them great for kids and family gatherings. A stack of delicious handheld treats is always well received!
No matter the occasion, any of these dessert recipes using canned pie filling will be a total hit! Let us know which of these recipes you tried in the comment section below!
📖 Recipe Card