Pumpkin cakes are an incredibly fun, festive, and delicious way to celebrate the wonderful season of fall! With a wide variety of flavors, all of these cakes have one thing in common - they look just like pumpkins! These cakes are perfect for hosting parties or just enjoying a fun treat at home with your family!
Fun Pumpkin-Shaped Cakes
Baking fun and festive treats is one of my favorite ways to enjoy the season of fall! All of these pumpkin-shaped cakes are so much fun to make and even more fun to eat!
No matter what the occasion, each one of these pumpkin cakes is sure to impress all of your guests! Whether you simply want to have fun making one with your kids or are hosting a party- these pumpkin-shaped cakes are the perfect dessert!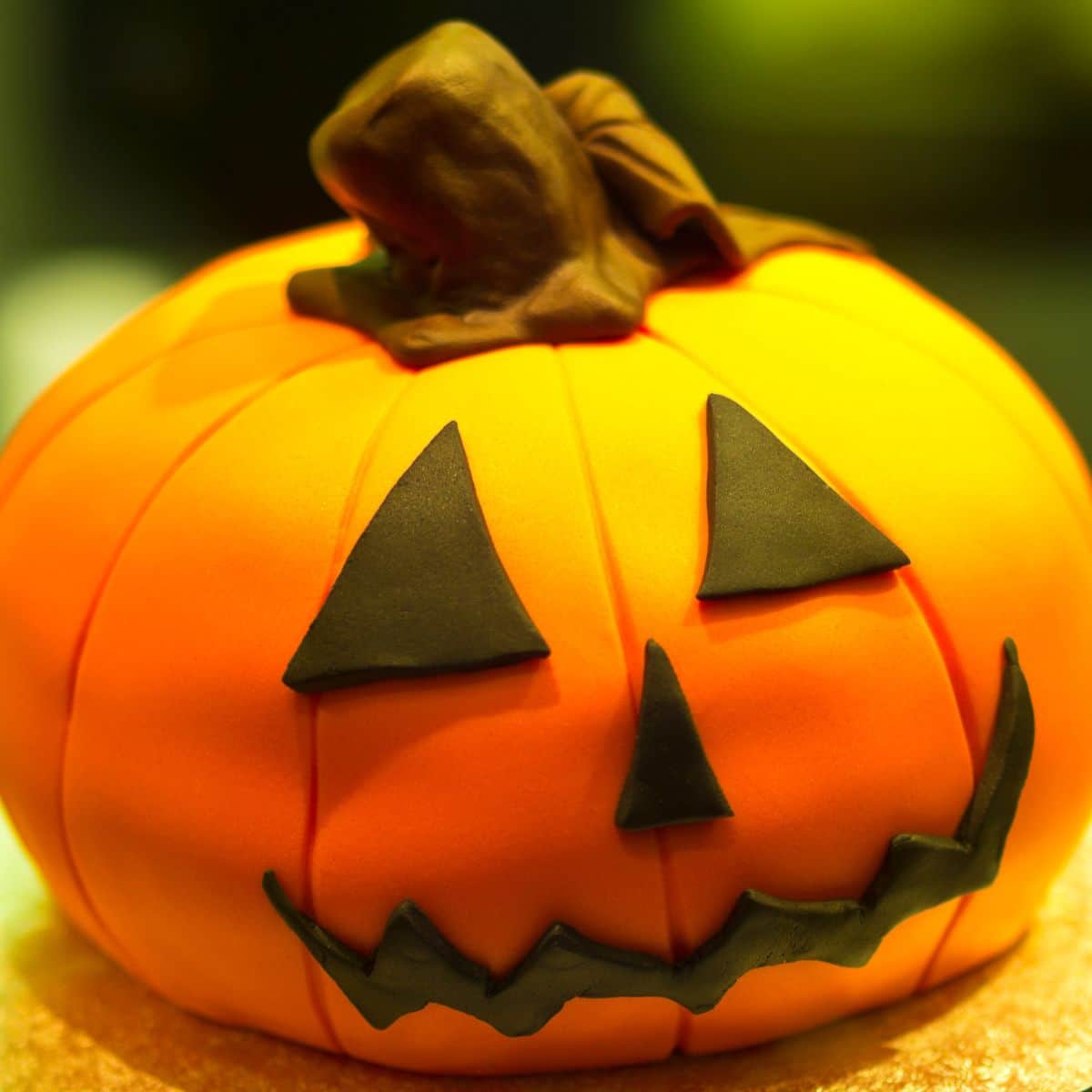 Jump to:
If you are looking for some more super fun cakes, check out my collection of Halloween cake ideas!
1. Pumpkin Bundt Cake
This pumpkin bundt cake is perfect for any fall occasion! It looks just like a pumpkin straight from the pumpkin patch!
This fun dessert is made by using two separate bundt cakes and stacking them on top of each other! It is then coated in frosting and the stem is made from butter and sugar!
2. Jack-O-Lantern Cake
This jack-o-lantern cake is a super fun way to celebrate during the month of October! The pumpkin shape is carved from cake while the stem is an inverted ice cream cone!
Plus, you can make this cake extra simple by using a boxed cake mix!
3. Boo-tiful Pumpkin Drip Cake
If you are worried about decorating your pumpkin cake, this option is one of the easiest! Most of the exposed cake remains unfrosted, using just enough orange frosting to cover the top and drip down the sides!
Top it with a green ice cream cone and you'll have yourself an adorable pumpkin cake!
4. The Great Pumpkin
This adorable pumpkin would be perfect for any get-togethers that have a ton of kids! You could even make it with your kids and let them help decorate the face!
This recipe utilizes candy such as candy corn and M&Ms to make a super cute and fun pumpkin face!
5. Pumpkin Sponge Cake
I love how natural and rustic this cake appears since it is replicating a white pumpkin instead of the traditional orange one. This recipe actually goes the extra mile and will walk you through how to make a gelatin mold to get the perfect pumpkin shape!
It has a hard chocolate shell, is loaded with cake, and is then filled with a delicious mousse!
6. Mini Pumpkin Bundt Cakes
These little cakes are incredibly cute and simple to serve as there is no cutting required!
They feature carrot cake that is made in mini bundt pans and cream cheese frosting. For an extra authentic touch, they are topped with real pumpkin stems!
7. Great Pumpkin Cake
This chocolate cake has a melted chocolate filling for an extra rich treat! It is coated with a glaze rather than frosting and even has chocolate leaves!
No matter where you serve this autumnal cake, everyone will definitely be impressed!
8. Pumpkin Spice Cake
Not only are these tiny pumpkins cute and festive, but they are also pumpkin flavored! All you'll need is a mini bundt pan and some fondant for the stem!
9. Halloween Pumpkin Cake
This incredibly spooky cake looks so lifelike! It uses two bundt cakes so there is no need to carve the cake at all, making it perfect for a beginner cake decorator!
Finally, the pumpkin stem is simply a lump of fondant!
10. Vegan Mini Pumpkin Cakes
Here is an option for anyone who is vegan! They are mini cakes with a cinnamon cream cheese frosting for a wonderful fall flavor!
Additionally, they are gluten-free, dairy-free, and eggless!
11. Kitty Cat In A Pumpkin
This has to be the cutest pumpkin cake I have ever seen! It represents a trick-or-treating pumpkin bail with a small black cat inside!
I will say that this cake does use some more techniques than the others on this list, but you can always try it out!
12. Little Pumpkin Cakes
These cute little cakes aren't even frosted, but they still look great! You can even drizzle some chocolate on top or dust them with some powdered sugar for a finished look.
Then just top them off with a wafer cookie for the stem and you're all set!
13. Pumpkin Patch Pull-Apart Cake
A pull-apart cake is when you place a bunch of cupcakes next to each other and decorate them as one cohesive picture. In this case, a pumpkin!
When ready to enjoy, you simply grab one of the cupcakes! It is really that easy!
14. Chocolate Filled Pumpkins
These mini cakes use a boxed cake mix to make them extra simple! As if that wasn't great enough, they are also filled with Nutella!
Perfect for any festivities this season, these mini pumpkins won't put any extra work on you because of how easy they are to prepare!
15. Halloween Candy Cake
If you love combining candy and cake then you need to check out this recipe! I think it is perfect for any kid's party- especially if your child has a birthday in the month of October!
It is prepared exactly like a standard cake, so there is nothing difficult about it. Then, simply load it up with all of your favorite goodies!
16. Pumpkin Pail Cake
This fun cake looks like you just went trick-or-treating and hit the candy jackpot! It is shaped just like a pumpkin candy bucket- and is loaded with actual treats!
The interior hole is made by simply utilizing the typical shape of a bundt cake. Trust me, this is much easier than it looks!
17. Party Pumpkin Cake
This is a 'party' cake because it is just like a pinata! When you cut it open to serve it, a bunch of candy will pour out!
It is an awesome addition to any costume or birthday party you may have coming up this season. Load it up with your favorite candies and then get ready to have fun!
All of these cakes are sure to be a show-stopper at your next event! Leave a comment down below and let me know which one you are excited to try out!
🍂 Fun Fall-Time Treats
📋 Recipe