These Oktoberfest recipes are perfect for all of your parties and get-togethers to celebrate this traditional German festival! Regardless of where you live, you can still join in on the fun with these delicious recipes! Keep reading for my all-time favorite Oktoberfest menu ideas!
Best Oktoberfest Menu Ideas
Oktoberfest is a German celebration that is featured in many cities around the world with dense German populations. This event is focused on delicious German cuisine and ice-cold German beer.
I actually grew up near Mt. Angel, Oregon, where there is a huge Oktoberfest event that takes place below the monastery! I have been so many times, and it is always a blast!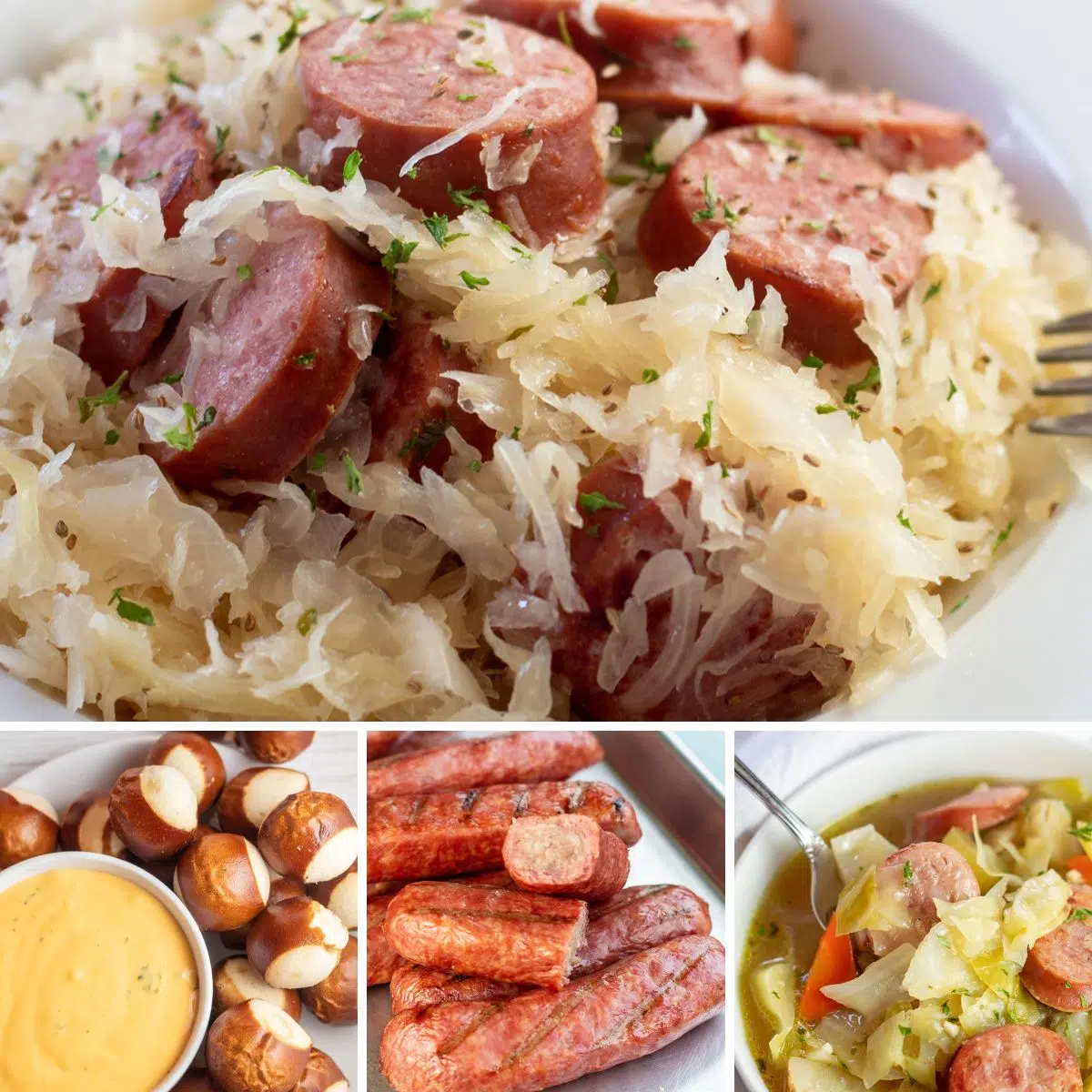 Jump to:
1. Beer Cheese Dip
Beer cheese dip is great during Oktoberfest because it is flavorful and delicious. This thick cheese dip is great for warm baked pretzels or air fryer tortilla chips!
2. Slow Cooker Kielbasa and Sauerkraut
Slow cooker kielbasa and sauerkraut is one of my all-time favorite dishes! This tangy dish is very nostalgic to me and reminds me of Sunday dinner with my great-grandmother!
You will love pairing the kielbasa and sauerkraut with roasted garlic mashed potatoes for a complete meal!
3. Cabbage Soup with Kielbasa
Cabbage soup with kielbasa is definitely a go-to dish during Oktoberfest! It is hearty with chunks of savory pan-seared kielbasa and deliciously tender cabbage.
4. Kielbasa Cabbage Skillet
This kielbasa cabbage skillet is packed with layers of tangy and salty flavors that are comforting and delicious. This kielbasa cabbage skillet is easy to make and very straightforward which means anyone can make it!
5. Smoked Brats
Smoked brats are tender and juicy on the inside and firm and crisp on the outside! Yum! They are perfect as an on-the-go meal while you are enjoying your Oktoberfest activities!
6. Grilled Brats
I love a freshly made grilled brat during Oktoberfest! These grilled brats are great topped with a scoop of tangy sauerkraut with an ice-cold beer.
7. Air Fryer Brats
Air fryer brats are so easy to make at home and something that doesn't require much prep or time to make. These brats are amazing when served with condiments such as sweet relish, dijon mustard, or spicy ketchup.
8. Instant Pot Braised Red Cabbage
Instant pot braised red cabbage is the perfect German side dish for Oktoberfest! It is tangy and sweet with just the right amount of flavor and texture!
9. Jägerschnitzel
Jägerschnitzel is an amazing German pork dish that combines both pork cutlets and a delicious bacon gravy all in one dish! This recipe is perfect when paired with a giant scoop of red-skin mashed potatoes.
10. Dutch Babies
Dutch babies are one of my top comfort foods to make during Oktoberfest! These German pancakes are versatile and authentic and will have your whole family lining up for more!
11. Nusseckin
Nusseckin is a German nut bar that is great to eat and fun to make with the whole family! These nut bars are layered with delicious dough, sweet jam, and crunchy chopped nuts.
12. German Potato Salad
German potato salad is a recipe that you will want to double because everyone will surely want an extra serving. This delicious potato salad has crispy bacon mixed throughout, and it is topped with more bacon! Yes, please!
13. Chicken Schnitzel
Chicken schnitzel is a crispy and tangy chicken dish that you are sure to love and enjoy. This dish is great served with mashed sweet potatoes and grilled corn on the cob.
14. German Pretzels
Homemade German pretzels are the ultimate treat! These authentic pretzels are doughy, firm, and the perfect vessel for beer cheese dip or homemade ranch dressing!
>>>>See all of my recipes HERE<<<<
15. German Kartoffelpuffer
These German potato pancakes are starchy and thick with a crispy texture that you are sure to love! You can serve kartoffelpuffer for breakfast with creamy scrambled eggs or for dinner with some air fryer pork belly.
16. Flammkuchen
This German flatbread is also known as Tarte flambé. It is similar to pizza, but it is topped with crispy bacon and a light cream sauce. This is definitely a must-try recipe for your next Oktoberfest feast!
17. Oktoberfest Casserole
Oktoberfest casserole is a hearty and delicious meal that is very filling with all of its dense ingredients. This casserole is made with cheddar cheese, pretzel pieces, cubed potatoes, chopped bratwurst, and tangy sauerkraut!
18. Kartoffelknödel
These German potato dumplings are also known as Kartoffelklösse. They are thick, hearty, and absolutely scrumptious. Pair these dumplings with braised red cabbage or smoked brats for the ultimate feast!
19. Currywurst
Currywurst is a unique way to make a delicious bratwurst. This currywurst recipe creates a thick and spicy curry-like sauce for your brats, which makes them even juicier with tons of flavor.
20. Spaetzle
Spaetzle is a German micro dumpling that is often coated with creamy salted butter. These micro dumplings are great when paired with other dishes, such as currywurst or a wedge salad.
21. Bratkartoffeln
These German cottage fries are a hearty dish that is great for Oktoberfest. This dish is savory with its layers of diced bacon, tender potatoes, and chopped onion.
22. Black Forest Cake
Black forest cake is a multilayer chocolate sponge cake that is topped with sweet whipped cream frosting and tart sour cherries. This cake is the perfect dessert for everyone to enjoy during this Oktoberfest!
23. Sweet and Sour Red Cabbage
Sweet and sour red cabbage is tangy with a little sweetness. This dish is simple and worth adding to any Oktoberfest meal!
Which Oktoberfest recipe do you love the most? Let us know in the comments below which dishes you made at home and which ones you plan to try in the future!
😋 Recipe Collections For Special Events
📖 Recipe Card