Learn how to reheat brisket so that you can enjoy some tasty leftovers without being worried about the meat drying out! Your hard work won't go to waste! These simple and fool-proof methods will yield juicy brisket every single time!
Best Ways To Reheat Leftover Brisket
Cooking brisket can be a slow, time-consuming process. However, the tender, juicy, and delicious meat is definitely worth the wait!
I like to make two briskets at a time, so I can enjoy one and store the other one in the freezer for later. This guide will show you all of the best methods to reheat your leftover brisket so that it is still as juicy and flavorful as when you first made it!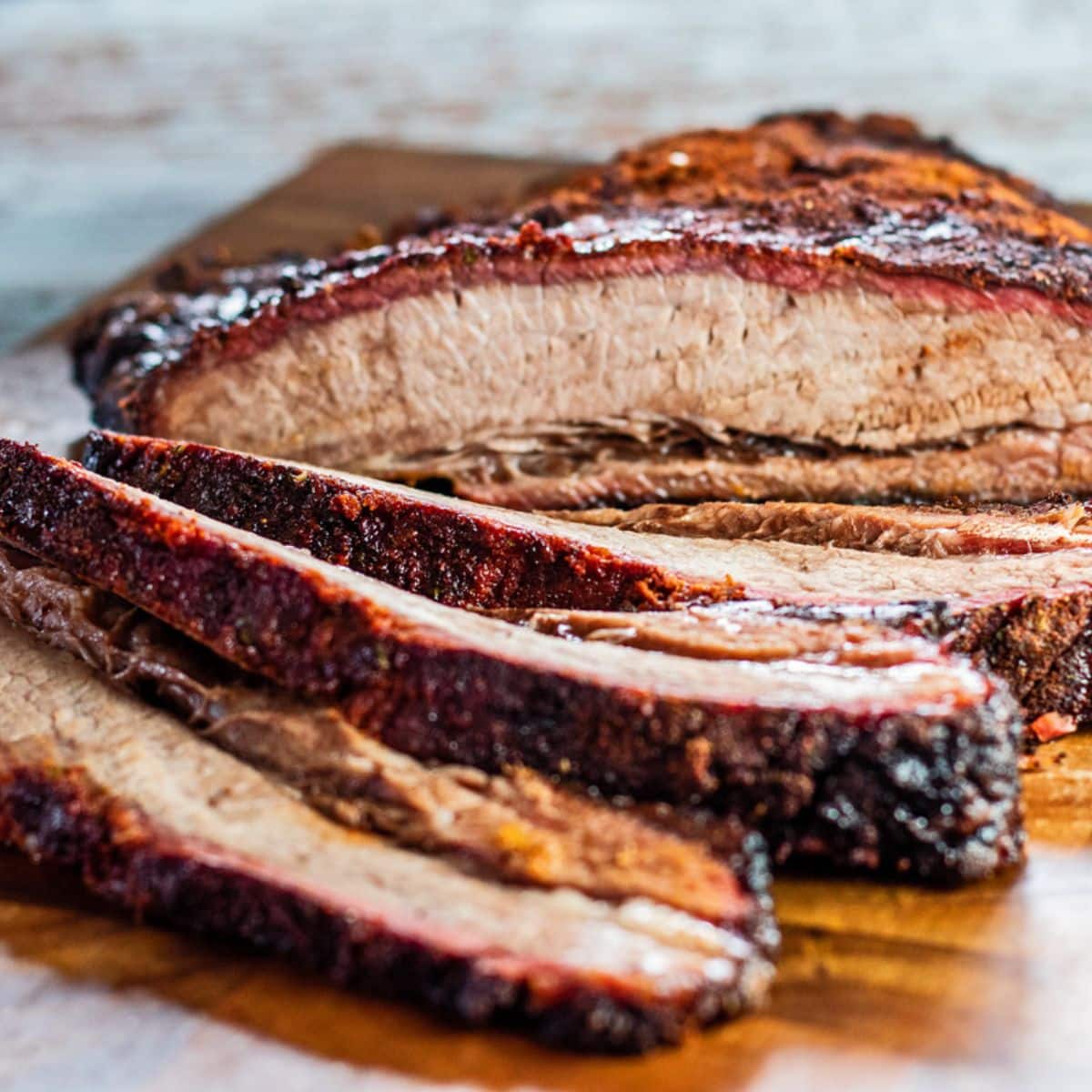 Jump to:
Want More Recipes? Enter your email below and we'll send them straight to your inbox!
Storing Brisket
If you just cooked your brisket and are simply storing it in the fridge, you can easily place the meat into a shallow airtight container or wrap it tightly in plastic wrap. It will last for 3-4 days when refrigerated.
How To Properly Freeze Brisket
You can choose whether you want to freeze your brisket whole or slice it beforehand. If you opt for slicing the meat, this makes it easy to enjoy preportioned servings. Plus, it saves a ton of storage space!
However, keeping your brisket whole really optimizes containing the juices during the freezing process (and ensures some juicy meat!) Additionally, it is less likely to become contaminated. Unfortunately, it also takes longer to reheat. There are pros and cons to both options so just choose the one that works best for you!
The best way to store your brisket in the freezer is by placing it into a vacuum-sealed bag. Of course, if you don't have a way to vacuum-seal the meat, you can wrap it tightly in plastic wrap followed by a double layer of aluminum foil, and then place it into a storage bag.
Tips For Freezing Brisket
Allow the brisket to cool completely before you freeze it.
If you want to slice the brisket before freezing, make sure you let it rest and cool while it is still whole to keep it juicy.
Add some leftover juices to the brisket before you wrap it up to ensure it stays moist.
Methods For Reheating Brisket
There are three ideal methods for reheating your brisket: sous vide, in the oven, and using a smoker (or grill). Each one of these methods has its own pros and cons, from how long they take to needing specialized equipment.
Don't worry, you'll easily be able to pick out a reheating method that is best suited to your needs!
Using Sous Vide Method To Reheat Brisket
When reheating brisket using the sous vide method, you will never have to worry about drying out or overcooking your meat! If you haven't heard of this method of cooking before, don't worry, it is simply a type of water bath.
Unfortunately, you do need some specific equipment in order to use this method, which is why it might not be the best option for everyone. Plus, it isn't super quick either.
How To Reheat Brisket Using The Sous Vide Method
Bring to room temperature. Transfer your leftover brisket from the fridge to the counter and let it set for about 20-30 minutes to take the chill off.
Seal. Vacuum seal your brisket.
Heat. Fill your pot with enough water to fully cover the brisket and set the temperature to 165°F (74°C).
Wait. Once the meat reaches the same temperature as the water, it is ready to eat.
Tips For Using The Sous Vide Method
This is not a quick method. A full brisket could take up to 5 hours to fully reheat.
You can speed up the process by slicing your brisket before you vacuum seal it.
Slices of meat that are only ½-inch thick could reheat in 10 minutes or so, while 2-inch thick slices could take a few hours. The best way to know when it is fully reheated is by checking the internal temperature.
Reheating Brisket In A Smoker Or On The Grill
Using your smoker or grill to reheat your meat is pretty similar to reheating it in the oven. You aren't wanting to cook the brisket any further or even add any additional smoky flavor, you are simply warming it up to where it is safe to eat.
How To Reheat Brisket In A Smoker
Set up. You'll want to set up your grill for 2-zone cooking (have hot coals or gas burners on one side, and the other side with no heat).
Preheat. Heat your grill to about 225°F (107°C).
Wrap. Double-wrap your brisket with two layers of aluminum foil.
Transfer. Place the wrapped brisket into the portion of the grill that has indirect heat (or the "cool" zone).
Heat. Allow the meat to heat until it reaches an internal temperature of 155°F (68°C).
Unwrap. Unwrap the brisket and transfer it to the side of the grill with direct heat.
Finish. Heat for 5-10 minutes and then serve.
Reheating Brisket In The Oven
Using the oven to reheat your brisket is a great option if you don't have a sous vide machine or smoker (or the weather isn't ideal for using the grill). The key to reheating brisket in the oven is to use a low temperature!
How To Reheat Brisket In The Oven
Bring to room temperature. Bring your meat out of the fridge and let it sit at room temperature for 20-30 minutes. This helps ensure that the meat reheats evenly.
Preheat. Preheat your oven to 250°F (120°C).
Wrap. Place your brisket onto a baking sheet and add a splash of broth or a pat of butter for extra moisture. Then, double-wrap it in two layers of aluminum foil. Make sure there is a tight seal by crimping the edges of the foil together.
Reheat. Transfer the meat to the preheated oven and warm it until the internal temperature reaches 165°F (74°C). This could take anywhere from 20 minutes to 1 hour, depending on the size of the brisket.
How To Use Leftover Brisket
There are so many tasty ways you can enjoy your leftover brisket! Here are some of my favorite ideas.
>>>>See all of my recipes HERE<<<<
❓ FAQ
Should I Slice My Brisket Before Or After Reheating It?
You can choose to slice your brisket before or after you reheat it, no matter which method you use! If you slice the brisket beforehand, it is much easier to store and even reheats faster. However, keeping your brisket whole helps to ensure that it won't dry out while heating.
How Long Does It Take To Reheat Brisket?
The answer to this question varies widely based on a few different factors. For instance, sliced brisket will reheat faster than a whole brisket. It also depends on how much meat you are reheating and which method you are using. Rather than try to watch the clock, you'll want to wait until your brisket reaches an internal temperature of 165°F (74°C) to know it's ready to eat.
Can I Reheat Brisket In The Microwave?
You may be tempted to pop your leftover brisket into the microwave for a quick and easy reheat. However, the microwave will essentially cook out all of the moisture and leave you with some dry and rubbery meat. Don't do it!
🍽️ More Cooking Guides
📋 Recipe
Print Recipe
Leave A Comment
Love This Recipe?
Click On A Star To Rate It!
How To Reheat Brisket: Traeger Smoked Brisket (+All The Best Methods For Reheating!)
Learn how to reheat brisket so that you can enjoy some tasty leftovers without being worried about the meat drying out! Your hard work won't go to waste! These simple and fool-proof methods will yield juicy brisket every single time!
Total Time
3
hours
30
minutes
Pin Recipe
Share on Facebook
Instructions
Trimming Your Brisket
To prepare your brisket, flip it upside down (so the fat cap is on the cutting board) and use a sharp knife to trim any excess fat or silverskin from the underside. Then, locate the large, moon-shaped area of pure fat and slice it off in a sawing motion. It does not need to be 100% removed, just enough to level it off with the rest of the brisket so it will cook evenly.

Square your brisket by trimming the long, thin strips of fat off the sides. No need to fully remove it all, just trim until the meat is as uniform in shape and thickness as you can make it. Do the same to the ends of the brisket. Keep in mind, the point of the brisket will be somewhat knobby and not uniform and that is fine. Simply remove any loose or hanging meat to prevent it from burning.

Flip your brisket over and trim the fat cap. You want it to be between ¼" and ½" in thickness all the way across. Once your brisket is looking fairly uniform all the way around, you're ready to get smoking.
Smoked Traeger Brisket
Preheat your smoker to 300°F (150°C) and make a 50/50 solution of apple cider vinegar and water in a food-grade spritz bottle. Set aside. Slather mustard on all sides of your prepared brisket, then season generously with the brisket dry rub.

½ cup mustard,

2 cups brisket dry rub,

½ cup apple cider vinegar,

½ cup water

Once your smoker has come to temperature, place the seasoned brisket fat-side-down on the grill grate. Cook for 1 ½ hours undisturbed.

After 1 ½ hours, spritz the brisket with the apple cider solution. Do this every 30 minutes for another 1 ½ hours or until the brisket reaches an internal temperature of 204°F (95°C).

Remove your brisket from the smoker and place it on a serving tray or large cutting board. Tent a piece of foil loosely over the top and let it rest for at least 15 minutes.

Slice your brisket against the grain and serve!
Equipment You May Need
Notes
Though I did not brine my brisket, many people opt to brine it overnight in a sugar and salt solution and that is fine if you prefer. 
Resting your brisket is essential in keeping it tender and juicy! This gives the meat enough time to re-absorb its own juices as it sits.
Nutrition
Calories:
202
kcal
(10%)
|
Carbohydrates:
5
g
(2%)
|
Protein:
24
g
(48%)
|
Fat:
9
g
(14%)
|
Saturated Fat:
3
g
(19%)
|
Polyunsaturated Fat:
1
g
|
Monounsaturated Fat:
4
g
|
Trans Fat:
1
g
|
Cholesterol:
70
mg
(23%)
|
Sodium:
161
mg
(7%)
|
Potassium:
436
mg
(12%)
|
Fiber:
1
g
(4%)
|
Sugar:
1
g
(1%)
|
Vitamin A:
189
IU
(4%)
|
Vitamin C:
1
mg
(1%)
|
Calcium:
80
mg
(8%)
|
Iron:
5
mg
(28%)
how to reheat brisket, Traeger Smoked Brisket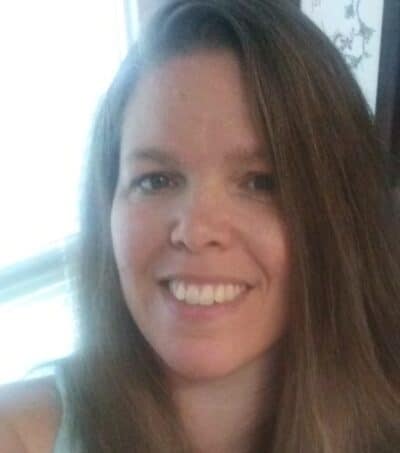 Angela is an at home chef that developed a passion for all things cooking and baking at a young age in her Grandma's kitchen. After many years in the food service industry, she now enjoys sharing all of her family favorite recipes and creating tasty dinner and amazing dessert recipes here at Bake It With Love!