These Halloween cookie recipes are the tastiest way to celebrate everyone's favorite fun and spooky holiday! They are perfect for bringing to parties, or you can make them to enjoy at home. No matter the occasion, these Halloween cookies are always a hit!
Best Halloween Cookies To Make
Halloween isn't just about candy. It's about cookies, too! This list of Halloween cookie recipes is full of fun, spooky, and tasty treat ideas that will have you feeling festive.
These cookies make a great addition to any Halloween dessert spread. Share them at church, school, or work, or enjoy them at home with friends and family!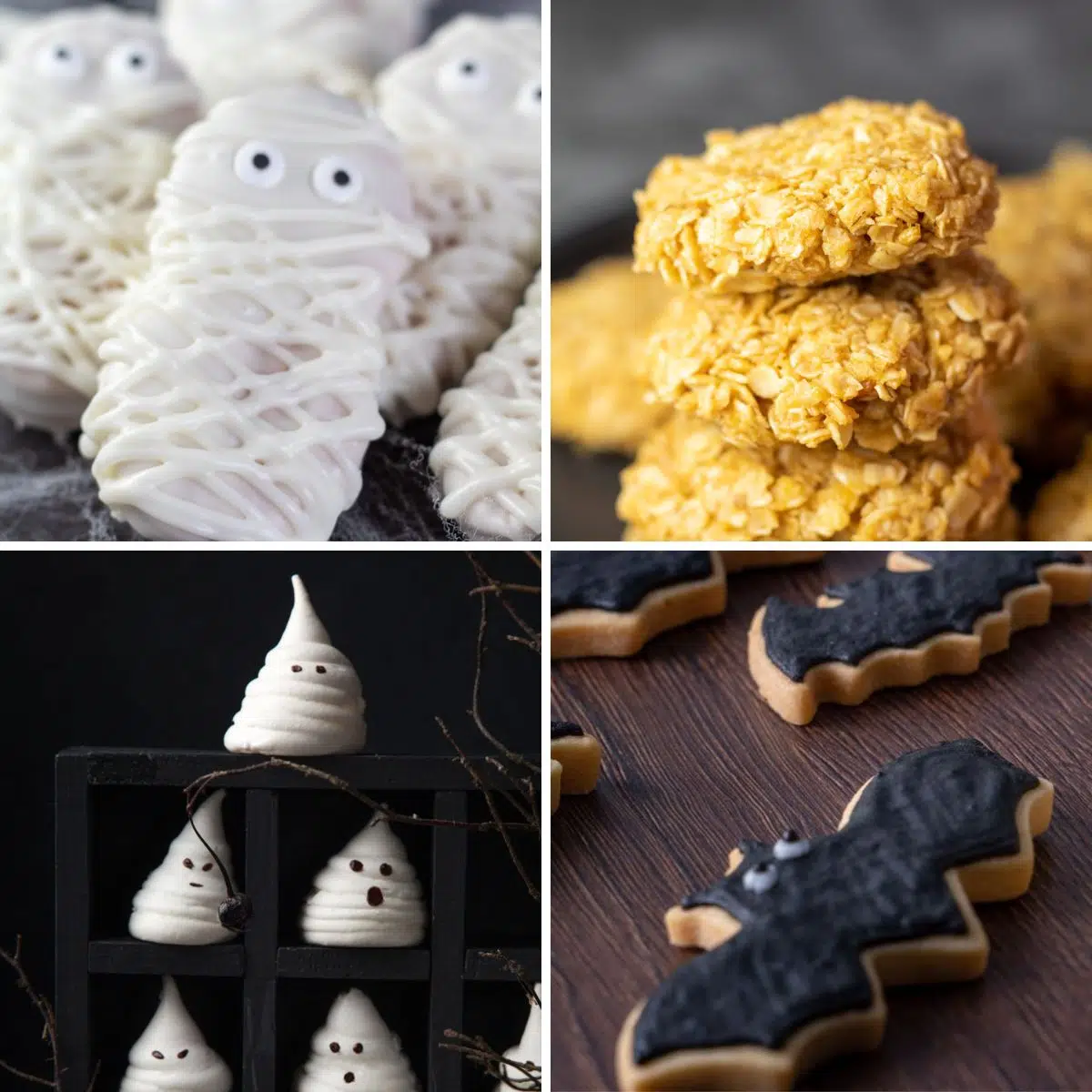 Jump to:
I have tons of tasty Halloween recipes to try! Check out my favorite Halloween cocktails, Halloween cupcakes, Halloween appetizers, and Halloween treats for more fun and spooky ideas!
Best Halloween Cookie Recipes
Some of these cookies are cute or spooky, and some look downright gross, but they all taste delicious! Give these recipes a try this year for an extra special Halloween!
1. Nutter Butter Mummies
These Nutter Butter Halloween mummies are just as cute as they are delicious! You only need four ingredients and 10 minutes to throw them together.
You don't even have to cook anything! Just microwave the almond bark and dunk away.
2. Bat Sugar Cookies
You will want to make this easy recipe for bat sugar cookies year after year. They consist of classic rolled-out sugar cookies and black royal icing.
The cute little eyeballs are optional, but they are also made with a simple 2-ingredient icing! You hardly need any decorating skills to make these adorable bats.
3. Mummy Macarons
Everyone loves sweet vanilla macarons, especially when dressed like mummies! Their sweet face is made with candy eyes, and the "bandages" are simply a drizzle of white chocolate.
One batch makes 30 mummies! They are absolutely perfect for parties!
4. No Bake Pumpkin Cookies
If baking isn't your forte, try these no-bake pumpkin cookies! They are like your favorite childhood no-bake oatmeal cookies but with plenty of pumpkin flavor.
Kids can help form the cookies. They will also love eating them!
5. Pumpkin Chocolate Chip Cookies
Classic chocolate chip cookies with a tasty pumpkin twist! These cookies are chewy and gooey, just like chocolate chip cookies should be.
Your house will smell wonderful as they bake, and they taste even better!
6. Chocolate Reese's Pieces Halloween Cookies
These soft and chewy chocolate cookies are adorned with mini Reese's Pieces peanut butter candies and candy eyeballs! They'll stare right into your eyes as you devour every last piece!
7. Dirt Cake Cookies
The cookie rendition of everyone's favorite childhood treat is just as delicious as you remember the classic cake tasting! In place of the cake, this treat starts with a rich chocolate cookie followed by a layer of chocolate buttercream, Oreo cookie dirt, and a gummy worm!
8. Halloween Peanut Butter Spider Cookies
Everyone will get a kick out of these tasty spider cookies that are a MUST-HAVE for any Halloween party! They're going to be the treat that everyone snatches up!
>>>>See all of my recipes HERE<<<<
9. Halloween Brownies
Fudgy brownies are the base of these candy-topped treats that are always a hit at parties! The kids are going to love decorating them, too!
10. Meringue Ghosts
These sweet meringue ghosts are light and airy. With facial features made from melted chocolate chips, you can make whatever facial features you like!
These meringue cookies practically melt in your mouth. You'll enjoy making them just as much as eating them!
11. Halloween Reese's Pieces Bars
Rich, delicious peanut butter Reese's pieces bars are an easy treat to make that can feed a crowd! This makes them perfect for last-minute party treats!
12. Candy Corn Sugar Cookie Pinwheels
These colorful pinwheel cookies look just like candy corn! They taste like classic sugar cookies, but they sure are festive.
You only need a batch of sugar cookie dough and some red and yellow food coloring.
13. Eyeball Cookies
These fun eyeball cookies can be customized to any color. It's an easy recipe made by coating vanilla wafers with white chocolate.
Food coloring is the trick to the colored irises and red lines. Let your creativity shine!
14. Monster Cookies
These monster cookies are fun and festive! You will need a few standard baking ingredients, lots of candy eyeballs, and three different food dye colors.
Your crinkle cookies can have as many or as few eyeballs as you like.
15. Halloween Haunted Haystack Cookies
Everyone loves classic haystack cookies, so it should be no surprise they are just as tasty when they're green! Food dye and candy eyes make these swamp monsters Halloween-ready.
Best of all, these are no-bake cookies. They are ready in no time!
16. Boo Bites
These tiny cookies are a cute and fun snack! They are shortbread cookies cut into bite-sized squares with Halloween-colored sprinkles.
Boo! Bites make fabulous gifts or treats for the kids.
17. Witch's Fingers
These spooky witch's fingers will be all the talk at your next get-together. The cookie dough is shaped like a finger, and almonds are used as the fingernail.
You can even make them bloody with red gel food dye or jam! You can really go all out and add green food coloring to the fingers if you prefer your witches that color.
18. Halloween Sugar Cookies
This classic sugar cookie recipe lets you get creative with the decorations! Make some look like pumpkins, or load them up with sparkly black sprinkles.
Sometimes, sticking with a classic is the way to go. These cookies are the perfect example!
19. Pumpkin Chocolate Chip Cookie Skillet
What's better than pumpkin chocolate chip cookies? One giant pumpkin chocolate chip cookie in a skillet!
Cut individual slices to serve, or add a few scoops of ice cream and hand everyone a spoon!
20. Frankenstein's Monster Cookies
These cookies don't look like monsters. However, they are made up of parts from many kinds of cookies (just like Frankenstein)!
They are loaded with M&M's, peanuts, pretzels, and oatmeal. You can even chop up leftover Halloween candy and mix it in. These cookies have it all!
21. Booger Cookies
They look like peanut butter blossom cookies but with a delightfully creepy twist! Customize your color for any holiday or party!
These Halloween cookie recipes will be a hit with kids and adults alike! Let me know if you try one of these recipes by leaving me a comment below!
🎃 👻 🦇 More Halloween Recipes
📖 Recipe Card