This list of Halloween cake ideas is full of fun and spooky recipes that will impress all of your family and friends! These cool and creepy desserts are the perfect addition to any Halloween spread. Serve one of these festive cakes at your next Halloween party or scary-movie marathon!
Scary Fun Halloween Cake Ideas
No spooky Halloween party is complete without a fun and festive cake. It's a holiday that revolves around candy after all, and the sweets and treats you make are the best part!
These cake recipes are all just as fun to look at as they are to eat! Whether you are a seasoned baker or just getting started, this list includes something for every skill set!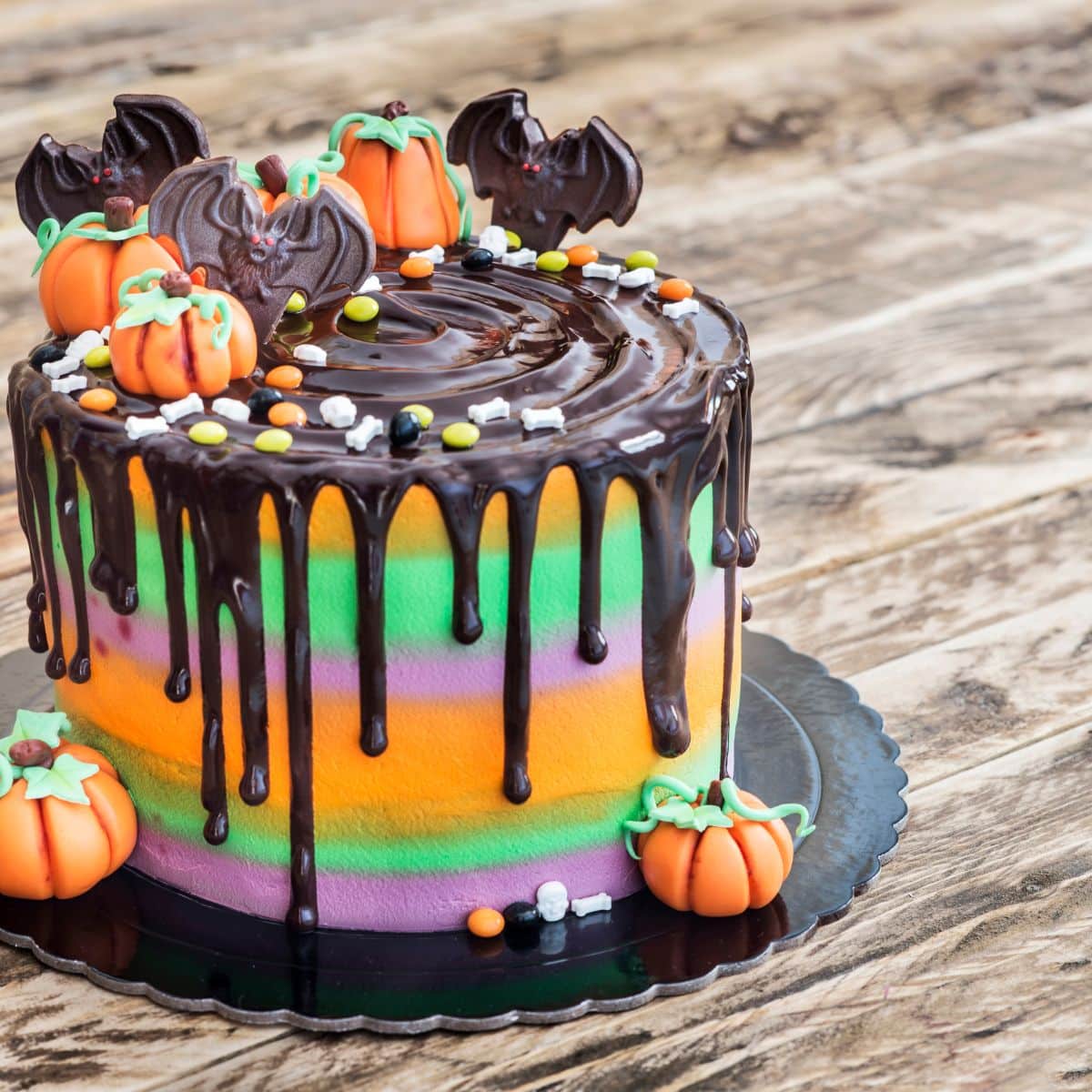 Jump to:
If you're throwing a party and need more recipe inspiration, check out my pages on Halloween treats and Halloween appetizers!
1. Pumpkin Dump Cake
It doesn't get any easier than this pumpkin dump cake. If you need an easy Halloween dessert that you can whip up in an hour, this is it!
2. Pumpkin Cake Pops
Eat your cake on the go with these cute pumpkin cake pops! These bite-sized sweets consist of pumpkin cake, cream cheese, and orange candy melts- yum!
3. Black Chocolate Cake
Black cocoa takes this chocolate cake to a whole other level! It may look spooky, but it tastes like the chocolate cake of your dreams.
4. Easy Mummy Cake
A skull-shaped pan makes this mummy cake extra easy to throw together. Add some 'creepy' eyeballs and mummy bandages for a cake your guests won't forget!
5. Salted Caramel Apple Snickers Cake
This cake is a showstopper, and though it requires some extra time and effort, it's well worth it. A chocolate snickers-flavored cake topped off with whole caramel apples is something you don't see every day!
6. Halloween Monster Eyeball Cake
This cake is always kid-approved because it's just so fun to look at! You'll need some cake decorating skills, but even an ugly monster will taste delicious!
Be the life of the party and get your neighborhood Halloween Booing and Trunk-or-Treat planned too!
7. Easy Frankenstein Cake
Use your favorite flavor of boxed cake mix to customize this adorable Frankenstein cake! You can even play around with his expressions!
8. Halloween Cake Pops
These Halloween cake pops are covered in spooky decorations and drops of corn syrup blood! Kids and adults alike will enjoy these easy-to-eat treats.
9. Halloween Dirt Cake
This chocolate pudding graveyard cake is creepy and silly, yet totally tasty! The dirt is made from crushed cookies and kids will have fun helping you build a graveyard with candy pumpkins and Nutter Butter tombstones.
10. Spiderweb Cake
This creepy crawly dark chocolate cake is coated in Oreo cookie frosting. It's elegant and spooky all at the same time!
11. Halloween Layer Cake
Ghost Peeps and Milano cookies adorn the top of this funky Halloween cake! The cake is both chocolate and vanilla, so everyone can get what they like.
12. Freaky Finger Red Velvet Cake
This red velvet cake is both terrifying and delightfully delicious! It features the classic red velvet and cream cheese flavor that everyone loves, but with one dramatic twist - fingers!
13. Leftover Halloween Candy Ganache Tart
For this easy cake, ganache made of dark cocoa and whipping cream is poured into a crumbly cookie crust. Top it off with all your leftover candy and you have one delicious dessert!
14. Witch Cauldron Mug Cake
These personal-sized cakes are made in ceramic cauldrons! They only require 90 seconds in the microwave and there's no need to share!
15. Death By Chocolate Halloween Cake
This rich and indulgent chocolate cake will have you savoring every bite. It might not actually kill you, but you will feel like you're in heaven!
16. Slime Cake
This super simple cake only requires a box of dark cake mix and black food coloring. The true showstopper is the neon green slime pudding, which is super easy to make as well!
17. Candy Corn Poke Cake
This super easy dessert is perfect for beginners! The cake itself is totally tasty and decked out in fun candy corn colors!
18. Unicorn Jack O' Lantern Cale
This cake is more cute than spooky, but it's always a hit with the kiddos nonetheless! Everyone loves a fluffy chocolate cake, especially when it's shaped like a unicorn.
19. Jack O' Lantern Cake
The smiling face of this Jack O' Lantern will make a great addition to any Halloween spread. Believe it or not, it only requires a handful of simple ingredients!
20. Chocolate Skull Cake
This cool chocolate skull cake looks like it was carved by hand, but the secret is really in using a skull cake pan! A powdered sugar glaze gives the chocolate skull its white appearance and a simple chocolate glaze tops it all off!
21. Halloween Red Velvet Meringue Bones Cake
This cake makes a spooktacular centerpiece for any Halloween get-together. A classic red velvet cake is encircled with a row of sweet meringue bones, it looks almost too good to eat!
22. Graveyard Cake
This graveyard cake is lots of fun to make and eat! Homemade chocolate cake topped with cookie tombstones, sweet ghosts, candy pumpkins, and chewy gummy worms will make the kids go wild!
23. Trick or Treat Candy Bucket Cake
This cake looks like a trick-or-treater's candy pale after Halloween night! It's not the easiest cake, but it is a great opportunity to let your creativity shine!
24. Pumpkin Sheet Cake
This pumpkin sheet cake may be simple but it sure is delicious! Cream cheese frosting and pumpkin go together like peanut butter and jelly.
25. Halloween Emoji Cupcakes
These cupcakes feature everyone's favorite emoji faces- Halloween style. Heart-eyed vampires, silly zombies, and grinning devils are all included, just to name a few!
Are any of these Halloween cake ideas calling your name? Give one of these recipes a try and come back to let us know how it turned out!
🎂 More Incredible Cakes
📋 Recipe