These Halloween appetizers are always a crowd-pleaser and they are perfect for getting your next Halloween party started! Kids love to wrap their own mummy dogs and nothing says spooky fun like puking pumpkins! There are even some classic recipes that are always a hit with kids and adults alike!
Best Halloween Party Appetizers
No Halloween party or spooky movie night is complete without some tasty Halloween appetizers! We have chips, dips, and spooky Halloween-themed snacks that will put a smile on everyone's face.
Make a spread of appetizers to get your next Halloween get-together started off right. These recipes are fun, tasty, and perfect for sharing!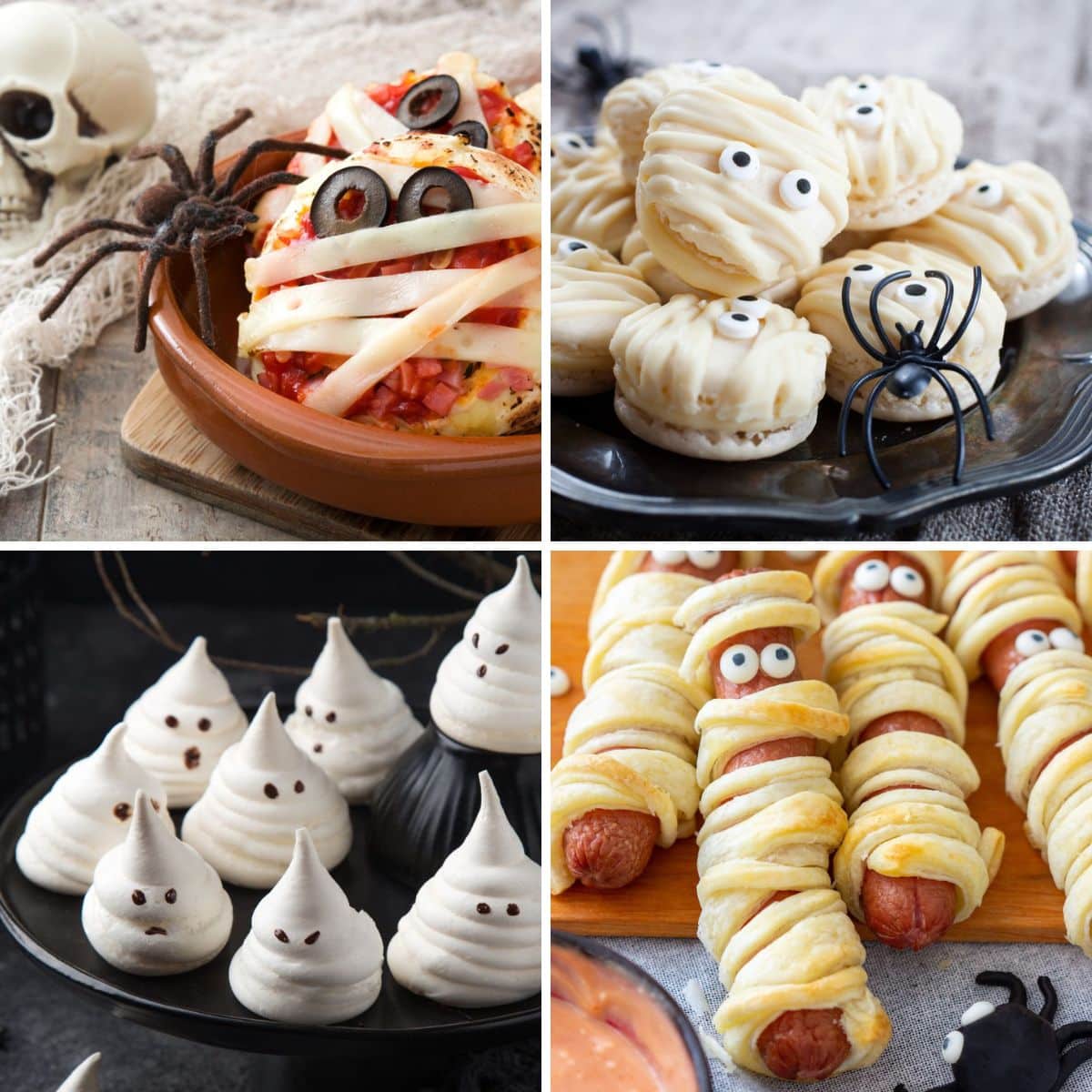 Jump to:
1. Mummy Dogs
Grab some hot dogs and some crescent rolls to make these fun Halloween mummy dogs! Thin strips of dough make up the mummy 'bandages' and you can leave a small gap for cute peek-a-boo candy eyes.
Bake them in the oven until golden and delicious. Everyone will enjoy these fun, spooky snacks!
2. Mini Mummy Pizzas
These fun English muffin pizzas are all the rage at every Halloween party. Strips of cheese are draped across mini pizzas to look like wrapped mummies.
Top them off with olive eyeballs and everyone will love these tasty Halloween snacks!
3. Lil Smokies Pigs In A Blanket
Lil Smokies pigs in a blanket are the perfect party finger food. You only need 2 ingredients and your favorite condiments!
The crescent roll dough bakes up fluffy and golden. Stick a toothpick in each piggy for an easy-to-grab appetizer!
4. Guacamole
No party is complete without some chips and guac! This homemade guacamole is fresh, flavorful, and perfect for sharing!
Fresh avocados, lime, cilantro, tomatoes, and red onion are all you need. Your friends and family will all ask you for this easy and delicious recipe!
5. The Best 7 Layer Dip
7 layer dip is a great appetizer for any occasion! Layers of refried beans, sour cream, guacamole, salsa, cheese, tomatoes, and black olives are perfect for scooping up with tortilla chips.
Keep it cold until you're ready to dig in! It only takes about 10 minutes, so it's a great last-minute addition to any Halloween spread.
6. Spinach Artichoke Dip
This cheesy spinach and artichoke dip is another crowd-pleasing classic. Serve it at your next spooky movie night or Halloween party!
This warm dip is delicious with chips or crusty pieces of bread. It's also a great way to squeeze in some vegetables for picky kids!
7. Pizza Roll Ups
Pizza roll-ups are easy to grab and eat on the go. Snag one off the plate and munch while you enjoy your next Halloween get-together.
Full of salami, pepperoni, marinara, and gooey mozzarella cheese, these stuffed crescent rolls taste just like your favorite slice of pizza!
8. Nachos Supreme
A tasty tray of nachos always draws a crowd! These nachos are loaded with taco seasoned ground beef, cheese sauce, beans, and all your favorite toppings!
Double up the recipe if you have a large crowd. But don't expect them to last long!
9. Deviled Eggs
Deviled eggs are always a highly requested appetizer at any of my parties! This classic recipe is always a hit with kids and adults alike.
All you need is some hard-boiled eggs, mustard, mayo, vinegar, salt, and pepper! A sprinkling of crispy bacon is always nice, too.
10. Sausage Cream Cheese Dip
Sausage cream cheese dip is a quick and easy appetizer that is perfect for sharing with friends and family! It is savory and creamy, the perfect complement to some crispy chips.
11. Spam Puffs
Cheesy spam puffs are a great last-minute appetizer for your Halloween spread. Simply combine baking mix, spam, and cheese then bake!
These tasty spam puffs are easy to snack on. Be sure to make plenty because people will want seconds!
12. Halloween Baked Cheese
Halloween baked cheese is the perfect snack or appetizer for kids right before they head out trick-or-treating! They consist of stuffed puff pastries that are filled with pepperoni and, of course, cheese!
Add some candy eyes to mummify your baked cheese and watch the kids go wild!
13. Spider Web Dip
Top off some tasty black bean dip with a sour cream spider web! This Pinterest-worthy recipe is incredibly easy to make and it's perfect for parties!
This dip is delicious with crisp veggie sticks or chips!
14. Puking Pumpkins
Puking pumpkins may sound yucky, but they are actually lots of fun! The pumpkin 'puke' is made with a creamy avocado dip that is full of bacon bits, cheese, lime juice, and jalapenos.
Serve up some crisp chips and veggies for dipping and you have a festive appetizer that doubles as decoration!
15. Mozzarella Eyeballs
Nothing says happy Halloween like some spooky mozzarella eyeballs! Best of all, there is no cooking required!
Marinate balls of mozzarella, then use green and green olives to build the eyes! It's a refreshing appetizer that comes together in no time at all.
😋 More Tasty Appetizers
📋 Recipe