Let's discuss the difference between gumbo vs jambalaya so the next time you're craving Southern comfort food you know which dish to choose! Creole and Cajun cuisines are similar in many ways but there are also important qualities that they don't share that could make a difference in your choice of food.
What Is Gumbo vs Jambalaya
Creole and Cajun cuisines are some of my all-time favorites. Crawfish etouffee and beignets are welcome on my table any night of the week.
Louisiana has a distinctive culture and culinary tradition, two of the most well-known dishes to come out of the area are gumbo and jambalaya. Many locals to the state have home-cooked original recipes they swear by.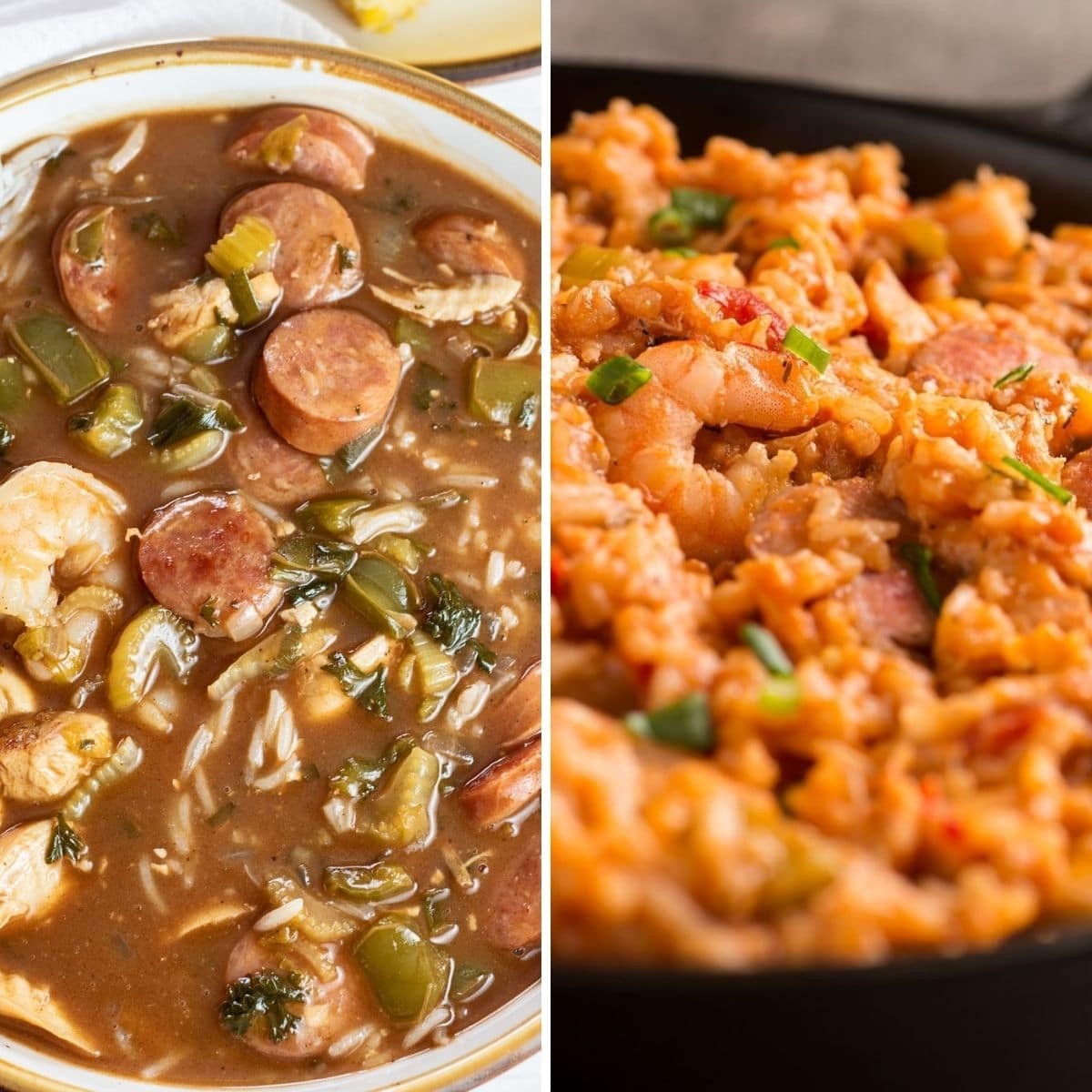 Jump to:
Both are delicious in their many different versions, and both are unique. But what's the difference? Where do they come from? And which is the one you're thinking of right now?
What Is Gumbo?
Gumbo is a type of stew that can be either meat or seafood-based. The former typically contains chicken, sausage, and salt-cured meat. The latter is filled with crab, shrimp, and oysters.
Chicken or seafood broth is added for liquid, and a roux–usually flour and butter cooked together until it becomes dark brown–thickens it before the meats and vegetables–tomatoes, okra, etc.–are simmered over low heat for a long period of time.
This is a dish with influences from many different cultures. French, Spanish, German, Native American, African, and Creole people can all claim to have a hand in it. Even the Louisiana Cajuns made their mark.
The name "gumbo" itself comes from the Bantu–West African slave–word for okra, kimgambo, another thickener often used in this stew. 
The Choctaw tribe of natives gave local French settlers "file" or powdered sassafras, which is another traditional ingredient that does the same thing. Their word for the stuff was kombo, so it's anyone's guess as to where the modern name got its start.
Without all of these ethnic groups coming together in this particular part of the world, gumbo would have never been created. Or at the very least, it would have been drastically different.
What can easily be traced back to the 18th century is now the official Louisiana state dish. In fact, festivals are held every fall to honor the ability of gumbo recipes to make the taste buds dance.
What Is Jambalaya?
Jambalaya, on the other hand, is a one-pot rice dish. Garlic, green onion, cayenne, and red pepper flakes spice things up a bit, and either tomato sauce (Creole) or beef broth (Cajun) is added.
These two versions are known as "red" or "brown" jambalaya, respectively. Meats can be as varied as those in gumbo but always include multiple kinds: chicken, pork butt, sausage, crab, shrimp, duck, etc. Andouille sausage or smoky tasso ham are especially popular.
Spanish colonists and West African slaves are thought to be the originators of this delightful staple due to the Spanish trying to recreate paella with local ingredients.
Make no mistake, festivals are also thrown in this entree's honor, too. Note that with jambalaya, there's always a bottle of hot sauce within reach to fire things up.
Creole or Cajun?
There is an important distinction between the two groups of people we mainly credit for these dishes. Creole folks are often credited with gumbo, and Cajuns for jambalaya, though both have versions of each.
Creoles were New Orleans city-dwellers descended from French, Spanish, Native Americans, and Africans. They had access to refrigeration which greatly influenced their cooking. They could, for example, use butter.
Cajuns were country-dwellers who descended from French Canadians. Many didn't see refrigeration until much later and tended not to use as many perishable ingredients. Instead of butter, for example, they most often used oil or lard.
Creole gumbos incorporate tomatoes while Cajun versions do not. The same can be said of jambalaya. Some people insist Creoles use mainly shellfish while Cajuns favor chicken and sausage.
These days, the only commonly agreed-upon fact is that any way you make these dishes, they're delicious.
The Differences Between Gumbo vs Jambalaya
Both dishes have multiple kinds of protein in them and start with the "holy trinity" of vegetables: green peppers, celery, and onions. One of the most obvious differences is in regard to the use of rice.
Gumbo is traditionally called on to be served over rice. If you're trying to limit your dirty dishes, stick with jambalaya, as it typically incorporates it into the stew itself in a single pot.
This is what makes consistency a differentiating factor. Gumbo has more of a stew vibe with lots of thickened broth. It is more liquid than rice.
Jambalaya is more comparable to Spanish paella or West African Jollof, which makes sense given its origin. It shouldn't be watery because the broth cooks down.
If it's any more watery than risotto, you've done something wrong, even if you've made the tomato version that incorporates a bit more liquid than its brown counterpart.
Another way to think of these dishes is the way they are served. Jambalaya is easy to scale up for large gatherings and is usually the entree at a meal. Gumbo isn't quite as conducive to big groups and can often be seen being used as a starter.
And finally, the roux used in gumbo sets it apart. Jambalaya rarely calls for a thickener, and if people decide to use one, it is most likely to be cornstarch. Roux is specific to French cuisine and uses a fat-to-flour ratio of one-to-one.
As mentioned, it is stirred well and cooked until it turns into anywhere from a light to dark brown paste. The darker it gets, the more flavor it adds but the less it thickens the stew.
The perfect roux is a point of pride for any cook, as it requires a lot of practice and technical skill.
Gumbo vs Jambalaya: How Do They Compare?
At the end of the day, both gumbo and jambalaya have long histories of different cultures coming together to use local ingredients in what is always an amazing meal. And, both recipes are equally as delicious!
📋 Recipe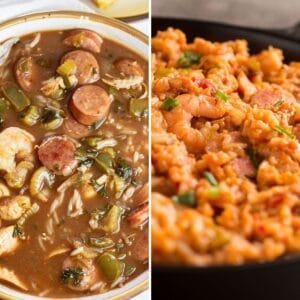 Print Recipe
Leave A Comment
Love This Recipe?
Click On A Star To Rate It!
Gumbo vs Jambalaya: Instant Pot Jambalaya
Let's discuss the difference between gumbo vs jambalaya so the next time you're craving Southern comfort food you know which dish to choose! Creole and Cajun cuisines are similar in many ways but there are also important qualities that they don't share that could make a difference in your choice of food.
Pin Recipe
Share on Facebook
Ingredients
2

tablespoon

olive oil

(extra virgin)

6

oz

boneless skinless chicken thighs

(chopped)

8

oz

andouille sausage

(sliced into ¼ inch thick rounds)

1

tablespoon

garlic

(minced)

1

large

white onion

(or yellow, chopped)

3

medium

celery ribs

(diced)

1

large

green pepper

(seeded, core removed, and diced)

3

tablespoon

Cajun Seasoning

(divided into 2 tablespoon and 1 tablespoon use store-bought or use mine)

14.5

oz

can diced tomatoes

(do not drain, fire-roasted tomatoes are a great choice)

1

cup

long-grain white rice

(or basmati or jasmine, do not use instant rice)

1 ½

cups

chicken broth

1

bay leaf

salt & pepper

(to taste)

½

lb

frozen cooked shrimp

(allow to thaw, ½ lb yields 20-25 shrimp count)
Instructions
Select the SAUTE function on your instant pot. Add the olive oil and allow it to heat up for a couple of minutes.

When the olive oil is hot and shimmering, add the diced chicken and cook until golden and slightly browned.

Add in the onion, celery, and bell pepper then saute for about 2 minutes. Then add the garlic and continue to saute for an additional minute.

Next, pour the diced can of tomatoes including the juices, then add the rice, chicken broth, the first 2 tablespoon portion of the Cajun seasoning, bay leaf, salt & pepper. Stir to combine.

Press the CANCEL button. Place lid on and LOCK, make sure your instant pot is set to SEALED on the release. Press the MANUAL setting, cook on high for 10 minutes.

Meanwhile, add the thawed shrimp to a medium-sized mixing bowl and toss with the second 1 tablespoon portion of Cajun seasoning. Set aside.

When the cooking cycle is complete, carefully do a manual pressure release, remove the lid and add in the thawed from frozen cooked shrimp, stir in and cover with the lid. Allow the shrimp to warm in the instant pot for 2-3 minutes (or until warmed to your satisfaction).

When your shrimp are warmed remove the lid, serve, and enjoy.
Equipment You May Need
Notes
*** Cooking time and settings may vary according to the instant pot or pressure cooker brand or model.
Nutrition
Calories:
377
kcal
(19%)
|
Carbohydrates:
34
g
(11%)
|
Protein:
22
g
(44%)
|
Fat:
17
g
(26%)
|
Saturated Fat:
4
g
(25%)
|
Polyunsaturated Fat:
3
g
|
Monounsaturated Fat:
8
g
|
Trans Fat:
1
g
|
Cholesterol:
108
mg
(36%)
|
Sodium:
870
mg
(38%)
|
Potassium:
564
mg
(16%)
|
Fiber:
3
g
(13%)
|
Sugar:
4
g
(4%)
|
Vitamin A:
1433
IU
(29%)
|
Vitamin C:
31
mg
(38%)
|
Calcium:
76
mg
(8%)
|
Iron:
2
mg
(11%)
Cajun Food, Gumbo vs Jambalaya, Instant Pot Jambalaya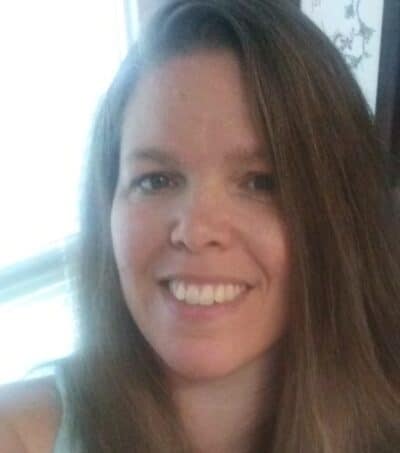 Angela is an at home chef that developed a passion for all things cooking and baking at a young age in her Grandma's kitchen. After many years in the food service industry, she now enjoys sharing all of her family favorite recipes and creating tasty dinner and amazing dessert recipes here at Bake It With Love!