These German Christmas cookies will make a delightfully tasty addition to your holiday cookie baking list this year! They come in a wide variety of flavors and textures that will have you in the holiday spirit in no time. Don't worry, you don't have to know how to pronounce the names of these cookies for them to turn out delicious!
Best German Christmas Cookie Recipes
If you like to dabble in holiday baking each year, why not branch out and try some international Christmas cookie recipes? These German Christmas cookies are best homemade, nothing you purchase in a cookie tin can compare!
From soft and crumbly shortbread cookies to chewy oatmeal cookies, there's something here for everyone. In Germany, they love to play with spices and textures which makes for some downright delicious cookies!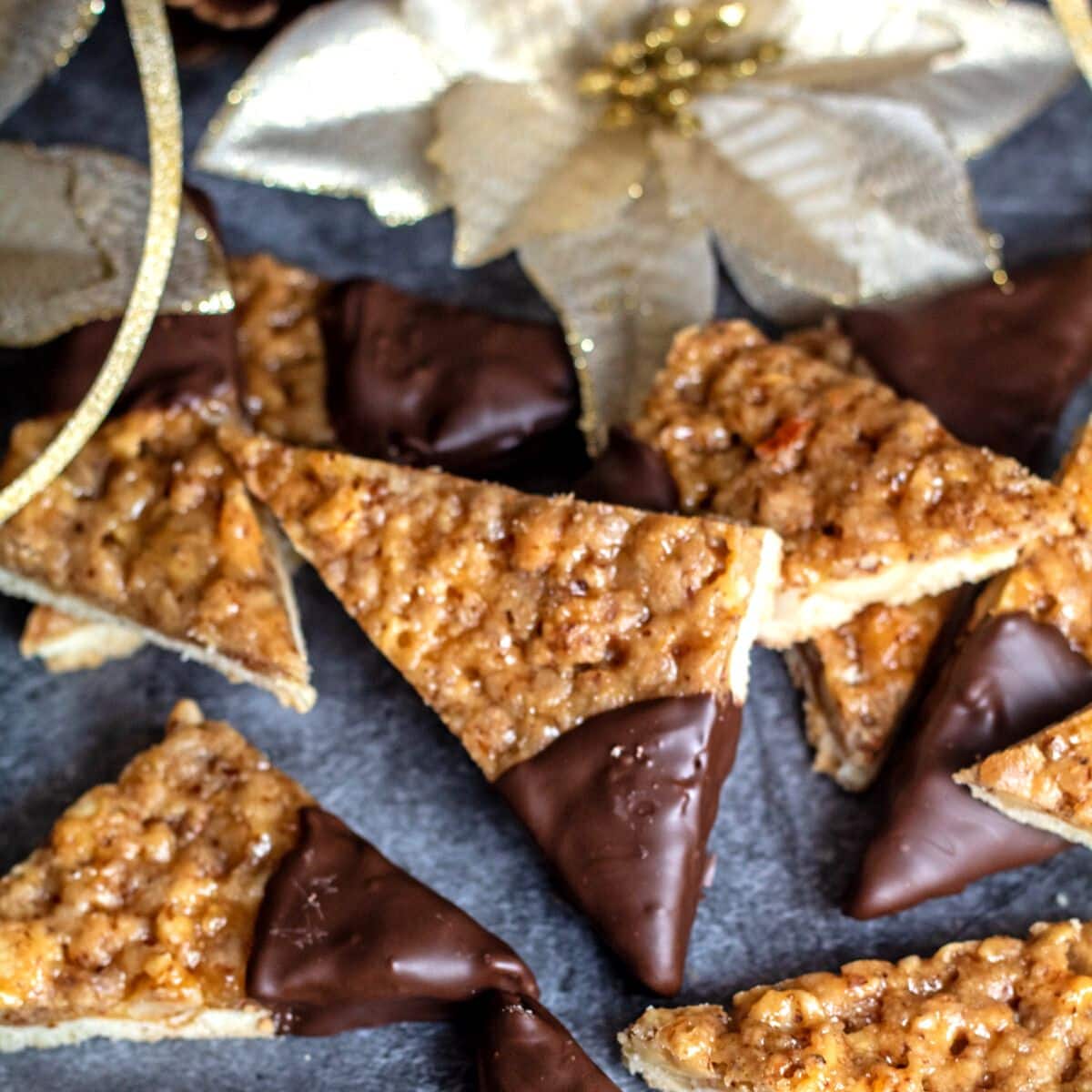 Jump to:
The Most Popular German Christmas Cookies
The recipes below are all beloved Christmas cookies from Germany that have been around for years and years! You may find a few variations of each recipe elsewhere, that's because they were often built upon over time as their popularity spread outside the borders of Germany and across Europe.
If you love holiday baking, take a look at my easy Christmas dessert recipes or try following my 25 days of Christmas cookies challenge!
1. Nussecken (German Nut Corners)
Pronounced: Nusseck-en
Nussecken are buttery shortbread cookies coated with sticky apricot jam, sweet hazelnuts, and a rich chocolate glaze. Oh did I mention there's rum in them? Because there is!
2. Lebkuchen (German Gingerbread Cookie)
Pronounced: Leb-kuh-chn
Lebkuchen are very similar to gingerbread. These sweet-but-spicy cookies (or sometimes bars) are especially popular around Christmastime. Their distinguishing characteristic is that they require no flour and are made with a combination of hazelnuts and almonds.
3. Pfeffernüsse (German Spice Cookies)
Pronounced: Fef-fer-nüs-se
The word 'pfeffernüse' translates to pepper nut because they are made with anise, seasonal spices, and black pepper. Pfeffernüse differs from lebkuchen in that it is rolled into a ball and coated with powdered sugar before baking.
4. Vanillekipferl (Vanilla Crescent Cookies)
Prounounced: Va-nil-le-kip-ferl
These vanilla crescent cookies will practically melt in your mouth. They are made with ground nuts (almonds, walnuts, or hazelnuts), butter, sugar, flour, and vanilla bean. Their signature flavor comes from a heavy dusting of powdered sugar.
5. Springerle (Anise Cookies)
Pronounced: Sprin-ger-le
Springerle are crispy on the outside with a delightfully chewy center. The name 'springerle' translates to 'little jumpers' because of the way in which these cookies rise or 'jump' while baking.
6. Stollenkonfekt (Stollen Biscuits)
Pronounced: Staa-luhn-kun-fekt
If you've never tried stollen, you're missing out. It is made by soaking mixed dried fruit and mixed peel in brandy, like a boozy fruit cake. Stollen is just that- a cake, but stollenkonfekt is its bite-sized cookie counterpart!
7. Heidesand (Traditional German Brown Butter Shortbread Cookies)
Pronounced: Hi-deh-sund
These decadent shortbread cookies have their own unique flavor from using browned butter in the batter. It gives the cookies a distinguished taste that is hard to resist. They may look plain, but I promise you won't miss the frosting on these totally delicious cookies!
8. Spritzgebäck (German Spritz Cookies)
Pronounced: Shplitz-ghe-beck
Spritzgebäck cookies make a lovely addition to any holiday dessert spread or Christmas cookie tray. They are crisp, buttery, and just slightly sweet, so they balance out the more sugary confections.
9. Alte Deutsche Honig Plätzchen (Old German Honey Cookies)
Pronounced: Al·te Doy·chuh ho-nig plätz-chen
These classic German honey cookies are sweetened with both sugar and honey, though they are not overly sweet. The secret ingredient is ginger, which adds a lovely depth of flavor you don't often expect in a cookie.
10. Kardamon Pläetzchen (German Christmas Cardamom Cookies)
Pronounced: Kar-da-mom plätz-chen
Cardamom cookies are a Christmas tradition in Germany. They are fragrant and floral while also a bit salty. To finish things off, the cookies are half-dipped in chocolate, which pairs well with their unique flavor.
11. Zimtsterne (Gingerbread Star Cookies)
Pronounced: Zimt-ster-ne
These gingerbread star cookies can be found in almost every household around Christmastime. They are light and gluten-free with a touch of nutty spiciness. Not to mention, these cookies are beautiful to look at.
12. Bethmännchen (German Marzipan Cookies)
Pronounced: Beth-männ-chen
Bethmännchen has been a beloved Christmas cookie in Germany for at least 200 years. They include high-quality marzipan, rose water, and almonds. The outside of these cookies is are firm and crisp, while the insides are chewy and soft!
13. Spekulatius (Dutch Windmill Cookies)
Pronounced: Spe-ku-la-ti-us
You can find spekulatius in the states under the name 'Dutch windmill cookies'. These cookies are made with cinnamon, cardamom, and cloves which gives them a lovely spiced flavor (clearly, Germans love spiced cookies)!
Traditionally, wooden baking molds are used to achieve their distinct shapes. Though you may also use silicone baking molds, a molding roll, or cookie cutters in a pinch.
14. Kifles (German Nut Horns)
Pronounced: Kif-fle
These twisted walnut crescent cookies almost look like the horns of an animal, hence the name. They are incredibly popular in eastern Europe and throughout the world, so many countries have their own versions. In Germany, they may be filled with sweet apricots, cranberries, prunes, and/or nuts.
15. Kokosmakronen (German Coconut Macarons)
Pronounced: Ko-kos-m-a-kro-nen
German coconut macarons, or kokosmakronen, are soft on the inside and just slightly crunchy on the outside. Traditionally, Germans enjoy them without chocolate, though you will often see them dipped in chocolate in other countries (which is still delicious)!
16. Butterplätzchen (German Butter Cookies)
Pronounced: Bu-ter-plätz-chen
Butterplätzchen are easy-to-make butter cookies that work well with cookie cutters. Kids will love to help decorate them by adding sprinkles after you brush them with egg yolk! In Germany, you will sometimes see them with lemon icing on top which is another tasty option.
17. Haferflocken Plätzchen (German Oatmeal Cookies)
Pronounced: Ha-fer-flo-cken plätz-chen
On the outside, these German oatmeal cookies are warm golden brown. On the inside, they are chewy and irresistible!
You can make these cookies with just a handful of standard baking ingredients. Sometimes simple is a good thing!
Have you tried any of these German Christmas cookies before? Did I miss any of your favorites? Let me know in the comments below!
🎄 More Christmas Cookies
📋 Recipe