These back-to-school lunch ideas will have your kids looking forward to opening their lunchboxes every day! Each of these easy recipes can be enjoyed cold, or at room temperature, so there is no reheating required! They can even be prepared in advance for busy mornings on the go!
Best Back To School Lunch Recipes
Summer is coming to an end and, for those of us with kids, that means planning school lunches. The best recipes for filling lunchboxes are quick, easy, and most importantly, something kids will look forward to eating!
Each of these back to school lunch ideas can be prepared the night before so you don't risk running late. They can also be enjoyed either chilled or at room temperature, so kids can dig in right away without reheating anything!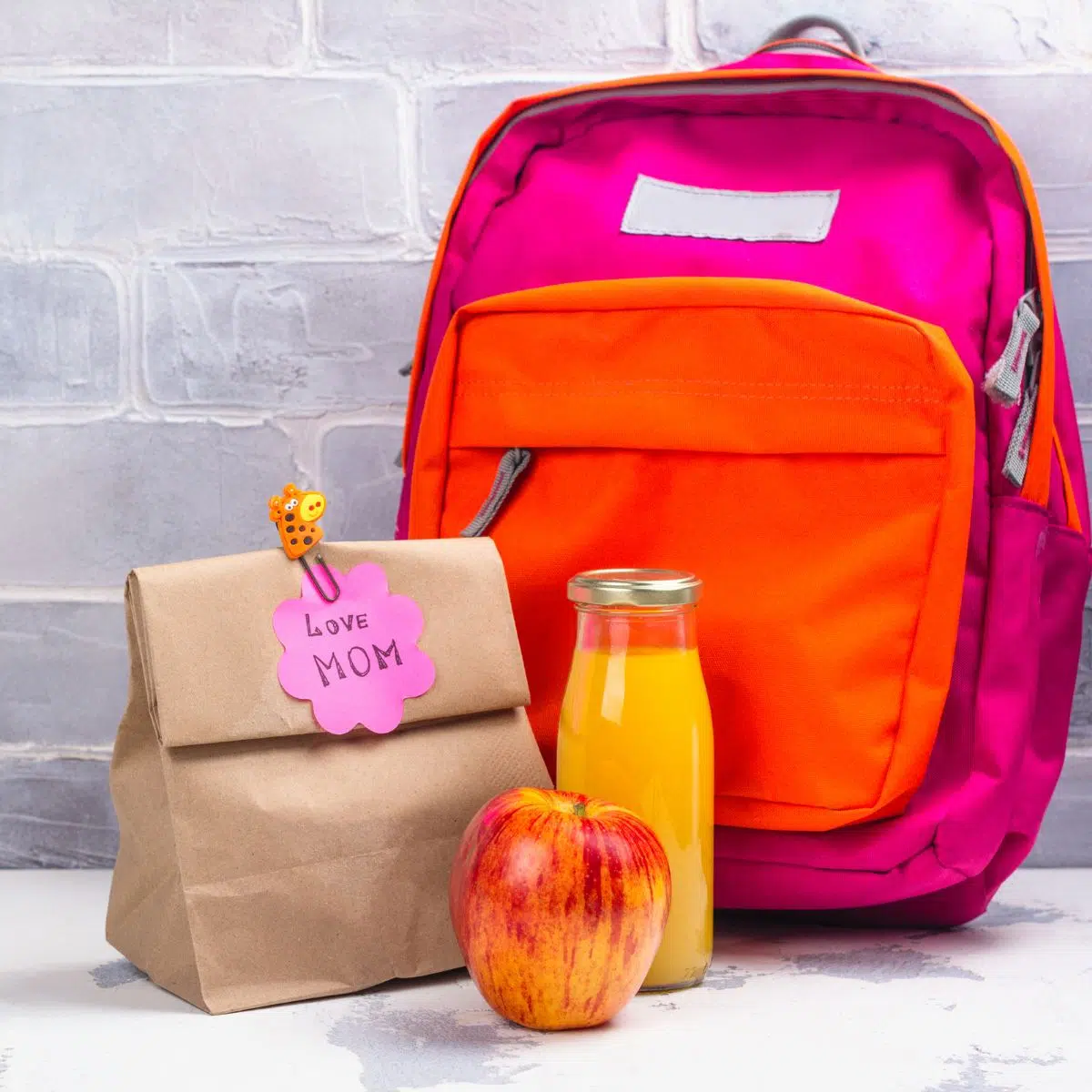 Jump to:
1. Loaded Baked Potato Salad
This cool and creamy potato salad will keep your kiddos full until dinner time. They will love enjoying all of their favorite potato toppings in an easy-to-eat salad.
For a heartier meal, mix in some bacon or shredded chicken! Toss an icepack in their lunchbox and it will keep fresh until they get to the cafeteria.
2. Rotisserie Chicken Salad
Using rotisserie chicken for this chicken salad cuts back the effort and prep time significantly! You can easily make this recipe 1 or 2 days in advance.
For hungry kiddos, pack some bread or crescent rolls so they can build their own chicken salad sandwich!
3. Hawaiian Macaroni Salad
Hawaiian macaroni salad is a fun and fruity version of your classic pasta salad. Kids love the pineapple flavor!
This is one of those recipes that tastes even better the next day after the flavors have had time to meld. So go ahead and make it over the weekend for lunch on Monday!
4. Tuna Salad with Pasta
This tuna pasta salad is fairly healthy and has all your essential food groups mixed right in! Kids won't mind eating celery, peas, and red onions when it is mixed into this creamy and satisfying pasta dish.
5. Fresh Fruit Salad
This simple fresh fruit salad features a homemade honey citrus sauce that will have kids licking their fingers! I leave out the bananas when packing this to-go, but there's such a variety of fruit in this salad that they won't be missed.
To add a little protein, send some almonds or mixed nuts to snack on with their fruit at lunch!
6. Deviled Eggs
Deviled eggs aren't just an appetizer, they make a fabulous lunch, too! It's a classic finger food that will keep your kids full until the school bell rings.
A side of chips or veggies is all it takes to turn them into a full meal!
7. Egg Salad
There are a lot of chilled salads on this list, but that's because they make the perfect school lunch! This egg salad is so easy to make and you can even add custom mix-ins to dress it up!
Serve it with crackers, toast, or crescent rolls for a quick and tasty lunch!
8. Greek Pasta Salad
This Greek pasta salad has no shortage of flavor! The combination of bowtie pasta, kalamata olives, red onion, tomatoes, artichokes, and Greek dressing is not only nutritious but delicious!
This salad is tasty at room temperature, so no ice pack is no problem!
9. Pinwheel Sandwiches
Pinwheels are sandwiches with the ease of finger food! They keep great in the fridge or a lunchbox, and there are so many fun and tasty varieties to try.
They are a breeze to make, so the kids can even help roll up their own lunches for a bit of family fun!
10. Sweet Potato Sushi
Sweet potato sushi is such a fun and unique back to school lunch idea! This vegetarian sushi takes a little time to prepare but it is well worth the look on your child's face when they open their lunchbox!
It's sweet, salty, and totally delicious! For a classic sushi experience, throw in a pair of chopsticks for older students!
11. Wedge Salad
A wedge salad is a super easy back to school lunch idea for kids that like their veggies. Serve the dressing on the side to keep it from getting soggy!
You can easily add your child's favorite salad toppings to customize it to their liking!
12. Apple Oatmeal Muffins
A batch of apple oatmeal muffins can make a quick and tasty lunch for the whole family! They are easy to transport and even easier to eat (and they are healthy, too)!
Reusable muffin liners make clean up and packing lunchboxes extra easy. A side of fruit or veggies will round out this lunch nicely!
13. Club Wrap
Club wraps are super simple to throw together and they are always a hit! Deli turkey, deli ham, and bacon with a slew of crisp veggies all rolled up in an easy-to-eat tortilla? Yes, please!
14. Homemade Lunchables
Instead of splurging on Lunchables, make your own at home bento box style! A handful of crackers, some squares of cheese and meat, and a side of carrot sticks or grapes is all it takes!
Kids will love building their own cracker sandwiches. Don't forget to add a cookie for good measure!
15. Hummus with Pita Bread
A hummus lunchbox with pita bread is one of the tastiest and healthiest back to school lunch ideas! Some fresh veggies like tomatoes, celery, and olives are fun to dip.
Add a side of pita bread triangles to keep your kiddo full all day!
16. Turkey and Cheddar Pickle Sub Sandwiches
Pickle sub sandwiches are the best back to school lunch idea for pickle lovers! Think of your favorite sub sandwich, but instead of bread you use slices of Dill pickle!
Load them up with tomato, lettuce, and mayo, mustard, or ranch and voila! A tangy pickle sandwich!
17. Deli Meat and Cheese Kabobs
If time is of the essence, whip up some simple meat and cheese kabobs! Grab some skewers, deli meat, cheese, and fruit, and spear them all in an alternating order.
Your kids will be bragging about the fun back to school lunch ideas their parents come up with! Let us know what they think of their lunches by leaving us a comment below!
😋 More Kid Friendly Recipes
📖 Recipe Card