If you find yourself in need of an applesauce substitute when cooking or baking, look no further than this list of easy alternatives! Not only have we included over 12 easy applesauce alternatives, but also a recipe to make your own applesauce at home!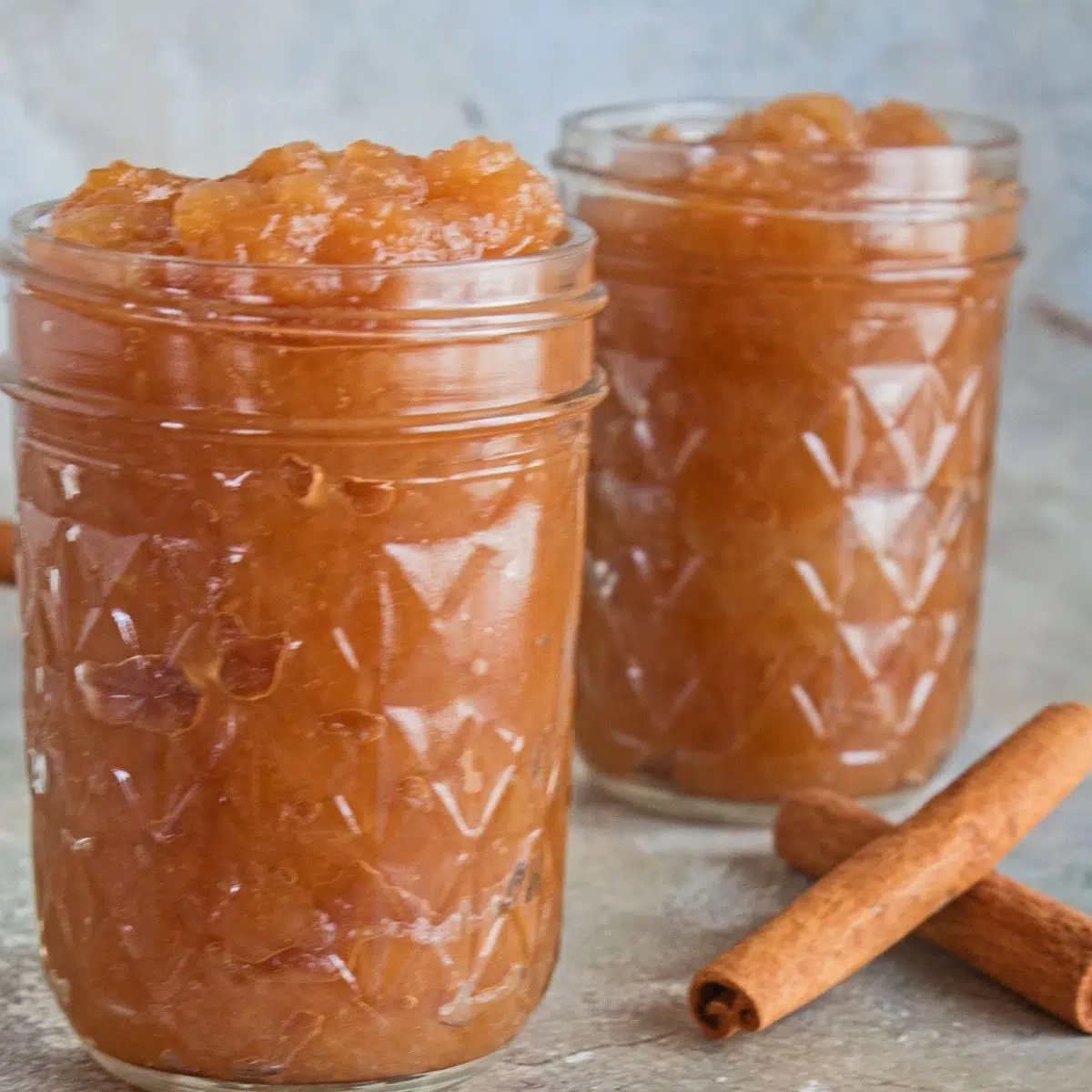 The best applesauce substitutions and how to make your own at home!
You may be surprised to find that a recipe you are trying out for the first time calls for a favorite childhood snack – applesauce.
While many of us grew up eating applesauce as a simple snack, it is also an important ingredient in many recipes. It is a great way to bind ingredients in baked goods and add natural sweetness to certain dishes.
Jump to:
What is Applesauce?
Applesauce is just cooked apples that are mashed up. It can be as simple as just apples (with a bit of water that it is cooked in). Depending on how many additional flavors are added through spices and sweeteners, it can also be more complex.
A traditional spice that is added to applesauce is cinnamon. Other popular spice additions include ginger, nutmeg, and even vanilla extract.
Even though applesauce is naturally sweet, many people prefer to make it a bit sweeter. White sugar, brown sugar, honey, and even low-calorie sweeteners like stevia can all be used to enhance the sweetness of the apples.
Every brand of applesauce is a bit different. Therefore, when buying applesauce, make sure to read the label to see what additives it may contain. Especially if you want an all-natural applesauce without added sugar or spices.
How to Make Homemade Applesauce
If you normally buy applesauce from the grocery store, you may not realize how simple applesauce is to make at home. In fact, it is probably one of the easiest things to make at home.
Therefore, before you run out to buy more applesauce or look for a substitute, look around your kitchen. Do you have any apples?
If you have a handful of apples, the best substitute is to simply make your own applesauce.
Many applesauce recipes use the stovetop, but my super simple recipe makes the process even easier by cooking the apples in a crockpot. You can just toss them in, add the other 4 ingredients, and let it cook while you work or run errands.
This crockpot recipe is my favorite recipe for applesauce because of its rich flavor that comes from the apples cooking in brown sugar. However, if you want a low-sugar option, you can follow all the directions and use less sugar or leave it out.
That's the great thing about applesauce, you can make simple adjustments to get the exact taste you want.
If you don't have a crockpot, you can also make this the more traditional way using the stovetop.
If making your own applesauce doesn't sound like the substitute you were looking for, not to worry. There are over a dozen other great choices to use in baking and cooking!
The Best Applesauce Substitutes for Baking
Applesauce is used in baking as a binding agent, a sweetener, or both. It is also often used as a substitute for other ingredients like eggs and oil or butter.
When looking for the best substitute for applesauce in your recipe, consider if you are looking for a substitute to help bind your ingredients, add sweetness, or a bit of both. Knowing the purpose of the applesauce you are replacing will help you choose the best option.
All the substitutes listed below are excellent choices for binding ingredients. You will find that some, like the mashed fruits and vegetables, will also add sweetness.
Other alternatives though, like yogurt and buttermilk, will not provide the sweetness of applesauce. Therefore, feel free to taste test your batter along the way and add (or omit) added sweeteners as desired.
1. Mashed Banana
Replacing one mashed fruit for another is the easiest swap for simple baked goods like pancakes, muffins, and quick breads (like banana or zucchini bread).
Mashed bananas provide a similar consistency to applesauce, as well as the natural sweetness. Depending on what applesauce you usually use, the bananas may be similar in sweetness or a little bit sweeter.
Mashed bananas can be used in a simple 1:1 exchange for applesauce. Overly ripe bananas work best for this, but any banana will do.
2. Mashed Sweet Potato
In addition to mashed fruits, mashed vegetables can also work in place of applesauce. Sweet potato is an especially great option because it is naturally sweeter than other vegetables. The starchiness of the potato is also great for binding ingredients and adding a nice rich texture.
Simply cook a sweet potato, peel it, and mash it up with a fork. If you have time to cook the sweet potato in the oven, you will get a richer and sweeter overall taste.
You can also cook it up quickly in the microwave though.
Use mashed sweet potato in a 1:1 exchange for applesauce in your cookies, breads, and cakes.
3. Pureed Pumpkin
Pureed pumpkin has a consistency that is like applesauce, which makes it a good substitute. It also has some of the starchiness of a sweet potato that is great for binding ingredients.
Pumpkin has a more distinct flavor than applesauce though and is also less sweet. Therefore, be mindful that using this as a replacement will shift the flavor. If you love pumpkin though, this can be a great choice!
Use pureed pumpkin in a 1:1 exchange for applesauce in baked goods that you want to add a hint of fall flavor too.
4. Mashed Avocado
Mashed avocado is a great substitute because when mixed with other ingredients it absorbs the stronger flavors. Therefore, it will not change the overall flavor of your recipe.
The main difference between applesauce and avocado is the fat content. If you don't mind adding fat to your recipe, the healthy fats in avocados will add a rich element of moisture to your baked goods.
This is also a great choice for those that are looking for a low-sugar option.
Simply mash up an avocado (or two) in a bowl and measure in an equal 1:1 exchange for applesauce.
5. Plain Yogurt
Yogurt is a great choice for binding ingredients and adding moisture to baked goods. It is missing the sweetness of applesauce; however, its neutral flavor makes it very versatile.
While this is a versatile option, there are some small adjustments you will want to make in your recipe to balance out the slight differences between yogurt and applesauce.
Yogurt provides more moisture than applesauce and less sweetness. Therefore, begin by using about ¾ of the volume the recipe calls for in applesauce (¾ cup for 1 cup). If it doesn't seem moist enough, add the rest to make an even 1:1 exchange.
6. Greek Yogurt
Plain Greek yogurt can be used in the same way plain yogurt is used. Greek yogurt is thicker than regular yogurt though. Depending on the recipe, this may make the batter a bit thicker (which will lead to a denser final product).
If the batter is too thick, you can add a little extra liquid (even just water) to reach the desired consistency of the recipe.
7. Buttermilk
Buttermilk is a fermented dairy product that is thicker than regular milk. It has a wonderful tangy taste that is like yogurt when used in baking (if you don't love that tanginess though, best to avoid this option).
Like yogurt, buttermilk also adds a lot of moisture to your recipe. This is great for creating a delicious and moist cake or cupcakes. However, you will need to keep the extra liquid in mind when using it in place of applesauce.
If using a 1:1 exchange of buttermilk for applesauce, leave out some of the other wet ingredients (milk or water). Another option is, to begin with, half the amount of buttermilk in place of the applesauce (½ cup buttermilk for 1 cup applesauce). Then you can slowly add more buttermilk until you reach the desired consistency.
8. Silken Tofu
Silken tofu is a great choice for those who want a substitute that is dairy-free but also has less sugar than fruit.
Tofu has a lot of moisture but is also denser than other substitutes. Therefore, it works best for quick breads and muffins, as well as pancakes and waffles.
While you want some moisture, you don't want all the water in tofu! Before adding to your recipe, press the tofu with a towel to remove most of the water. Then place it in a bowl and mash it up.
Use the mashed tofu in a 1:1 exchange for applesauce. Once the water is removed, you may find that the tofu makes your dough or batter too dry. If needed, add a little extra liquid to even out the consistency before baking.
9. Coconut Milk
Coconut milk is another good vegan option that is low in sugar. With so many coconut milk options on the market today, it is important to clarify that the best choice for an applesauce substitute is canned coconut milk.
Canned coconut milk is thicker and has the added fat that will provide a nice richness that is like mashed avocado. Light coconut milk (the one that is sold in cartons) is much thinner and made with water; therefore, it will not work as well.
The consistency of canned coconut milk will work in a 1:1 exchange for applesauce in most baked goods. Be aware that coconut milk does add a hint of coconut flavor. This can be a delicious addition to many recipes but may not work for all.
10. Coconut Oil
While applesauce is a fat-free ingredient, the texture of it is often used as a replacement for fat in baking to bind ingredients. Therefore, you can substitute another fat in place of the applesauce.
If your goal is not a low-fat or fat-free baked treat, then give coconut oil a try in place of applesauce. This is a good vegan option that will add a nice addition of moisture and richness. Just like coconut milk though, it will add a hint of coconut flavor.
Coconut oil can be used in a 1:1 exchange for applesauce in any baking recipe. It is best to melt the coconut oil first, then measure it to get the right volume.
11. Butter
Applesauce is often used as a low-fat substitute for butter in baking. Therefore, you can also use butter as a substitute for applesauce.
Using butter will give you traditional-tasting baked goods with a rich buttery taste. Perfect for all your favorite baked goods – from dessert to breakfast.
Butter can be used in a 1:1 exchange for applesauce. You will get the best results by measuring the butter at room temperature (not melted).
12. Peanut Butter
Peanut butter provides a similar consistency to applesauce but is a bit heavier. Therefore, it will result in a denser final product. Peanut butter also has a strong flavor that will come through.
The benefit of using peanut butter as a substitute though is that it has a high fat content that will give you a nice, rich, and decadent item.
If you want to get creative with exploring some peanut butter flavors in your favorite baked goods, give peanut butter a try. Use it in a simple 1:1 exchange for applesauce.
The Best Applesauce Substitutes for Cooking
While applesauce is most used in baking, some savory recipes call for it as well. These recipes are typically rich and savory sauces.
Many of the same substitutes used for baking can also be used for cooking. Here are the best ones to use as a replacement for applesauce in your savory dishes.
Plain Yogurt (regular or Greek) (To keep the yogurt from curdling, add this at the end of the cooking process - once you have taken your pan off the heat)
Buttermilk
Silken Tofu
Butter
Coconut Oil
Coconut Milk
Peanut Butter
All of these can be used in 1:1 replacement for applesauce in cooking. The same reminders apply for baking though when it comes to added moisture and flavor.
If you are worried about having too much moisture in your sauce or making it too thin, then begin with less than an even exchange. You can always slowly add more as needed.
As with any substitution, it will shift the overall flavor profile and texture of a dish slightly. So, if you have a recipe that hinges on a strong apple flavor (such as apple chutney) give the homemade applesauce a try first!
More great substitute pages to help you out with all of your cooking and baking!
Whether you're whipping up some decadent baked goods or cooking a lovely dinner, we hope we've assisted you in finding a substitute for applesauce that works! Let us know what you're cooking in the comments below!
Do you love a recipe you tried? Please leave a 5-star 🌟rating in the recipe card below and/or a review in the comments section further down the page.
Stay in touch with me through social media @ Pinterest, Facebook, Instagram, or Twitter! Subscribe to the newsletter today (no spam, I promise)! Don't forget to tag me when you try one of my recipes!
📖 Recipe Card
Print Recipe
Leave A Comment
Love This Recipe?
Click On A Star To Rate It!
Applesauce Substitute: Crock Pot Applesauce (+More Great Alternatives!)
If you find yourself in need of an applesauce substitute when cooking or baking, look no further than this list of easy alternatives! Not only have we included over 12 easy applesauce alternatives, but also a recipe to make your own applesauce at home!
Total Time
4

hours
10

minutes
Pin Recipe
Share on Facebook
Ingredients
6

lbs

apples

(roughly 12 apples cored - peeling optional - sliced or chunked)

⅔

cup

brown sugar

2

whole

cinnamon sticks

1

cup

water

2

tablespoon

lemon juice

(or zest and juice of 1 lemon)
Help Us Out!
If you love a recipe, be sure to come back and share your ratings. This helps future users, and allows me to continue sharing free recipes! Angela
Instructions
Wash, peel, and core your apples. Slice or chunk the apples up, either way will work as long as the pieces are relatively uniform in size. *Peeling is optional!

Add the apples, brown sugar, cinnamon sticks, water, and lemon juice plus the optional lemon zest to your crock pot.

Place the lid on your crock pot and cook on high for 3-4 hours.

When the time is up use a wire whisk and stir to desired consistency. (Or for ultra smooth applesauce use an immersion blender.)

Serve warm if desired or allow to cool and refrigerate for up to 10 days. Or freeze for later!
Equipment You May Need
Nutrition
Calories:
166
kcal
(8%)
|
Carbohydrates:
44
g
(15%)
|
Protein:
1
g
(2%)
|
Fat:
1
g
(2%)
|
Saturated Fat:
1
g
(6%)
|
Sodium:
7
mg
|
Potassium:
264
mg
(8%)
|
Fiber:
6
g
(25%)
|
Sugar:
35
g
(39%)
|
Vitamin A:
124
IU
(2%)
|
Vitamin C:
11
mg
(13%)
|
Calcium:
30
mg
(3%)
|
Iron:
1
mg
(6%)
Applesauce Substitute, Crockpot Applesauce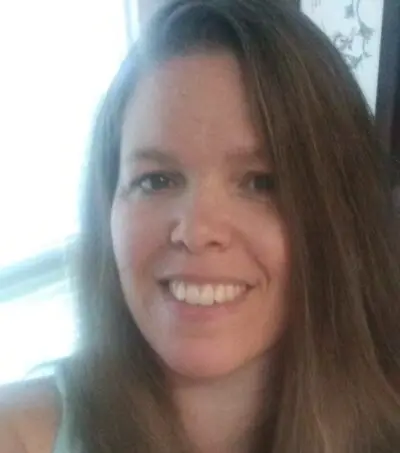 Angela is an at home chef that developed a passion for all things cooking and baking at a young age in her Grandma's kitchen. After many years in the food service industry, she now enjoys sharing all of her family favorite recipes and creating tasty dinner and amazing dessert recipes here at Bake It With Love!